Kentucky Basketball Roundtable: Analyzing UK's Point Guard Troubles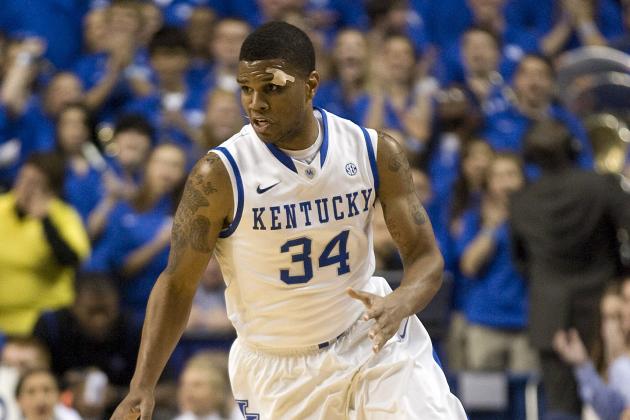 Mark Zerof-US PRESSWIRE

The Kentucky Wildcats are the highest-ranked team with one loss. Kentucky dominated Lafayette last week, winning 101-49. But John Calipari's team has flaws—specifically at point guard.
Julius Mays and Jarrod Polson have shared point guard duties with Ryan Harrow missing time. Archie Goodwin has also played some point, but by nearly all accounts, his talents are better suited for the wing.
Mays and Polson have combined to post a 20-to-6 assist-to-turnover ratio through three games, but their scoring (they combine for 12 points per game) leaves much to be desired.
Even if Mays and Polson can get the offense set up and limit mistakes, scoring has been a key part of Calipari's point guard success in recent years.
Would the story be different if Harrow was active? Are Mays and Polson adequate substitutions for Harrow, and can Kentucky reach their potential without Harrow at point?
These questions and more highlight the Kentucky Basketball roundtable for week three.
Each week, your Kentucky Basketball Featured Columnists will be having a discussion regarding the state of the basketball team. We'll discuss and predict each game in detail, along with any other major storylines for the week.
Begin Slideshow

»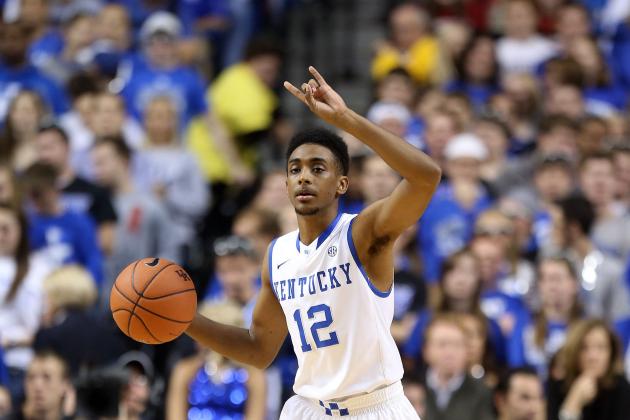 Andy Lyons/Getty Images

Matt Overing
I really like Julius Mays at point. I don't think he needs to score as much when Archie Goodwin is playing his best—and he's best at slicing into the lane from the wing.
There are just so many questions surrounding Ryan Harrow right now. I don't think we can expect Harrow to be at full strength by next week's games against Notre Dame and Baylor.
What's more, we don't even know what Harrow will be when he comes back. He was supposed to be the "next great John Calipari point guard." Right now, it's looking like that will be Mays.
Nick Nafpliotis
I think at the end of the day, it comes down to prep time. If Harrow comes back, then it's all good. But if his health issues are going to be a long-term problem, the Wildcats can't afford to sit around and wait for things to develop.
Someone has to start being developed as the team's go-to point guard, and it needs to be soon. It would hurt to lose Goodwin's scoring, but it probably needs to be him (though I know Matt will disagree with me and say it needs to be Mays).
Paul Ables
Kentucky can survive without Harrow for a while, as Mays and Polson can do a commendable job at the position. Mays is a shooting threat from the perimeter and can slash through the lane and kick out to open shooters. He had 10 assists against Lafayette.
Polson was the star of the Maryland game and is your typical high-IQ, low-turnover PG who won't hurt the team.
With that said, UK needs Harrow long-term. He is a star and a great floor general and has the talent to play with the great point guards in college. He is more of a natural distributor and we are a better team with Polson off the bench and Mays in a shooting role.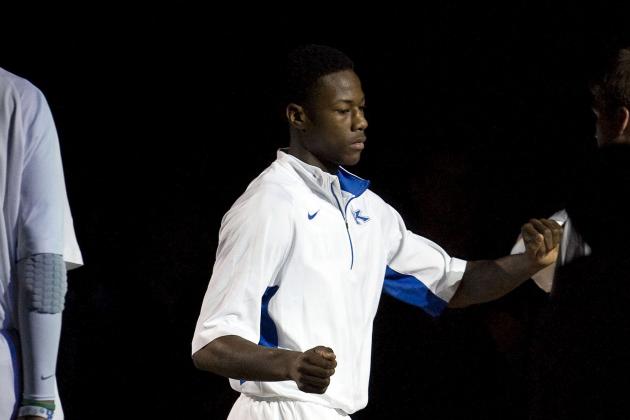 Mark Zerof-US PRESSWIRE

Matt Overing
There's no question that John Calipari has a different set of players this year. I think this year will be a testament to his intelligence on the sidelines because of the diversity and youth of this roster.
Offensively, this team is explosive. Alex Poythress has been nearly unstoppable down low and he plays above the rim. Archie Goodwin is an elite scorer, but he just needs to slow down on occasion.
Calipari's defense will be improved, but we've seen some erratic and inconsistent play thus far.
Nick Nafpliotis
VERY young. And I mean that even in relation to Cal's other teams. Before, he had players like Patrick Patterson, Josh Harrellson, Darius Miller, etc.
Right now, the most experienced players that get significant playing time are Jarrod Polson and Kyle Wiltjer.
It's also hard to tell what is going on without Harrow playing, which is actually a bit of a mystery right now. This group is so inexperienced and raw, but they also seem pretty malleable. I still think they can reach the Final Four this year.
Paul Ables
This team is all potential at this moment. They are playing without a true point guard with Harrow out with an illness. We haven't seen them play with a starting-caliber point guard so we have no idea how the offense will look with him in the lineup.
As for the twin towers, Nerlens Noel and Willie Cauley-Stein have played decent together but have been exposed by Maryland and Duke's big men. Kyle Wiltjer has lit it up from the three-point line but has yet to rebound or score in other ways.
At this point in time, UK has played well and has a 2-1 record but we have no idea how they will look by the end of the year.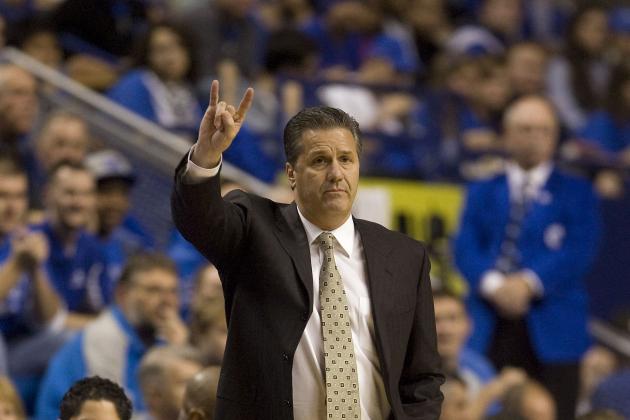 Mark Zerof-US PRESSWIRE

Kentucky plays Morehead State on Nov. 21 and Long Island on Nov. 23. Both are home games.
Matt Overing
More defense. It was fun to watch Kentucky rack up 101 points on Lafayette, but holding them to 49 points is a more impressive number to me.
If Kentucky can keep that same defensive intensity and grab more rebounds (much more would be nice), I think the offense will follow.
Nick Nafpliotis
Honestly, I'd like to see the point guard situation get solidified, but that might just be a pipe dream. Everything else seems to be coming along nicely, including the rebounding (which was pretty scary against Maryland).
I guess if you amended my wish, it would be to see Archie Goodwin get his game under control a bit, since it looks like he might be running the point for a while.
Paul Ables
First of all, we need to see a big improvement in team rebounding. Nerlens Noel, Willie Cauley-Stein and Kyle Wiltjer need to step it up big time and impose their will on these smaller teams.
Alex Poythress and Goodwin need to continue to score and rebound, but Archie has to play at a slower pace. Point guard needs to be settled somehow, whether that means Ryan Harrow comes back or it is finally announced what is ailing him and we know a timetable for his return.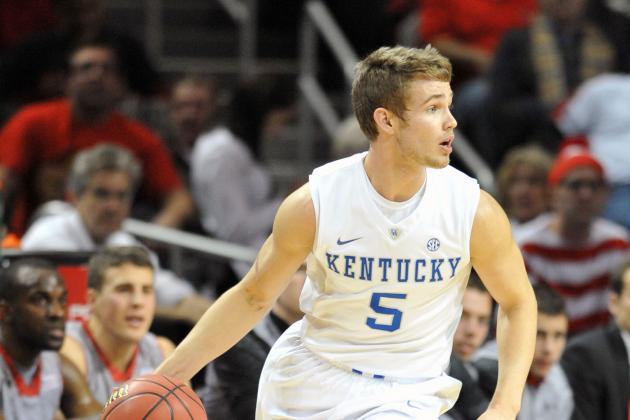 Jason Szenes/Getty Images

Matt Overing
Without a doubt, Jarrod Polson. He was once the hometown kid from West Jessamine that was given minutes in blowout wins.
Now, he's a key cog for one of the most talented teams in the country. He's already one of the best college basketball stories of the year.
Nick Nafpliotis
Jarrod Polson. He was supposed to just be a human victory cigar.
Instead, he has given the Cats a viable eighth man and a much needed veteran presence at point guard to run the floor and get the younger players under control.
Paul Ables
Alex Poythress has been the big surprise so far. We all knew he was talented but he really didn't show much during the exhibitions or the first game against Maryland.
But he absolutely showed up against Duke and Lafayette and played like a man possessed. He is playing tough inside and is shooting near 70 percent from the field.
His dunks are thunderous and really get the team going, and he is also one of the few Wildcat players going hard after rebounds. From what we have seen so far, he could emerge as the best player on the team and a future superstar.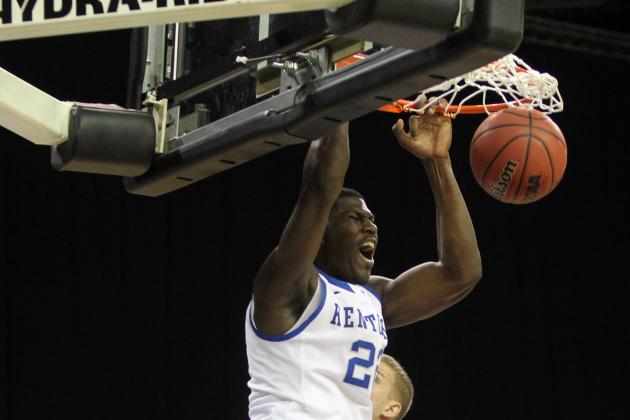 Daniel Shirey-US PRESSWIRE

Matt Overing
I want to see more Willie Cauley-Stein when the game is close. He was completely out of it against Duke, and this week would be a great chance for him to gain confidence before one of the toughest weeks of the season.
The whole team needs that confidence, though. More games like Lafayette would be great for morale.
Predictions: Kentucky 73, Morehead 59 and Kentucky 80, LIU 59
Nick Nafpliotis
I see Alex Poythress continuing to dominate, particularly against opponents of this level. He's so versatile—basically a walking mismatch for almost every team—that I don't think we've even scratched the surface on what he can do...
...Unless Ryan Harrow comes back. Then, look for Archie Goodwin's scoring to greatly increase when he isn't having to run the point.
Predictions: Kentucky 82, Morehead 72 and Kentucky 94, LIU 66
Paul Ables
I expect Archie Goodwin to raise his level of play this week and lead the team in scoring. He has taken a back seat to Kyle Wiltjer and Poythress, but against weaker competition, expect Archie to kick it into overdrive and thrive at the free throw line
Hopefully he sees less time at point guard so he can focus more on what he does best: score buckets.
Predictions: Kentucky 84, Morehead 66 and Kentucky 92, LIU 60