New England Patriots vs. New York Jets: Live Score, Highlights and Analysis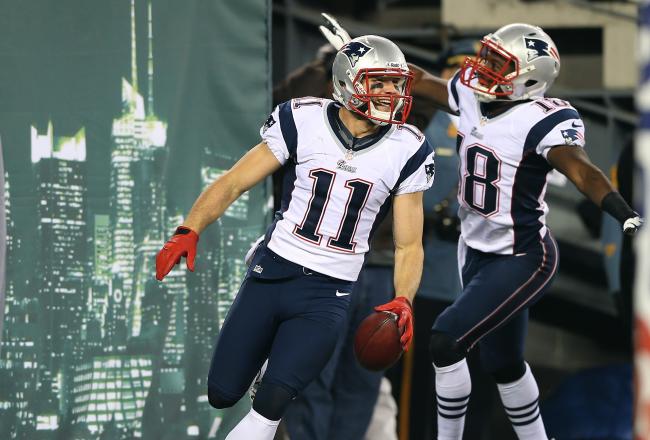 Elsa/Getty Images
While it is seemingly only a matter of time before the Patriots are crowned division winners, this is a game of huge playoff implications for both teams.
The Patriots, who are currently hitting their usual late-season stride, would love to lock up the first seed in the AFC. Meanwhile, the Jets are simply trying to stay alive in the playoff hunt with only four wins under their belt.
Both teams are coming off impressive performances, and their last meeting came down to the wire in an overtime thriller in which the Patriots were able to come from behind and steal a win.
Even without all of the extra implications, the pure hatred between these two teams is enough to make for a fantastic contest. Stay here for instant updates and analysis.
Score: Jets 19, Patriots 49
That'll do it. Thanks for following along!
2 Minute Warning
A few more runs kneel downs should wrap this up.
2:21 4th Quarter
TOUCHDOWN JETS
Sanchez hits Dustin Keller in the back of the end zone for the score. For what its worth, Sanchez played a solid game, save his interception and weird fumble.
And FINALLY, Ryan Mallett relieves Tom Brady.
Dennard may be getting a fine this week from his hit on Chaz Schilens' head.
3:10 4th Qtr
...Sanchez answers the chants with a big completion to both Kerley and Keller. Jets have another chance to make the score look like less of a blowout.
Sanchez gets up slow, and Tebow chants are making a comeback.
Without a doubt.
Either way, i am sure the #Jets practiced well this week

— Joe Caporoso (@TurnOnTheJets) November 23, 2012
Brady continues to pass the ball, and nearly fell awkwardly over a Jets defender. The Patriots are playing with fire for no reason.
Brady is still in the game. Only the Patriots.
10:00 4th quarter
A penalty kills the Jets drive, and are forced to punt. By now, Rex Ryan just wants this game to end. having the Patriots score over 50 points will just put salt in the wound.
11:07 4th Qtr
TOUCHDOWN PATS
One long bomb to Welker and a run by Stevan Ridley makes it 49-12.
11:45 4th Qtr
The Jets fumble yet again. Might as well get it out of their system now.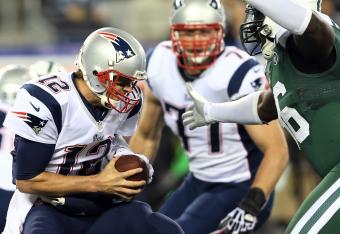 12:00 4th Qtr
TOUCHDOWN PATS
Brady does a quick QB sneak to pour on another score. For Jets fans, at least its not 45-3.
14:00 4th Quarter
The Pats are running it right down the field, but Brady takes a bit shot on a touchdown pass that is called back on an offensive pass interference call. How much longer until Bill takes Brady out?
Who really wants to watch more Jets football?
Jets just advertised for playoff tickets in the stadium. #badtiming

— Brian Costello (@BrianCoz) November 23, 2012
This is arguably Tom Brady's worst game of his career. And his team has 35 points.
If you listened to Mike Tannenbaum's interview with Mike Francesa earlier this week, this is golden.
Mike T. must be thinking "if you take the 2nd quarter away, we're winning 9-0."

— Brian Costello (@BrianCoz) November 23, 2012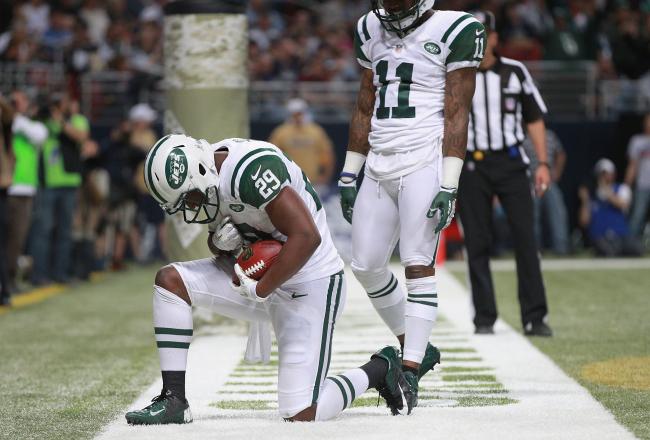 4:54 3rd Qtr
TOUCHDOWN JETS
Bilal Powell makes a nice run for a touchdown, cutting the score to 35-12. For what its worth, Powell has looked good both as a receiver and a runner tonight.
Jets 12, Patriots 35
The Jets have actually move the ball rather well at times. But their other mistakes make it all for nothing.
6:47 3rd Quarter
A chop block inthe end zone gives the Jets a safety.
Who had a score of 35-5 in the office pool?
You can bet that there is no way the Jets are going to use Tebow tonight. If he has any success, its just one more thing they have to deal with for the next 10 days.
Patriots defense stands up on the goal line. It just keeps getting worse for New York.
Edelman update:
Julian Edelman walks to the locker room.

— Mike Reiss (@MikeReiss) November 23, 2012
10:00 3rd Quarter
Strange call here, as Schilens TD catch was ruled incomplete. Rex throws the challenge flag.
It looked like a touchdown, but it may not be clear enough to overturn the call. Or do the refs give the Jets some pity?
This article is
What is the duplicate article?
Why is this article offensive?
Where is this article plagiarized from?
Why is this article poorly edited?