10 Worst Candidates to Replace Fired College Football Coaches
Frederick Breedon/Getty Images
The coaching carousel continues to turn.
Derek Dooley, after tormenting us with those abominable orange pants, is the most recent to be let go, getting the boot from Tennessee after three seasons and a 15-21 record.
Somebody has to replace him, and most likely, Dooley could work his way back into position to bargain for another coaching job.
If you are an athletic director on the hunt for a head coaching candidate, or just a casual fan interested in the whole "coaching carousel" thing, this list is for you.
It details the ten coaches who would be the worst possible hires by any FBS program at this point.
Be careful, it gets pretty ugly.
10. Pat Hill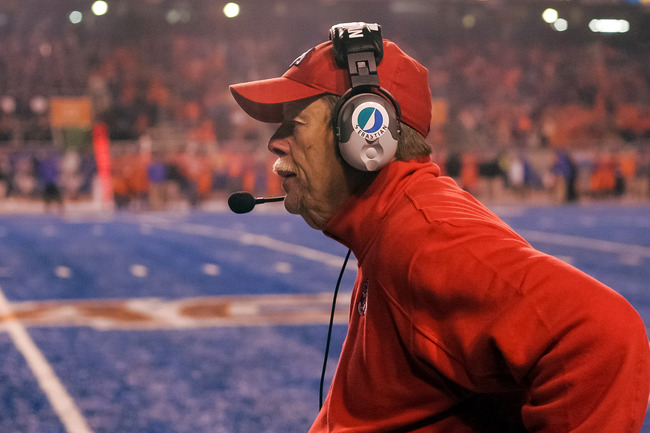 Otto Kitsinger III/Getty Images
Fresno State fans might bristle at the suggestion that Coach Hill would be a bad hire.
The Atlanta Falcons certainly thought he would work out, tabbing him as offensive line coach.
It's probably a good position for all concerned, as evidenced by the Falcons great offense and league-best record at this point in the season.
But let's talk about college.
From 1997-2005, Hill built the Bulldogs into one of the most feared non-BCS programs in the nation.
Then he tanked.
The team finished 40-41 over his last 81 games, and never approached the level of play that it was able to reach in Hill's earlier seasons.
It was a great run, but it's now over, and not likely to be duplicated at another program.
9. Ron Zook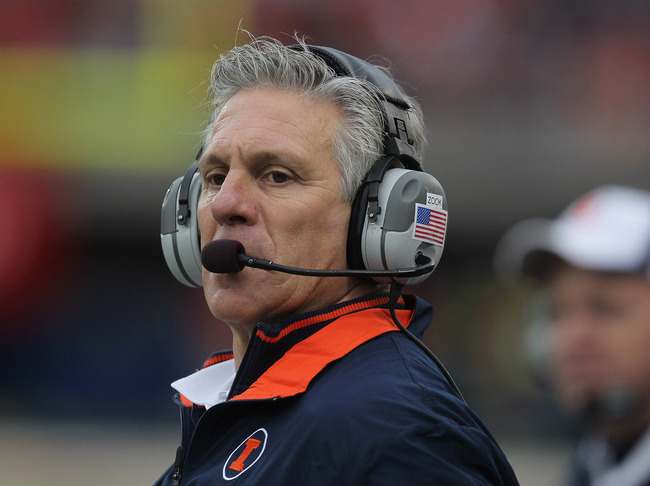 Jonathan Daniel/Getty Images
"The Zooker" was last seen making his exit stage left after making Illinois fans suffer through his tenure.
He did lead the team to the Rose Bowl in 2007, but that was with only a 9-3 record.
During his seven seasons in Champaign, the Illini were 34-51.
And it didn't start there.
With Florida for three seasons prior to his stint with the Illini, Zook could only manage to lead the team to a 23-14 record, never winning more than eight games at a program that carries immense recruiting cachet and boasts plenty of talent.
Zook's ability to do nothing with something is legendary, and rather than giving him a chance to work his magic at another football program, he might want to consider a career in politics.
8. Derek Dooley
Joe Robbins/Getty Images
We've gone over this, but let's recap.
Dooley's pants are atrocious, as was his coaching job at Tennessee, and he should not be considered for another head coaching job until at least 2032.
Yep, that pretty much sums it up.
7. Mike Price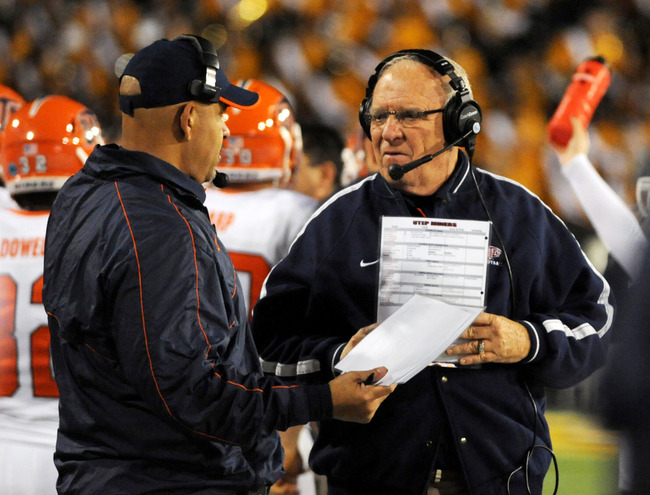 Chuck Cook-US PRESSWIRE
Put aside the fact that Mike Price is 66 and not getting any younger, and take a look at his time with the UTEP Miners.
Price left Washington State after leading the Cougars to the Rose Bowl in 2002, and started off well at UTEP with consecutive 8-4 seasons.
Then things went downhill rapidly.
The Miners only more than five wins one time, in 2010, and did not have a winning record from 2006-2012.
Even though Price is sixth among active coaches in career wins, his firing for a drinking binge and strip club incident coupled with his record at UTEP should be barriers to anyone beathing a path to his retirement home whe he leaves football after this season.
6. Paul Wulff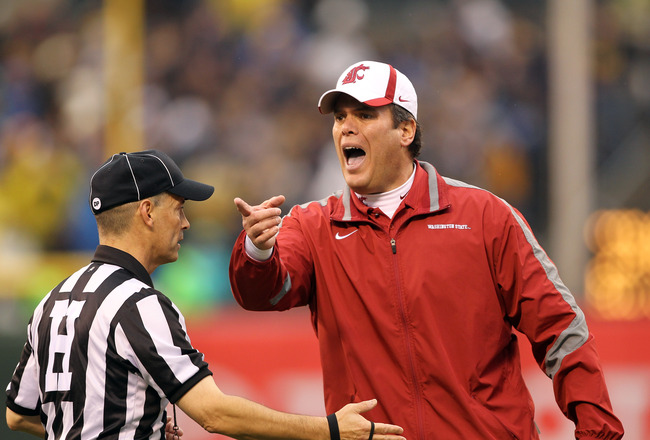 Ezra Shaw/Getty Images
Paul Wulff played at Washington State as an offensive linemen during his college days.
When he returned to the program as head coach, big things were anticipated.
After all, he had led the FCS Eastern Washington Eagles to a 53-40 record in eight seasons with the program.
The problem was that he only had two seasons out of those eight in which the team won more than seven games, and it showed at WSU.
The Cougars were abysmal, twice finishing winless in the conference and never winning more than four games under Wulff.
He has been picked up by the 49ers as an offensive assistant coach, and any program that wants to succeed will leave him there.
5. Joker Phillips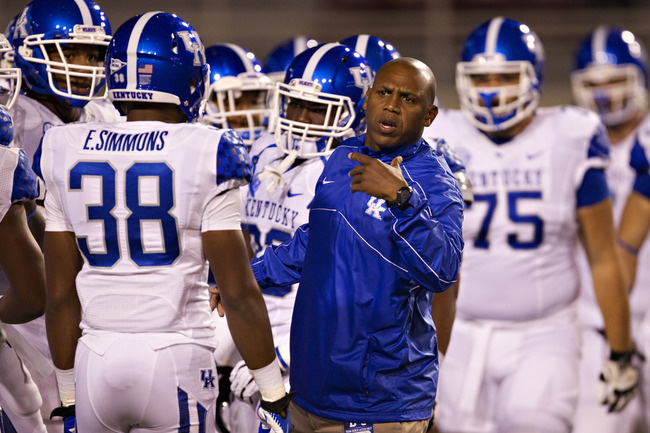 Wesley Hitt/Getty Images
Phillips' season-ending victory over Tennessee in 2011 snapped a 26-game losing streak against the Vols, which was the longest such streak by any team against an annual opponent.
That's about all he did that was good.
Phillips was let go after three seasons at the helm of the Kentucky Wildcats and finished with a 13-23 record, 4-19 in SEC play.
He is a great offensive coordinator and had much to do with the success of Andre Woodson during his time at UK, but as a head coach, it just didn't work out.
Even a change of venue might not be enough for Joker, who needs to learn that his strength is being an offensive coordinator.
4. Neil Callaway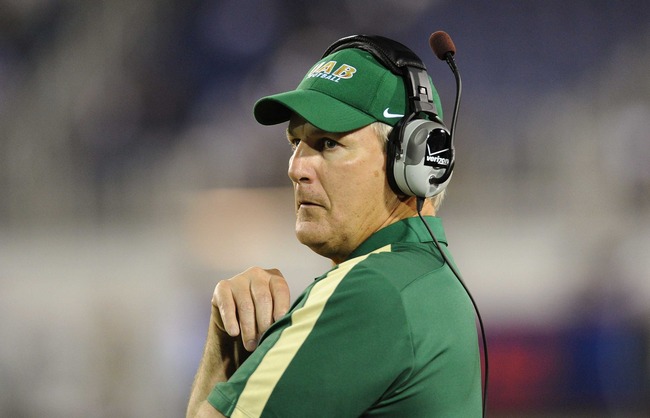 Steve Mitchell-US PRESSWIRE
Callaway's time with the Blazers was a study in ineptitude.
In five seasons with Callaway at the helm, UAB never had a winning record, and he finished with a 18-42 record at the program.
He was fired at the end of the 2011 season, at least that's what UAB says, while Callaway maintains that he "resigned."
However he left the position, it would be quite possibly dissastrous for any program to hire him at this point.
3. Robb Akey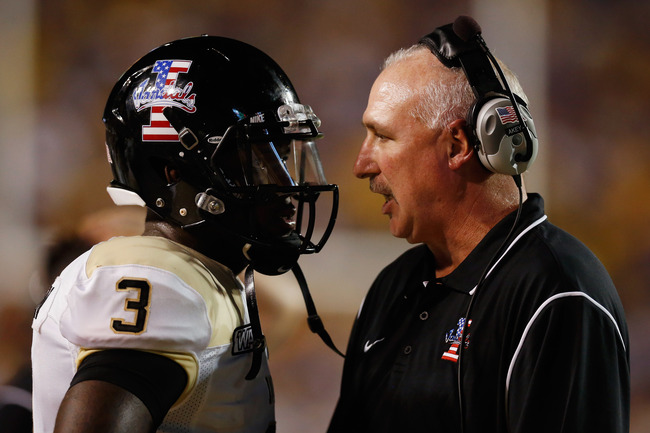 Chris Graythen/Getty Images
Akey can be credited with leading Idaho to their only bowl victory of the last 14 years.
That was quite an accomplishment, and he didn't have much to work with at the time, or ever.
Even so, his levels of ineptitude reached new heights in his last few seasons at the Vandals, prior to being canned in October of this season after the Vandals 70-28 loss to Louisiana Tech.
The team went a combined 3-17 in his last two seasons, with only two conference wins.
His 20-50 record during his time with the program speaks for itself.
2. Mike Locksley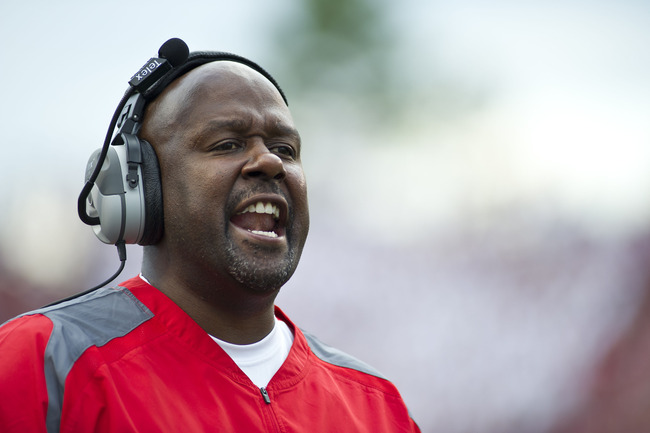 US PRESSWIRE
Locksley just made the jump to the Big Ten with Maryland, as he is currently serving as assistant for the Terps.
If Maryland's offensive woes are not enough to convince you of what a mistake hiring him would be(the Terrapins are dead last in FBS in total offense) consider his record at New Mexico.
Locksley was fired by the program after only two years and four games of his six-year contract, a sex discrimination complaint, an altercation with an assistant coach and an abysmal 2-26 record.
As an athletic director, it would be better to just look the other way and not even think about hiring this guy.
1. Bobby Petrino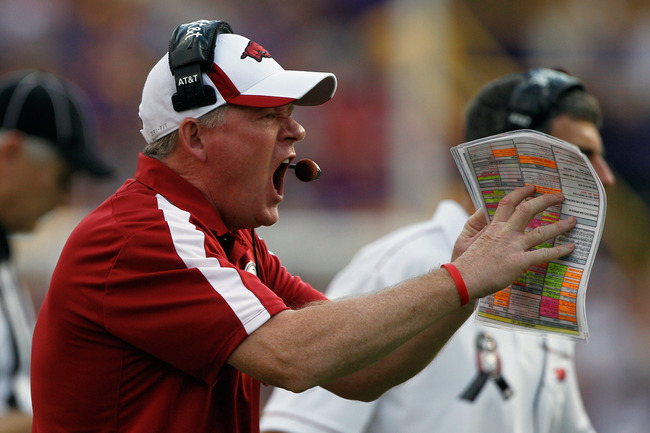 Chris Graythen/Getty Images
Bobby Petrino was enjoying great success at Arkansas, leading the team to an 11-1 record and the Cotton Bowl in 2011.
Then his off-field issues and lack of moral fortitude sprung up again.
The same man who bailed on the Atlanta Falcons with three games left in the season for the Arkansas job was eventually let go by Arkansas after a motorcycle accident involving 25-year-old employee of the football program, with whom Petrino confessed to having an inappropriate relationship.
While some would argue that personal issues should remain personal issues, part of the job of a football coach is to help his team develop some character.
Character and discipline helps win games, and it also helps young men succeed in life after football.
It's obviously something that Petrino struggles to grasp, much less impart to anyone else.
Keep Reading