Playing Fact or Fiction on Alex Smith-Colin Kaepernick QB Controversy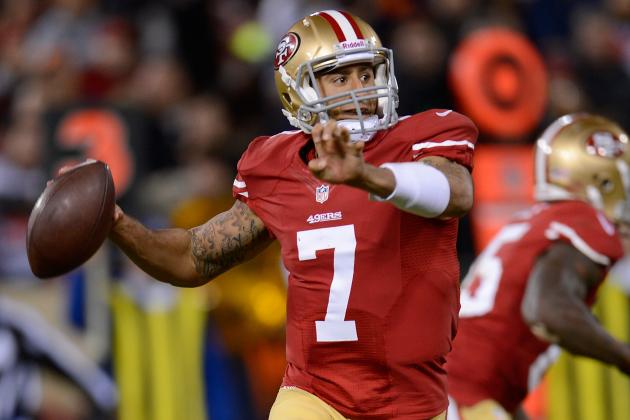 Thearon W. Henderson/Getty Images

Should Colin Kaepernick or Alex Smith start at quarterback for the San Francisco 49ers against the New Orleans Saints on Sunday?
I'm not even sure Jim Harbaugh knows the answer to that question as I write this on Tuesday evening.
Soon enough, the 49ers will make that announcement, but before that even happens, I'm here to reflect on some common thoughts and misconceptions about San Francisco's quarterback controversy.
In the following slides, I give context to Harbaugh's now famous postgame press conference and the future of San Francisco's quarterbacks in a fact-or-fiction format.
Begin Slideshow

»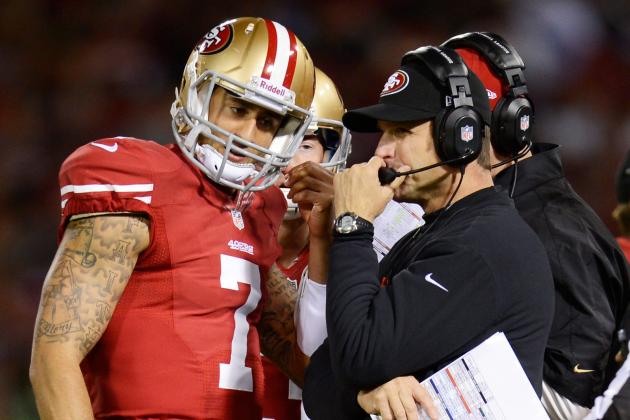 Thearon W. Henderson/Getty Images

I can't be sure that Harbaugh intended to back Kaepernick during Monday's postgame press conference, but in effect he did.
Harbaugh had three choices going into the press conference:
Tell the media that Smith will be the starter once he's healthy.
Delay the decision by saying something like, "We'll go with the hot hand."
Name Kaepernick the starter.
On the surface, it seems like he found the perfect medium. In reality, by delaying the decision, he made the whole world know that he was never 100 percent committed to Smith in the first place.
That's understandable. Smith has had a solid season, but all 49ers fans know he's a few notches below the likes of Aaron Rodgers and Tom Brady.
Harbaugh knows this, too. He clearly liked what Kaepernick offered, and he wouldn't have made the "hot hand" comment if he didn't want to see what Kaepernick can do again in the near future. Now, even if he decides to go with Smith when he's healthy, the San Francisco fanbase will pine for Kaepernick the moment Smith misses a third-down throw.
To put it simply, it's too late to turn back now.
There's no doubt in my mind that Harbaugh just committed to Kaepernick as the starter of the future, whether he takes over the role tomorrow or at the beginning of next season.
Verdict: Fact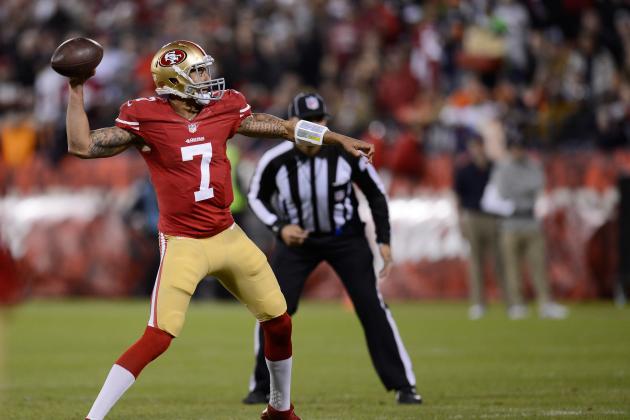 Thearon W. Henderson/Getty Images

Even before Kaepernick took the field against the St. Louis Rams last week, many 49ers fans believed he was "the future" and Smith was "the present."
If that was the case this offseason, then why did the 49ers sign Smith to a three-year deal. instead of, say, a one-year deal?
Maybe that was simply what Smith was demanding. Maybe the 49ers didn't want to risk only having Kaepernick in case something went wrong in his development. Maybe it was a bit of both. Regardless, by completing that deal, the 49ers knew that they'd have both Smith and Kaepernick under contract through the 2014 season.
Smith is only 28. He could conceivably play at a high level for another 10 seasons. You could argue that he is just entering his prime. He took the 49ers to the NFC title game last season. He won 13 regular-season games. He had a respectable 90.7 passer rating.
I think San Francisco gave Smith that contract believing that he'd be the starter for most of it, if not all of it. Maybe Harbaugh was hopeful that Kaepernick, who admittedly has better physical tools, would take the reins, but there was no guarantee that he'd ever realize his full potential.
Plus, it makes no sense to have an $8 million backup.
With both players signed for the same amount of time, Harbaugh was basically letting the two signal-callers audition for a contract extension for three years, knowing that if Kaepernick put it all together at any point that he could trade (or cut) Smith.
Before the Bears game, I don't believe Harbaugh was sure that Kaepernick was his starter of the future. Smith was getting the job done, and had Kaepernick not dominated like he did, he may have been the backup to Smith for the rest of his contract.
Instead, Kaepernick dominated, leaving most convinced that he must be the starter of the future in San Francisco.
Verdict: Fiction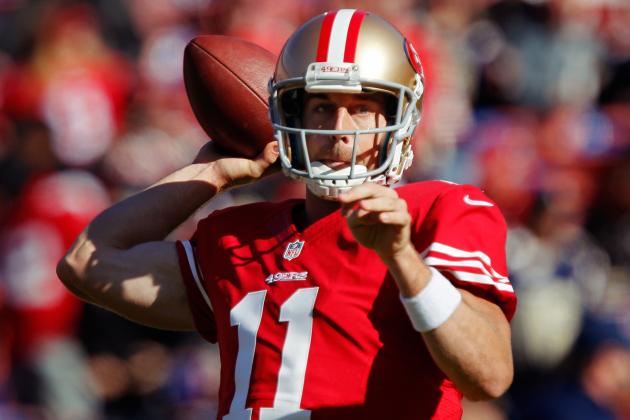 Brian Bahr/Getty Images

I can understand the idea behind, "This is a good problem to have."
Surely, not many teams can boast two quality quarterbacks capable of winning big games. However, you'd be remissed to believe there's no wrong answer.
What if the 49ers go with Kaepernick, lose in the playoffs, trade Smith in the offseason to an eventual Super Bowl-winning team and Kaepernick goes on to have a mediocre career once defenses figure out his tendencies?
What if the 49ers go with Smith, lose in a high-scoring Super Bowl, trade Kaepernick in the offseason and watch him become one of the greatest quarterbacks of all time on another team?
In both scenarios, the 49ers would have made the wrong decision and ended up without one Super Bowl during this era.
Verdict: Fiction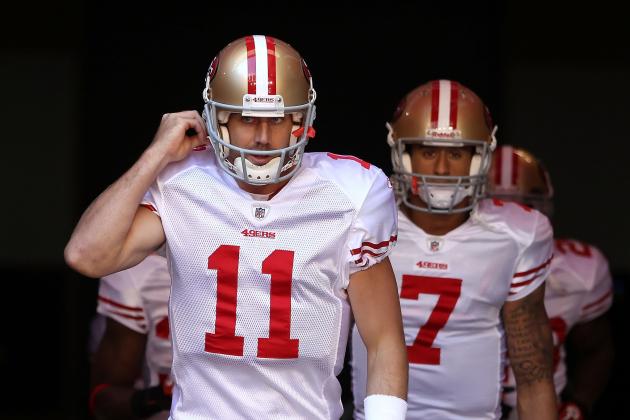 Christian Petersen/Getty Images

Regardless of who starts in the playoffs for the 49ers this year, one the quarterbacks will likely be traded in the offseason.
If Kaepernick is named the starter during the offseason, Smith would likely demand a trade. Quite frankly, the 49ers would want to shop him anyways for cap relief. There's no reason to have an $8 million backup.
If Smith is named the starter (which would likely only happen if Smith had a fantastic playoff showing), San Francisco would be committing to him long term. The 49ers would know that the Kaepernick distraction would become overbearing. They'd look to deal him for draft picks, and I suspect they'd get a hefty return for him.
Sure, the 49ers could start Smith and keep Kaepernick on the bench, just like the days of Joe Montana and Steve Young. However, times have changed from those days.
The constant media exposure can divide team faster than ever before, and it would be wise for Baalke and Co. to avoid that at all costs.
Verdict: Fact