Michigan State Spartans vs. Minnesota Golden Gophers: Complete Game Preview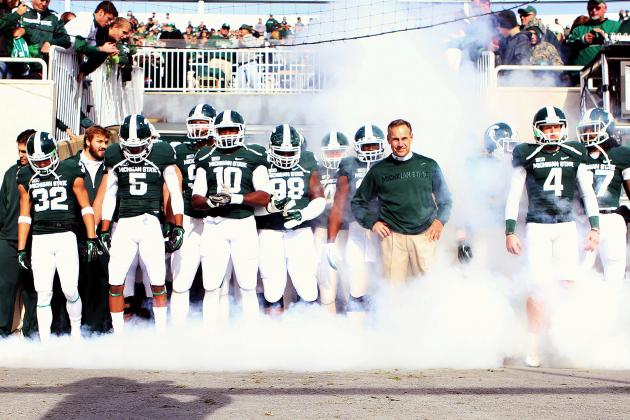 Mike Carter-US PRESSWIRE
Michigan State and Minnesota both lost last week but look to rebound this weekend.
As the Big Ten heads to the final week of the regular season, the Michigan State Spartans travel to Minnesota to take on the Golden Gophers.
This game is by no stretch of the imagination a crucial game in the national picture, but the Spartans must win to become bowl eligible. According to ESPN.com's Brian Bennett, MSU head coach Mark Dantonio believes his team will reach the six-win mark on Saturday when—not if—they win.
Conversely, Minnesota clinched a spot in the postseason with a win against the University of Illinois two weeks ago. The Gophers have this one final game before it prepares for a bowl appearance.
Here is a complete preview of the Big Ten Legends Division matchup between Michigan State and Minnesota.
Begin Slideshow

»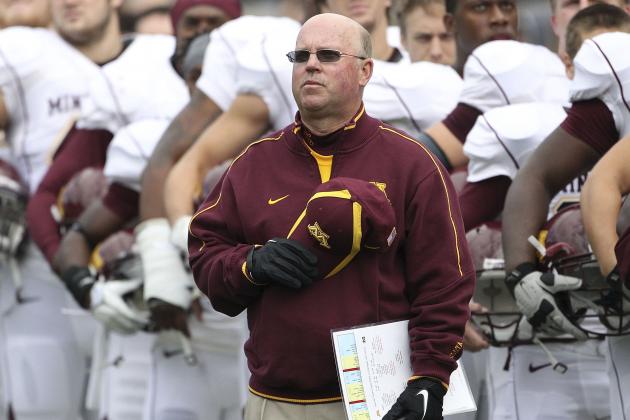 Leon Halip/Getty Images
Led by head coach Jerry Kill, the Gophers are bowl-eligible this season.
Who: Michigan State (5-6, 2-5 Big Ten) at Minnesota (6-5, 2-5 Big Ten) — Game No. 12
When: Saturday, November 24 at 3:30 p.m. EST
Where: Minneapolis, MN
Stadium: TCF Bank Stadium, Capacity: 50,805
Watch: Big Ten Network with Kevin Kugler (pxp), Glen Mason (analyst), Rebecca Haarlow (reporter)
Local Radio: Spartan Sports Network with George Blaha (pxp), Jim Miller (analyst), Jason Strayhorn (reporter), Gopher Sports Network with Bob Kurtz (pxp), Darrell Thompson (analyst), Justin Gaard (reporter)
Satellite Radio: Sirius 113, XM 192
Spread: Michigan State by 9 1/2 according to oddsshark.com
Listen: MSU Radio Affiliates, Minnesota Radio Affiliates
Live Streaming: BTN2Go.com (video) GopherSports.com (audio)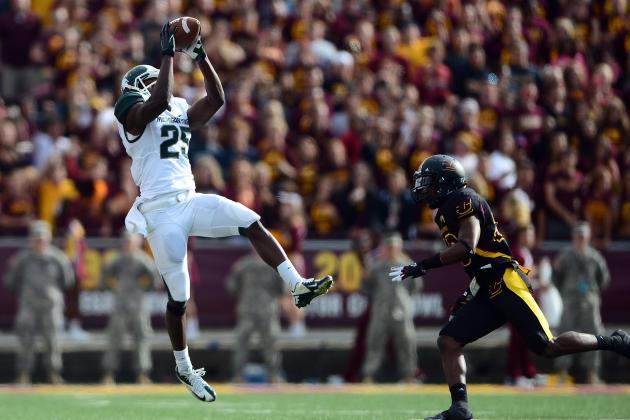 Andrew Weber-US PRESSWIRE
Keith Mumphery leads Spartan receivers with 506 yards in 2012.
Offense:
QB: 10 Andrew Maxwell — 18 Connor Cook
TB: 24 Le'Veon Bell — 22 Larry Caper or 20 Nick Hill
FB: 8 Lawrence Thomas — 37 Trevon Pendleton
WR: 16 Aaron Burbridge OR 14 Tony Lippett
WR: 25 Keith Mumphery — 21 Andre Sims Jr. OR 5 DeAnthony Arnett
WR: 13 Bennie Fowler — 3 Macgarrett Kings Jr.
TE: 80 Dion Sims — 83 Paul Lang

LT: 59 Dan France — 76 Donavon Clark
LG: 64 Blake Treadwell — 66 Jack Allen
C: 66 Jack Allen — 68 Ethan Ruhland
RG: 62 Chris McDonald — 72 Nate Klatt OR 54 Connor Kruse
RT: 70 Skyler Burkland — 65 Michael Dennis
Defense:
DE: 44 Marcus Rush — 89 Shilique Calhoun
DT: 99 James Kittredge — 60 Micajah Reynolds
NT: 98 Anthony Rashad White — 93 Damon Knox
DE: 2 William Gholston — 92 Joel Heath
STAR: 34 Taiwan Jones OR Chris Norman — 45 Darien Harris
MIKE: 40 Max Bullough — 41 Kyler Elsworth
SAM: 28 Denicos Allen — 43 Ed Davis
FC: 31 Darqueze Dennard — 32 Mitchell White
FS: 27 Kurtis Drummond — 26 RJ Williamson
SS: 9 Isaiah Lewis — 23 Jairus Jones
BC: 5 Johnny Adams — 36 Arjen Colquhoun or 15 Trae Waynes
Specialists:
P: 3 Mike Sadler — 17 Kevin Muma
PK: 4 Dan Conroy — 17 Kevin Muma
LS: 52 Taybor Pepper — 71 Leland Ewing
HLD: 3 Mike Sadler — 10 Andrew Maxwell
KR: 24 Le'Veon Bell OR 20 Nick Hill — 22 Larry Caper
PR: 21 Andre Sims Jr. — 24 Le'Veon Bell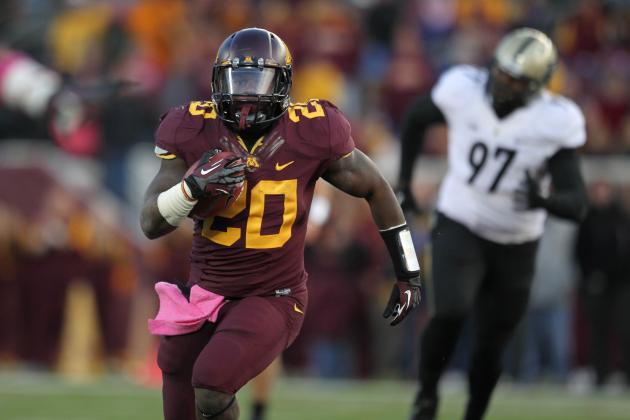 Brace Hemmelgarn-US PRESSWIRE
Donnell Kirkwood leads the Gophers with 830 rushing yards and five touchdowns.
Offense:
QB: 9 Philip Nelson — 11 Max Shortell
RB: 20 Donnell Kirkwood — 35 Rodrick Williams Jr.
FB: 81 John Rabe — 30 Mike Henry
WR: 14 Isaac Fruechte — 1 Brandon Green
WR: 5 MarQueis Gray — 80 Devin Crawford-Tufts OR 12 Andre McDonald
WR: 15 Marcus Jones — 18 Derrick Engel
TE: 83 Drew Goodger — 85 Lincoln Plsek
LT: 74 Marek Lenkiewicz — 58 Ed Olson
LG: 53 Tommy Olson — 75 Ernie Heifort
C: 52 Zac Epping — 63 Jon Christenson
RG: 64 Caleb Bak — 73 Joe Bjorklund
RT: 65 Josh Campion — 77 Foster Bush
Defense:
DE: 98 Michael Amaefula — 93 Ben Perry
DT: 46 Cameron Botticelli — 92 Roland Johnson
NT: 99 Ra'Shede Hageman — 97 Scott Ekpe
DE: 95 D.L. Wilhite — 55 Theiren Cockran
SAM: 57 Aaron Hill — 32 Lamonte Edwards OR 8 Spencer Reeves
MIKE: 26 Mike Rallis — 1 Brendan Beal
WILL: 4 Keanon Cooper — 9 James Manuel
CB: 2 Troy Stoudermire — 22 Jeremy Baltazar
S: 13 Derrick Wells — 7 Damarius Travis
S: 27 Cedric Thompson OR 21 Brock Vereen — 6 Grayson Levine
CB: 23 Michael Carter — 3 Martez Shabazz
Specialists:
PK: 39 Jordan Wettstein — 36 Chris Hawthorne
P: 38 Christian Eldred
LS: 48 Jake Filkins — 96 Dave Ramlet
HLD: 38 David Schwerman
KR: 2 Troy Stoudermire —15 Marcus Jones
PR: 15 Marcus Jones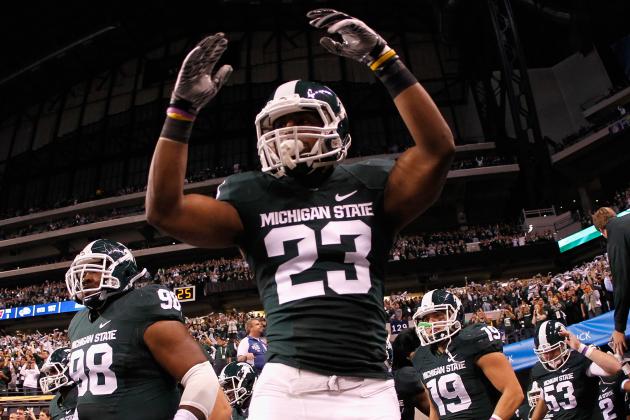 Gregory Shamus/Getty Images
The Spartans may be without Jairus Jones for the fifth consecutive game.
Michigan State:
FB Niko Palazeti (undisclosed) — Questionable
S Jairus Jones (leg) — Questionable
T Fou Fonoti (foot) — Out
C Travis Jackson (leg) — Out for Season
DL Brandon Clemens (foot) — Out for Season
Minnesota:
RB Devon Wright (undisclosed) — Questionable
OL Jon Christenson (ankle) — Questionable
DT Roland Johnson (knee) — Questionable
TE Kendall Gregory-McGhee (back) — Out
LB Quinn Bauducco (back) — Out
WR Duke Anyanwu (knee) — Out
WR Jamel Harbison (knee) — Out for Season
OL Zach Mottia (leg) — Out for Season
Note: Both injury reports via USA Today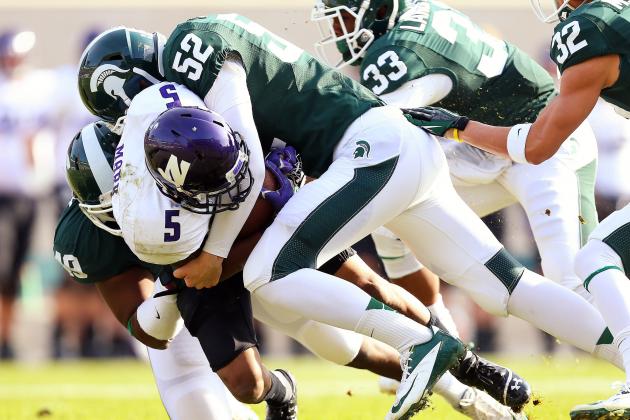 Mike Carter-US PRESSWIRE
MSU held NU's Venric Mark to nine all-purpose yards before he left with an injury.
In a game statistically dominated by the Spartans, the Northwestern Wildcats forced four turnovers and hung on late to beat MSU 23-20.
State held a 419-303 total-yard advantage, had more than 34 minutes in possession time and had only two penalties.
The Spartans' Andrew Maxwell completed 22 of 46 passes for 297 yards, two touchdowns and two interceptions. Le'Veon Bell posted his sixth triple-digit rushing effort of 2012, compiling 133 yards on 32 carries.
However, David Nwabuisi took a Maxwell interception to the house for the Wildcats that set the tone to begin the second half. Jeff Budzien then made a 27-yard field goal midway through the fourth quarter, which proved to be the difference in the game.
Budzien converted on three field goals, and Dan Vitale caught nine passes for 100 yards for the Wildcats.
It was the fourth loss in five games for Michigan State, while Northwestern improved to 8-3.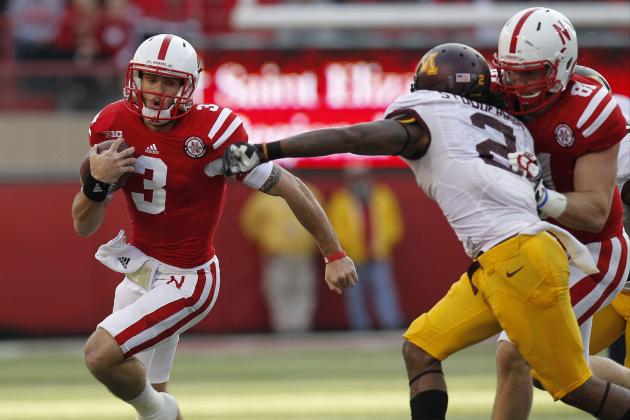 Bruce Thorson-US PRESSWIRE
Taylor Martinez lit up the Gophers defense on Saturday.
Minnesota returns home to face Michigan State after being shellacked by the Nebraska Cornhuskers 38-14 in Lincoln.
Taylor Martinez proved to be too much for the Gophers' secondary to handle as he completed 21 of his 29 attempts for 308 yards and two touchdowns. Ameer Abdullah added 79 yards on the ground for the Huskers.
Freshman QB Philip Nelson had a day to forget going 8-of-23 for 59 yards and two interceptions. The running game was shut down, too, as the Gophers gained 87 yards on 29 attempts.
Christian Eldred punted 11 times on the day, a telltale sign of Minnesota's struggles.
The loss was the Gophers fifth of the season—all in Big Ten play.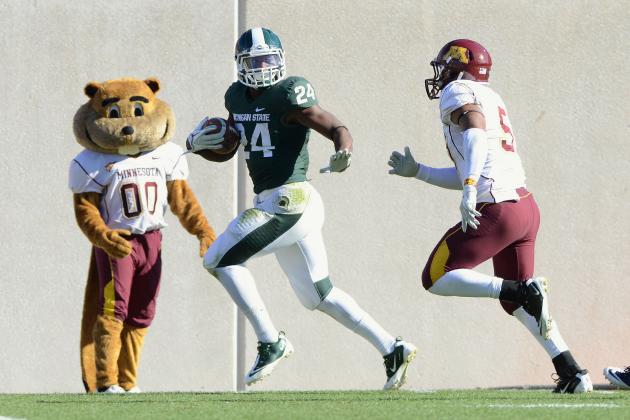 Mark A. Cunningham/Getty Images
Michigan State won last year's meeting 31-24 in East Lansing.
Typically in this series, Minnesota would be the team fighting for bowl eligibility. But here in 2012, Michigan State needs a win to make it to the postseason.
At 5-6, this is the Spartans' last chance to qualify for a bowl. MSU last missed playing an extra game in 2006.
Conversely, after two consecutive 3-9 seasons, the Golden Gophers are 6-5 and bowl eligible for the first time since 2009. Minnesota lost the Insight Bowl 14-13 to the Iowa State Cyclones.
Neither team can make noise in the Big Ten standings with a win. If anything is at stake, it would be the fourth-place spot in the Legends Division.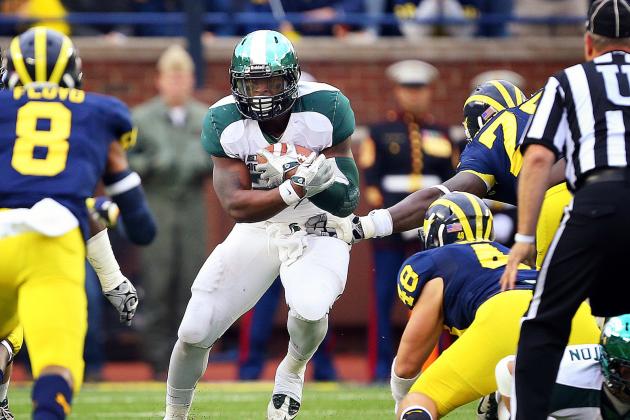 Mike Carter-US PRESSWIRE
Bell has been one of few bright spots for the Spartans this season.
Running back Le'Veon Bell has been a terror for opponents—too bad the rest of the Spartans haven't followed suit.
The junior has been MSU's workhorse in 2012 carrying the ball 315 times for an impressive 1,382 yards and 10 touchdowns. He also has 321 yards and two touchdowns in the Spartans' previous two games.
Minnesota has the 74th-ranked run defense in the nation allowing nearly 165 yards per game. This is a great matchup for Bell as he gains 125 yards in each contest.
Watch for Le'Veon to get another 25 to 30 carries against the Gophers.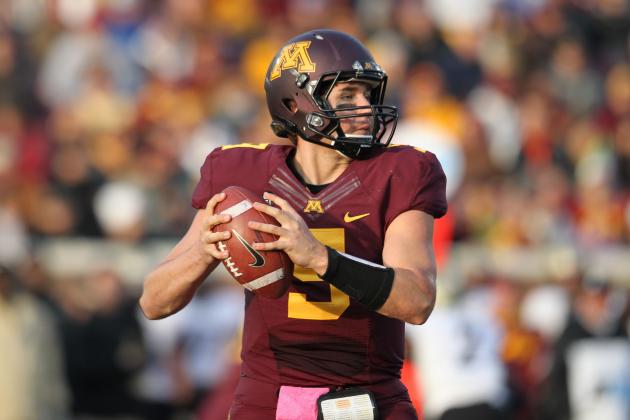 Brace Hemmelgarn-US PRESSWIRE
Nelson faces a tough MSU defense on Saturday.
Philip Nelson must be able to bounce back from a rough start against Nebraska.
The Spartans boast the 13th-best run defense in the NCAA, so Minnesota better bring its A++ ground game if it wants to be two-dimensional. MSU's pass defense is no cakewalk either as it is ranked 15th in the country.
However, as the Huskers showed, the Spartans are vulnerable at times. MSU allowed 473 yards, including 313 on the ground. Taylor Martinez ran for 205 of those yards and two touchdowns.
Nelson has shown dual-threat ability, and he may need his running shoes to get away from a tenacious Spartans defense.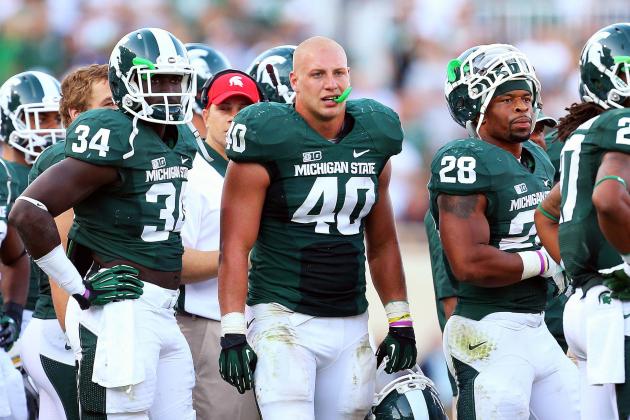 Mike Carter-US PRESSWIRE
Max Bullough leads the Spartans with 95 tackles and 11 for loss.
...the Spartans force Minnesota to turn the ball over. The Gophers have turned the ball over 17 times this season and are starting a freshman quarterback.
Additionally, MSU has one of the best defenses in the nation, but the offense has been riding the struggle-bus this season. That, however, may not happen if offensive coordinator Dan Roushar gives Le'Veon Bell the rock.
All. Game. Long.
Minnesota will likely have trouble stopping the bruising running back, and the Spartans need to capitalize on this advantage.
If Michigan State's defense can force a couple turnovers in plus territory, the offense should be able to put up a few more touchdowns.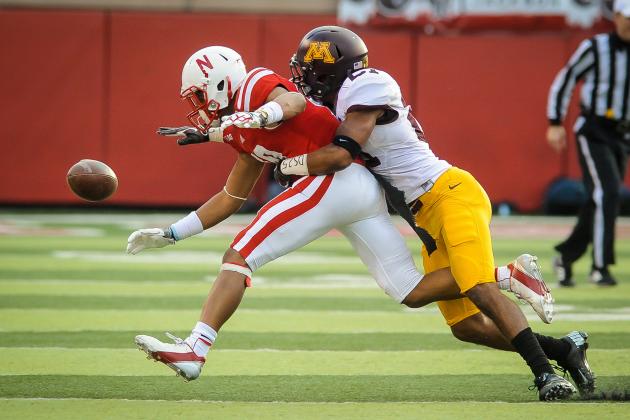 Eric Francis/Getty Images
Minnesota needs to be all over the field flying to the ball to stop MSU.
...they stop Le'Veon Bell. Plain and simple, Jerry Kill's team must eliminate the Spartans' ground attack.
As previously stated, Minnesota does not have a top run defense. However, if the Gophers' defensive line and linebacker corps step up in the final home game of the season, it could force MSU to pass the ball.
Andrew Maxwell has struggled mightily throughout the season. Minnesota's secondary has picked off nine passes on the year and sacked the opposing team's quarterback 23 times.
Led by DL Wilhite, the Gophers have 57 tackles for loss in 2012, and improving that number is the key to victory.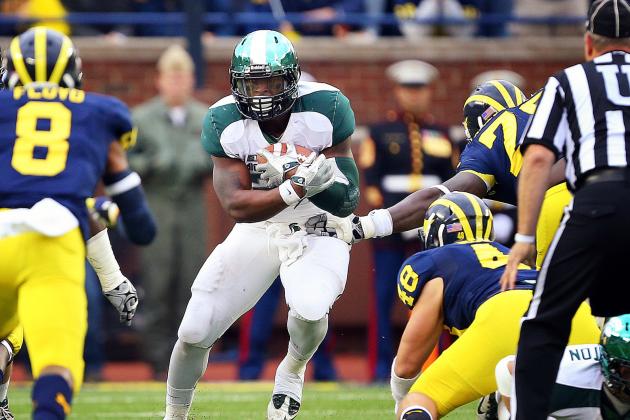 Mike Carter-US PRESSWIRE
Le'Veon Bell is MSU's player to watch and the key to the game's result.
I stressed it, and I definitely believe it.
Le'Veon Bell will decide this game. I think that he will torch the Minnesota defense for his third 200-yard performance of the season.
However, Andrew Maxwell has had his struggles and an overwhelmingly good game is wishful thinking. I see the junior throwing an interception or two, but the Spartans will be able to recover with the help of its defense.
The Gophers' freshman Nelson will improve from last week's struggle but have trouble navigating that stingy MSU defense. Minnesota's defense, on the other hand, won't be able to single-handedly keep the offense afloat.
It will be a hard-fought game, and the final score will not represent the battle on the field.
Prediction: Michigan State 27 - Minnesota 17