Oklahoma State vs. Oklahoma: Complete Game Preview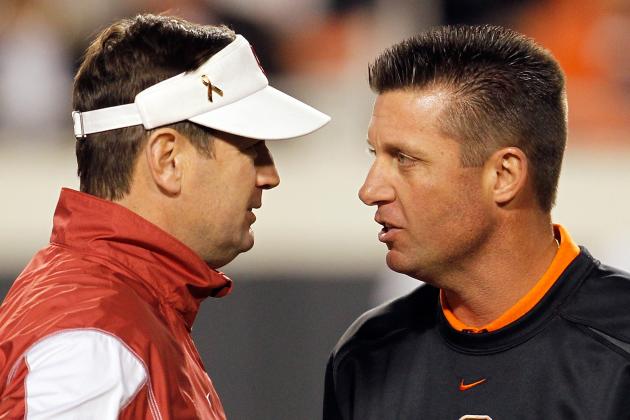 Tom Pennington/Getty Images

Bedlam is finally here and the entire state of Oklahoma is ready for battle. The Oklahoma State Cowboys will travel to Norman for the first time in three years to face the Oklahoma Sooners.
Both teams have had ups and downs this season, but each has proven that it is among the best teams in the Big 12 conference. Mike Gundy's squad has endured constant quarterback turnover, while Bob Stoops' team has dealt with defensive issues.
Bedlam is among college football's best rivalries, and when both teams are good, it just gets even better. Anything can happen in this annual matchup, and here I'll break down everything you need to know about this game.
Begin Slideshow

»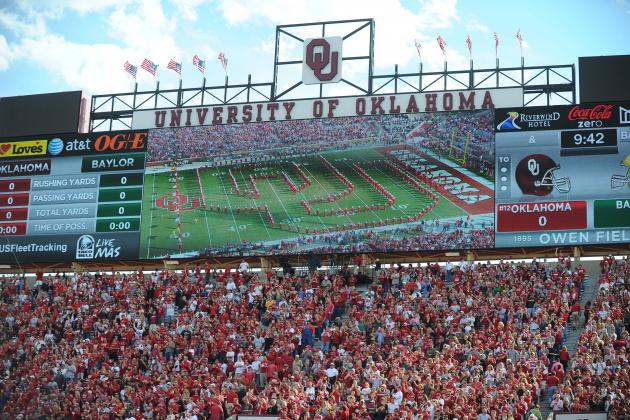 Denny Medley-US PRESSWIRE

Who: Oklahoma State at Oklahoma
When: Saturday, 2:30 pm CT
Where: Norman, Oklahoma
Stadium: Oklahoma Memorial Stadium
Series History: 81-18-7 Oklahoma
TV: ESPN
Radio: Cowboy Radio Network, OKState.TV, Sirius 117, XM 190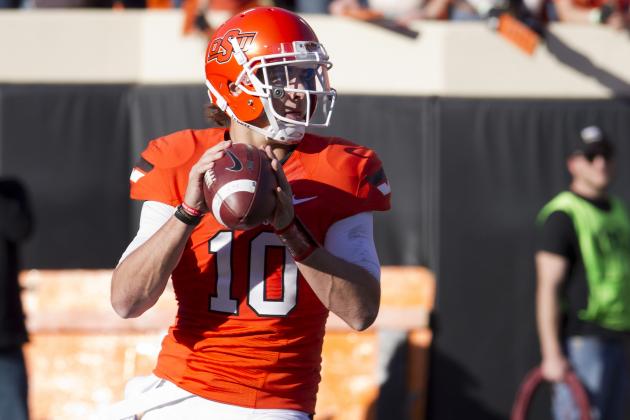 Richard Rowe-US PRESSWIRE

Position Number Name Height Weight Class
Quarterback 10 Clint Chelf 6'1" 201 Jr.
Running Back 1 Joseph Randle 6'1" 194 Jr.
Fullback 9 Kye Staley 5'10" 236 Sr.
Wide Receiver 82 Isaiah Anderson 5'10" 175 Sr.
Wide Receiver 84 Austin Hays 6'2" 170 Fr.
Wide Receiver 5 Josh Stewart 5'10" 170 So.
Wide Receiver 18 Blake Jackson 6'3" 238 Jr.
Offensive Tackle 71 Parker Graham 6'7" 292 Jr.
Offensive Tackle 58 Daniel Koenig 6'6" 295 So.
Offensive Guard 70 Jonathan Rush 6'4" 284 Sr.
Offensive Guard 68 Lane Taylor 6'3" 328 Sr.
Center 60 Evan Epstein 6'3" 291 Sr.
Defense
Position Number Name Height Weight Class
Defensive End 80 Cooper Bassett 6'5" 270 Sr.
Defensive End 96 Ryan Robinson 6'4" 246 Sr.
Defensive Tackle 91 James Castleman 6'2" 296 So.
Defensive Tackle 99 Calvin Barnett 6'2" 299 Jr.
Linebacker 11 Shaun Lewis 5'11" 222 Jr.
Linebacker 37 Alex Elkins 6'3" 222 Sr.
Linebacker 45 Caleb Lavey 6'3" 240 Jr.
Cornerback 19 Brodrick Brown 5'8" 185 Sr.
Cornerback 4 Justin Gilbert 6'0" 194 Jr.
Safety 7 Shamiel Gary 6'0" 205 Jr.
Safety 8 Daytawion Lowe 5'11" 198 Jr.
Special Teams
Position Number Name Height Weight Class
Punter/Kicker 13 Quinn Sharp 6'1" 205 Sr.
Punt Returner 6 David Glidden 5'7" 171 Fr.
Kick Returner 4 Justin Gilbert 6'0" 194 Jr.
Longsnapper 53 Andrew Suter 6'2" 268 Jr.
Holder 39 Wes Harlan 5'7" 178 Sr.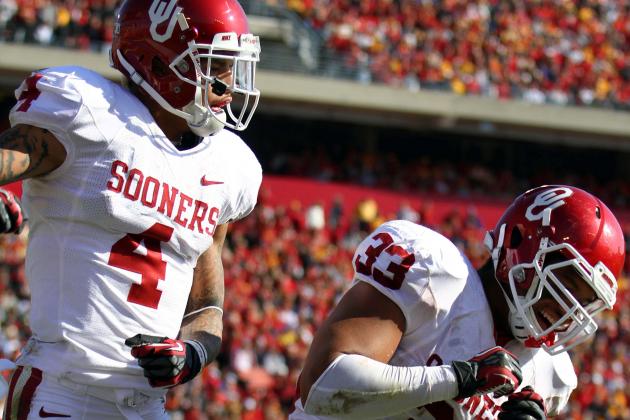 Matt Ryerson-US PRESSWIRE

Position Number Name Height Weight Class
Quarterback 12 Landry Jones 6'4" 218 Sr.
Running Back 26 Damien Williams 6'0" 208 Jr.
Fullback 33 Trey Millard 6'2" 256 Jr.
Wide Receiver 4 Kenny Stills 6'1" 190 Jr.
Wide Receiver 19 Justin Brown 6'3" 209 Sr.
Wide Receiver 18 Jalen Saunders 5'9" 160 Jr.
Tight End 82 Brannon Green 6'2" 250 Jr.
Offensive Tackle 69 Lane Johnson 6'7" 303 Sr.
Offensive Tackle 79 Daryl Williams 6'6" 299 So.
Offensive Guard 74 Adam Shead 6'4" 284 So.
Offensive Guard 68 Bronson Irwin 6'5" 307 Jr.
Center 64 Gabe Ikard 6'3" 288 Jr.
Defense
Position Number Name Height Weight Class
Defensive End 98 Chuka Ndulue 6'3" 256 So.
Defensive End 90 David King 6'5" 286 Sr.
Defensive Tackle 53 Casey Walker 6'2" 309 Sr.
Defensive Tackle 97 J. McFarland 6'2" 288 Sr.
Linebacker 7 Corey Nelson 6'1" 219 Jr.
Linebacker 21 Tom Wort 6'0" 237 Jr.
Nickel Corner 9 Gabe Lynn 6'0" 199 Jr.
Cornerback 14 Aaron Colvin 6'0" 181 Jr.
Cornerback 6 Demontre Hurst 5'10" 183 Sr.
Strong Safety 30 Javon Harris 5'11" 206 Sr.
Safety 1 Tony Jefferson 5'11" 212 Jr.
Special Teams
Position Number Name Height Weight Class
Kicker 18 Michael Hunnicutt 6'0" 173 So.
Punter/Holder 36 Tress Way 6'1" 215 Sr.
Punt Returner 19 Justin Brown 6'3" 209 Sr.
Kick Returner 22 Roy Finch 5'7" 175 Jr.
Longsnapper 31 Daniel Franklin 6'2" 224 Sr.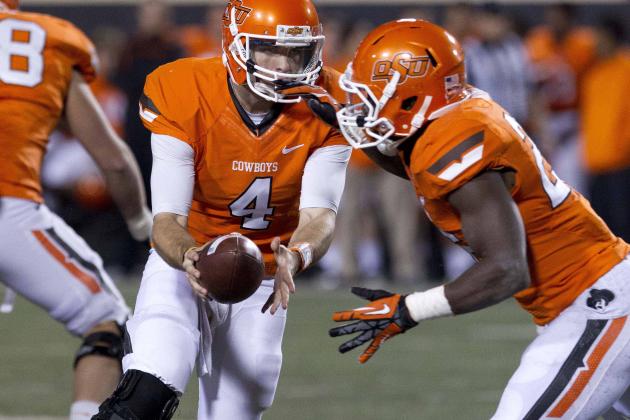 Richard Rowe-US PRESSWIRE

Last week, the Oklahoma State Cowboys dominated the Texas Tech Red Raiders to the tune of 59-21, stifling a prolific Tech offense while also getting into the end zone early and often.
Junior quarterback Clint Chelf played well yet again, completing 11-of-21 passes for 229 yards and three scores. The breakout player was senior wide receiver Isaiah Anderson, who caught four passes for 174 yards and three touchdowns.
The defensive effort was also outstanding, as the Cowboys sacked Tech quarterback Seth Doege three times and hurried him on many of his drop-backs. The defense also held the Red Raiders to under 400 yards of total offense, and the special teams showed up as well. Zack Craig blocked two punts and returned one for a touchdown.
Last week's game against Texas Tech was probably among the most complete games the Cowboys have ever played. The performance certainly boded well for Oklahoma State heading into this week's rivalry game.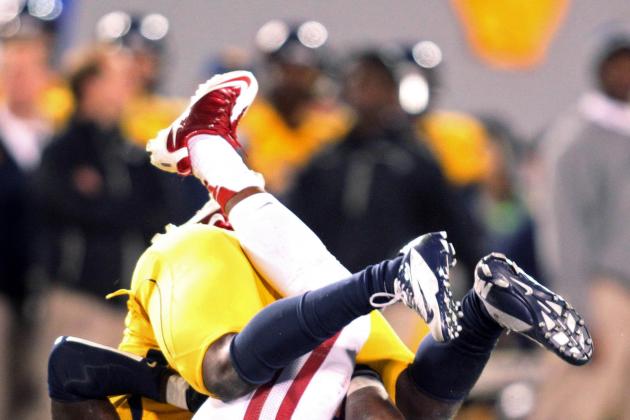 Charles LeClaire-US PRESSWIRE

Last week, the Oklahoma Sooners traveled to Morgantown, West Virginia and squeaked out a one-point win in one of the most explosive shootouts of the season.
Landry Jones proved yet again why he is Oklahoma's all-time leading passer, throwing for 554 yards and six touchdowns, with four of those scores being caught by junior wide receiver Kenny Stills. Junior running back Damien Williams got the Sooners' running game going as well, rushing for 92 yards and a touchdown.
The Sooner defense was not as successful, as it gave up 778 yards of total offense to West Virginia. Mountaineer head coach Dana Holgorsen moved wide receiver Tavon Austin to running back, and he responded by running for 344 yards against Oklahoma. Senior Geno Smith added 320 passing yards and four touchdowns of his own.
The defensive issues have to be troubling for the Sooners, especially given just how well Oklahoma State runs the ball. Sooner defensive coordinator Mike Stoops will certainly be working hard this week in preparation for Bedlam.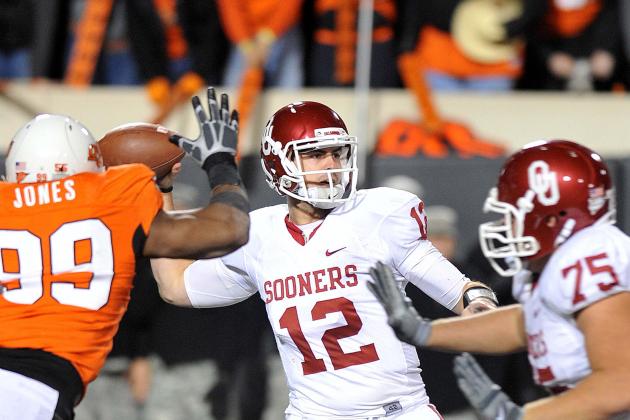 Mark D. Smith-US PRESSWIRE

As unlikely as it may be, it is still technically possible that one of these teams could win the Big 12. Even with a loss, the Sooners are still in decent shape to at least share part of the conference crown. The Cowboys, on the other hand, need to win this game to keep their chances alive.
Oklahoma State is attempting to prove that it has arrived as a Top 25 program, and beating the Sooners would go a long way in that effort. The Sooners are attempting to secure a BCS bowl berth, while also attempting to stay alive to win the conference outright.
Of course, this game also means a little extra for both teams. The state of Oklahoma has always been the "Sooner State." The older brother-little brother relationship is still in effect, and it will continue to be. The Cowboys are still the little brother trying to one-up their older counterpart, and the Sooners are still the older brother trying to stay on top.
That alone is enough to make the game a must-see.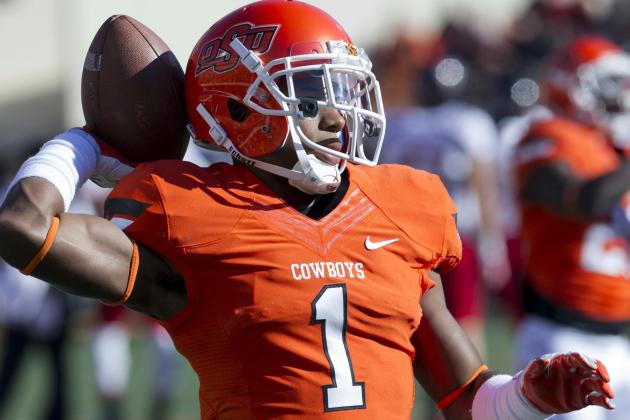 Richard Rowe-US PRESSWIRE

Joseph Randle
The Oklahoma Sooners have struggled mightily to stop the run in multiple games this season, and they will have another tall order against the Cowboys thanks to junior running back Joseph Randle.
Randle has rushed for 1,099 yards and 10 touchdowns. He is a big, powerful back who is also a prime receiver out of the backfield. He torched Oklahoma in last year's 44-10 Bedlam blowout, and the Sooners must ensure that he does not do the same this season.
The Cowboys must use the passing game and their fantastic offensive line to make sure Randle has room to run. Teams have keyed on him recently, which has brought his numbers down. The impressive thing about him is that he has remained productive.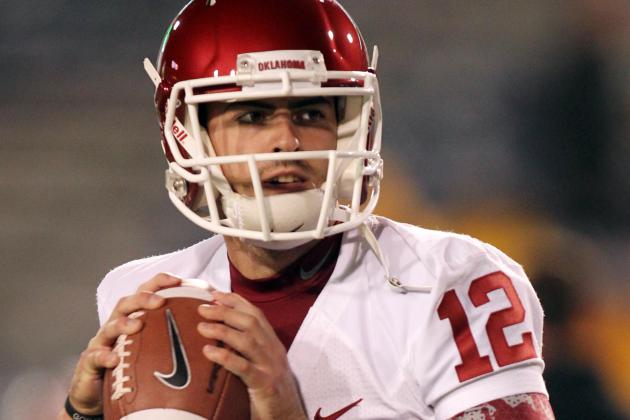 Charles LeClaire-US PRESSWIRE

Landry Jones
The idea that the Sooners' chances rest on the senior signal-caller is not a novel idea. He has been at Oklahoma for years and has been the primary offensive threat for most of those years.
The Oklahoma State defensive front has terrorized West Virginia's Geno Smith and Texas Tech's Seth Doege in multiple weeks. It is getting massive quarterback pressure, and Jones has struggled under such pressure.
If he can make good throws under pressure and have enough time to do so, the Sooners will be much more likely to pull out a win at home. The Oklahoma receiving corps is deep and talented, and it should win the matchup with the Oklahoma State secondary. It all comes down to Jones and his offensive line vs. this Cowboy defensive front.
Richard Rowe-US PRESSWIRE

The Oklahoma State Cowboys will win this game if they can win the turnover battle.
Against Arizona, Texas and Kansas State (their three losses), the Cowboys had key turnovers that killed their chances at winning what should have been winnable games. That cannot happen this week if Oklahoma State wants to win Bedlam for a second year in a row.
After leading the nation in turnover margin in 2011, the Cowboys have been pretty poor in that category. Lately, the team has been better overall, but the Cowboys need to be better in that regard on the road this week.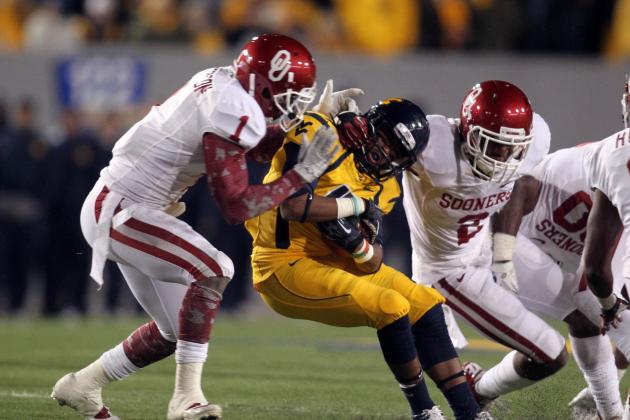 Charles LeClaire-US PRESSWIRE

The Oklahoma Sooners will win this game if they can stop the Cowboy running game.
The Cowboys use their running game to move the ball, and much of their passing game plays off the assumption that they have a strong running game with Joseph Randle and Jeremy Smith.
Oklahoma must not give up the huge amounts of yards on the ground that it has against other Big 12 teams. Oklahoma State is one of the best rushing teams the Sooners will face all season, and Oklahoma's defensive front must play much better than it has to shut the Cowboys down.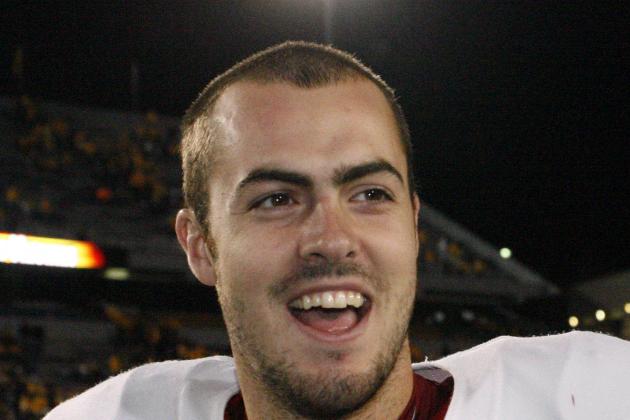 Charles LeClaire-US PRESSWIRE

This game will be among the most epic in Bedlam history.
It will be a boxing match throughout the game, with both teams playing extremely physical football and trying to dominate the other. Both defenses will show up, but the offenses will ultimately both be able to score.
In the end, the home atmosphere will propel Oklahoma to a win. It will be a narrow one, and it will not be decided until the final minutes of the fourth quarter. Landry Jones will make enough passes to win, and the Cowboys will lose, despite a noble effort.
Prediction: Oklahoma 38, Oklahoma State 34