Lane Kiffin and 10 Other Coaches on the Verge of the Hot Seat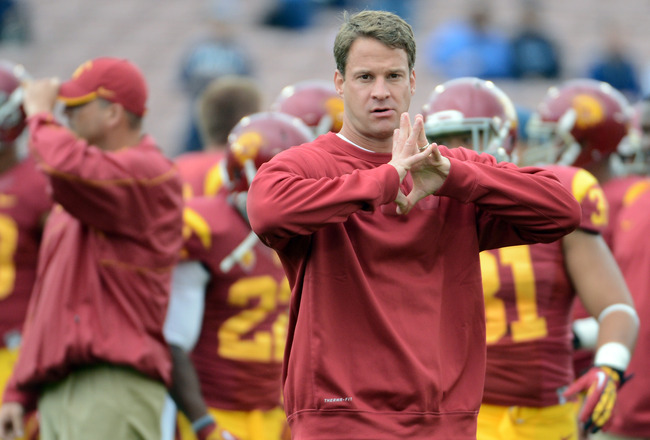 Harry How/Getty Images
You'd have been hard pressed to find somebody in the preseason who would have predicted that with one regular season game left to remaining that USC would be 7-4 and out of both the Pac-12 title race and the BCS conversation.
Yes, what seemed like a Trojan football revival in August wound up being a major disappointment in November, so the next obvious question is who is to blame?
Well, it's difficult not to cast a judgmental glance in the direction of USC's young coach Lane Kiffin, the guy who was supposed to take his 30-26 overall record as a head football coach and cash it in on a BCS title.
After Saturday's costly 38-28 loss to UCLA, Kiffin has suddenly gone from a great hire to a guy who is sitting on a seat that is warming up as we speak.
The following slideshow discusses Kiffin's plight moving forward and then highlights 10 other head coaches who may have job security concerns in the very near future.
Each of these gridiron leaders came into the 2012 season with their own unique set of circumstances, but in 2013 they may share the unfortunate common bond of being tagged as "Hot Seaters."
Lane Kiffin, USC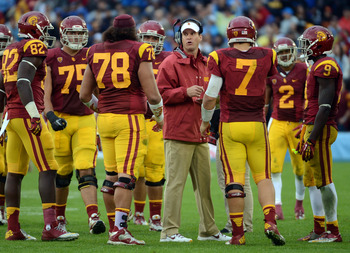 Harry How/Getty Images
Overall Record as a College Head Coach: 32-17
Record at USC: 25-11
Seasons at USC: 3
Lane Kiffin's stats at USC are all relative to expectations.
Yes, while 25-11 in almost three seasons doesn't sound like "hot seat" material, USC came into the 2012 stacked with talent and worthy of its No. 1 preseason billing.
Speed forward a mere 12 weeks and what was once a BCS campaign has been ultimately upended by losses to Stanford, Arizona, Oregon and UCLA.
Despite the fact that all four losses were to teams which are still in the current BCS rankings, this is a squad that was supposed to be undefeated, or at the very worst a one-losser going into the final game of the season vs. Notre Dame.
The irony is even more delicious when you throw in the fact that now it's the Irish that are putting their perfect record on the line at USC.
According to comments by USC AD Pat Haden after the loss to UCLA, Lane Kiffin's job is safe for now but you have to believe that a repeat performance in 2013 could really turn up the heat on a coaching seat that is getting warmer by the moment.
Tommy Tuberville, Texas Tech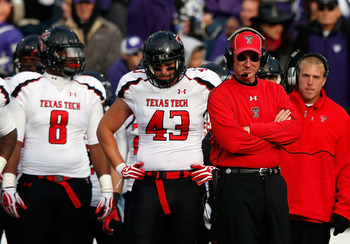 Jamie Squire/Getty Images
Overall Record as a College Head Coach: 130-75
Record at Texas Tech: 20-15
Seasons at Texas Tech: 3
Back-to-back wins over then-No. 5 West Virginia and TCU made it look like Tommy Tuberville had finally gained traction as the long-term leader in Lubbock.
But despite the short-lived triumph of a 6-1 start in 2012 the Red Raider Nation has seemingly soured, once again, on Tubs due the recent 1-3 streak which included an ugly loss at Kansas State, a winnable loss vs. Texas and a gut-wrenching beatdown last Saturday at Oklahoma State.
Oh yeah, and the only win was an overtime fiasco vs. 1-10 Kansas…
While it may be true that the Texas Tech fanbase hasn't given Tuberville a fair chance, it's hard to ignore the sting of last season's 5-7 injury-fueled finish and this year's 7-4 mark filled with blowout losses and OT wins.
Simply put, Tuberville hasn't done himself any favors at Texas Tech, and until the confidence level regarding his coaching job and the on-field product rise from the ashes of embarrassment, he will be drawing ever closer to the hot (or hotter) seat.
And that's saying a lot for a place that is as historically patient as the wind-whipped South Plains.
Kirk Ferentz, Iowa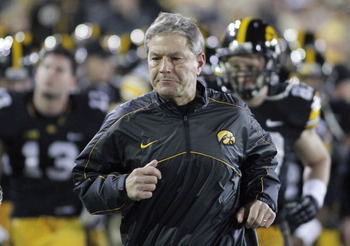 Matthew Holst/Getty Images
Overall Record as a College Head Coach: 112-95
Record at Iowa: 100-74
Seasons at Iowa: 14
Frankly, it's almost surreal to see Kirk Ferentz's name on a list that even hints at a coaching hot seat.
Yes, this is the guy who has already led Iowa to four double-digit win seasons, three Orange Bowls and two Big Ten titles.
But, even all the wonder of the past (including the fact that Ferentz stayed loyal to Iowa even when his coaching star shone the brightest) can't atone for last season's 7-6 finish and then the pure awfulness of the 4-7 mark thus far in 2012.
Though you could argue that the Hawkeyes are woefully young this season, it's still difficult to explain five consecutive Big Ten losses that include narrow misses to Northwestern, Indiana and Purdue.
You have to believe that Ferentz will right the ship in 2013 and will hold on to his job in Iowa City until he decides he's done, but then again maybe he's yet another top guy to fall victim to a weird, spreading case of burnout.
Indeed, perhaps Ferentz shares a path to the proverbial "hot seat" with men such as Mack Brown, Bob Stoops and Mark Richt—all top coaches who seem to be tanking when crossing the decade mark at their current coaching stop.
Dana Holgorsen, West Virginia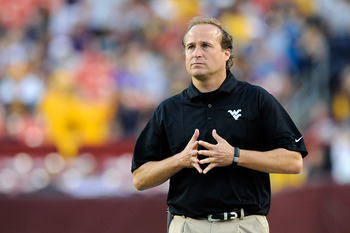 Patrick McDermott/Getty Images
Overall Record as a College Head Coach: 15-8
Record at West Virginia: 15-8
Seasons at West Virginia: 2
If you've ever wondered about the instability associated with a major college football coaching job, refer to Dana Holgorsen's 2011-12 experience at West Virginia as case study No. 1.
Holgorsen's "toast of town" tour began after last season's 70-33 blowout of Clemson in the Orange Bowl and blazed a national-media sparked trail all the way through the Mountaineers wild Week 5 win over Texas in Austin.
Yes, Geno Smith was the shoe-in for the Heisman and West Virgina was going to win the Big 12 and had every chance of competing for a BCS title.
This was all true until the national championship train stopped off in Lubbock, Texas (as it often does…) and the Mountaineers laid a 49-14 egg.
But, wait this wasn't the end…or was it? More offense really does trump zero defense—right?
Well apparently, or as it would seem…no, it doesn't.
Suddenly, or slowly and painfully if you love West Virginia football, what was a 5-0 record slipped to a 5-5 mark after consecutive losses to Texas Tech, Kansas State, TCU, Oklahoma State and Oklahoma.
And now what was feasibly a season bound for title-town is a campaign that may not even stop for a lower-tier bowl game.
At the center of the controversy is the wild-haired Dana Holgorsen whose job security has taken the most dramatic, unforeseen hit in our college football nation.
And with Geno Smith and Tavon Austin gone after this season, you have to wonder what will happen next for the offensively minded coach.
Charlie Weis, Kansas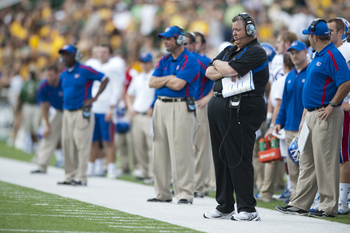 Cooper Neill/Getty Images
Overall Record as a College Head Coach: 36-37
Record at Kansas: 1-10
Seasons at Kansas: 1
It's a sad truth that we live in a college football world where even first-year head coaches aren't safe from the hot seat.
But, the truth hurts and it hurts guys like Charlie Weis who opt to take on one of the most monumentally fraught rebuilding jobs in the country.
It's unsure what Weis or the Jayhawks realistically expected in 2012, but you have to figure that a primary goal would have been improving on last year's 2-10 overall mark.
And this is an aim that simply won't happen with a 1-10 record through 11 weeks of play and a final game slated at West Virginia on Dec. 1.
At best Kansas can tie its two-win total from 2011, but no matter what it does vs. West Virginia, it can't improve on it.
There is no doubt that Kansas presents one of the most difficult jobs in the coaching world: improving a program amidst the backdrop of a super-competitive major conference where progress is dampened by a field of teams that need to beat someone.
But all challenges aside, losing 51-13 to Iowa State, 25-24 to Rice and 30-23 to Northern Illinois is hard to swallow.
This is the kind of season where hope is elusive, especially when you own the No. 113-ranked scoring offense and No. 104 scoring defense in the nation.
Weis needs to find wins quickly in 2013, or he will become the next ex-coach from Kansas.
Skip Holtz, USF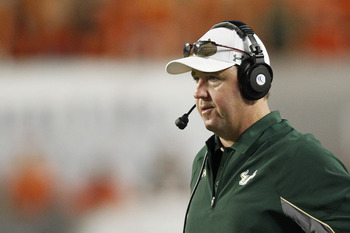 Joel Auerbach/Getty Images
Overall Record as a College Head Coach: 88-68
Record at USF: 16-18
Seasons at USF: 3
Lost somewhere in the shuffle of a zillion other 2012 national college football headlines is the fact that USF, a team that many folks expected to win a shrunken Big East race, is 3-7 with two games left to play.
Yes, the Bulls were 5-7 last season but they returned a whopping 18 starters in 2012 and play in a conference that is by and large relatively much younger across the board.
After beating FCS Chattanooga in Week 1 and then nipping Nevada (32-31) in Week 2, the Bulls dropped six straight to Rutgers, Ball State, Florida State, Temple, Louisville and Syracuse before finally rebounding with a 13-6 win over UConn on Nov. 3.
The nasty trend continued last Saturday with a 40-9 loss to Miami (Fla.), and USF's opportunity to not post its worst finish in program history (the Bulls went 4-7 in 2004) comes at Cincinnati this Friday and then vs. Pitt on Dec. 1.
The bottom line is that other than an 8-5 finish in 2010, Skip Holtz has led USF to its biggest dip in production in the short history of Bulls football, and all the promise in the world can't fix that.
Tim Beckman, Illinois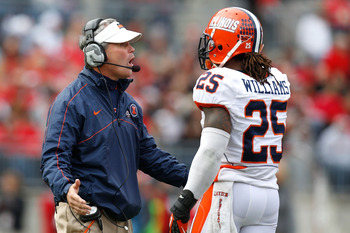 Kirk Irwin/Getty Images
Overall Record as a College Head Coach: 23-25
Record at Illinois: 2-9
Seasons at Illinois: 1
Unlike the situation facing Charlie Weis at Kansas, Illinois is a place where a coach can win, and frankly I believe that Tim Beckman will do just that if he is given a realistic opportunity.
But, again, we're dealing with a "we want it now" world, and so Beckman, who leads a team that is 2-9 in 2012, is a candidate for these types of negative listings.
With a current losing streak of seven games, zero Big Ten wins and two victories over the likes of Western Michigan and FCS Charleston-Southern, it's easy to understand why Illini enthusiasts might have their panties in a wad.
But keep in mind that Tim Beckman has a positive track record that is still trending up, as the Toledo team he led to a 21-16 mark over three seasons is at 8-3 thus far in 2012.
Patience is one of the more difficult virtues to aspire to in American team sports, but Illinois would be well-served to throw out the thermostat on Beckman's coaching seat until he's had at least three years on the job.
Rich Ellerson, Army
Streeter Lecka/Getty Images
Overall Record as a College Head Coach: 77-72
Record at Army: 17-31
Seasons at Army: 4
Though many folks will explain away Rich Ellerson's 17-31 record at Army by saying that service academies are inherently difficult to coach to a winning record (and they'd be right), let's not forget what's going on at both Air Force and Navy.
Yes, while Army has enjoyed only one winning season since 1996 (it went 7-6 under Ellerson in 2010), Ken Niumatalolo has brought Navy four winning campaigns since taking over in 2008 and Troy Calhoun has led Air Force to six consecutive winning seasons since 2007.
On the one hand, Ellerson has improved the football fortunes at Army (to the tune of leading the Black Knights to their first bowl win since 1985), but on the other hand he's pumped out only one winning record in four tries.
Throw in the fact that the Black Knights haven't beaten Navy since 2001 and haven't won the Commander in Chief Trophy since 1996, and you get the picture.
So, how low or how high should the bar be set for football success at Army, and which coach can get it there?
Well, we won't have to answer this question if Ellerson and Army can take out 7-4 Navy on December 8, a win that will earn the Black Knights not only the golden streak-ender but also the coveted Commander in Chief prize.
But remember, this is a team that lost to Temple last Saturday, 63-32.
Gary Pinkel, Missouri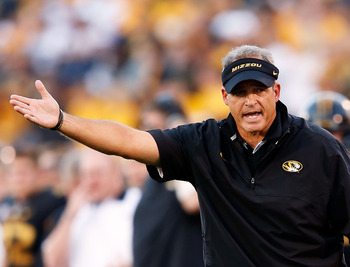 Jamie Squire/Getty Images
Overall Record as a College Head Coach: 163-97-3
Record at Missouri: 90-60
Seasons at Missouri: 12
Though on the surface it might look like Gary Pinkel made this list due to Missouri's migration from the Big 12 to the SEC for the 2012 season, but really there is a lot more meat on the bone.
Indeed, even though Pinkel's run of seven consecutive winning seasons is over in 2012 unless the Tigers can beat Texas A&M this Saturday night, questions about his viability at Missouri run deeper than one tough season.
Yes, Pinkel led Mizzou to three Big 12 North division titles, but overall his record in conference play is 49-47 over 12 years.
Pinkel is a good coach, but two things are currently working against him in terms of preventing a seat warmer.
First, he's never really taken Missouri to the "next level" in terms of a full-fledged conference championship or BCS appearance.
Secondly, Pinkel will now face the unenviable task of taking things up a notch amid the backdrop of the SEC, and well, winning the SEC East is an entirely different affair than triumphing in the Big 12 North.
How are things going thus far?
Well, SEC or no SEC, you simply can't lose to a .500 Syracuse team in Week 11.
That would have looked bad even back in the safer confines of the Big 12 conference.
Ellis Johnson, Southern Miss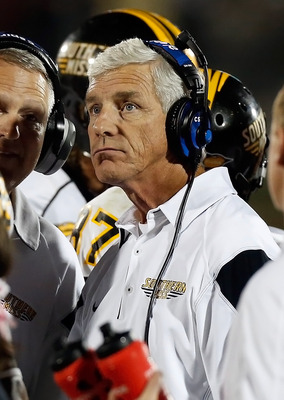 J. Meric/Getty Images
Overall Record as a College Head Coach: 17-39
Record at Army: 0-11
Seasons at Army: 1
Personally I don't think Ellis Johnson completely deserves mention in a "verge of the hot seat" listing, but when you coach the only winless team in the FBS through 12 weeks of play, it's difficult not to at least say something.
Yes, Southern Miss is 0-11 and is one loss away to Memphis this Saturday from being out of the winner's circle completely in 2012.
And this all looks even uglier and more devastating when you remember that Southern Miss went 12-2 last season and captured a Conference USA crown.
But, despite all the factual evidence otherwise, Johnson has all the makings of a good coach and it's important to note that he didn't necessarily walk into the best of situations in Hattiesburg.
Really?
Indeed, the Golden Eagles returned a mere 12 starters in 2012 ranking them No. 8 in their conference and No. 96 nationally in terms of experience.
And this is a first-year head coach who hasn't led a team since he was the head man at The Citadel in 2003.
Really you could argue that any guy, including Larry Fedora, would have experienced a dip in output in 2012, but then again, really you'd expect to win at least one game given a full season of opportunities.
No matter how you slice it, leading Southern Miss to its first winless campaign since 1925 is not a good thing.
Randy Edsall, Maryland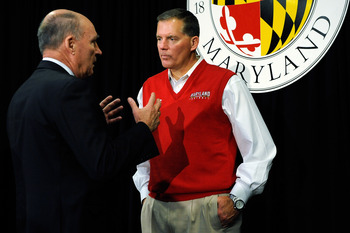 Patrick McDermott/Getty Images
Overall Record as a College Head Coach: 80-87
Record at Army: 6-17
Seasons at Army: 2
After leading Maryland to a decade-low 2-10 campaign a year ago, Randy Edsall has rebounded ever so slightly this season with a 4-7 mark with one game left to play.
The Terrapins have been injury-riddled to the max but still, not earning bowl eligibility in back-to-back seasons in a world where over 50 percent of the field makes the postseason?
Not good, no matter how many flag explosions you produce on your uniforms.
Perhaps Maryland fans should place a call to their favorite College Park radio D.J. and request that Janet Jackson's "What have you done for me be lately?" be dedicated to Edsall.
And as far as what Coach Edsall might be able to pump out in the hazy future of a liaison with the Big Ten, this guy is 3-12 in ACC play.
Yes, Randy Edsall has won three league games in two years; Virginia and Wake Forest went down this season and a suspension-ridden Miami (Fla.) fell flat in the 2011 opener.
Yikes.
Keep Reading