5 Teams Manchester United Will Want to Avoid in First UCL Knockout Stage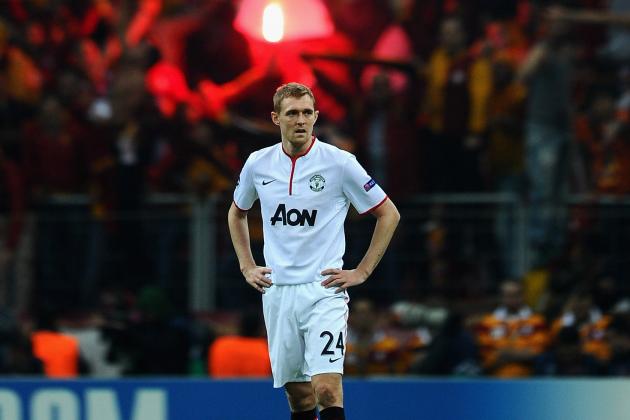 Laurence Griffiths/Getty Images

It is becoming increasingly difficult to predict the outcome of Manchester United's games. Losses in the EPL against Everton, Tottenham Hotspur and Norwich City have been interspersed with wins that have included numerous comebacks and late goals.

If you were to look at the group table in the UEFA Champions League, prior to last night's second-string defeat to Galatasaray, you would think that this tournament had proven a little more straight-forward than the EPL. Twelve points from four games is an impressive record.

Closer scrutiny of the group games, particularly those against SC Braga, reveals a very different story. The defensive frailties that have dogged United all season in the domestic league also reared their head in Europe's premier competition.
United, though, were grateful for a kind draw in the group stage that could almost have been hand-picked in its entirety by Sir Bobby Charlton. The Red Devils have had more than enough to see off each of the teams and qualify for the knockout stages with matches to spare.

If you take the trio of Galatasaray, SC Braga and CFR Cluj and then compare those to the teams that cross-town rivals Manchester City have had to face: Real Madrid, Borussia Dortmund and Ajax – things could have been much tougher for Manchester United.
City, the English champions, have struggled to progress. Indeed, European champions Chelsea have also faltered against tough opposition, proving that the UEFA Champions League is as strong as ever this year.

Last season's early exit meant that Sir Alex Ferguson wanted to push for qualification as soon as possible this time around. He got his wish, albeit in a group that United would be certainly be expected to navigate. Things are about to get tougher.
There are at least five teams that Sir Alex and Manchester United will want to avoid in the next round.


Begin Slideshow

»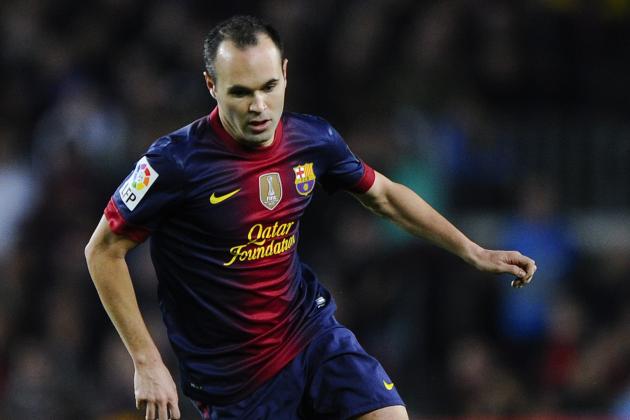 David Ramos/Getty Images

Arch nemesis from two recent finals that any United fan will want to forget, FC Barcelona are still a force to be reckoned with.
Both finals followed a similar pattern: blistering opening few minutes from United, with no real chances made, followed by Barca finding their feet and then dominating proceedings.
Chances on goal remained at a premium for the men from Manchester and their open style seemed to play right in to Barcelona's hands. Not too much, style-wise, has changed for the two sides since their last meeting.
Over two games, though, perhaps a plan could be hatched? Celtic managed a home win against the mighty team from Catalunya, would United stand a better chance at Old Trafford than on neutral ground?
Stifle Barcelona and they may become frustrated. It is rare, but Chelsea showed in last season's semi-finals that it can be done.
Unfortunately, United don't seem to be able to stifle any team's creativity at the moment. With the head start that United like to give teams this season, they would be unlikely to be able get back. Two matches do give more opportunities. But that works for both teams.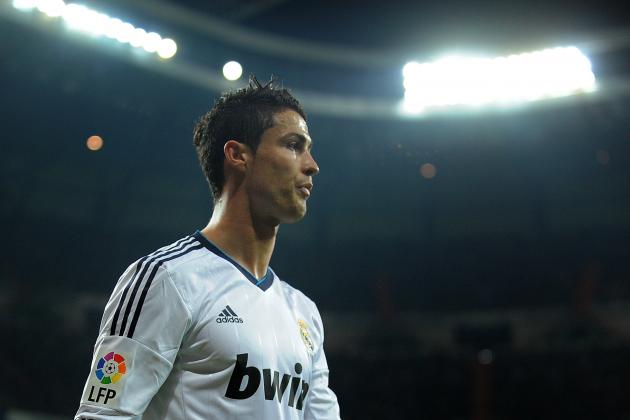 Denis Doyle/Getty Images

The last two times that these teams met in the UCL, United were on the losing side. Who could forget Roy Keane's own goal and Redondo's beautiful swivel on the touchline that destroyed the hopes of back-to-back wins in 2000?
There is also the thrilling memory of the "(original) Ronaldo hat-trick" match at Old Trafford when United won 4-3, but went out 5-6 on aggregate (David Beckham's last Champions League match in the Red shirt of United).
The current Real Madrid team possesses pace, power and high levels of technical ability in abundance. It also possesses a certain Portuguese duo.
Jose Mourinho and Cristiano Ronaldo may have difficulties at the moment in Spain – Mourinho feeling unloved by the media and Ronaldo unloved by the supporters. Both have happy memories of their time in England.
Mourinho has never hidden his passion for football in England, and perhaps has long coveted the managerial role at Old Trafford once Sir Alex retires. Ronaldo built his stardom at United and was very successful. He surely pines for the days that he was glorified by the mancunian supporters.
Both are a driving force for Real Madrid, but you cannot dismiss the contributions of the likes of Karim Benzema, Xabi Alonso, Angel Di Maria and Gonzalo Higuain – all of whom will pose difficult questions for United's midfield and defence.
It is the Portuguese pair that will have a real point to prove, though. They will both ask the same question to the whole of England. "Do you miss me?"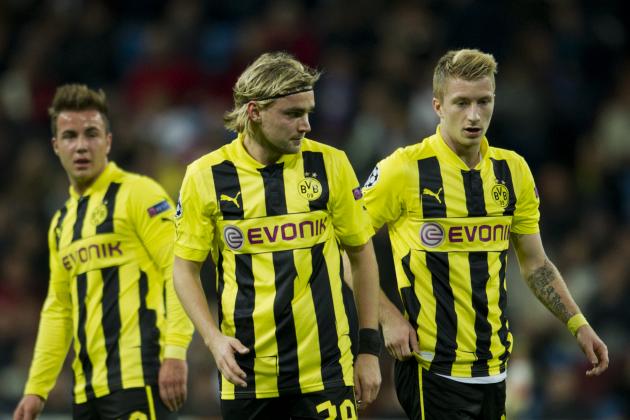 Jasper Juinen/Getty Images

Borussia Dortmund are currently trailing behind a rampant Bayern Munich in this season's Bundesliga. Their game plan remains similar to that of last season, despite the loss of Shinji Kagawa to United.
With high pressing and extremely quick attacking play, pushing the ball forward as soon as possible, they remain a powerful outfit. This is shown by their performances so far this season, in a very difficult UCL group.
Dortmund's work rate is phenomenal. Marco Reus and Mario Gotze are attacking midfielders who also put in a large amount of defensive work for the side, swarming over opposition players to force mistakes.
Forward Robert Lewandowski has not been as prolific so far this season as he was last, but he acts as a perfect lone striker in European games, defending from the front.
Any trip to Dortmund's Westfalenstadion is made an intimidating affair by the home supporters in every game.
The current players only add to the fear factor for visiting teams.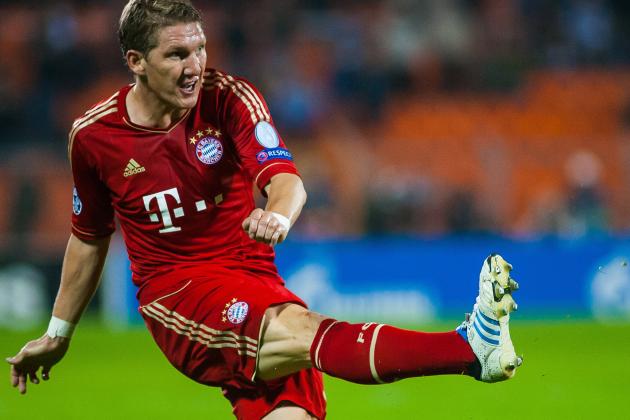 EuroFootball/Getty Images

Bayern Munich have set a blistering pace at the top of a very strong Bundesliga this season.
They somehow contrived to lose to Chelsea in the final last year, missing many chances to wrap up the game. Bayern were outdone by a very late equaliser from Drogba and eventually failed in the penalty shootout. No strangers to last-minute heartache in the UCL (remember the 1999 final, United fans?), they will be looking to go one further this time out.
Bayern are another powerful team, flexible in their approach to whichever tactics their opponents may utilise. They also have a posse of true world stars at their disposal.
Franck Ribery is back in good form, and Arjen Robben should be fit by the knockout stages; along with Sebastian Schweinsteiger and newcomer Javi Martinez, Bayern can dominate any midfield.
There is attacking threat also in the shape of Thomas Muller and a returning Mario Gomes. Evergreen Phillip Lahm and excellent goalkeeper Manuel Neuer should also be mentioned.
The Bavarians will feel confident with such a squad that they can beat any team left in the competition and at least repeat last season's final appearance.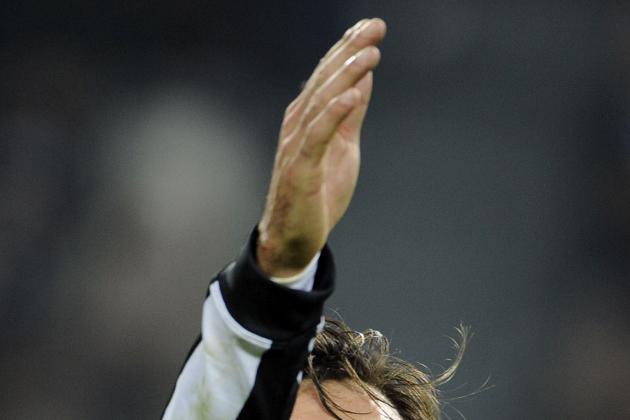 Claudio Villa/Getty Images
Pirlo's magnificent face-furniture
I was toying with the idea of putting PSG here. Signing the likes of Zlatan Ibrahimovic, Javier Pastore and Thiago Silva made people take notice of the Parisians. The capture of Lucas Moura from under Manchester United's nose again showed their ambition and spending power, but Juventus' performance against Chelsea changed my mind.
Juventus have only recently had an amazing unbeaten run in Serie A ended, by Inter in Game 50. Question marks hang over the quality of Serie A at the moment, but that cannot mask the achievement. It only remains for Juve to show the same sort of form in European competition to ensure that their name will start to ring out with some resonance again.
Now firmly at home in their intimidating new stadium, with the crowd very close to the action, they have shown form in this season's UCL that should make people take notice. Not least the 3-0 demolition of Chelsea on Tuesday night.
Goalkeeper Gianluigi Buffon is as driven and difficult to beat as ever; Giorgio Chiellini a beast in defence and the aging, but rejuvenated (and wonderfully hairy) Andrea Pirlo is still conducting things in midfield.
With a mobile group of younger players around him, such as Kwadwo Asamoah and Mirko Vucinic acting as his musicians, Juve are starting to make sweet footballing music.
Throw into the mixer former United starlet Paul Pogba, Juventus are certainly another side that Manchester United would want to avoid.
Having said all that, I am sure that United would be a team that each of those on the list would want to avoid as well!