TCU Horned Frogs vs. Texas Longhorns: Complete Game Preview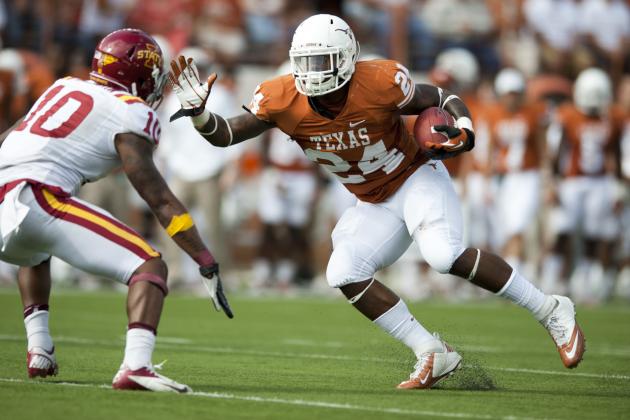 Cooper Neill/Getty Images

Who: TCU Horned Frogs (6-4, 3-4) vs. Texas Longhorns (8-2, 5-2)
When: Thursday, Nov 22 at 7:30 PM EDT
Where: Darrell K Royal-Memorial Stadium (Austin, TX)
TV: ESPN
Radio: All stations and times (courtesy of tunein.com)
Line: Texas by 7.0
Bowl implications abound for the No. 16 Texas Longhorns as they host the newly-arrived TCU Horned Frogs at Royal-Memorial on Thanksgiving Day, renewing an old Southwest Conference rivalry.
With a win in this contest, the surging Longhorns keep their BCS hopes alive and set up a showdown on December 1 with No. 6 Kansas State. As for Gary Patterson's TCU team, this group is trying to get back to .500 after struggling with the meat of their Big 12 schedule in its debut season.
Here is the complete preview for this matchup as these two teams get set to renew their rivalry in Austin on Thursday.
Begin Slideshow

»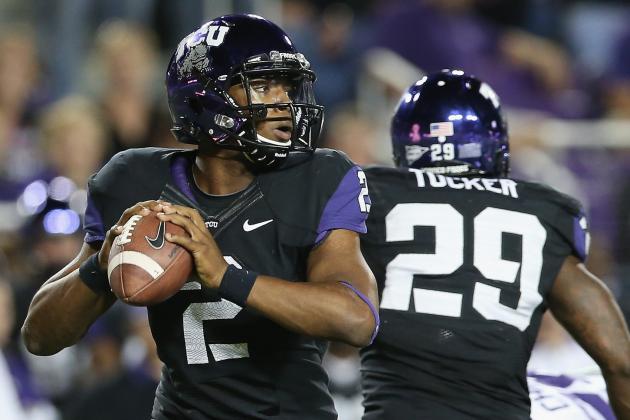 Ronald Martinez/Getty Images

Offense:
QB: Trevone Boykin, Fr.
RB: Matthew Tucker, Sr.
WR: Josh Boyce, Jr.
WR: Brandon Carter, So.
WR: LaDarius Brown, Fr.
WR: Skye Dawson, Sr.
RT: Aviante Collins, Fr.
RG: Eric Tausch, Jr.
C: James Fry, Sr.
LG: Blaize Foltz, Sr.
LT: Tayo Fabuluje, So.
Defense:
DE: Stansley Maponga, Jr.
NT: Davion Pierson, Fr.
DT: Jon Lewis, So.
DE: Devonte Fields, Fr.
SLB: Kenny Cain, Sr.
MLB: Joel Hasley, Jr.
CB: Jason Verrett, Jr.
CB: Kevin White, So.
SS: Sam Carter, So.
WS: Chris Hackett, So.
FS: Elisha Olabode, Jr.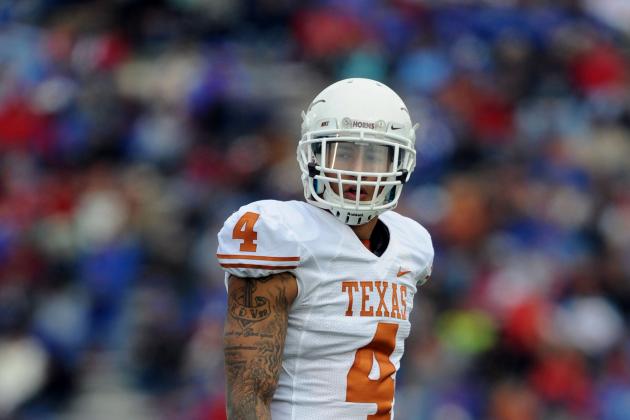 John Rieger-US PRESSWIRE

Offense:
QB: David Ash, So.
RB: Johnathan Gray, Fr.
WR: Mike Davis, Jr.
WR: Jaxon Shipley, So.
WR: Marquise Goodwin, Sr.
TE: D.J. Grant, Sr. or Greg Daniels, So.
RT: Josh Cochran, So.
RG: Mason Walters, Jr.
C: Dom Espinosa, So.
LG: Trey Hopkins, Jr.
LT: Donald Hawkins, Jr.
Defense:
DE: Cedric Reed, So. or Reggie Wilson, Jr.
NT: Desmond Jackson, So.
DT: Brandon Moore, Jr.
DE: Alex Okafor, Sr.
OLB: Demarco Cobbs, So.
MLB: Steve Edmond, So.
OLB: Kendall Thompson, So. or Peter Jinkins, Fr.
CB: Quandre Diggs, So.
FS: Kenny Vaccaro, Sr.
SS: Adrian Phillips, Jr.
CB: Carrington Byndom, Jr.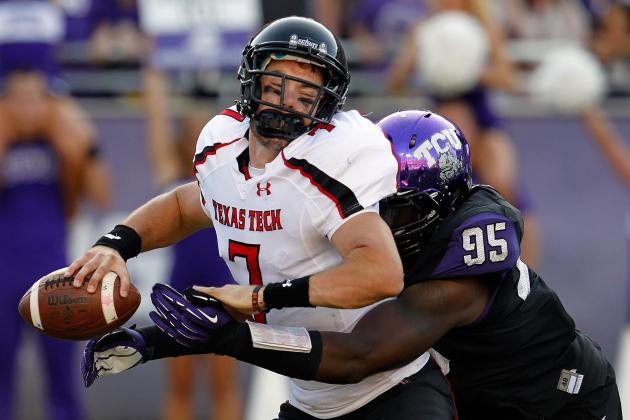 Tom Pennington/Getty Images
Only a freshman, Fields has already established himself as one of the Big 12's top pass-rushers.
Making their highly-anticipated debut in a BCS conference the Horned Frogs have found mixed success in their first season in the Big 12, mainly because they have been without their starting quarterback.
Gary Patterson's squad was off to a strong 4-0 start this season before junior quarterback Casey Pachall was forced to leave the team after being arrested for DWI in October. Pachall's suspension forced Patterson to turn to freshman Trevone Boykin, who has had his moments, but is a significant drop-off at the position. The most glaring difference between the two is in the turnover department as Boykin has thrown eight picks compared to only one by Pachall.
But the Frogs are not without offensive weapons. Both running backs Matthew Tucker and B.J. Catalon average over 4.5 yards per carry, and receivers like Josh Boyce have proven reliable targets for the freshman Boykin.
Also backing the young Boykin is one of the nation's stiffest defenses led by super freshman Devonte Fields, who has eight sacks and 15.5 tackles for loss on the year. This unit is especially good against the run, giving up only 98 yards per game to the opposition.
While the Frogs have not enjoyed the success in 2012 that they have been used to in recent years, they still have one of the best coaches in the game. That alone should have these guys contending in the Big 12 very soon.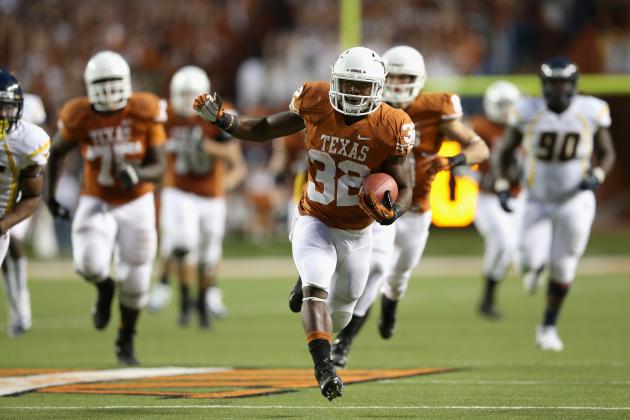 Ronald Martinez/Getty Images
Texas has its own big-time freshman in Gray, who has only gotten better as the season has worn on.
Discounted by all following an abysmal showing against Kansas, the Longhorns have righted the ship these past two games and are poised to play BCS-buster to close the season.
The Longhorns started the season 4-0, but seemed to be entering free fall in the following four weeks. Consecutive losses to West Virginia and Oklahoma, the latter of which was a 63-21 debacle, greatly humbled Mack Brown's squad. Then too-close-for-comfort wins over a middling Baylor team and downright bad Kansas team took fans to the brink of panic.
But the Longhorns have since found their mojo after convincing wins over both Texas Tech and Iowa State, two of the conference's more surprising teams. Keying the turnaround were running back Johnathan Gray and wideout Mike Davis, who have each played their best football of the season over the past few games.
Now the 'Horns are staring at the possibility of winning the Big 12 should they win their final two games and get some help from Oklahoma State. Even if the best-case scenario does not pan out for this team, its rebound from an ugly mid-season stretch is something that should leave them proud.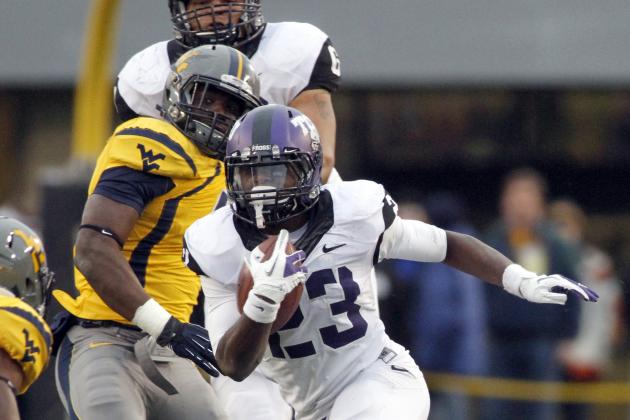 Justin K. Aller/Getty Images

RBs Matthew Tucker and B.J. Catalon
In order for the Horned Frogs to pull off the upset over the 'Horns, running backs Matthew Tucker and B.J. Catalon are going to need to have big games.
Though they have been better in their past two games, the Longhorns are still surrendering 200 yards per game on the ground at five yards per carry. That alone should have Tucker and Catalon itching for a big game, having combined for 855 yards on 185 carries this season with a 4.6-yard average.
In both of Texas' losses this season, the defense has given up big games to opposing running backs. The first was West Virginia backup Andrew Buie, who racked up 207 yards on the 'Horns. The second was the entire Oklahoma team that ran over the Texas front for 343 net yards.
Not only does running the ball keep it away from the explosive Texas offense, but success on the ground will slow down the effective Texas pass rush. If Boykin has to deal with pressure all day, he is going to turn the ball over and TCU cannot afford that on the road. Both runners should get at least 25 combined touches.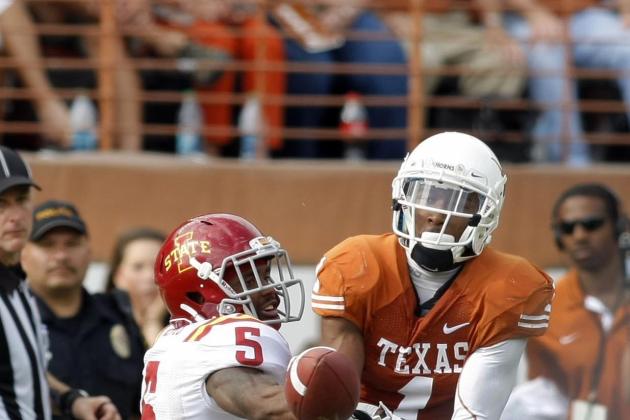 Brett Davis-US PRESSWIRE

WR Mike Davis:
The TCU defense is certainly talented, but it does not have anyone that can cover Texas wideout Mike Davis one-on-one. The Longhorns need to take advantage of that on Thursday.
Davis' ability to take the top off of the defense has been a driving force behind this offense's resurgence over the past two games, and really the whole season. In games where Davis goes over 100 yards, Texas averages 563 yards of offense and wins by an average of 19 points. Those are 100 yards and nine points better than its season average, respectively.
Texas quarterback David Ash has obvious confidence in Davis, especially when he is looking to air it out. That spells trouble for a TCU secondary that allows almost 13 yards per catch and does not have anyone that can man-up on him outside.
If Davis can continue to get down the field and showcase his now-reliable hands, he is going to have another huge game for the Longhorns. From there, this Texas offense should be able to impose its will.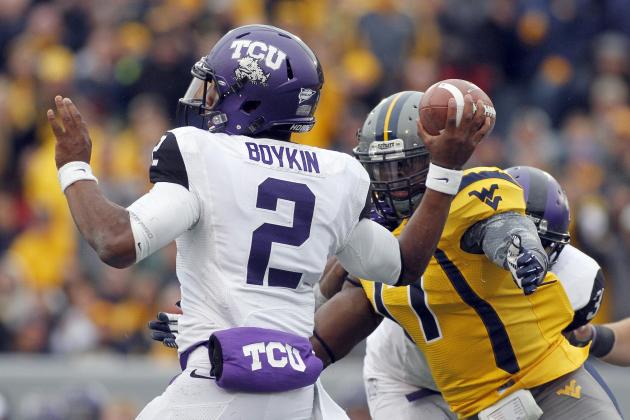 Justin K. Aller/Getty Images
Success on the ground will make things much easier on the freshman Boykin.
Get Pressure on David Ash:
The easiest way to beat Texas is to make life miserable for quarterback David Ash, which is exactly what the Horned Frogs need to do to beat Texas on Thursday.
Ash has thrown multiple picks in only two games this season, including a blowout loss to Oklahoma and in the win over Kansas (a game from which he was eventually pulled). In both of those games, Ash was consistently pressured and forced to make throws sooner than he liked, which resulted in very errant passes.
But when Ash gets a chance to set his feet, he is deadly. This means that the TCU front has to find a way to get Ash on the ground. It is easier said than done as the Longhorn offensive line has allowed only seven sacks this season, but that task will be paramount in picking up the win in Austin.
Run the Ball:
On the offensive side of the ball, the Horned Frogs need to use their talented running backs Catalon and Tucker to gash this Texas defense.
The Horned Frogs simply have to find a way to run the ball against Texas' defense. Otherwise, TCU could be in for a long day as the Longhorns have the talent both up front and in coverage to make this a long day for freshman quarterback Trevone Boykin. For example, the Longhorn defensive line almost beat West Virginia single-handedly with two strip-sacks of Heisman-hopeful Geno Smith.
Luckily for the Frogs, they can slow down that pass-rush by taking advantage of a soft Texas run defense that gives up 200 yards per game on the ground. If they can do so, Boykin will have a much easier time getting the ball to his receivers and playing turnover-free football.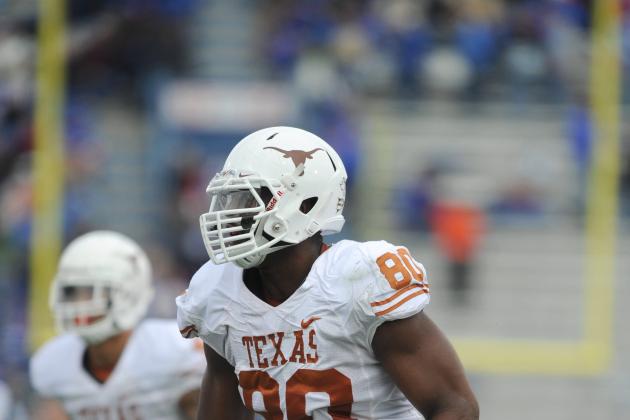 John Rieger-US PRESSWIRE
Look for the senior Okafor to have a big game against the Horned Frogs.
Focus on the Task at Hand:
With a major showdown with Kansas State looming, the Longhorns need to remain focused on beating TCU and worry about the Wildcats afterwards.
We always hear about "trap" games in college football and this is definitely one for the BCS-hopeful Longhorns. Not to take anything away from TCU, but the Longhorns are a more talented team with eyes on a big-time upset next weekend in Manhattan. They should win this game, but there is always a risk of a major letdown when a team has its eyes on the following game.
In order to avoid such a letdown, the Longhorns just need to keep doing what they have done the past two weeks, That is, continue to finish plays on defense and protect the ball on offense. If they do that, then they should at least put themselves in position to earn a BCS berth with a win over the Wildcats.
Win the Trenches:
Over the past two games, the Longhorns have won the battle up front on both sides of the ball and will need to continue to do so in order to beat TCU.
This is especially the case for an offensive line that is going up against the nation's seventh-ranked rush defense and a budding sack maven in Devonte Fields. When Texas cannot run and cannot keep David Ash off of the turf, then the Oklahoma game happens. When Texas can run and Ash has time to throw, 607 yards against Iowa State happens. The men up front are the key to everything Texas does on offense and will have to continue to play well for Texas to win out.
The same goes for the defensive front, which features possibly the conference's best defensive player in defensive end Alex Okafor. This unit seems to have finally figured out how to at least slow down the opposing rushing attack and cannot afford a lapse against two talented TCU running backs. This unit also presents Texas the best opportunity to force turnovers because the TCU quarterback Boykin will turn the ball over as he already has eight times this season.
If Texas can run, protect David Ash and get pressure on Boykin then the Longhorns will win this game.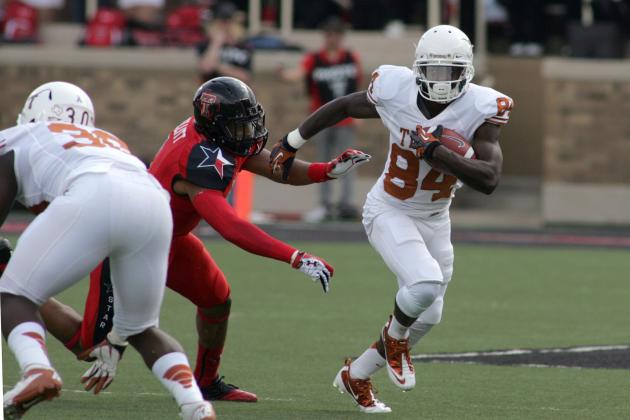 Michael C. Johnson-US PRESSWIRE

This game will be close for at least three quarters, but eventually talent will prevail for the Texas Longhorns as they set themselves up for a possible BCS berth.
TCU will find success on the ground with the tandem of Catalon and Tucker, who are both as good or better than running backs that have torn up the Longhorns previously this season. The problems the Horned Frogs will run into in this game will involve the quarterback Boykin, who has played turnover-free football in only one game this season. The Texas pass-rush should be able to force him into at least one turnover.
As for the Longhorns, expect them to top 30 points for the third consecutive game and the eighth time this season. Bryan Harsin's offense has been humming lately without any major contribution from speedsters Daje Johnson and Marquise Goodwin. Point being that even if the Horned Frogs can bottle up the red-hot Johnathan Gray and keep Mike Davis in front of them, the Longhorns have too many weapons on that side of the ball to keep them under 30 points.
And if the 'Horns can keep the offensive juggernaut that is Texas Tech under 30 points, they should be able to do the same against TCU to win their fifth in a row.