Florida vs. Florida State: Complete Game Preview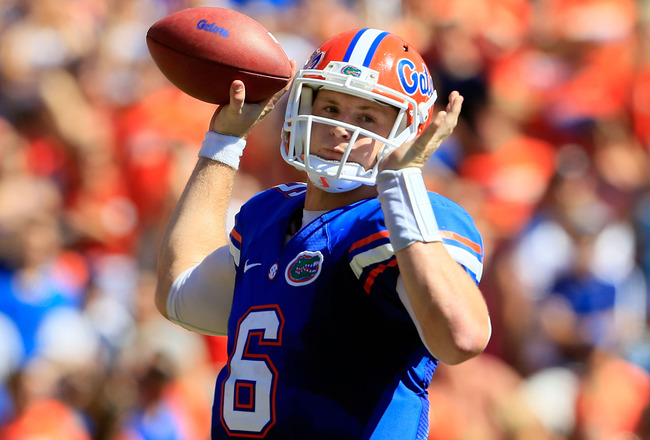 Jeff Driskel should be back in the lineup against the Seminoles.
Sam Greenwood/Getty Images
If Florida has any shot at making it to the national title game, it begins and ends in Tallahassee this Saturday.
The No. 4 Gators need some help from USC and Alabama to jump in the rankings, but they first have to handle business against an always dangerous FSU squad that checks in at No. 10 in the BCS rankings.
Although the Gators boast an impressive 10-1 record, Will Muschamp's team is far from flawless.
A stifling defense has bailed out an inconsistent offense too often, and the Seminoles could be the team that finally exploits the Gators' shortcomings.
Let's take a complete look at this matchup of bitter in-state rivals.
Game-Day Information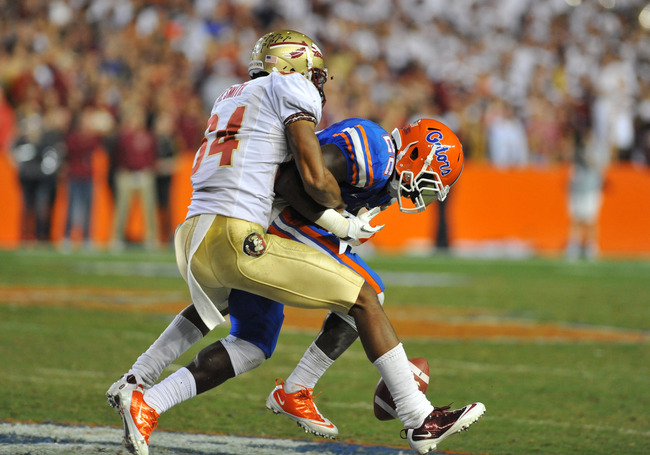 The Gators travel to Tallahassee to take on the Seminoles.
Al Messerschmidt/Getty Images
Who: Florida at Florida State
When: Saturday, 3:30 p.m. ET
Where: Tallahassee, Fla.
Stadium: Doak Campbell Stadium at Bobby Bowden Field (82,300)
TV: ABC
Radio: Gator Radio Network, Sirius 85, XM 85
Depth Chart for FSU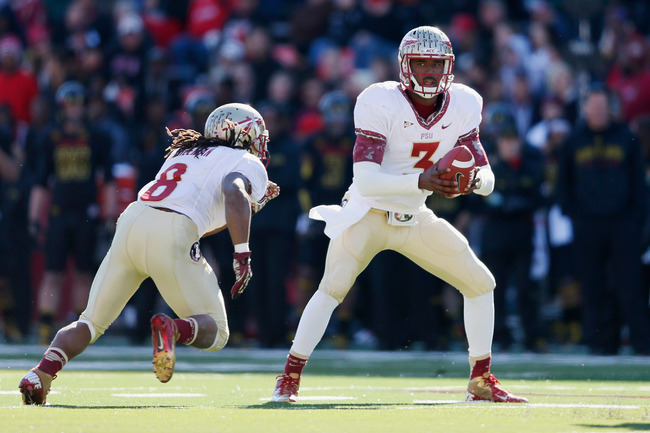 E.J. Manuel is a big threat to UF's defense.
Rob Carr/Getty Images
Depth Chart for Florida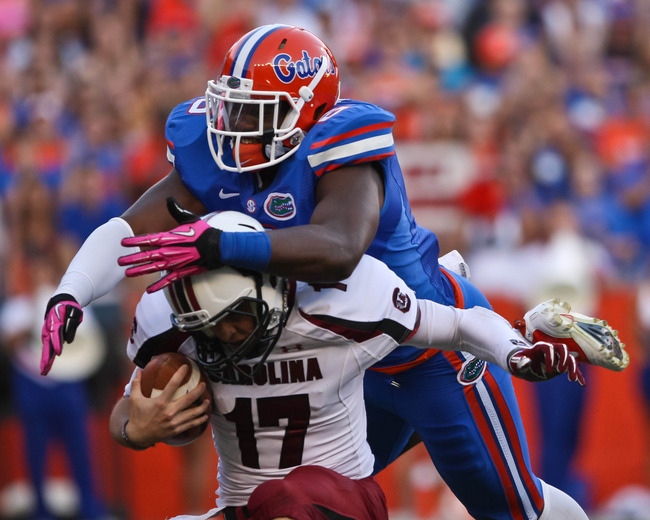 Josh Evans will be playing in his final regular-season game as a Gator.
Rob Foldy-US PRESSWIRE
OFFENSE
LT: 73—Xavier Nixon, SR (6'6", 314)
70—D.J. Humphries, FR (6'6", 275)
LG: 66—James Wilson, RSR (6'4", 323)
50—Sam Robey, RSR (6'3, 305)
C: 72—Jonotthan Harrison, RJR (6'4", 299)
50—Sam Robey, RSR (6'3, 305)
RG: 67—Jon Halapio, RJR (6'3, 321)
64—Kyle Koehne, RJR (6'5", 311)
RT: 75—Chaz Green, RSO (6'5", 310)
70—D.J. Humphries, FR (6'6", 275)
TE: 11—Jordan Reed, RJR (6'3, 243)
88—Clay Burton, SO (6'4", 253)
RB: 23—Mike Gillislee, SR (5'11", 209)
33—Mack Brown, RSO (5'11", 214)
QB: 6—Jeff Driskel, SO (6'4", 237)
12—Jacoby Brissett SO (6'4", 229)
FB: 41—Hunter Joyer, SO (5'10, 249)
16—Scott Peek, RSR (6'2", 231)
X: 85—Frankie Hammond Jr., RSR (6'0", 187)
13—Latroy Pittman, FR (5'11", 209)
4—Andre Debose, RJR (5'11", 189)
Z: 1—Quinton Dunbar, RSO (6'1", 189)
86—Raphael Andrades, FR (6'0", 191)
F: 8—Trey Burton, JR (6'3", 228)
20—Omarius Hines, RSR (6'2", 217)
DEFENSE
End: 2—Dominique Easley, JR (6'2", 280)
90—Jonathan Bullard, FR (6'3", 271)
Nose: 99—Omar Hunter, RSR (6'0", 313)
2—Dominique Easley, JR (6'2", 280)
Tackle: 73—Sharrif Floyd, JR (6'3", 303)
4—Damien Jacobs, JR (6'3", 284)
Buck: 34—Lerentee McCray, RSR (6'3", 249)
6—Dante Fowler, Jr., FR (6'3", 277)
Sam: 11—Neiron Ball, RSO (6'3", 231)
49—Darrin Kitchens, JR (6'1", 229)
Mike: 1—Jonathan Bostic, SR (6'1", 246)
51—Michael Taylor, SO (6'0", 226)
Will: 3—Jelani Jenkins, RJR (6'0", 237)
12—Antonio Morrison, FR (6'1", 218)
CB: 15—Loucheiz Purifoy, SO (6'1", 189)
24—Brian Poole, FR (5'10", 206)
8—Jeremy Brown, RJR (5'10", 184)
SS: 22—Matt Elam, JR (5'10", 202)
14—Jaylen Watkins, JR (6'0", 187)
FS: 9—Josh Evans, SR (6'2", 201)
21—Jabari Gorman, SO (5'10", 188)
CB: 14—Jaylen Watkins, JR (6'0", 187)
5—Marcus Roberson, SO (6'0", 178)
What Happened to Florida State Last Week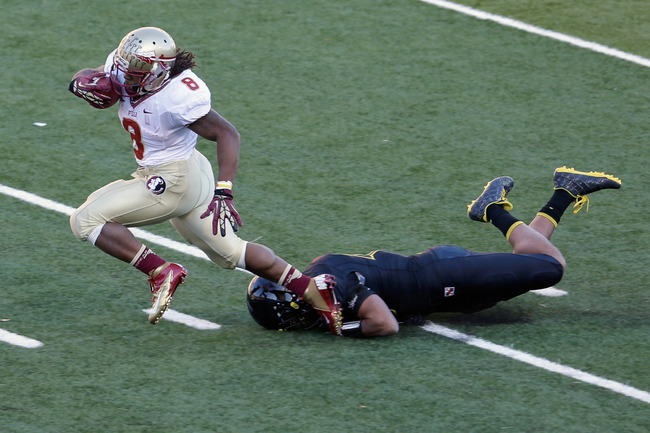 Devonta Freeman went off against Maryland.
Rob Carr/Getty Images
Florida State rolled into College Park and stomped Maryland, 41-14, improving to 10-1 on the season.
Sophomore Devonta Freeman dominated the action with 148 yards on 16 carries, including two touchdowns. James Wilder Jr. added another 52 yards on the ground and found the end zone for the ninth time this season, as the Seminoles racked up 237 rushing yards.
Although quarterback E.J. Manuel threw for just 144 yards, the redshirt senior tossed two touchdowns in the offensive onslaught.
Defensively, it was another impressive day for FSU's pair of dynamic defensive ends, as Bjoern Werner and Cornellius "Tank" Carradine combined for nine tackles and three sacks.
What Happened to Florida Last Week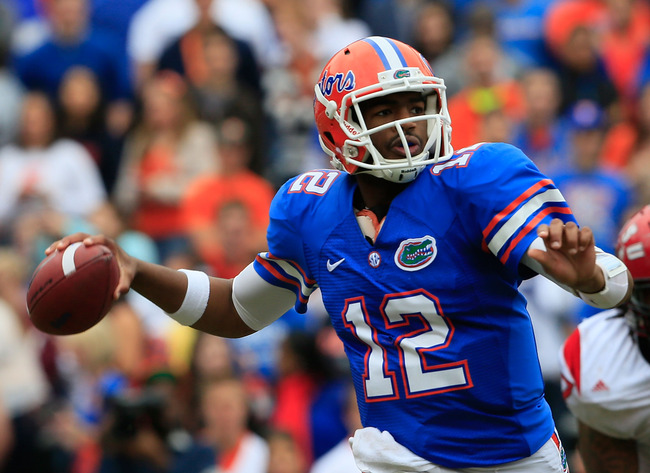 Jacoby Brissett earned a win against Jacksonville State.
Sam Greenwood/Getty Images
Making the start for an injured Jeff Driskel, sophomore Jacoby Brissett led the Gators to a 23-0 win at the Swamp to seal a perfect home record for the Gators this season.
The 6'4" signal-caller completed nearly 64 percent of his passes but didn't make many big plays in the passing game.
Instead of relying on Brissett, the Gators put the ball in the hands of Mike Gillislee, and the senior responded with his first 100-yard rushing performance since the first week of October.
The senior tailback carried the rock 20 times for 122 yards and a score, putting himself in prime position to break the 1,000-yard mark for the season.
UF got another great performance from its defense, including a seven-yard interception return for a touchdown by senior linebacker Jon Bostic.
What It Means for Both Teams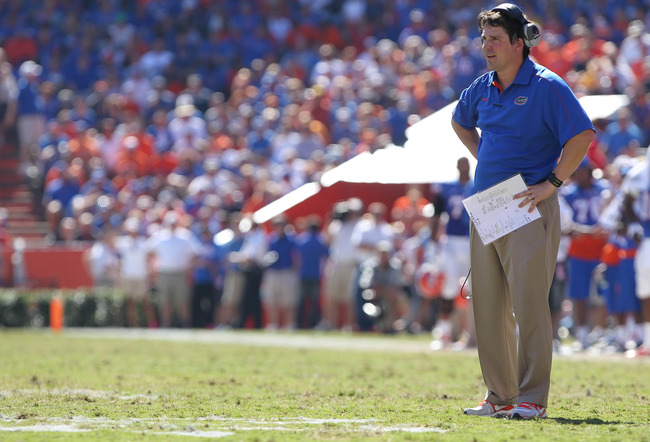 Will Muschamp has made huge strides in his second season at the helm.
Kim Klement-US PRESSWIRE
While the Seminoles are all but out of the national championship hunt, the same can't be said about their in-state rival.
The Gators need a road win against No. 10 FSU to put the finishing touch on a fantastic second season behind Will Muschamp.
A win for FSU would mark a third consecutive win for Jimbo Fisher's squad against UF and would probably put the Seminoles close to a top-five finish.
Although it'll be difficult for the Gators offense to get much going against the Seminoles' stout defense, a win would mean a legitimate shot at a national title, provided they get a little help from USC and Alabama.
Key Player for Seminoles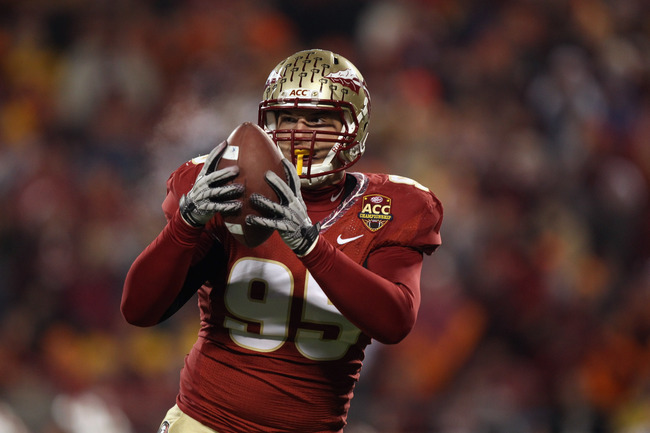 Bjoern Werner should be a first-round pick in April's draft.
Streeter Lecka/Getty Images
From Jadeveon Clowney to Barkevious Mingo to Sam Montgomery, the Gators have faced a who's who of defensive ends in 2012.
While hybrid pass-rusher Jarvis Jones of Georgia managed to single-handedly destroy the Gators' offensive line, UF's front five has otherwise done a pretty solid job handling some elite defensive linemen.
However, in Bjoern Werner, the Gators might be facing the most well-rounded defensive end in the country.
The 6'4", 255-pound German has fantastic athleticism for a man his size and leads the Seminoles with 14.5 tackles for loss.
With Cornellius Carradine dominating on the other side, Werner has re-emerged as a viable first-round pick and should add to his total of 9.5 sacks on the season.
If the Gators have any hope of putting points on the board, they'll have to account for Werner.
Key Player for the Gators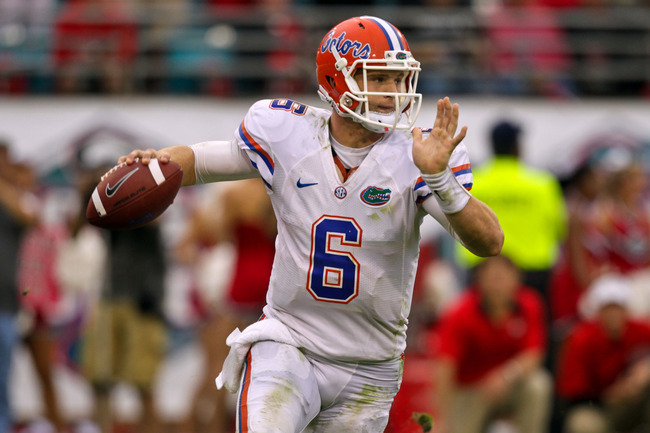 The Gators need Jeff Driskel to play his best game of the season on Saturday.
Rob Foldy-US PRESSWIRE
Last week, Florida managed to win without its starting quarterback, but if the Gators hope to beat a dangerous Florida State team, they need Jeff Driskel.
According to Hays Carlyon of Jacksonville.com, the Gators will have Driskel back for Saturday, which should go a long way toward securing a tough road win.
While the Gators have won 10 games this season, most of those wins came as a result of some stellar defense.
Facing a terrific defensive front, Driskel will have to use his legs to buy time in the pocket and must avoid turning the ball over.
Though he hasn't wowed fans with his decision-making or overall passing ability, Driskel has done just enough to win and has used his excellent running ability to create big plays out of nothing.
As long as he can avoid sacks and turnovers, the second-year signal-caller has a chance to etch his name in history.
The Seminoles Will Win If...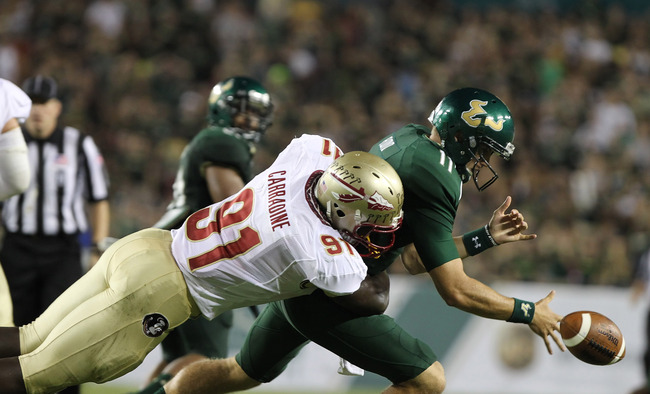 FSU's defensive line must dominate the line of scrimmage.
Kim Klement-US PRESSWIRE
For FSU, it all comes down to its defensive line.
Between Cornellius Carradine and Bjoern Werner, the Seminoles boast the nation's finest defensive end duo, and the two workhorses could cause major headaches for Florida offensive coordinator Brent Pease.
Carradine leads the team in total tackles (69), sacks (10.5) and quarterback hurries (eight) and has emerged as a possible first-round pick in 2013.
Werner was already a known commodity heading into this season but has continued to refine his play.
Along with defensive tackles Timmy Jernigan and Demonte McAllister and freshman defensive end Mario Edwards Jr., the Seminoles have a tremendous rotation along the defensive front.
The Gators Will Win If...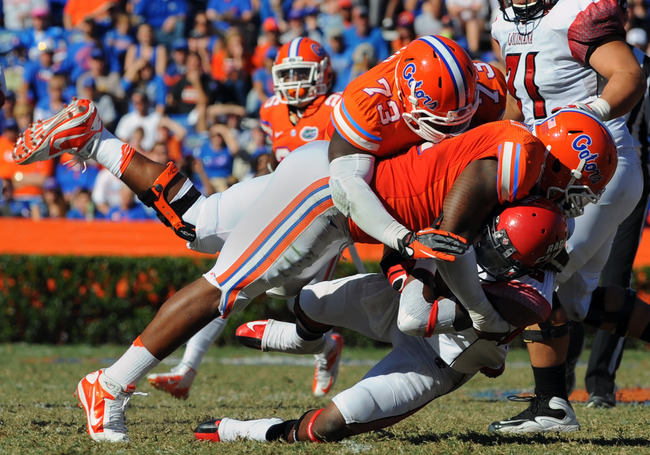 UF's calling card is its defense.
Al Messerschmidt/Getty Images
In order to keep their national championship hopes alive, the Gators' defense needs to hold FSU to single digits.
Florida's offense simply isn't good enough to put up major points on Florida State, so it'll once again come down to the Gators' sensational defense to put the team on its back.
Led by Sharrif Floyd, the Gators feature a ton of playmakers on defense, including a potential All-American in safety Matt Elam.
Along with linebackers Jon Bostic and Jelani Jenkins and free safety Josh Evans, UF has no shortage of experienced stars to combat FSU's high-powered attack.
Hold the Seminoles to fewer than 10 points and chalk up win No. 11 for Florida.
Prediction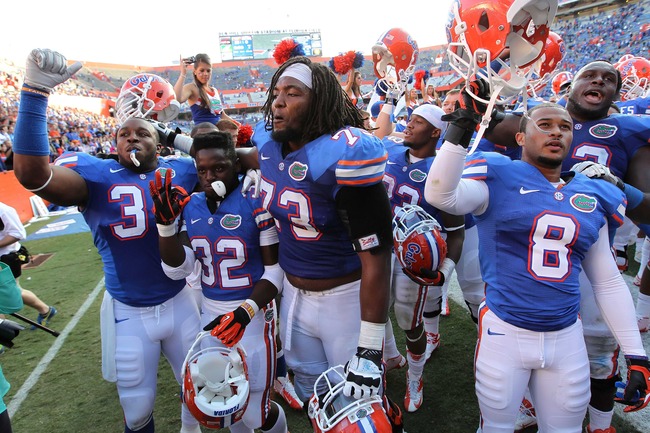 UF will finish the regular season 11-1.
Kim Klement-US PRESSWIRE
With so much on the line, there's no way the Gators won't be firing on all cylinders Saturday.
Will Muschamp is a master of motivation and is a fierce competitor.
He'll have his team ready to go by the time kickoff rolls around, and with a strong coaching staff behind him, expect the Gators to be well-prepared for the Seminoles' attack.
As long as the Gators continue to play lights-out defense, expect Florida to pull off the road win and put themselves in position to be in the national title game.
Prediction: Florida 14, Florida State 9
Keep Reading

Florida Gators Football: Like this team?