5 NBA Teams That Need to Change Coaches Immediately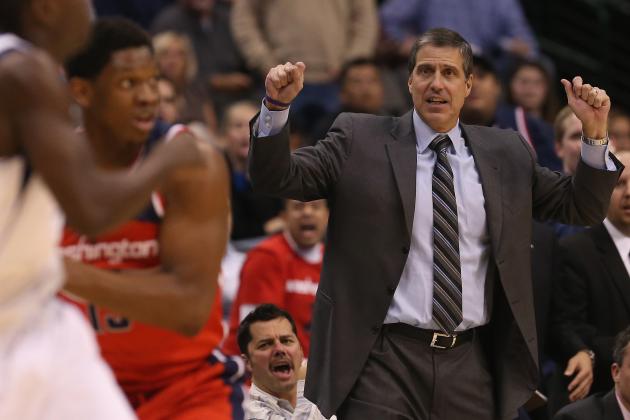 Ronald Martinez/Getty Images

NBA teams and their coaches are combinations that need to complement each other. There are a few teams where it's pretty clear by now that is not the case, and there's no point in belaboring the relationship.
A coach who is successful with one team might not be with another, and vice versa. His coaching style might not mesh with the players. His schemes might not complement their talents. Sometimes he's just not a good coach.
A team having a bad record isn't enough reason alone to prove the coach is a bad coach, but a failure of a team to develop and grow is a sign that things aren't working out.
There are five instances in the NBA right now where it's pretty clear things aren't working and aren't going to improve. These teams need to end their relationships with their coaches.
All stats listed are before games were played on November 19.
Begin Slideshow

»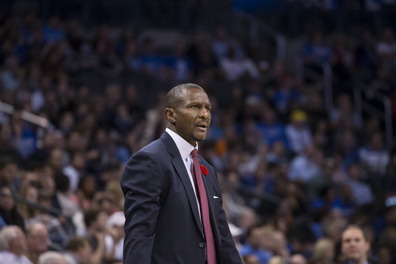 Shane Bevel/Getty Images

Dwane Casey had a nice beginning last year, helping the Raptors with a substandard roster to a better-than-expected defense.
Then, during the offseason they made some major upgrades to their roster, adding Kyle Lowry and Jonas Valanciunas, their 2010 draft pick, as well as defensive specialist Landry Fields.
All of that has provided a marginally improved offense and a much degraded defense. Based on their SRS ranking (a schedule adjusted power ranking based on margin of victory) they are 24th in the NBA. That's a long way from where a team that entered the season with postseason hopes wanted to be.
What's disturbing is that the Raptors' young draft picks aren't developing the way they should. Andrea Bargnani still doesn't rebound. DeMar DeRozan still doesn't defend and is still inefficient. Casey isn't developing his young players, and that's not something you want to see with a coach of a young team.
There's no case to keep Dwane Casey.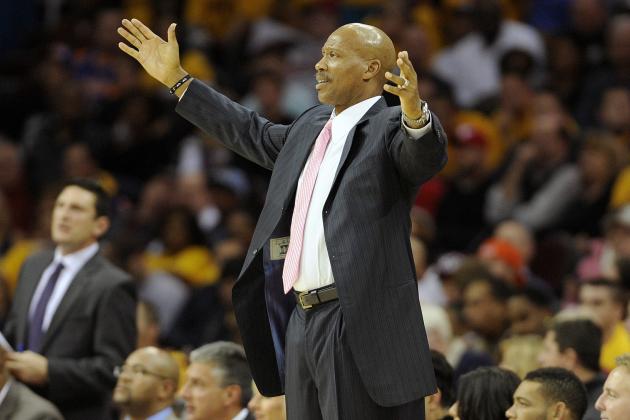 Jason Miller/Getty Images

Byron Scott is a darling of the media as much as anyone, but it's hard to understand why he should be. He's had two successful stints, and both times with the aid of the best point guard in the game at the time, whether it was Jason Kidd with the Nets or Chris Paul and the New Orleans Hornets.
It would seem, then that he should be able to accomplish the same thing with another super-point guard, Kyrie Irving, who is similar in many ways to Paul. Yet while Irving has been sensational, the rest of the team fails to develop.
Granted this team is young and he inherited a mess, but how long does Scott get to ride that excuse? Now in his third year, the Cavaliers are 28th in the league in SRS. They are 24th in offense and 29th on defense, and neither seems to be improving.
Furthermore, Scott seems to have done nothing to develop Tristan Thompson, the 2011 fourth overall pick.
Scott deserved a long leash, but now in his third year, it's reached its limit. The team isn't getting any better, and neither are its young players with the exception of Irving, and Irving deserves the credit for that.
Great Scott, jettison Scott; he's not that great.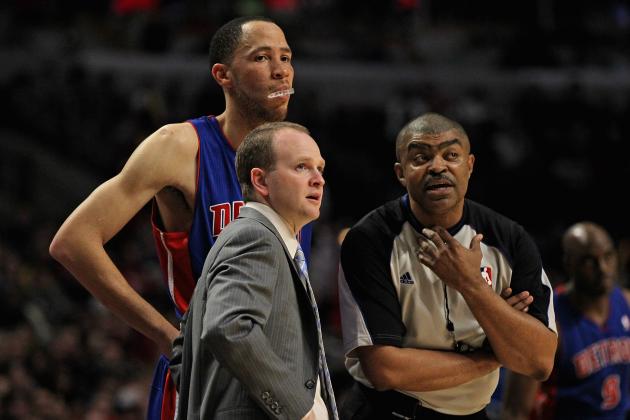 Jonathan Daniel/Getty Images

Lawrence Frank had a nice start to his NBA coaching career when he was with the Nets, but that's a bit deceptive. Take out the Jason Kidd years, and Frank has a career coaching win percentage of .348.
The Pistons don't have the greatest collection of talent in the NBA, but they don't have the worst either and they are coming short of performing according to the talent they have.
There are two things that are disturbing about the Pistons' lack of performance. First, there's the apparent regression of Brandon Knight. His Player Efficiency Rating has fallen from 11.7 to 11.0, and let's face it, 11.7 is no great shakes as it is.
You can understand a sophomore slump form a fantastic freshman, but Knight's rookie season was horrible and his second is even more so. Frank is not doing well with player development.
The other thing is what can only be described as an apparent lack of enthusiasm on the part of the team. Admittedly, it's hard to make definitive calls on these watching from home, but the Pistons look like they've already phoned it in for the season.
To be perfectly frank, it's time for the Pistons to start firing on at least one cylinder and fire Frank.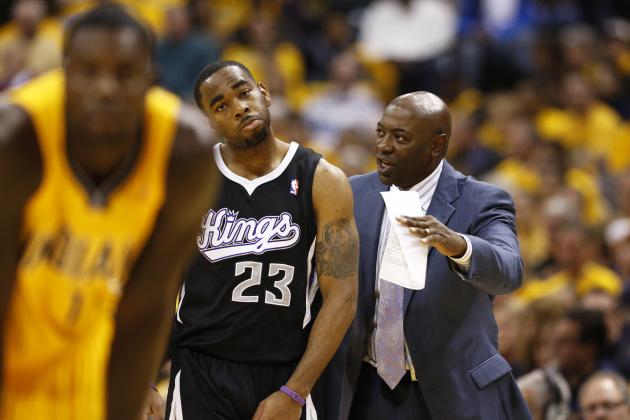 Joe Robbins/Getty Images

Last year, after some problems with a disruptive DeMarcus Cousins and a 2-5 start, the Sacramento Kings fired Paul Westphal and replaced him with Keith Smart.
A year later they are 2-7 and having problems with a disruptive DeMarcus Cousins. The more things change, the more they stay the same.
The Kings are 27th in defensive rating, 26th in offensive rating and 29th in SRS. Not being able to score and not being able to stop the other team from scoring is really no way to win basketball games.
Beyond that, Tyreke Evans has continued to regress, DeMarcus Cousins isn't growing up and Jimmer Fredette is wasting away on the bench.
The team as a whole doesn't seem to be going anywhere but backwards, and it looks like the Kings probably should have spent a little more time finding a new coach.
The sad thing is that the fans there were among the best in the game when they were given a decent product. Now, because the Kings haven't put a decent product on the floor, they're probably in their last year there. At least give them a coach who can make the last year a memorable one. Get smart and get rid of Smart.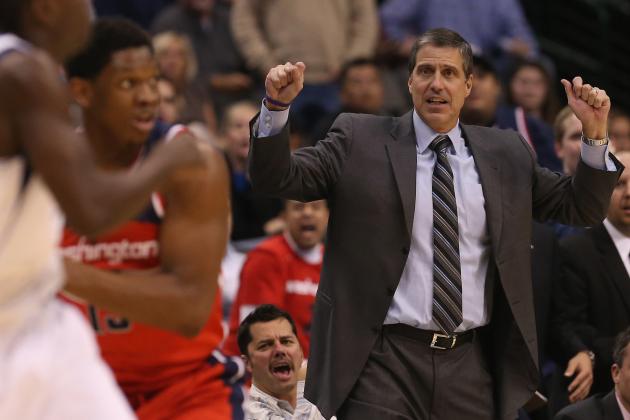 Ronald Martinez/Getty Images

I anticipate and understand the potential arguments that Randy Wittman hasn't really had a chance yet. Yes, he inherited a horrible team. Yes, he has had to start the season without John Wall. Yes, the Wizards put together a pretty nice run to end the season last year.
The thing is Wittman was never the right guy for the job in the fist place, and while bad things happened before he was hired and since he was hired, that doesn't change his basic qualities as a head coach. And he doesn't have any.
Wittman has now coached all or part of seven NBA seasons, and in no case has he even coached a .500 team. In his first season as a head coach in Cleveland in 1999-2000, he helped the Cavaliers to a 32-win season. He hasn't even reached that less-than-awesome total since then.
This is the most troubling part of all—he's never even coached an offense that wasn't in the bottom 20 percent of offenses in the NBA. No Wittman-coached team has ever finished higher than 24th in offensive rating.
So when you see that Jordan Crawford is leading the team in scoring with 12.2 points per game while shooting a whopping .398, or that the Wizards have, collectively, a team field-goal percentage of .396, there's not much hope of getting it better.
Yes, John Wall might help the offense some, but this is the fourth-worst offense since the advent of the three-point line, and Wall isn't that good. He's not the difference between good and historically bad.
Wittman shouldn't get fired because bad things have happened to the Wizards; he should be fired because he's just another bad thing that has happened to the Wizards. His offenses have always been horrible, his teams have never won and now the Wizards are his opus of awfulness. He has no wit, man.