Power Ranking Serie A Goal Scoring Leaders from Week 13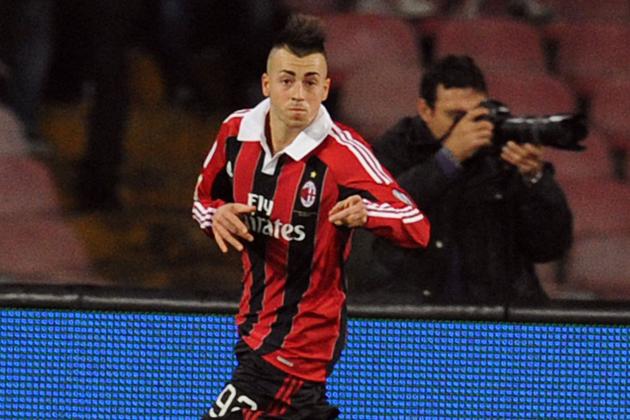 Giuseppe Bellini/Getty Images

Week 13 featured plenty of goals, 30 total. How many of those did the Serie A's goal leaders account for? With the transfer window approaching, it's going to be very important for clubs to know if they need to spend money, or if they can succeed with what they have.
As the race for the Scudetto continues, knowing who you can count on for scoring is as important as ever.
Begin Slideshow

»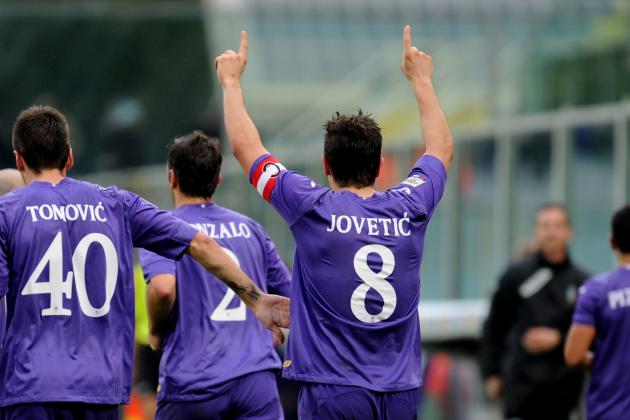 Dino Panato/Getty Images

Stevan Jovetic has been quite a force for Fiorentina so far. He has six goals for the Viola this season in 11 domestic appearances.
That accounts for 26 percent of the team's 23 total goals.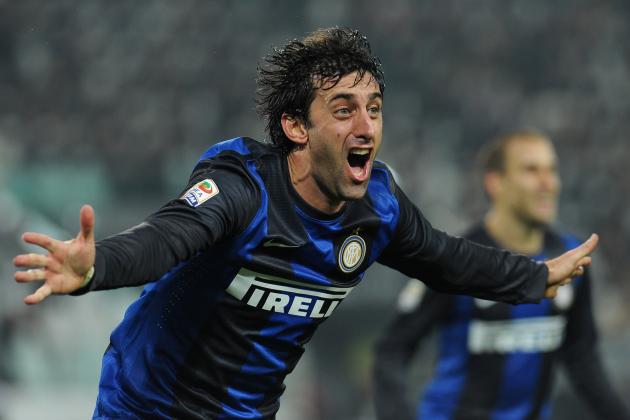 Valerio Pennicino/Getty Images

Diego Milito has seven goals this season in 13 appearances for Internazionale. He's scored 27 percent of Inter's 26 goals this season. He'd be higher on the list, but there are too many guys with more goals in less games.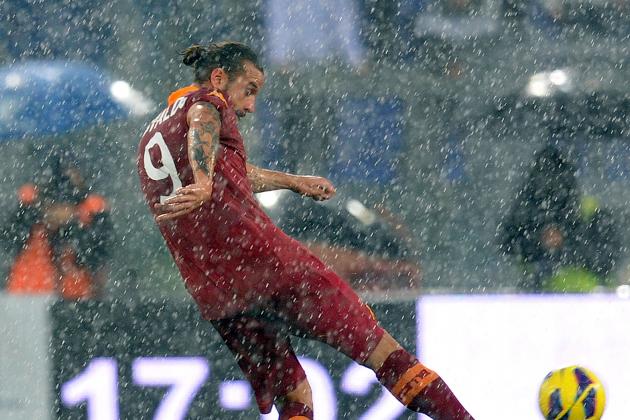 Giuseppe Bellini/Getty Images

Pablo Osvaldo has been a steady contributor for Roma this season so far. He has 26 percent of Roma's 27 goals this year with seven. Even more impressive is that he's tallied those seven in only nine appearances for Roma in domestic play.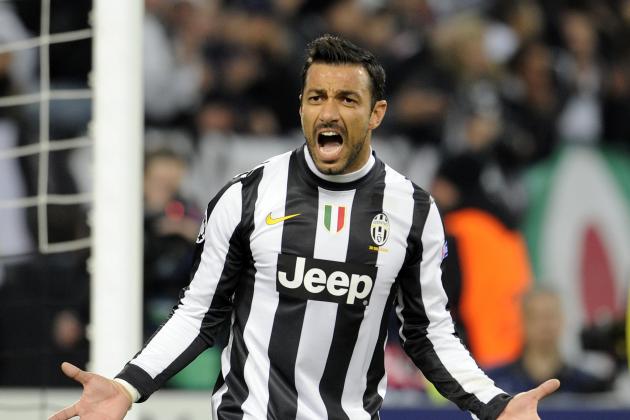 Claudio Villa/Getty Images

Fabio Quagliarella was quiet on the scoresheet this past weekend as was the rest of his team, and the team his team played.
Even still, Quagliarella has accounted for 21 percent of Juventus' goals this season in domestic play with six out of the team's total of 29.
The most impressive thing about Quagliarella's performance thus far? His six goals have come in nine appearances. That's efficiency.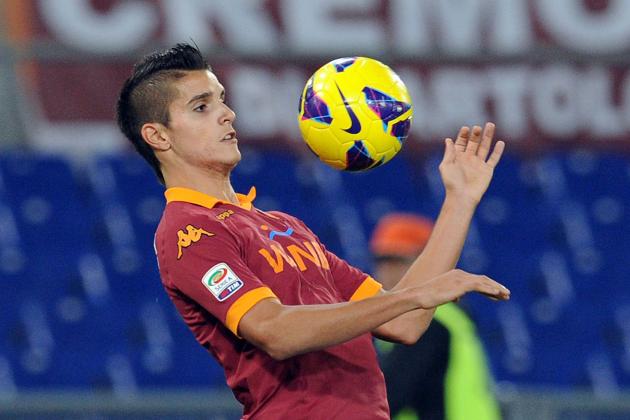 Giuseppe Bellini/Getty Images

Another Roma player on this list, Lamela's eight goals is one better than his counterpart Osvaldo. He's accounted for 30 percent of Roma's 27 goals this season.
If the two of these keep up the pace, Roma will continue to collect wins and work their way up the table.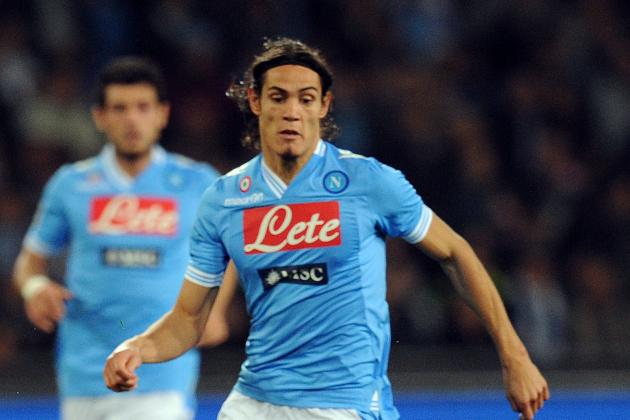 Giuseppe Bellini/Getty Images

El Matador was quiet this past week, and his team certainly could have used him as one more goal would have broken the draw against Milan.
Going in to this past week's action, Cavani was tied at the top of the leader board with eight goals, now he's tied for second along with Roma's Erik Lamela and Udinese's Antonio Di Natale.
In his 11 appearances for Napoli in domestic play, Cavani has accounted for 36 percent of Napoli's goals this season with the aforementioned eight out of a total of 22 goals for Mazzarri's side this season.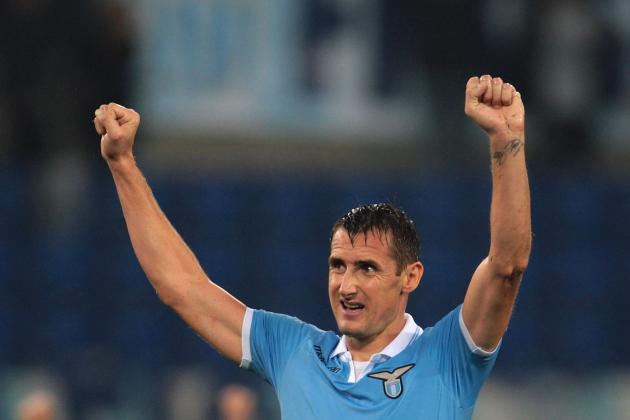 Paolo Bruno/Getty Images

Miroslav Klose has been huge for Lazio this season. He's got 37 percent of Lazio's 19 goals this season. Overall, his seven-tally total puts him below some of the guys he's above on this list in term of goal total, but you can't argue with that high percentage of contribution for his side.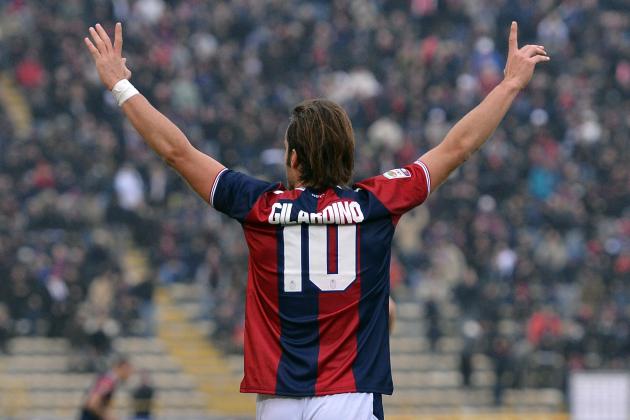 Tullio M. Puglia/Getty Images

Alberto Gilardino has six goals in 12 appearances for Bologna this season. So why is he third on this list? Simple, his team's only scored 15 times meaning he scores 40 percent of his teams goals.
That's an insane level of contribution for this struggling side, one that will certainly get him more attention if he continues at this pace.
Dino Panato/Getty Images

Antonio Di Natale has eight goals in 10 appearances this season for Udinese. Udinese have 18 total goals this season which puts Di Natale's contribution at 44 percent.
That's almost half the goals his team scores.
Dino Panato/Getty Images

What's better than almost half?
Half!
Stephan El Shaarawy is on fire. No way around it. He had both of Milan's goals last weekend to force a draw against Napoli in Stadio San Paolo.
He now has 10 of Milan's 20 goals on the season in 13 appearances. Your eyes are not deceiving you; he indeed accounts for half of Milan's goals. Milan's 20-year-old savior's impact cannot be overstated.
If not for him, Milan would be facing relegation this year.