Manchester United's Greatest Defenders: The Lost Art of Defending 1992-2012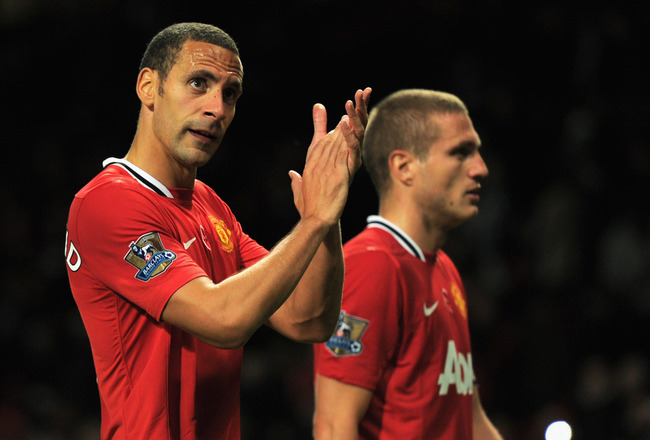 Michael Regan/Getty Images
Manchester United have suffered from a number of shaky defensive performances this season, but with three clean sheets on the trot, it looks like the Red Devils have finally refound the kind of form that has seen them crowned Premier League champions 12 times.
This article will take a nostalgic look back on some of the defensive stalwarts that have graced the Old Trafford pitch since Sir Alex Ferguson first won the Premier League crown 20 years ago in 1992.
Note: Only players who are no longer at the club in a playing capacity are considered for this selection.
10. John O'Shea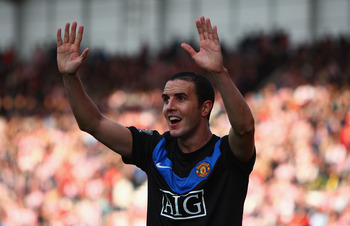 Jamie McDonald/Getty Images
John O'Shea just about played in every position for Manchester United, including 20 minutes in goal, and though not the most glamorous, the versatile Irish international was dependable.
Although primarily a centre-back due to his size and strength, O'Shea was equally proficient playing on either flank. Though somewhat ungainly, he possessed a neat touch on the ball and a decent eye for a pass.
Pace wasn't in his favour, yet his performances at full-back were hardly sluggish: he contributed to attacks going forward, and as we know, was a more than capable defender.
He tackled well, was good in the air, marked his man well and generally maintained a good awareness on the field of play. His defensive capabilities were solid, if unspectacular, but what endeared O'Shea most of all to the United faithful was his uncanny ability to grab important goals.
He scored a memorable chip against Arsenal in 2004, and grabbed a late winner against bitter rivals Liverpool in the victorious 2006/07 campaign, his fourth that season: in fact, he had a 100 percent shot accuracy that season, scoring from a remarkable 80 percent of his attempts on goal.
Despite having now moved on to Sunderland with fellow United academy graduate Wes Brown, he remains a popular figure at Old Trafford, and just pips the likes of Brown, Phil Neville, Paul McGrath and Paul Parker to the 10th spot on this list.
Manchester United career:
392 appearances, 15 goals.
Premier League (5): 2002–03, 2006–07, 2007–08, 2008–09, 2010–11
FA Cup (1): 2003–04
Football League Cup (3): 2005–06, 2008–09 2009–10
FA Community Shield (4): 2003, 2007, 2008, 2010
UEFA Champions League (1): 2007–08
FIFA Club World Cup (1): 2008
9. Gabriel Heinze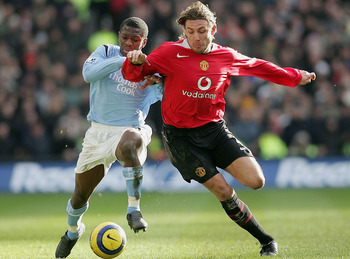 Michael Steele/Getty Images
One of the most aggressive tacklers to grace the Old Trafford pitch, Gabriel Heinze was the modern interpretation of 'no nonsense.' And although he pissed on his chips somewhat with his acrimonious departure from the club, 'El Gringo' wrote himself into United folklore with his monstrous tackles, thumping headers and his unwavering commitment to winning the ball.
Cries of 'ARG-EN-TINA' were often heard booming around the Theatre of Dreams every time the boisterous Argentine put an opponent on the turf: sometimes legally, sometimes not. Such was his reputation with the United faithful, that fans of the club voted him the 'Sir Matt Busby Player of the Year' in his first season.
He only won two major trophies during his time with the club, but his second season was spent largely on the sidelines through injury, and unsurprisingly United's defensive form declined, going from 26 goals conceded in 2004/05 to 34 in 2005/06.
Had he not suffered that catastrophic knee injury what would have eventually become of his successor, Patrice Evra? He probably would have settled for warming the bench, as United's Argentinean battering ram continued to literally terrorise opposition wingers.
Manchester United stats:
83 appearances, 4 goals
Premier League (1): 2006–07
Football League Cup (1): 2006
8. Mikael Silvestre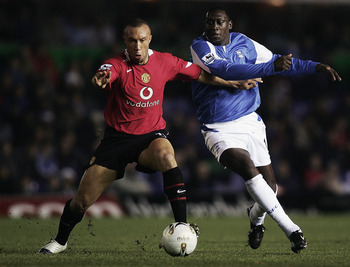 Ben Radford/Getty Images
Quick, strong and composed, Mikael Silvestre had all the basic prerequisites of a great centre-back.
The talented Frenchman picked up four Premier League medals during his time at the Manchester club. After signing from Internazionale in 1999, Silvestre slotted straight into the United side, initially at left-back, where his electric pace allowed him to cope well with wingers.
However, his astute versatility meant that by the 2002/03 season, Sir Alex Ferguson had switched him to centre-back, where he formed a dependable partnership with Rio Ferdinand.
Unusually for a centre-half, Silvestre had an astonishing amount of pace at his disposal. What he gave way in brute strength, he more than made up for in his quickness across the turf.
If he or his centre-back partner was ever caught out, Silvestre was more than capable of rectifying his position and limiting the potential damage.
That being said, the French international was far from one-dimensional. At left-back he often marauded forward, using his speed and stamina to run the wings, and would overlap the left-winger to provide additional crossing opportunities.
At centre-back, he was comfortable in possession and distributed the ball well. It's a testament to his adaptability as a defender that Silvestre maintained his place in Ferguson's team for almost a decade as a host of other defenders came and went around him.
He doesn't quite have the accolades that match his ability as a footballer, as he operated largely in the decade between the club's two most recent Champions League victories, but nonetheless, Mikael Silvestre more than deserves his place in this list of great modern Manchester United defenders.
Manchester United stats:
361 appearances, 10 goals.
Premier League (5): 1999–2000, 2000–01, 2002–03, 2006–07, 2007–08
FA Cup (1): 2003–04
Football League Cup (1): 2005–06
FA Community Shield (2): 2003, 2007
UEFA Champions League (1): 2007-08
Intercontinental Cup (1): 1999
7. Henning Berg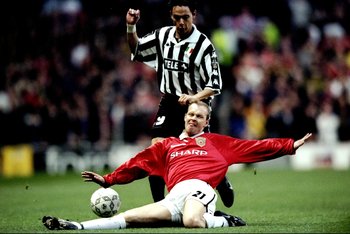 Shaun Botterill/Getty Images
Most fondly remembered for that goal-line clearance against Internazionale in 1999, but Henning Berg played an important part in United's treble-winning season.
At home at centre-back and at right-back, the versatile Norwegian was already a Premier League winner with Blackburn Rovers when he joined Manchester United in 1997.
A boyhood fan of the club, he was approached by the Red Devils as a teenager, but the move failed to materialise over issues with obtaining a work permit. Sir Alex Ferguson had to wait a decade until he got his man, but he was worth it.
Despite not being the most physically intimidating of defenders, Berg was a difficult opponent to play against; he was tactically astute and was absolutely impeccable in the tackle.
As with his Norwegian compatriot, Ronny Johnsen, Berg's finest moment in a Reds shirt is widely considered to be during the 1998/99 Champions League campaign.
Against a Ronaldo- and Baggio-led Internazionale, Berg put in a near-faultless performance that culminated in a stunning goal-line clearance.
One of the few players to win the English Premier League with two different teams, a Champions League winners' medal to boot and a full 100 caps for his native Norway, Henning Berg rightly goes down as one of the finest defenders in the Sir Alex Ferguson era.
Manchester United stats:
107 appearances, 3 goals
Premier League (2): 1998–99, 1999–2000
FA Cup (1): 1998–99
Charity Shield (1): 1997
UEFA Champions League (1): 1998–99
Intercontinental Cup (1): 1999
6. Gary Pallister
Shaun Botterill/Getty Images
Gary Pallister, the tough, grizzly northerner with the telescopic legs was a staple in the title-winning United sides of the early- to mid-'90s.
An absolute powerhouse at the back, Pallister formed possibly the most famous centre-back pairings with Steve Bruce, and was part of the foundations on which Sir Alex built his early successes.
He was already capped at international level before making the switch to Lancashire, but his performances at the heart of the United defence were what won the majority of his plaudits.
Uncompromising, tough and fearless, Pallister harked back to the traditional characteristics of the centre-half.
He also had a knack for popping up at the other end and grabbing a goal, including a monstrous free-kick against Blackburn Rovers at the end of the title-winning 1992/93 season.
His tackling ability was immense, almost inhuman, as his tree-trunk-like legs were capable of scooping the ball of a striker's foot from practically any angle.
Although he never tasted Champions League success as with some of United's more recent defenders, Pallister retired from the game in 2001, after a final spell with Middlesbrough, with an impressive and well-earned haul of medals.
Manchester United stats:
317 appearances, 12 goals.
Premier League (4): 1992–93, 1993–94, 1995–96, 1996–97
FA Cup (3): 1990, 1994, 1996
Football League Cup (1): 1992
FA Charity Shield (5): 1990*, 1993, 1994, 1996, 1997 (* joint holders)
UEFA Cup Winners' Cup (1): 1991
UEFA Super Cup (1): 1990
5. Jaap Stam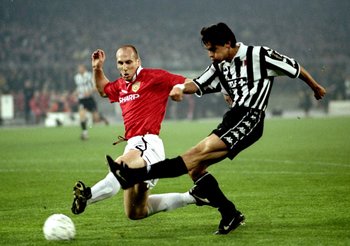 Shaun Botterill/Getty Images
The colossal Dutchman held the record transfer fee for a defender when he joined the Red Devils for £10.75 million in 1998 and turned out to be one of the best bits of business Sir Alex Ferguson ever did.
Don't let Stam's immense physical frame belie his ability as a defender and a footballer. Despite possessing titanic strength, the former PSV man was a tactically sound centre-back.
Strong in the air, alert to danger and comfortable in possession, Stam was the rock at the back against which opposition waves broke fruitlessly. He and Johnsen were the 'Bruce and Pallister' of the club's treble-winning season.
He only ever scored once for the club in his little over three seasons in Manchester, a wonderful half-volley against Leicester City, but it was his ever-dependable performances in his debut season of 1998/99 that endeared him to so many United fans.
He was intimidated by no one and hardly in awe of even the greatest forwards, and when he was sold to Lazio in 2001 after some disagreeable remarks in his autobiography, Sir Alex Ferguson said of him, "in playing terms it was a mistake." The giant Dutchman went on to receive honours in Italy with both Lazio and Milan.
Manchester United career:
127 appearances, 1 goal
Premier League (3): 1998–99, 1999–00, 2000–01
FA Cup (1): 1998–99
UEFA Champions League (1): 1998–99
Intercontinental Cup (1): 1999
4. Ronny Johnsen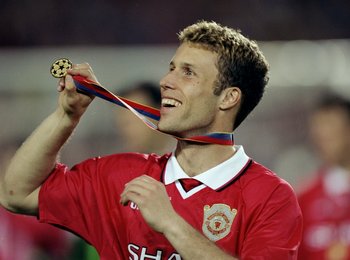 Phil Cole/Getty Images
Despite a series of knee injuries that eventually stalled his career, when fit, Ronny Johnsen was one of the best centre-backs in world football.
Often an unsung hero of Manchester United's incredible successes of the late '90s and early '00s, the versatile Norwegian was as integral to the side as his compatriot, Jaap Stam.
He lived in the shadow of his fellow centre-half (not literally, despite Stam's massive size, Johnsen stood at 6'3" too) but was impeccable nonetheless.
Although much pacier than the average centre-back, Johnsen didn't rely on his speed to get him out of trouble. He read the game extremely well and anticipated danger quickly, but also possessed an enviable ability on the ball: so much so he was also utilised in centre-midfield.
Strong, quick and alert, Johnsen was effectively the complete defender, if only not for the chronic knee troubles that plagued his later career.
He underwent double knee surgery at the end of the treble-winning campaign and never again reached the same heights as a footballer.
A meagre 24 league appearances followed over the ensuing three seasons. Still, despite his lay-offs, he was an important part of United's successes and would have surely gone on to even greater things were it not for his injuries.
To this day, he remains my favourite ever Manchester United player.
Manchester United career:
150 appearances, 9 goals
Premier League (4): 1996–97, 1998–99, 1999–2000, 2000–01
FA Cup (1): 1999
FA Charity Shield (1): 1997
UEFA Champions League (1): 1999
Intercontinental Cup (1): 1999
3. Denis Irwin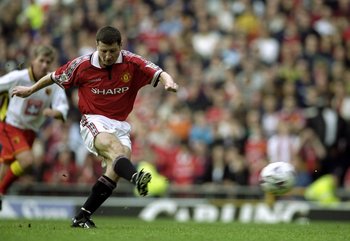 Clive Brunskill/Getty Images
One of the club's most loyal, reliable and affable servants, Denis Irwin was the consummate full-back. Adept on either flank, the Irishman was one of the most dependable fixtures in the 1990s.
Irwin was never one for coveting the limelight on or off the pitch, and so his game never suffered accordingly from overexposure. He was professional at all times, level-headed and, above all, highly reliable. A staple part of the Ferguson side that dominated the '90s, Irwin very rarely had an off-game.
Perhaps his farcical sending off against Liverpool in the run-in to the 1999 league title is the only real occasion where United's 'No. 3' actually performed below expectations...and even then, he'd already scored a penalty!
In addition to his talent as a tidy and resolute full-back, Irwin was somewhat of a set-piece specialist, especially from 12 yards; missing only three throughout his entire career.
Hailed by Sir Alex Ferguson as one of his "greatest ever signings," after all, he only cost £625,000 from Oldham Athletic in 1990, Irwin frequently goes down as one of the best full-backs to pull on the fabled red shirt.
He remained first-choice on the left flank well into his 30s, staving off competition from current Everton captain, Phil Neville, and is remembered fondly for his seemingly effortless forays up and down the touchlines, equally as adept as defending as he was at swinging inviting balls into the box.
Manchester United career:
529 appearances, 33 goals.
Premier League (7): 1992–93, 1993–94, 1995–96, 1996–97, 1998–99, 1999–2000, 2000–01
FA Cup (3): 1994, 1996, 1999
League Cup (1): 1992
Charity Shield (4): 1990, 1993, 1996, 1997
UEFA Champions League (1): 1999
Cup Winners' Cup (1): 1991
European Super Cup (1): 1991
Intercontinental Cup (1): 1999
2. Gary Neville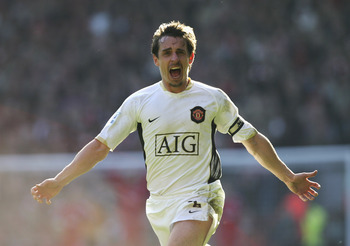 Ross Kinnaird/Getty Images
Throughout the '90s and beyond, one man above all continues to epitomise what it was to be 'Manchester United.' While everyone's blood bleeds red, Gary Neville's bleeds red, white and black, and if you cut him open, a devil aboard a three-mast schooner would surely ride the wave out.
While committing every fibre of his body to the club's cause, through good times and bad, 'Red Nev' was arguably also the finest right-back the country has ever produced.
United often profited from his seemingly telepathic understanding with fellow countryman, David Beckham, with the two moving and overlapping in tandem, both capable of producing telling balls into the box.
He motored up and down the right flank at Old Trafford so often that you'd think his footprints would be indelibly ground into the turf.
As both a player and captain, Neville was consistently superb. Adept at centre-half and right-back, the latter became his recognised position, and he performed with aplomb. His timing in the tackle was impeccable and his closing down and blocking of crosses was simply the most frustrating thing for a winger to face.
He chased and harried, never giving his man a moment's peace, but knew when to stand off when he thought he could be turned.
He was never the quickest, nor the strongest, but he compensated with his intelligence on the pitch: knowing when to get tight, when to drop off; knowing exactly where his man was and whether he was a current danger.
Although his incredible career was stained by injury in his last couple of seasons, the reception he received off the Old Trafford crowd on his comeback against AS Roma in the Champions League after 18 months out served to highlight his enduring popularity with the United faithful.
An almost Championship-winning roar erupted as he trotted out onto the pitch to take up a position in centre-midfield, and, due in part to his woeful goal-scoring record, every touch of the ball was echoed with booming cries of "Shoot!"
To this day, one of Manchester United's most recognisable, decorated, but ultimately talented defenders.
Manchester United career:
602 appearances, 7 goals.
Premier League (8): 1995–96, 1996–97, 1998–99, 1999–2000, 2000–01, 2002–03, 2006–07, 2008–09
FA Cup (3): 1995–96, 1998–99, 2003–04
Football League Cup (2): 2005–06, 2009–10
FA Community Shield (3): 1996, 1997, 2008
FA Youth Cup (1): 1991–92
UEFA Champions League (2): 1998–99, 2007–08
Intercontinental Cup (1): 1999
FIFA Club World Cup (1): 2008
1. Steve Bruce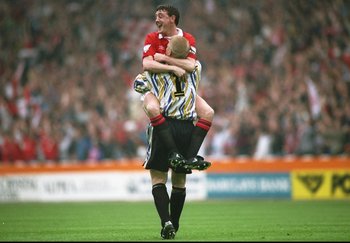 Shaun Botterill/Getty Images
Ferguson's captain, defensive rock and the epitome of United's resurgence in the early '90s, Steve Bruce is often regarded as the finest defender in the club's illustrious 135-year history.
Despite not having the gluttonous haul of trophies that are attributed to the likes of Gary Neville and Denis Irwin, nor being the most graceful and naturally blessed player to have taken to the Old Trafford turf, "Brucie" was the figurehead of the club's re-emergence as a dominant domestic and European force.
What he lacked in pace, agility and technique, Bruce more than made up for with his abundance of determination, heart and sheer refusal to give in.
United have been blessed in recent years with the likes of Roy Keane and Bryan Robson, players whom defeat is a foreign concept, and Steve Bruce was no different.
More than willing to play through injury, often caused by his simple desire to win the ball, no matter how many blows he took, he led the Red Devils from the back, alongside Gary Pallister.
Bruce was of similar ilk to his giant partner; powerful both in the tackle and in the air, and refusing point blank to give opposition strikers even a millimetre of leeway.
He coupled this indomitable physicality with a simplicity that saw him develop from a rampaging brute to a strong, uncompromising centre-back who distributed the ball with efficiency.
On top of this, he bagged his fair share of goals from corners and penalty kicks, including an astonishing 19 goals in all competitions during the 1990/91 season.
Although, bizarrely, Bruce was never capped for England at senior level, he has the distinction of being the first man to captain a team to the double in the 20th Century, when Man United romped to the 1992/93 Premier League and FA Cup.
Manchester United career:
420 appearances, 52 goals
Premier League (3): 1992–93, 1993–94, 1995–96
FA Cup (3): 1990, 1994, 1996
Football League Cup (1): 1992
Charity Shield (3): 1990 (shared), 1993, 1994
European Cup Winners' Cup (1): 1991
European Super Cup (1): 1991
Keep Reading

Manchester United: Like this team?