Notre Dame vs. USC: Complete Game Preview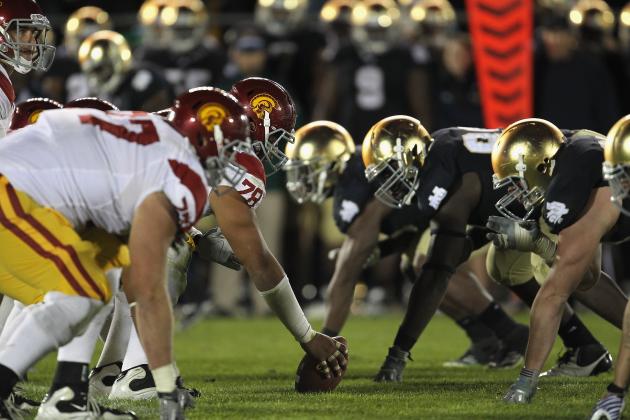 Jonathan Daniel/Getty Images

It feels awfully strange to say, but the only obstacle between No. 1 Notre Dame and a berth in the BCS National Championship Game is a victory over traditional rival USC on Saturday evening in Los Angeles.
The Trojans began the season as the country's top-ranked team, but tumbled out of the Top 25 altogether after losing games to Stanford, Arizona, Oregon and UCLA.
To make matters worse, the Trojans will be without starting quarterback Matt Barkley against the Irish, as the senior signal-caller suffered a separated throwing shoulder during his team's 38-28 loss to crosstown rival UCLA last week.
So how will USC match up with Notre Dame without Barkley?
For that answer and more, let's get started with this week's game preview.
Begin Slideshow

»
http://a.espncdn.com/photo/2008/0911/ncf_g_lacoliseum_600.jpg
Who: Notre Dame at USC
When: Saturday, 8 p.m. (EDT)
Where: Los Angeles, Calif.
Stadium: Los Angeles Memorial Coliseum (93,607)
Weather Forecast: High 82, Low 56, 0% chance of rain, wind NNW at 1 mph
TV: ABC
Radio: IMG Notre Dame Radio Network
Internet Stream: N/A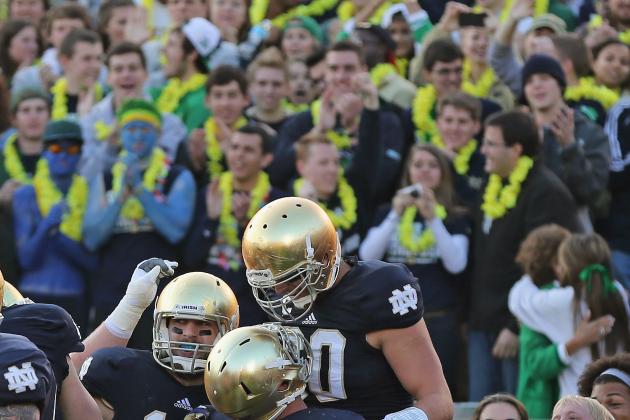 Jonathan Daniel/Getty Images

Position—Starter, Backup
OFFENSE
QB—Everett Golson, Andrew Hendrix OR Tommy Rees
RB—Theo Riddick OR George Atkinson III OR Cierre Wood, Cam McDaniel
WR—TJ Jones, DaVaris Daniels
WR—Robby Toma, Davonte' Neal
WR—John Goodman, Daniel Smith
TE—Tyler Eifert, Ben Koyack
LT—Zack Martin, Ronnie Stanley
RT—Christian Lombard, Nick Martin
C—Braxston Cave, Mike Golic, Jr.
LG—Chris Watt, Conor Hanratty
RG—Mike Golic, Jr., Bruce Heggie
DEFENSE
DE—Kapron Lewis-Moore, Sheldon Day
DE—Stephon Tuitt, Tony Springmann
NG—Louis Nix III, Kona Schwenke
LB—Prince Shembo, Ishaq Williams
LB—Dan Fox, Carlo Calabrese
LB—Manti Te'o, Jarrett Grace
LB—Danny Spond, Ben Councell
CB—Bennett Jackson, Jalen Brown
CB—KeiVarae Russell, Josh Atkinson
FS—Zeke Motta, Nicky Baratti
SS—Matthias Farley, Chis Salvi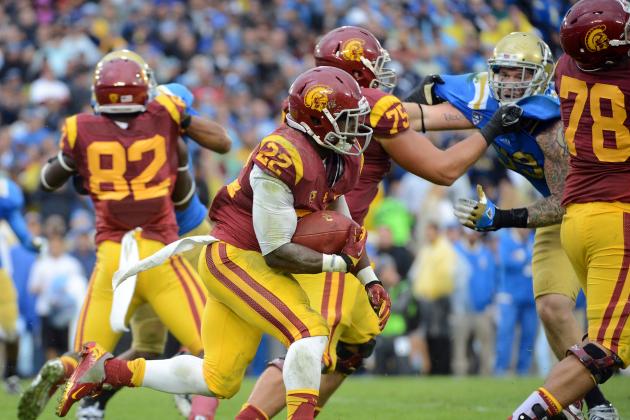 Harry How/Getty Images

Position—Starter, Backup
OFFENSE
QB—Max Wittek, Cody Kessler
FB—Soma Vainuku OR Jahleel Pinner, Hunter Simmons OR Charles Burks
TB—Curtis McNeal OR Silas Redd, D.J. Morgan
WR—Robert Woods, George Farmer
WR—Marqise Lee, Nelson Agholor
TE—Xavier Grimble OR Randall Telfer, Jalen Cope-Fitzpatrick
LT—Max Tuerk OR Aundrey Walker, Chad Wheeler
LG—Marcus Martin OR Abe Markowitz, Giovanni Di Poalo
C—Khaled Holmes, Abe Markowitz
RG—John Martinez, Jeremy Galten
RT—Kevin Graf, Nathan Guertler
DEFENSE
DE—Wes Horton, Greg Townsend Jr. OR Kevin Greene
NT—George Uko, Antwaun Woods
DT—Leonard Williams, George Uko OR J.R. Tavai
DE—Morgan Breslin, J.R. Tavai
SLB—Dion Bailey, Tony Burnett
MLB—Lamar Dawson, Will Andrew
WLB—Hayes Pullard, Anthony Sarao
CB—Nickell Robey, Kevon Seymour
FS—T.J. McDonald, Drew McAllister
SS—Jawanza Starling, Demetrius Wright
CB—Josh Shaw, Torin Harris
Notre Dame capped off an undefeated home slate by demolishing Wake Forest, 38-0.
The contest was virtually over by the conclusion of the first quarter, as the Irish took a 21-0 lead over the thoroughly overmatched Demon Deacons. Two of those three scores occurred in stunning fashion, with running back Cierre Wood rumbling 68 yards for the Irish's first score and John Goodman reeling in a 50-yard pass from redshirt freshman quarterback Everett Golson.
Speaking of the 6'0", 185-pound starting quarterback, he pieced together his most impressive outing of the 2012 season, completing 20 of 30 pass attempts for 346 and three touchdowns.
Defensively, the Fighting Irish displayed their dominance once again, limiting Wake Forest to just 209 total yards and zero points on the afternoon.
For a complete recap of Notre Dame's victory over Wake Forest, click here.
USC's disappointing season—the Trojans began the season ranked No. 1 nationally—took on an added sense of disappointment on Saturday, as Lane Kiffin's squad lost to crosstown rival UCLA, 38-28.
Not only did the Trojans lose the game, but they lost starting quarterback Matt Barkley after the Santa Ana, Calif., native suffered a separated throwing shoulder against the Bruins.
And to add insult to injury, USC outgained UCLA 513-406 in total yards, yet still lost by two scores.
Kiffin and Co. were undone by three turnovers, two of which were Barkley interceptions.
For a full recap of USC's loss to UCLA, click here.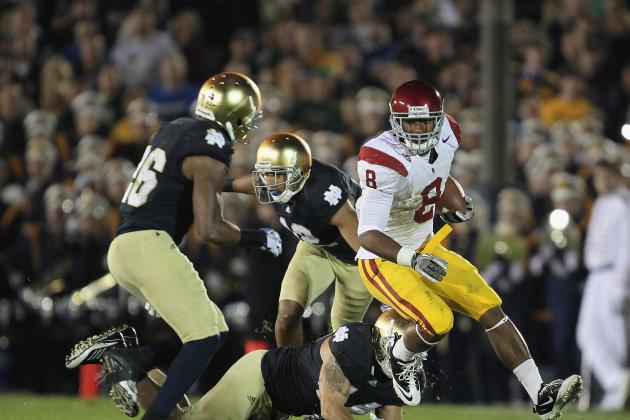 Jonathan Daniel/Getty Images

The stakes couldn't be more significant for the Fighting Irish this week, as their berth to the BCS National Championship Game is dependent upon a victory over USC.
And Notre Dame success against USC has come at a premium during the past 10 seasons, as the Irish have beaten the Trojans just once—a 20-16 victory in 2010—in that span. Concisely, this is a do-or-die game for the Irish, who are seeking their first national championship since 1988.
Saturday evening's contest doesn't possess much value for the Trojans, who are now out of contention for participation in the Pac-12 Championship Game. And with four losses on the season, they're also out of contention for an invitation to a BCS game.
Because USC doesn't have much to play for in terms of postseason destination, a victory over the top-ranked Fighting Irish would put a positive spin an otherwise abysmal season.
Key Player: KeiVarae Russell, CB
Originally recruited by Notre Dame as a running back, KeiVarae Russell was converted to cornerback during the final days of fall camp after presumptive starter Lo Wood was lost for the season to a torn Achilles tendon.
Russell has filled in admirably for the injured Wood, which has been a pleasant surprise for the Irish.
However, Russell will face his stiffest test of the season on Saturday against what is arguably the nation's best wide receiver duo of Robert Woods and Marqise Lee.
Yet Woods and Lee will be hampered by the loss of quarterback Matt Barkley, who was masterful in distributing the football to the former high school teammates.
Key Player: Max Wittek, QB
USC freshman quarterback Max Wittek will make his first career start on Saturday evening in place of the injured Matt Barkley, and it couldn't happen under brighter lights.
Wittek will be tasked with leading the offense against No. 1 Notre Dame, which boasts the nation's top-ranked scoring defense that has limited its opponents to roughly 10 points per game.
For the Trojans to have any hope of defeating the Irish, Wittek must play wise beyond his years. If his team can't put points on the scoreboard, the game may quickly become a blowout.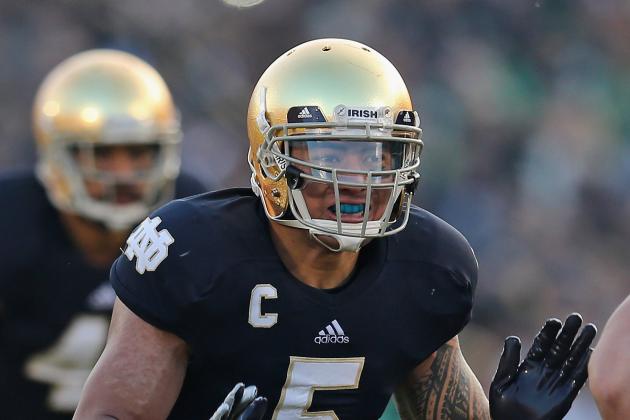 Jonathan Daniel/Getty Images

Notre Dame will win if it can cause USC quarterback Max Wittek to turn the ball over and if it runs the football effectively for four quarters.
Any time an elite defense such as Notre Dame's faces a quarterback making his first career start, it immediately smells blood in the water. Expect to see Bob Diaco's defense use a number of exotic looks in an effort to confuse the freshman.
Aside from winning the turnover battle, the Irish offense must also pound the football on the ground against a USC defense that allows 150.45 rushing yards per game. And while Notre Dame's offense is nowhere near the quality of Oregon's, it will at least be reminded of the 426 rushing yards the Ducks pasted on the Trojans.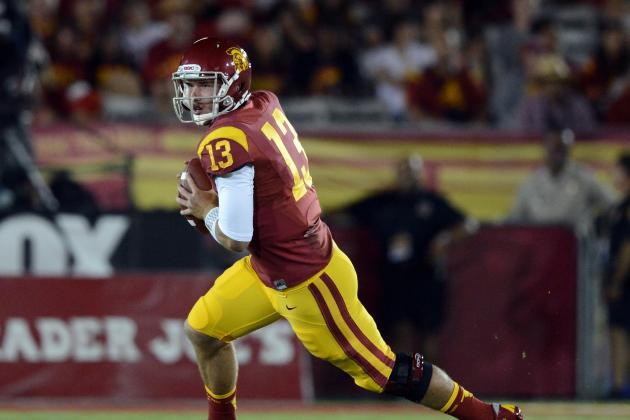 Harry How/Getty Images

USC will win if it tailors its offensive game plan to suit the strengths of freshman quarterback Max Wittek.
Being a freshman, Wittek has a limited grasp of the playbook, which will force Lane Kiffin and offensive coordinator Kennedy Pola to piece together a very simple game plan that will make Wittek comfortable running the offense.
If Wittek and the offense avoid turning the football over and put at least 20 points on the scoreboard, the Trojans will have a chance to knock off the Irish.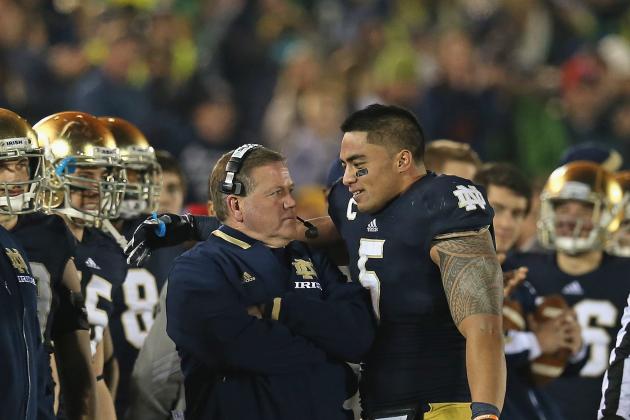 Jonathan Daniel/Getty Images

As if an already heated rivalry needed any more heat, Max Wittek poured more gasoline on the fire through his comments on Tuesday, in which he guaranteed a victory over the Irish.
We haven't got the full game plan yet, but from what I can tell, we're going to play our offense, whatever coach (Lane) Kiffin feels comfortable giving me. If he wants to air it out, let's air it out. If he wants to pound it on the ground, let's do that. Like I said, I'm going to go out there, I'm going to play within myself, within the system, and we're going to win this ballgame.
Well, Wittek may not be aware, but Brian Kelly's Notre Dame squad has been insulted by perceived lack of respect it has dealt with this season.
The Irish were doubted entering contests, and eventual victories, over Michigan State, Michigan, Oklahoma and Stanford.
They're still hungry, particularly with a berth in the national championship at stake.
Prediction: Notre Dame 28, USC 17