UFC 154 Medical Suspensions: Cote and Kampmann Given Most Time off
Use your ← → (arrow) keys to browse more stories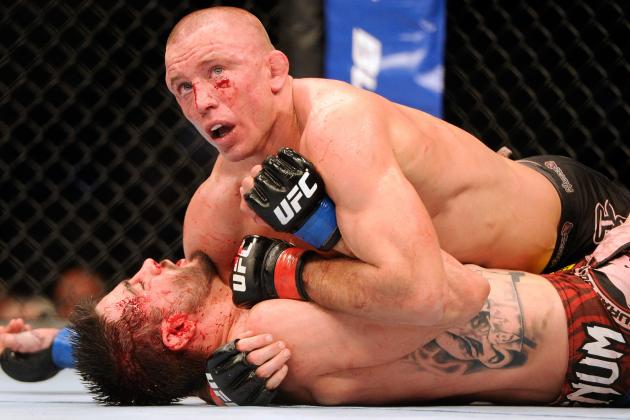 Eric Bolte-US PRESSWIRE

On Saturday, UFC welterweight champion Georges St-Pierre was late getting to the UFC 154 post-fight press conference. Perhaps his delay was caused by the difficulty he must have had in picking out what suit to wear before the assembled media. After all, what goes with purple, black, red, orange, yellow and blue?
Those varied colors covered St-Pierre's swollen head when he sat down at the dais with an ice pack held to his face. St-Pierre would go on to describe that bruised melon as being shaped like an American football (per Yahoo! Sports) after getting punched and kicked multiple times over the course of 25 minutes by the man he defeated to become the undisputed welterweight champion, Carlos Condit.
By no means did Condit walk out of the fight unscathed, but to see St-Pierre in that type of shape was shocking—especially for a fighter who has largely been able to avoid the attempts of his opponents to touch him up.
When the medical suspensions were handed down for UFC 154, it was no shock to see St-Pierre listed among those with a nice bit of mandated time off. And good for him. After all, he did mention at the post-fight presser that he wanted to take some time off to vacation (per MMAFighting.com) after winning his 10th consecutive fight inside the Octagon.
Every fighter on the card was handed some type of medical suspension. The full list of suspensions is posted below (via MMAFighting.com):
Patrick Cote - 60 days
Martin Kampmann - 60 days
Mark Hominick - 45 days
Mark Bocek - 45 days
Carlos Condit - 30 days
Chad Griggs - 30 days
Georges St-Pierre - 28 days
Tom Lawlor - 14 days
Francis Carmont - 14 days
Rafael dos Anjos - 14 days
John Maguire - 14 days
Matt Riddle - 14 days
Rodrigo Damm - 14 days
Pablo Garza - 14 days
Antonio Carvalho - 14 days
John Makdessi - 14 days
Sam Stout - 14 days
Darren Elkins - 14 days
Steven Siler - 14 days
Azamat Gashimov - 7 days
Ivan Menjivar - 7 days
Cyrille Diabate - 7 days
Alessio Sakara - 7 days
Johny Hendricks - 7 days