UFC 154: Power Ranking the UFC's Canadian PPV's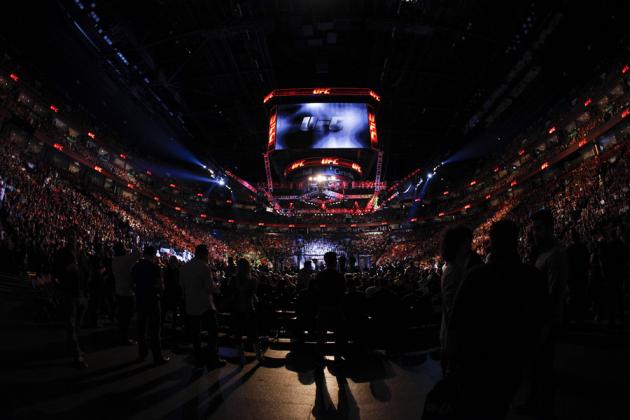 UFC 154 - MMAFighting
UFC 154 marked the 11th UFC event held in Canada.
Canadian fans have been invaluable to the growth and popularity of MMA, and the country has played host to some of the biggest events in UFC history.
Perhaps, a major portion of the credit belongs to UFC welterweight champ Georges St-Pierre.
According to UFC President Dana White, the French Canadian is the biggest draw in the UFC. The promotion has capitalized on St-Pierre's star power in turning Canada into one of the more frequented countries to host major events outside of the U.S.
UFC history has become synonymous with Canada.
In Montreal, Mauricio "Shogun" Rua handed Lyoto Machida his first professional loss to win the first major title of his career. Vancouver was the last stop in the legendary career of UFC Hall of Famer Chuck Liddell.
St-Pierre went toe to toe with Strikeforce middleweight champ Jake Shields at Rogers Centre in Toronto in the largest event in UFC history.
Today, we pay homage to the UFC in Canada by ranking every pay-per-view event.
Begin Slideshow

»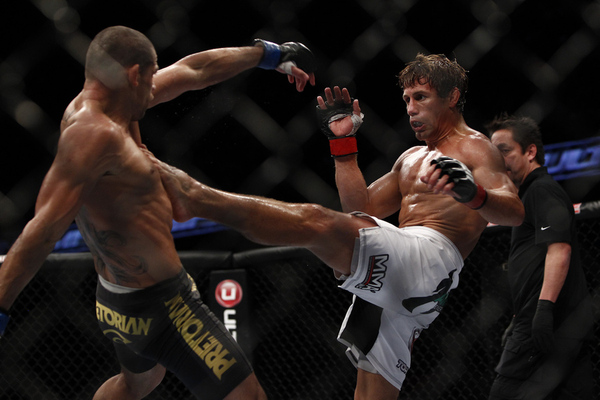 Renan Barao and Urijah Faber - MMAFighting
The rankings start with the injury-riddled UFC 149 fight card, which was expected to feature Jose Aldo vs. Erik Koch and Mauricio "Shogun" Rua vs. Thiago Silva.
Due to injuries, both of the bouts were scrapped, and the UFC was forced to go with the interim bantamweight title bout between Urijah Faber and Renan Barao as the headliner.
Hector Lombard stepped in as a late replacement for Michael Bisping against Tim Boetsch in the co-main event.
All in all, it was an incredibly lackluster card that failed to leave a lasting impression on the media and fans.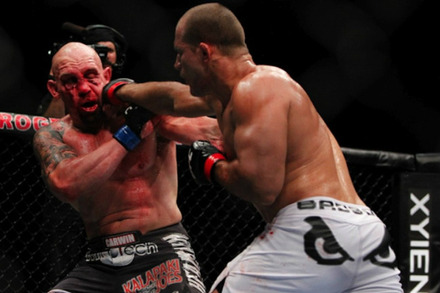 Shane Carwin and Junior Dos Santos - MMAFighting
UFC 131 was lacking in star power, but the event was held together by fairly entertaining fights.
Junior Dos Santos took on Shane Carwin in the main event to decide the next No. 1 contender for the UFC heavyweight title.
Kenny Florian also made his featherweight debut.
If anything, the card could be looked back on for showcasing the continued rise of top middleweight contender Chris Weidman.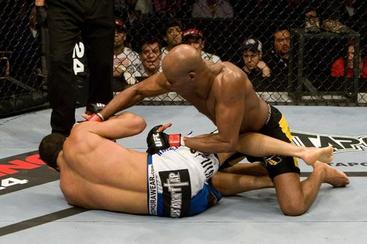 Thales Leites and Anderson Silva - MMAFighting
Does anyone remember when the UFC had "cool" names attached to every major event?
There never was any redemption to be had at UFC 97, which featured the dreadful middleweight title bout between Anderson Silva and Thales Leites.
For 25-minutes, fans looked on as Silva danced around the Octagon and a gassed Leites repeatedly tried to pull guard.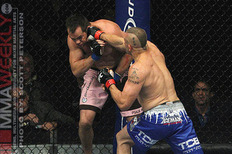 Chuck Liddell and Rich Franklin - Scott Petersen/MMAWeekly
UFC 115 marked the final bout in the legendary career of UFC Hall of Famer Chuck Liddell.
He squared off against a fellow legend in former middleweight champ Rich Franklin.
Unfortunately, the swan song didn't go over so well for Liddell, who was knocked cold in the first-round.
Despite the first-round loss, Liddell proved that he still had the ability to compete at a high level technically, but physically, he wasn't the same fighter he used to be.
Jon Jones - MMAFighting
After UFC 151 was cancelled, the UFC 152 card in Canada was bolstered even further with the addition of the Jon Jones and Vitor Belfort light heavyweight title bout.
Jones defeated Belfort and silenced his critics after enduring weeks of verbal abuse from media and fans for his refusal to accept a fight with Chael Sonnen at UFC 151.
History was also made in the 125-pound division, as Demetrious Johnson was crowned as the first ever UFC flyweight champion.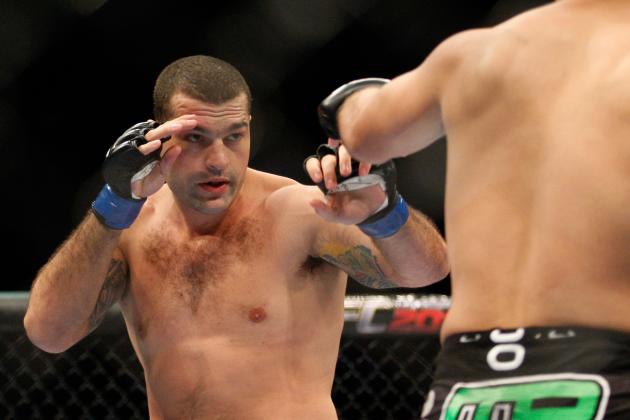 Richard Wolowicz/Getty Images

After the controversial ending to their first bout, UFC President Dana White warranted Mauricio "Shogun" Rua an immediate rematch with Lyoto Machida for the light heavyweight title at UFC 113.
Throughout his career, Shogun was considered the top light heavyweight in the world, but he never received an opportunity to hold a major MMA title.
Everything changed at UFC 113, as Shogun solidified his status as one of MMA's all-time greats.
The card was also memorable for bringing about the end of Kimbo Slice's MMA endeavors. Paul Daley was also cut from the UFC that night after taking a late swing at Josh Koscheck.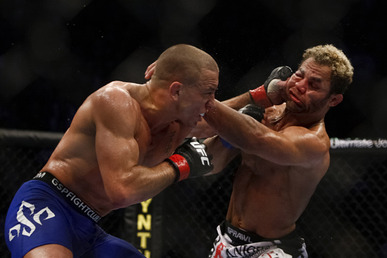 Georges St-Pierre and Josh Koscheck - MMAFighting
Few fighters have ever got under Georges St-Pierre's skin like Josh Koscheck.
After defeating Koscheck back in August 2007, St-Pierre met up with his blond-headed nemesis once again in the main event of UFC 124.
With the UFC welterweight title on the line, the stakes were much higher in the rematch.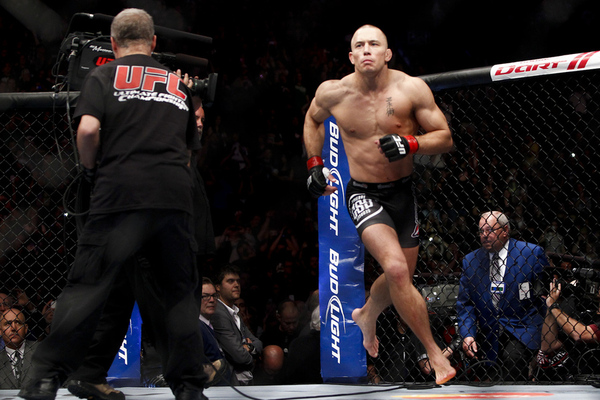 Georges St-Pierre - MMAFighting
UFC 154 marked the return of Georges St-Pierre after nearly a two-year layoff.
The UFC welterweight champ was forced to undergo knee surgery in 2011 after tearing his ACL during training.
While rehabbing his injury, St-Pierre was forced to sit and watch the 170-pound division pass him by. Carlos Condit had been named the interim champion after defeating Nick Diaz.
ACL injuries have a history of ruining the careers of many professional athletes.
St-Pierre faced the daunting task of recovery and returning in front of his hometown fans in an undisputed showdown against Condit.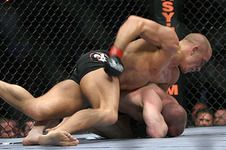 Georges St-Pierre - Ken Pishna/MMAWeekly
UFC 83 was the first ever UFC event held in Canada.
There was a lot of emotion leading up to the main event, which featured the rematch between Matt Serra and Georges St-Pierre.
Serra was coming off the biggest upset in UFC history, after knocking out St-Pierre to win the welterweight title.
The celebration didn't last long.
Serra's first defense came on hostile territory against St-Pierre in a rematch in front of thousands of screaming Canadian fans.
Lyoto Machida - MMAFighting
UFC 140 is the epitome of a great pay-per-view card.
The December 2011 event, which featured the light heavyweight title bout between Jon Jones and Lyoto Machida, was full of drama and shocking finishes.
It's tough to shake the disturbing image of Frank Mir twisting Antonio Rodrigo Nogueira's arm around like a pretzel for the first round submission finish.
Jones' second round submission win over Machida was equally disturbing.
After choking Machida unconscious with a standing guillotine, Jones simply released the hold and walked away as the former light heavyweight champ's body crumpled to the canvas.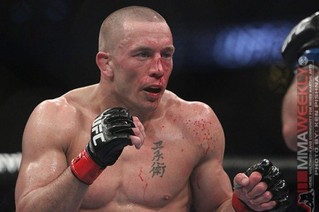 Georges St-Pierre - Ken Pishna/MMAWeekly
UFC 129 marks the largest UFC event in North American history.
The layout of Rogers Centre was breathtaking, and it provided MMA fans with a larger than life feeling similar to the WWE's "Wrestlemania."
Georges St-Pierre defended his UFC welterweight title against former Strikeforce middleweight champ Jake Shields in the main event.
The co-main event featured another title bout with Jose Aldo defended his featherweight strap against top Canadian contender Mark Hominick.