NHL Lockout: Players Harsh Opinions of Bettman Not Helping Anyone
Use your ← → (arrow) keys to browse more stories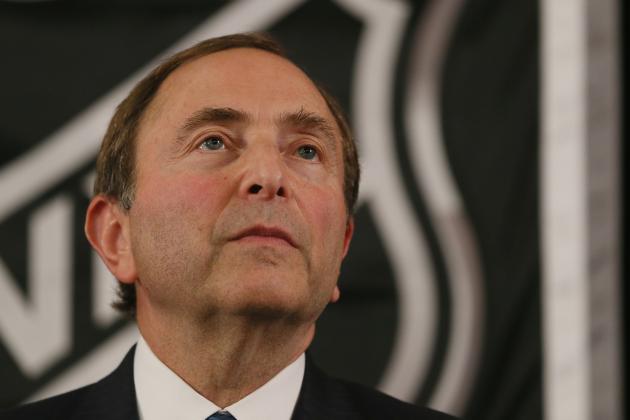 Bruce Bennett/Getty Images

In the minds of many NHL fans and players, Gary Betmman is a most vile creature. The way the NHL commissioner is vilified you would think he's sporting horns underneath that business haircut and a pair of fangs that he uses to suck the life from the bodies of various innocent creatures. To say that he is a hated figure would be one huge understatement, especially these days as the NHL lockout drags on with no end in sight.
That hatred is somewhat misplaced.
Bettman may be the NHL commissioner, but he answers to the NHL ownership group. Sure, he has his agenda and he stands in front of the press with his knowing smirk and does the talking, but he's not saying anything that the majority of the owners don't want him to say.
That hasn't stopped NHL players from ripping into Bettman at any chance they get. Sadly, it seems like these attacks have picked up as of late, which is probably a bad idea when the players representatives are negotiating with the man about a long-term collective bargaining agreement.
The hate parade started last week when Detroit Red Wings blueliner Ian White opined, "I got to be honest, I personally think he's an idiot. Since he's come in I think he's done nothing but damage the game. If you think of all the moves he's made, the teams that are all struggling seem to be the teams he put in places where there's (less support for hockey)."
Kris Versteeg of the Florida Panthers then got in on the act, saying something that made White's "idiot" comment actually seem nice. Appearing on TSN 1050, Versteeg said, "You do try to look at the best-case scenarios moving forward once the CBA does get done, and you gotta look for the cancers and you gotta cut out the cancers and I think that when you look at Bill Daly and Bettman, they've been looting this game for far too long."
So we have alleged adults in alleged constructive bargaining conversations with a man they are openly referring to in the press as an idiot and a cancer. It makes one wonder how they refer to Bettman behind closed doors.
It also makes you wonder how much of the player's stance and approach to these talks is clouded by their open hatred toward Bettman. Have they lost sight of the goal, which should be to get back on the ice because of their animosity toward Bettman?
Hey, I understand that the players think Bettman is bad for the game, just as the owners probably think that he is good for the game, but to voice those opinions in the press is childish at best and self-destructive at worst.
The next time a microphone is thrust in front of a player and they are asked their opinion of Bettman they should remember the old saying, "If you don't have anything nice to say, don't say anything," at least until a new CBA is in place.