Rookie Stock Watch: Who's Leading the NBA Youth Movement?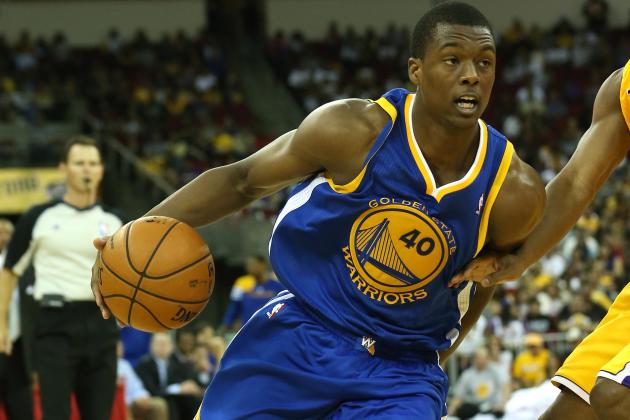 Stephen Dunn/Getty Images

Over the past few days, the marquee rookies of the 2012-13 NBA rookie class have seen an increased role and an uptick in production.
Although things are looking rosy for a trio of West Coast playmakers, there are a couple of East Coast newbies who are struggling on losing clubs.
In the post, Anthony Davis continues to be the premier rookie, but was his play enough to keep him in the top spot in our stock watch? Also, a highly touted Eastern Conference power forward took a couple steps backward.
Who jumped the most in our rankings, and whose stock is No. 1 after an eventful week in the Association?
Begin Slideshow

»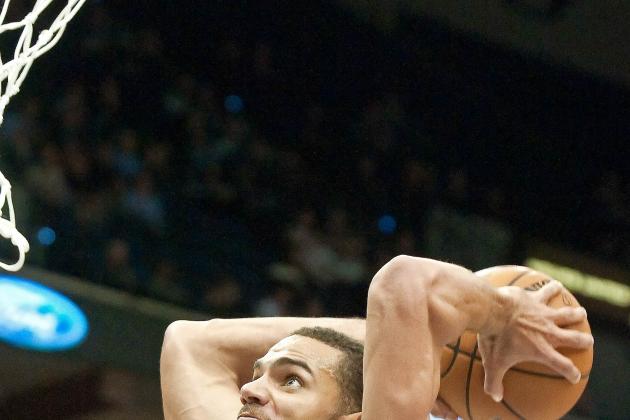 Greg Smith-US PRESSWIRE

Jeff Taylor, Charlotte Bobcats forward: Stock is up (10 points, four assists vs. Milwaukee)
Jonas Valanciunas, Toronto Raptors forward: Stock is down (6 PPG, 5.7 RPG in last three games)
Brian Roberts, New Orleans Hornets guard: Stock is steady (Nine points, seven assists, two steals vs. OKC)
Austin Rivers, New Orleans Hornets guard: Stock is up (8.3 PPG in last three games, 8-of-8 FT)
Andrew Nicholson, Orlando Magic forward: Stock is steady (7.3 PPG in last four games)
Jae Crowder, Dallas Mavericks forward: Stock is down (8.4 MPG, 2.0 PPG in last two games)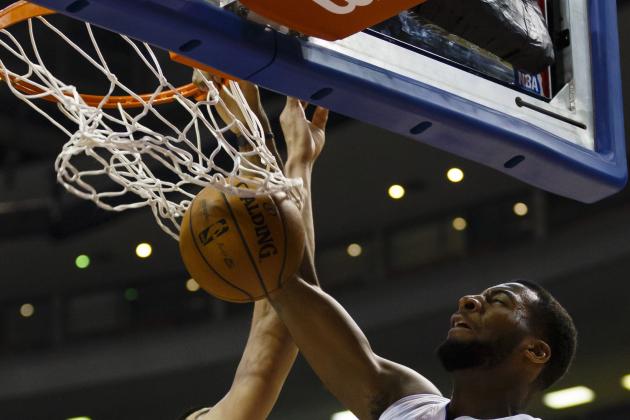 Rick Osentoski-US PRESSWIRE

Stock Report: Steady
Last Week's Rank: 8
It was a battle between Andre Drummond and Jonas Valanciunas for the last spot in our rankings, but Drummond prevailed because he did more with less playing time.
Drummond continues to stay conservative offensively, only attempting close-range field goals. But he's still a formidable presence in the paint due to his size and athleticism.
His post defense helped keep the Philadelphia 76ers and Boston Celtics silent, which led to Pistons' victories.
If he can play 18 minutes per game, while grabbing six or seven rebounds and scoring six or eight points, the Pistons will stay competitive in more games moving forward. It's a lot to ask for an undeveloped player like him, but it's not outside of his capabilities.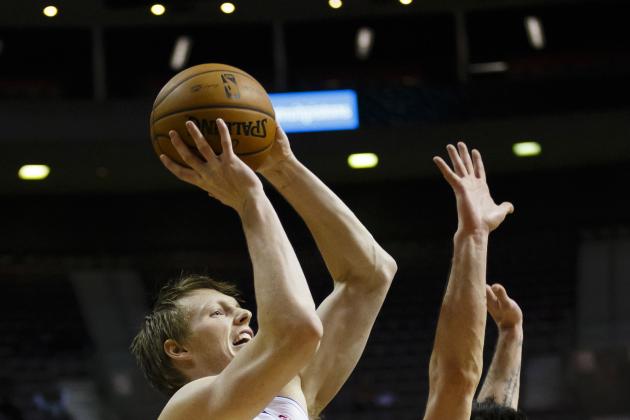 Rick Osentoski-US PRESSWIRE

Stock Report: Up
Last Week's Rank: Unranked
If one Detroit Pistons rookie is good, two is better.
Forward Kyle Singler cracked the Top 10 again with a superb week, as he's been a key factor in Detroit's recent upswing.
Singler didn't score fewer than 14 points in any of last week's games, and he also shot at least 50 percent from the field in each of them. He picks his spots to drive to the rim or pull up from mid-range, and he converts at a favorable clip.
When he steps back for three-point shots (which isn't often), he makes sure it's a high-percentage chance and knocks it down. He was 3-of-5 from distance this past week.
Relatively mediocre defense and foul trouble are the only things keeping Singler from skyrocketing up the charts.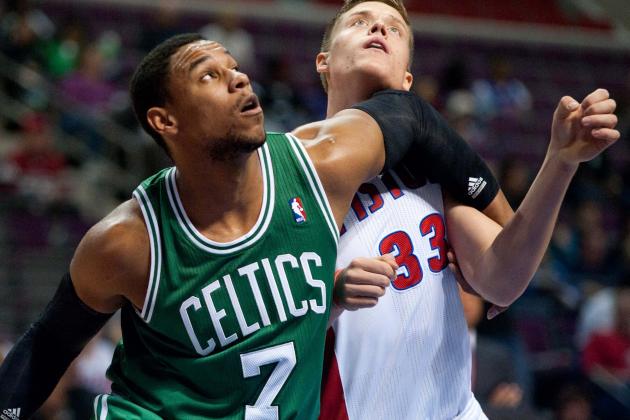 Tim Fuller-US PRESSWIRE

Stock Report: Up
Last Week's Rank: 10
The Boston Celtics' stock might be way down, but rookie Jared Sullinger's stock is up after a pair of productive nights.
Once Sullinger regained a decent chunk of playing time, he was able to showcase his rebounding and scoring prowess for Doc Rivers.
His 12 points and 11 boards were critical in Boston's win over Toronto, and he followed that up with 16 points and five boards against Detroit. Unfortunately, the rest of the team floundered in the latter contest.
Sullinger remains one of the most efficient big-man rookies, as he's second among newbies in field-goal percentage at 54 percent.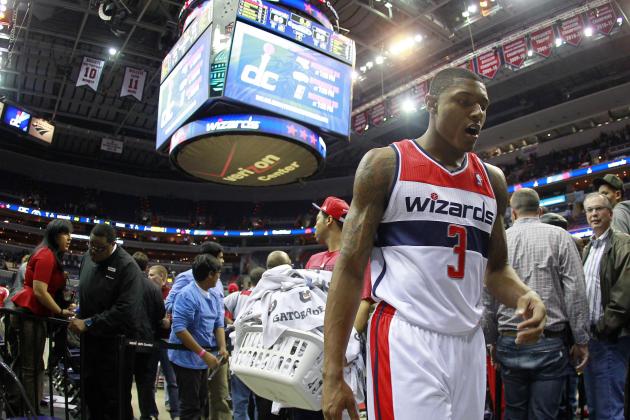 Geoff Burke-US PRESSWIRE

Stock Report: Down
Last Week's Rank: 6
It has become painfully evident that Washington is the worst NBA club on either side of the Mississippi without John Wall, and Bradley Beal has been unable to contribute to a winning effort.
We can't expect a colossal rookie campaign from Beal, especially because he's a 19-year-old shooting guard playing without Wall. But his recent offensive struggles are nonetheless concerning, as he shot 11-of-43 in his last four games and only mustered three assists all week.
Beal is not a dynamic ball-handler and is only capable of one or two dribbles after a pump fake to set up a pull-up jumper. Until Wall returns, Wizards fans can't truly rely on him for consistent playmaking.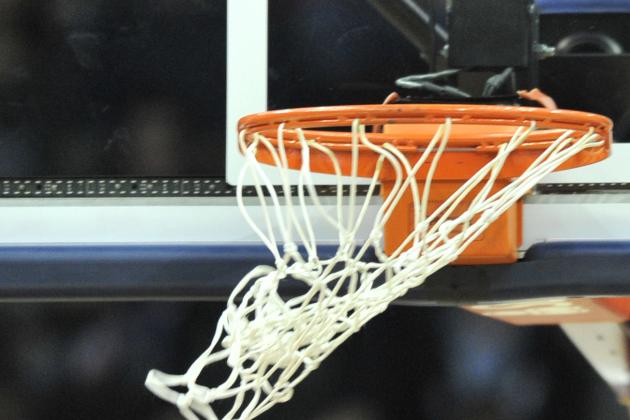 David Richard-US PRESSWIRE

Stock Report: Down
Last Week's Rank: 3
With Kyrie Irving out for the next month, Dion Waiters' responsibilities multiply. Now more than ever, it's imperative that he irons out his inconsistent shooting.
Waiters' shooting has taken a dip of late. His last three games include a 3-of-16 night at Brooklyn, a 4-of-16 night against Dallas and a 2-of-13 night at Philadelphia. In both the Mavericks and Sixers games, a slightly better shooting night from Waiters would have helped avoid a close loss.
He remains one of the most talented rookies in this class, but there are three factors working against him: 1. Defenses can focus on him as he's one of the only threats; 2. His shot isn't quite fundamentally sound, which lends itself to inconsistency; and 3. His decision-making needs to improve.
With Irving out, we will soon see what Waiters is made of.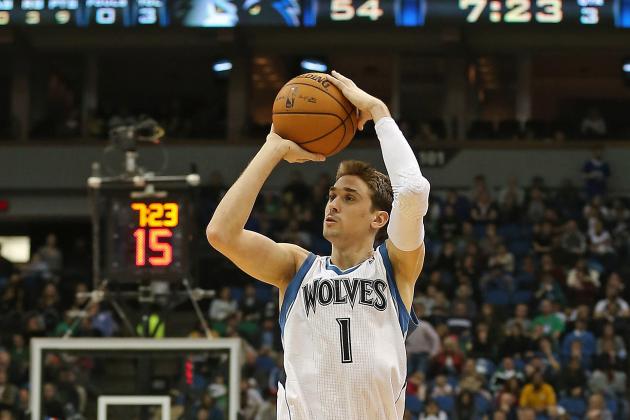 Jesse Johnson-US PRESSWIRE

Stock Report: Up
Last Week's Rank: 5
Due to other rookies' stocks skyrocketing, Alexey Shved didn't move at all in our rankings.
But don't let it fool you, as his stock is on an upward climb after another impressive week. Friday night was a particularly striking display, as he racked up 22 points and seven assists in just 33 minutes.
Shved is doing his best to fill the void for Minnesota's injury-depleted roster, but it's not quite enough. However, that doesn't make his feats less noticeable.
If he continues to shoot well, facilitate and rein in his turnovers, he'll have a great chance to move up in the rookie food chain.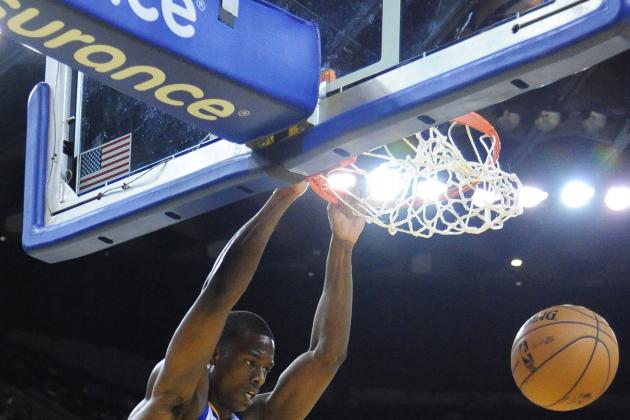 Kyle Terada-US PRESSWIRE

Stock Report: Up
Last Week's Rank: 7
In our previous rookie rankings, Golden State Warriors forward Harrison Barnes was still struggling to find his role on the team, let alone consistent offense.
It looks like Mark Jackson has upgraded Barnes to a featured role, and Barnes is making him look smart. In his past four games, Barnes is posting 17.3 points and 8.8 rebounds per game.
The 6'8" rookie is more confident and aggressive than we expected. For the most part, he's making strong, decisive moves with the ball, and the Warriors are the direct beneficiary.
Barnes' most recent performance may be his best yet: He was the difference in Golden State's win over Dallas, as he notched 20 points and 12 rebounds in 40 minutes.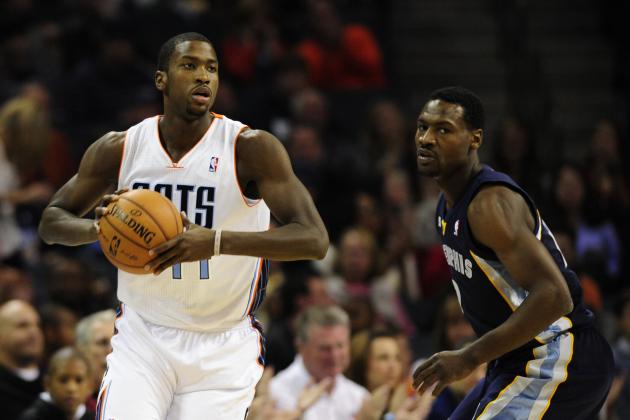 Curtis Wilson-US PRESSWIRE

Stock Report: Up
Last Week's Rank: 4
Three out of Michael Kidd-Gilchrist's four games this past week were terrific.
Aside from a bump in the road against Minnesota, the Charlotte Bobcats forward rebounded the ball well, scored in double digits and played his usual aggressive defense.
Kidd-Gilchrist is often labelled as an unskilled offensive player, but he finds ways to put the ball in the bucket and is fourth among rookies in scoring.
He's still getting into a bit of foul trouble, which is something he needs to clean up. But for now, we'll give him a pass on it because he's become such an integral part in Charlotte's resurgence. The club has won four out of its last five games and is currently above .500.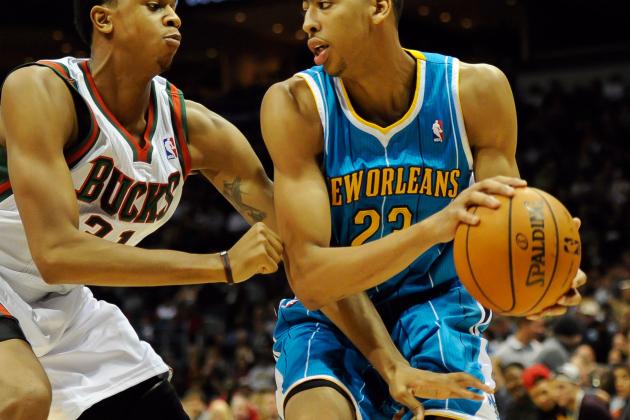 Benny Sieu-US PRESSWIRE

Stock Report: Steady
Last Week's Rank: 1
After reclaiming our top spot in last week's stock watch, Anthony Davis turned in an underwhelming performance against the Houston Rockets, notching just two field goals and four rebounds in 29 minutes.
He gradually picked up steam over the course of the week. He hit the offensive boards more effectively against Oklahoma City and then had a scoring explosion against Milwaukee.
All the while, he stayed active defensively and consistently influenced the game from that end of the floor.
The main reason he slipped to No. 2 was that he couldn't lead his team to victory, while Damian Lillard spearheaded a winning streak for his Portland Trail Blazers.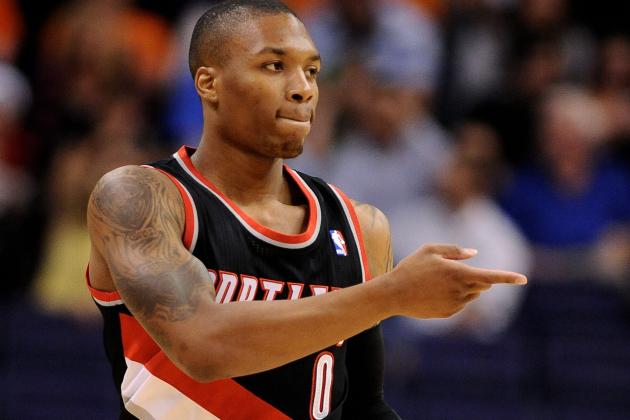 Jennifer Stewart-US PRESSWIRE

Stock Report: Up
Last Week's Rank: 2
In a banner week that had some people forgetting he was a rookie, Damian Lillard helped lead the Trail Blazers to three straight wins.
In those three games, Lillard shot the ball extremely well, hitting 23 of his 41 shots, including 9-of-19 from three-point range. The assist numbers weren't astounding, but he still affected the complexion of each game with his facilitating and perimeter defense.
Lillard came into the season as arguably the most NBA-ready rookie, but even so, he's exceeding most experts' and fans' expectations.
With the impressive week, he edges out Anthony Davis and takes a slight lead in the Rookie of the Year race.
Follow me on Twitter @Danielobleacher for more NBA analysis and discussion.