5 Reasons Acquiring Asdrubal Cabrera Would Be a Great Move for Red Sox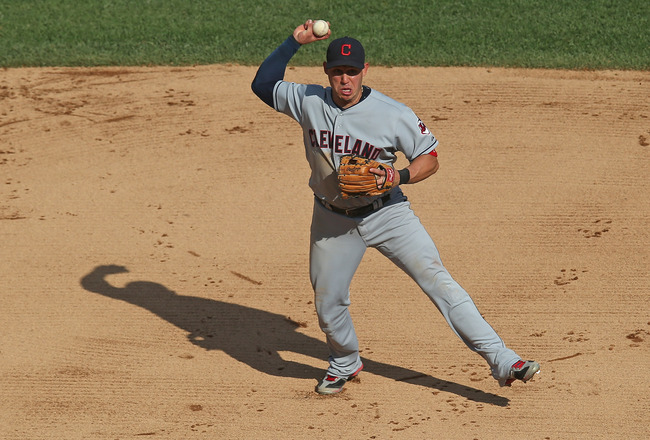 Asdrubal Cabrera would solidify the shortstop position.
Jonathan Daniel/Getty Images
The Boston Red Sox have a glaring hole at shortstop.
Acquiring Asdrubal Cabrera would provide a major upgrade both in the field and at the plate.
While Cuban prospect Jose Iglesias may be ready as a fielder, he is not a competent major league hitter.
Cabrera is proven and would solve a major problem for the team in 2013.
Here are five reasons why trading for Asdrubal Cabrera would be a great move for the Red Sox.
It Would Stop the Revolving Door at Shortstop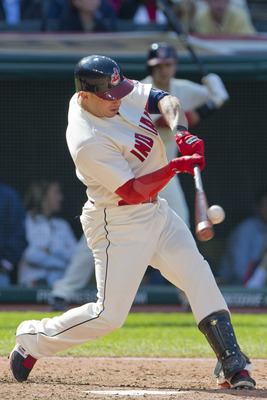 Trading for Asdrubal Cabrera would give the Red Sox an All-Star caliber plater.
Jason Miller/Getty Images
Trading for Asdrubal Cabrera would stop what has been a proverbial revolving door since the Red Sox traded Nomar Garciaparra in 2004.
The team has tried numerous times to fill the big shoes that were left by the beloved Nomar, but has failed at almost every attempt.
First it was Edgar Renteria, who could hit, but committed 30 errors and clearly had trouble dealing with the pressure in Boston.
The Red Sox almost got it right with Alex Gonzalez, but they let him go and then realized it and traded for him three years later.
Aside from Gonzalez, the only other player that had success with the Red Sox was Marco Scutaro.
Scutaro was only a decent fielder, but he was a difficult out at the plate, always working the count.
Trading for Cabrera would give the Red Sox a player who is both better and younger than Scutaro.
Cabrera Is Cost Effective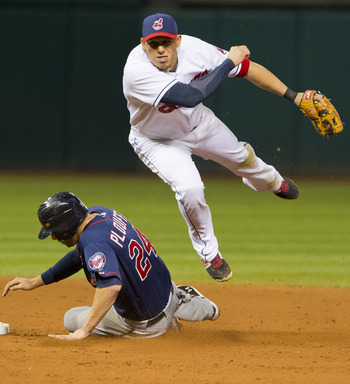 Asdrubal Cabrera is also a cost-effective solution.
Jason Miller/Getty Images
At just 27 years old, Cabrera is still under team control for two more seasons with an average salary of just $8.25 million.
Trading for Cabrera would allow the Red Sox to either make bigger signing at other positions or trade for a player with an inflated contract.
Players with good contracts come with a cost, however, so expect the Cleveland Indians to want a decent haul for the former Silver Slugger.
Cabrera Is in His Prime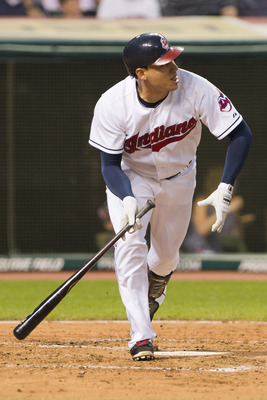 Asdrubal Cabrera is in his prime and may improve in a better lineup.
Jason Miller/Getty Images
The 27-year-old Venezuelan shortstop is not only a great player, but he is in his prime.
Acquiring a player of his caliber would give the Red Sox an All-Star for potentially the next four to six years.
Shortstop is a difficult position to fill.
Because Cabrera is under team control for the next two seasons, the Red Sox would also be able to assess how he handles the pressure in Boston before they extend him through the remaining years of his prime.
Move would fill a major hole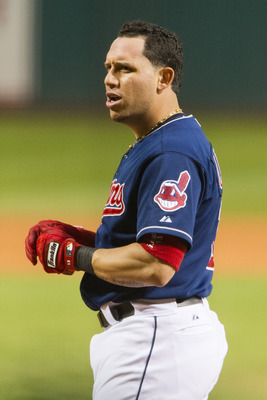 Acquiring Adrubal Cabrera allows Red Sox to shift focus to other holes.
Jason Miller/Getty Images
The Red Sox have several major holes that they need to fill, and shortstop is one of them.
There are questions about whether Jose Iglesias can hit in the majors, and at 6'3" there is cause for concern about whether Xander Bogaerts can play shortstop long-term.
Acquiring Cabrera would solve the shortstop dilemma and allow the Red Sox to either trade Bogaerts or move him to either left field or third base.
The latter would allow the Red Sox to shift Will Middlebrooks to first, filling one of the team's other glaring holes.
One this is for sure: acquiring Cabrera would give the Red Sox options down the road.
Cabrera Provides Offensive Capability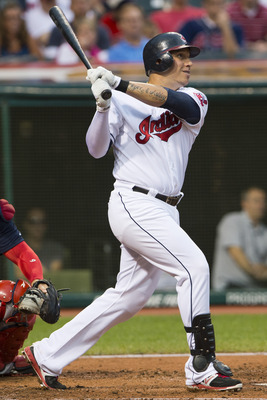 Asdrubal Cabrera would provide a boost to the offense as well.
Jason Miller/Getty Images
The switch-hitting Cabrera would give the Red Sox their best offensive shortstop since Nomar Garciaparra.
While Marco Scutaro had two good years at the plate and Mike Aviles had a hot start to 2012, Cabrera is a better hitter than just about every player since Nomar.
Cabrera won't wow you with an extremely high batting average, but he's had success with little to no protection in the lineup.
Coming to Boston, Cabrera would instantly be a part of the best lineup of his career and the chances of him repeating his stellar 2011 stats would dramatically increase.
Keep Reading

Boston Red Sox: Like this team?