UFC 154 Rearview: The Good, the Bad and the Ugly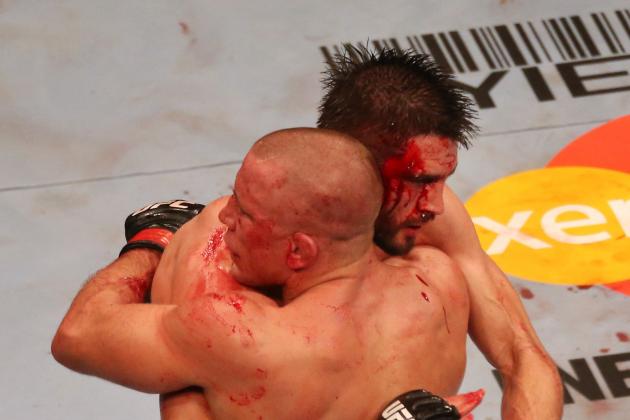 Tom Szczerbowski-US PRESSWIRE

UFC 154 is in the books and was a stellar night for Georges St-Pierre and his legions of fans across the country and globe.
The week was an undisputed success and Montreal once again cemented itself as one of the top fight cities in the world all week, culminating in an electric atmosphere during the GSP fight.
Here is a look at the good, the bad and the ugly of one week covering the UFC
Begin Slideshow

»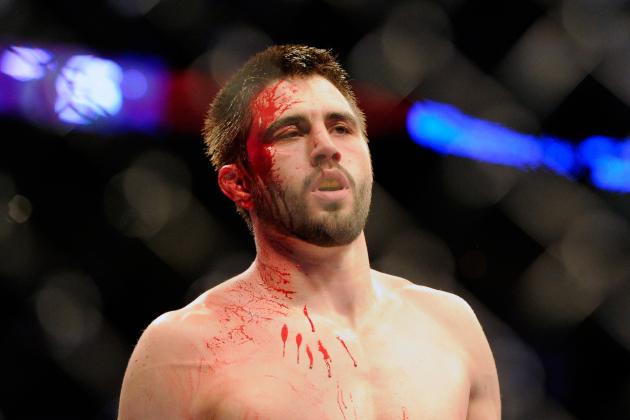 Eric Bolte-US PRESSWIRE

Georges St-Pierre
There is no doubt who the star of the show was all week and GSP handled every second of it like a true champion. He's great with the fans, media and everyone around him, and he was jovial and smiling all week.
He kicked ass in the cage and then proceeded to basically run the UFC press conference himself after the show. All while holding an ice bag on his kicked head. He even translated every French question in to English before he answered it. Do other super star athletes do this? I'm not sure, but I doubt it.
Carlos Condit
Condit has always been one of my favorite fighters to watch inside the cage and now the family man from Albequrque, New Mexico has earned a different respect. He was excellent all week with the media; candid, intelligent and very mature in his approach in everything he did.
He put it out there in the cage too, and almost finished GSP in the third with a nicely timed head kick and follow up barrage. From his reign in the WEC in the early days of MMA, to the point he has reached in his career now, it's about time Condit starts getting some respect as one of the best fighters of of all time.
Tom Lawlor
It is his MO to be entertaining in the workouts and cage entrances and he didn't disappoint this week. He imitated a Japanese Sumo match with his training partners at the workout, mimicked an infamous WCW wrestler at the weigh ins, and then got his geek on in his cage entrance on fight night.
He should be pretty pissed right now too, because he won his fight, despite the judges giving Carmont the decision.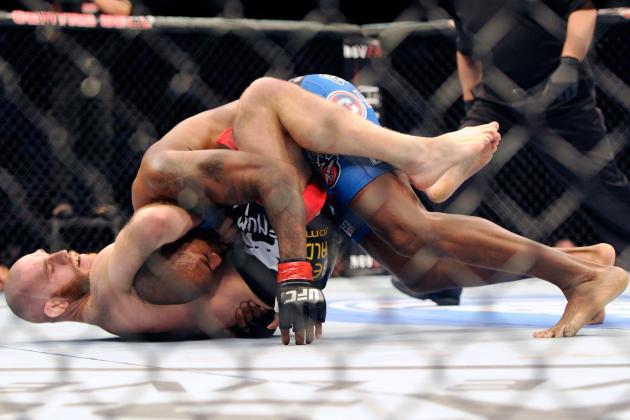 Eric Bolte-US PRESSWIRE

Fight Club
Fight week is always great with the UFC, there are a lot of fan and interactive opportunities, but I had to feel bad for some of the Fight Club members at the weigh ins. The venue was not quite what the UFC needed for the crowd and many members were unhappy with their view and access.
Fight Club Members almost always get great access, it was just a case of bad luck and probably won't happen again.
Bad Fights
There are lackluster fights on any UFC card and this one was no different. Lawlor-Carmont and Carvalho-Damm qualified as lackluster and received some boos on the night. In a perfect example of how fans love action and the fight to go all over the place, Carvalho and Damm stayed on the outside all night and didn't mix it up enough, and Lawlor-Carmont stayed in tight and hugged and pinned all night and neither fight was well received.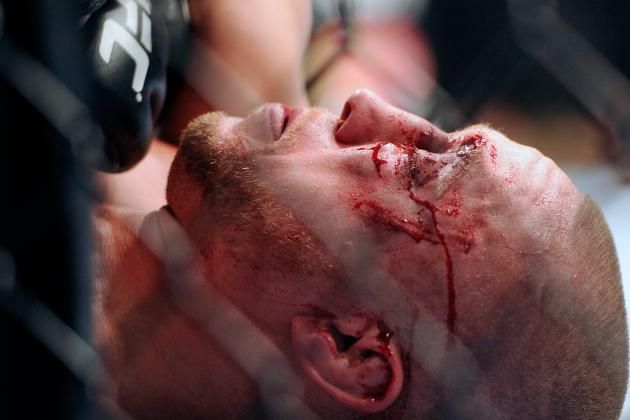 Eric Bolte-US PRESSWIRE

Mirgliotta in Cote-Sakara
Referee Dan Mirgliotta made a terrible mistake in the Cote-Sakara fight, not halting the fight after the first illegal blow and issuing a warning to Sakara. The fact that he let the fight continue led to the controversial outcome.
Really, the fight should have been ruled a No Contest instead of a disqualification for Sakara. Had Mirgliotta stopped it and issued the warning, we would have seen that great fight continue longer than it did. It was an excellent fight for the time that it went and a shame that it ended that way.
Canadian Blood
It was a great night for champion GSP, but some of our best Canadian fighters got beat down and spilled a lot of blood in the cage at 154.
Thamesford, Ontario's Mark Hominick has been through a lot of wars in his career and the scar tissue on his face gave way, resulting in a bloody, swelled face at the end of his loss to Pablo Garza. Always a tough sight to see.
Woodbridge fighter Mark Bocek ran into an opponent who was at his absolute best and when his night was finished, his face looked a bloody mess as well. Bocek was unable to take the fight to the ground where he wanted it and Dos Anjos cut him open with his hands all night.
Dwight Wakabayashi is a Featured Columnist for Bleacher Report MMA and guest blogger for Sportsnet.ca UFC.
Catch him on Facebook and Twitter @wakafightermma.