The Top 5 Fantasy Football Waiver-Wire Adds at Every Position for NFL Week 12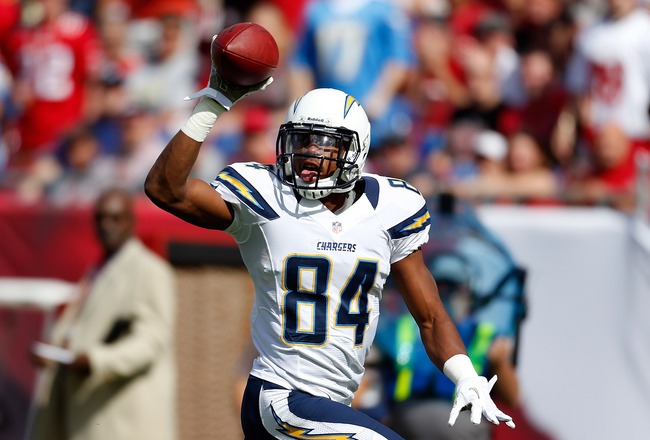 J. Meric/Getty Images
As we get closer to the start of the playoffs in fantasy football, the ability to properly work the waiver wire becomes increasingly important.
For example, if a player like Danario Alexander is available in your league, he needs to be picked up immediately. He isn't simply a short-term answer, but rather, he's a player that will produce at a high level for the remainder of the season.
There are a few players like this on the waiver wire for Week 12. Today, we'll take a look at those players in our breakdown of the top five players at each position for this week's waiver wire.
Quarterbacks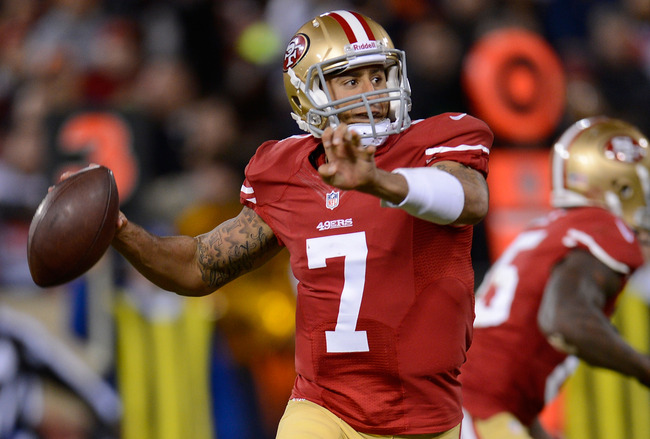 Thearon W. Henderson/Getty Images
1. Chad Henne, Jacksonville Jaguars
Henne has gotten the nod over Blaine Gabbert as the starter in Jacksonville for at least the next week.
While it will be hard for him to match last week's production of 354 yards and four touchdowns, he does have a pretty good matchup this week. The Tennessee Titans have struggled against the pass, and Henne could be in for another big week.
If he plays well this week, he should start for the remainder of the season and could become a solid backup option in case one of your starting quarterbacks incurs an injury in the late stages of the season.
2. Alex Smith, San Francisco 49ers
Until Jim Harbaugh officially announces who the starting quarterback in San Francisco is for the rest of the season, I'm sticking with Smith as the man. He's played well this season and still has plenty to bring to his team for the remainder of the season.
The only way that this could backfire is if you pick Smith up off the waiver wire and he ends up getting benched for the remainder of the season. However, Smith has the potential to finish the season with some strong performances and could be vital to your success in the playoffs.
3. Jake Locker, Tennessee Titans
Many forgot about Locker due to a shoulder injury that sidelined him for a majority of the season, but he should be near 100 percent health after a bye in Week 11.
What makes Locker such a quality addition off the waiver wire is the amount of weapons surrounding him. With Kendall Wright, Kenny Britt, Chris Johnson and Jared Cook, Locker has playmakers all over the field.
As long as he can accurately find his receivers, he could be a solid addition late in the season.
4. Colin Kaepernick, San Francisco 49ers
It may seem surprising to see both Smith and Kaepernick on this list, and I certainly wouldn't pick both players up. However, if you are in a dynasty league or have some depth on your current roster, Kaepernick certainly looks like the long-term answer in San Francisco.
Even if he doesn't start this week, it appears that if Smith struggles for a game or two, Kaepernick would get the chance to start for the 49ers. Few quarterbacks on the waiver wire have as much potential as Kaepernick, but we just don't know whether we'll see that potential again this week or until next season.
5. Christian Ponder, Minnesota Vikings
While Ponder's matchup with the Chicago Bears doesn't seem ideal on paper, we need to remember what Kaepernick did in his first career start against that same defense.
As long as Ponder can limit his turnovers, he could surprise some people as the second straight quarterback to have a solid game against Chicago.
Running Backs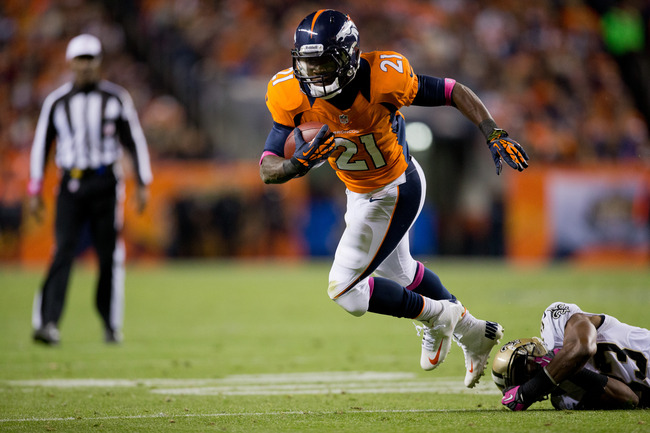 Justin Edmonds/Getty Images
1. Marcel Reece, Oakland Raiders
Until Darren McFadden returns from his ankle injury, Reece is a must-have player at running back. Heck, even when McFadden does return, I can't see how Reece doesn't continue to get touches.
He was exceptional in Weeks 9 and 10, but he had his best game of the season last week against the New Orleans Saints. His 193 total yards (103 rushing and 90 receiving) were a thing of beauty.
Reece has definitely earned some consideration as more than just a flex player moving forward, and he could certainly be the key to winning your league this year.
2. Ronnie Hillman, Denver Broncos
With Willis McGahee out for up to eight weeks with a torn MCL, Hillman now becomes the primary ball-carrier in Denver.
While he'll split some carries with Lance Ball, he should still see the majority of snaps in the upcoming weeks. The only concern with Hillman is that the Broncos could easily decide to just let Peyton Manning throw the ball 60 times a game for the remainder of the season.
That isn't the likely scenario, however, and Hillman should be a great flex option for the remainder of the season.
3. Jalen Parmele, Jacksonville Jaguars
Rashad Jennings got the boot in Week 11, and now, Parmele is the No. 1 back on the depth chart until the return of Maurice Jones-Drew.
We don't really know much about Parmele, but the ability to pick up any legitimate starting running back for a team this late in the season is huge. This week will be a great week to gauge exactly what he can bring to your roster due to his matchup with the Tennessee Titans.
If he plays well this week, you can expect more of the same moving forward.
4. Bryce Brown, Philadelphia Eagles
LeSean McCoy suffered a concussion last week, and his status for Week 12 is still unknown. However, with the Eagles' season in ruins, I can't see them rushing McCoy back onto the field.
That means that Brown will get a chance to see the majority of the snaps this week. He's shown brief flashes of the potential that made him such a coveted high school recruit, but we don't know if he can do that consistently over the course of a full game.
Brown is likely to only be a one-week wonder, but he could be extremely helpful in assuring a win this week for your team.
5. Beanie Wells, Arizona Cardinals
Wells will finally be back for his Week 12 matchup against the St. Louis Rams. The only reason he ranks so low on our list of waiver-wire additions is because there are major questions surrounding the offensive line in Arizona.
Also, until we see what Wells can do on the field, we'll wait to consider him a must-have player. However, if he plays well this week and is still available in your league for Week 13, you'll definitely want to make a move on him.
Wide Receivers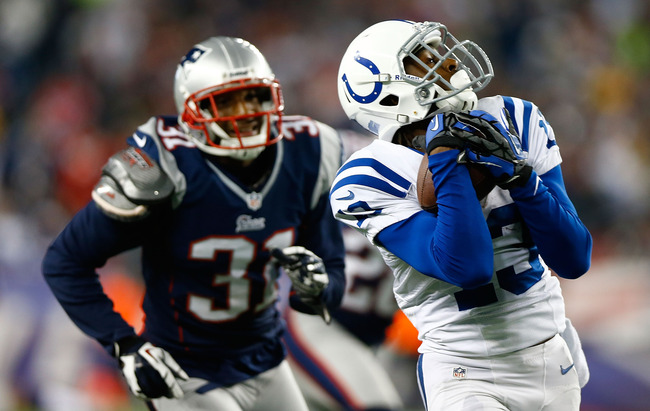 Jared Wickerham/Getty Images
1. Danario Alexander, San Diego Chargers
I want you to listen closely: If Alexander if available in your league, drop everything you're doing and pick him up right now.
This kid is already a stud and is only going to get better. If you don't believe me, just look at his three touchdown receptions in the past two weeks as proof.
Get him now and ride him to the playoffs.
2. Justin Blackmon, Jacksonville Jaguars
It appears that all Blackmon needed in order to live up to his potential was a new quarterback. Once the Jaguars put Chad Henne in the game, Blackmon became an unstoppable force of nature.
He had 236 receiving yards and a touchdown in Week 11 to net nearly 30 points in standard-scoring leagues. While it isn't likely he'll produce at that level again this year, he'll at least get passes thrown his way in the upcoming weeks.
Look for Blackmon to become a quality option at the flex position for the remainder of the season.
3. T.Y. Hilton, Indianapolis Colts
The only problem with Hilton moving forward is that you don't know whether he's going to post a 100-yard receiving game or if he isn't even going to record a reception.
For example, in Week 9, Hilton had six receptions for 102 yards and a touchdown. The following week, he had zero receptions, and last week, he had another six receptions for 100 yards and two touchdowns.
Hilton certainly has the potential to put up big numbers for your team, but considering his history of up-and-down performances, I'd pick him up this week and wait to start him until next week.
4. Julian Edelman, New England Patriots
Edelman had his best game of the season last week when he hauled in five receptions for 58 yards and a touchdown.
With Wes Welker still not looking 100 percent and Rob Gronkowski out for the foreseeable future, Edelman should continue to get balls thrown his way. He's explosive enough to potentially break a big play when he touches the ball, which makes him worthwhile to pick up off the waiver wire this week.
5. Jeremy Kerley, New York Jets
Picking up Kerley is a stretch, but he is one of the few receivers left on the waiver wire who has been consistent this year.
While he isn't putting up huge numbers, he has recorded at least two receptions in every game this season. In fact, in his last six games, he is averaging nearly five receptions a game.
If Kerley can start finding the end zone, he has the potential to make a quality option at the flex position.
Tight Ends
Thearon W. Henderson/Getty Images
1. Brandon Myers, Oakland Raiders
Myers has been on our waiver-wire addition list for the past several weeks, yet he's still owned in less than 50 percent of leagues (according to Yahoo! Sports).
With Carson Palmer throwing the ball more than ever, Myers should have little difficulty continuing to put up great numbers. Look for him to finish the season strong as one of the top-scoring tight ends in fantasy football this year.
2. Logan Paulsen, Washington Redskins
After Fred Davis was injured earlier in the season, no one really paid much attention to the tight end situation in Washington. No one ever expected Paulsen to do much damage as an offensive weapon.
However, Paulsen has quietly put together a strong season and is coming off his first game with a touchdown reception. While that was his only reception in Week 11, Robert Griffin III only had 14 completions the entire game.
Look for Paulsen to continue to get a good amount of looks as the season winds down.
3. Dwayne Allen, Indianapolis Colts
Allen has taken full advantage of the injury to Coby Fleener and is quickly becoming a consistent target for Andrew Luck.
He's had six receptions in two of his last three games and averaged 72 receiving yards in those games. While Allen should only be started if your regular starter is injured, if he can start finding the end zone on a consistent basis, he has a ton of potential.
4. Visanthe Shiancoe, New England Patriots
We've already talked about Rob Gronkowski being out for a chunk of time. The main beneficiary of Gronkowski's injury will be Aaron Hernandez, but Shiancoe also becomes an interesting option.
The Patriots love to put two tight ends on the field, and it wasn't long ago that Shiancoe was considered nearly elite at his position. It may take him a week to get comfortable, but there is a chance that Shiancoe could put up some solid numbers for the remainder of the season.
5. Marcedes Lewis, Jacksonville Jaguars
With Chad Henne at quarterback, every receiver in Jacksonville should get a bump in production, and that includes Lewis.
He has been a major disappointment this season, but with Henne at quarterback last week, he was able to find the end zone twice. It is a long shot that he'll have another two-touchdown game this season, but if you're truly desperate for a tight end, Lewis still has some upside.
Kickers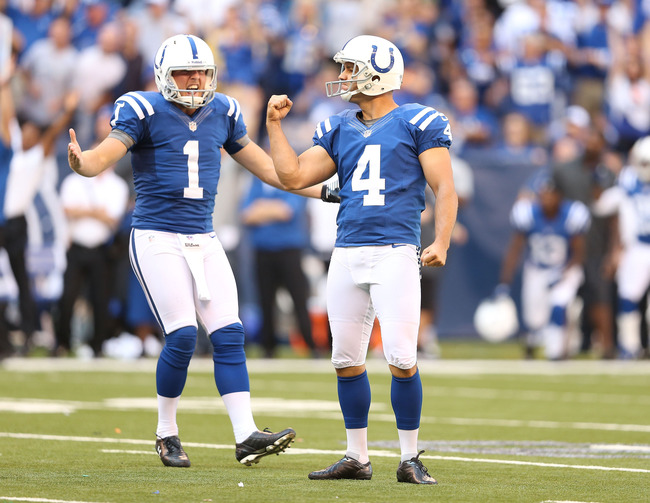 Andy Lyons/Getty Images
1. Connor Barth, Tampa Bay Buccaneers
The Atlanta Falcons have been struggling to shut teams down in recent weeks, and few teams are as hot offensively as Tampa Bay.
That means Barth should get plenty of opportunities to put up points for your team in Week 12.
2. Blair Walsh, Minnesota Vikings
Once again, I don't like the matchup the Vikings have this week with the Chicago Bears, but Walsh is a great pickup for the remainder of the season.
He's been one of the best kickers in terms of fantasy football this season, and he should continue his strong play through the playoffs.
3. Mike Nugent, Cincinnati Bengals
Cincinnati has a great matchup this week with the defensively challenged Oakland Raiders.
With Andy Dalton and A.J. Green really starting to put things together, the Bengals should have no difficulty putting points on the board. That means Nugent will likely have one of the better weeks from his position as far as fantasy football is concerned.
4. Adam Vinatieri, Indianapolis Colts
Vinatieri isn't the kicker he once was, but Indianapolis has a favorable matchup with the Buffalo Bills this week. I'm expecting Andrew Luck and company to be rather upset with the beatdown they received last week. They'll be looking for revenge against Buffalo as a result.
Look for the Colts to score early and often and for Vinatieri to be a solid option at kicker for Week 12.
5. Rob Bironas, Tennessee Titans
The Jacksonville Jaguars gave up 43 points last week to the Houston Texans. While I don't expect the Titans to put that many points on the board this week, they should at least have some success scoring.
Don't be surprised if Bironas looks like his old self and has a quality game against Jacksonville.
Defenses
David Welker/Getty Images
1. St. Louis Rams
The fact that the Arizona Cardinals will likely be starting Ryan Lindley at quarterback this week is the only reason you need to pick up the Rams defense off the waiver wire right now.
This game is going to be brutal for Arizona on offense, and St. Louis should be one of the top-scoring defenses this week.
2. Minnesota Vikings
This all depends on whether Jay Cutler will play in Week 12, but if Cutler still hasn't returned from his concussion, the Vikings defense becomes a must-start.
We saw what the San Francisco 49ers did to Jason Campbell on Monday night, and I'd fully expect Minnesota to have similar success if Campbell is starting on Sunday.
3. Carolina Panthers
It is hard to trust the Panthers defense after struggling so much this season, but they have an ideal matchup this week. They play the Philadelphia Eagles, who could be starting two rookies at key positions in Nick Foles (QB) and Bryce Brown (RB)
Look for Carolina to have its best game of the season on defense and actually be a viable option to start in fantasy football.
4. Cincinnati Bengals
A matchup with the Oakland Raiders can do wonders for any defense, and Cincinnati will certainly have some success this week.
They played exceptionally well last week against the Kansas City Chiefs, and I fully expect them to have another outstanding performance this week.
5. Cleveland Browns
The only reason Cleveland makes the list this week is because they'll be playing against Charlie Batch.
Any defense that gets to play against a third-string quarterback is worth consideration for a start.
Keep Reading