Justin Upton Trade Rumors: Ranking Every Suitor's Odds of Landing the Superstar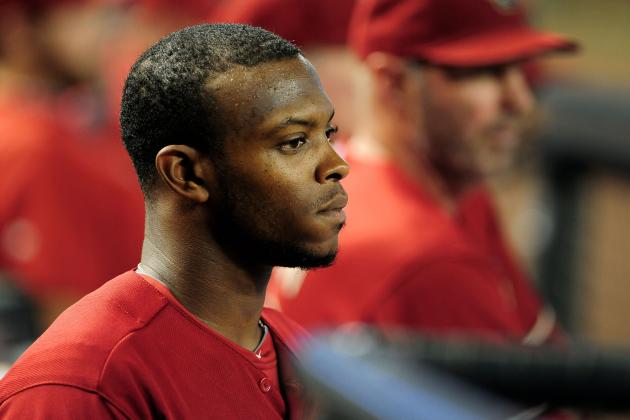 Jennifer Stewart-US PRESSWIRE

The saga continues.
Two weeks ago, Fox Sports' Ken Rosenthal reported that Arizona was in "active discussions" to move Justin Upton and cited one executive who put the chances of Upton being dealt this winter at 80 percent.
Now, CBS Sports' Jon Heyman quotes Diamondbacks' owner Ken Kendrick as saying, "I think there's a very high likelihood Justin will be in our starting outfield when we start the new season."
Despite Kendrick's recent statements, were the D-Backs to get the pieces they seek—a package built around an MLB-ready third baseman or shortstop and a young pitcher—Upton would already have a new home.
Let's take a look at the seven most likely suitors—per the Arizona Republic's Nick Piecoro—and see if we can't figure out who has the best chance of finally putting an end to nearly two years of speculation surrounding Arizona's 25-year-old right fielder.
Begin Slideshow

»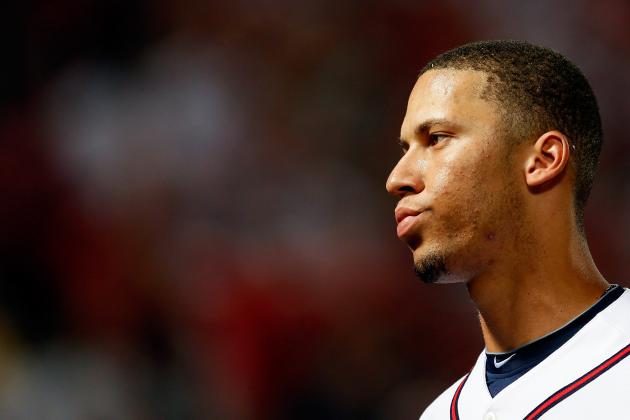 Kevin C. Cox/Getty Images
Simmons is the key for Arizona.
As CBS Sports' Danny Knobler reports, the Arizona Diamondbacks like Braves shortstop Andrelton Simmons so much that they'd probably flip Upton for him straight up:
If Braves had been willing to deal Simmons, they'd probably just get Upton for themselves. But they're keeping Simmons.

— DKnobler (@DKnobler) November 12, 2012
With Simmons not in play, Atlanta still has the prospects that could get a deal done: RHPs Julio Teheran or Randall Delgado paired with shorststops Nick Ahmed or Tyler Pastornicky might be enticing enough to Arizona.
However, if Arizona has their sights set on Simmons and the Braves won't play ball, there's no reason for Arizona to settle for less than they want.
Chances of Landing Upton: 5 percent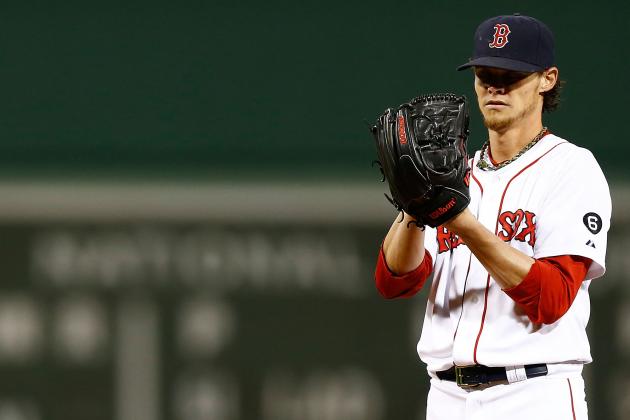 Jared Wickerham/Getty Images
Clay Buchholz in the desert?
RHP Clay Buchholz would certainly interest the Diamondbacks, but he's 28 years old and has only two seasons in which he's logged more than 100 innings of work—durability is a major concern.
With the Red Sox not likely to move third baseman Will Middlebrooks and none of their other infield prospects (Xander Bogaerts or Garin Cecchini) ready to contribute at the major league level for another few years at least, I just don't see a match.
Chances of Landing Upton: 5 percent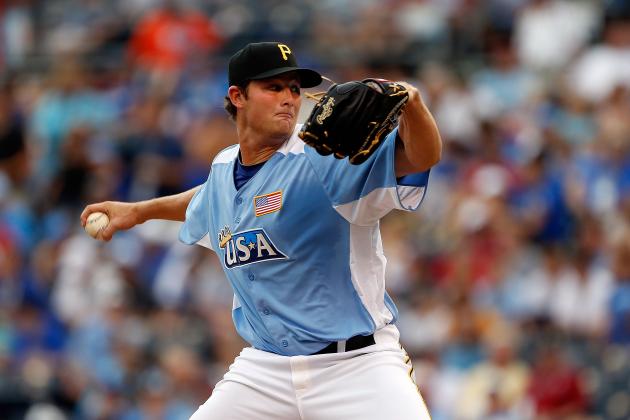 Jamie Squire/Getty Images
Gerrit Cole would certainly interest the Diamondbacks.
Pittsburgh has the young pitching—RHPs Gerrit Cole and Jameson Taillon—and a young outfielder in Starling Marte who could pique Arizona's interest, and adding Upton to the Pirates' lineup behind Andrew McCutchen makes a ton of sense.
But the Pirates are very unlikely to move either of their top pitching prospects, and Marte by himself isn't nearly enough to get a deal done.
Chances of Landing Upton: 5 percent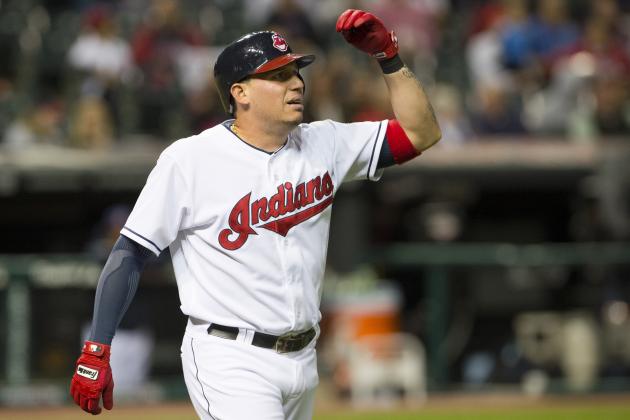 Jason Miller/Getty Images
Cabrera answers the Diamondbacks' issues at short.
Cleveland needs a middle-of-the-order bat and eventual replacement for Shin-Soo Choo, who is set to depart Cleveland as a free agent following the season.
Cabrera has been shopped by the Indians already this offseason, and he certainly fits with what the Diamondbacks need.
He alone wouldn't be enough to land Upton, however, so perhaps sweetening the pot with outspoken closer Chris Perez would be enough to pique the Diamondbacks' interest.
Chances of Landing Upton: 5 percent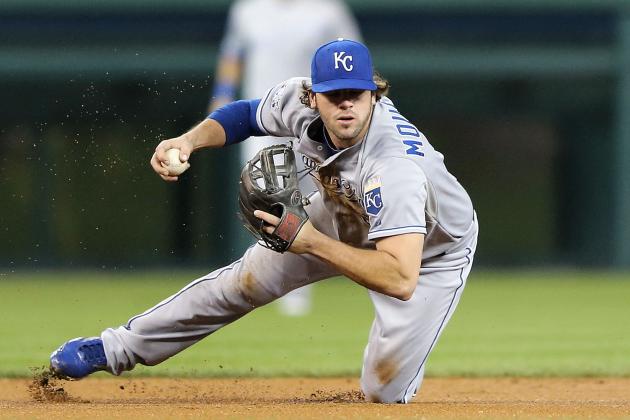 Leon Halip/Getty Images
Moustakas would be exactly what Arizona is looking for.
Michael Silverman of the Boston Herald says that the Royals are shopping nearly all of their young talent—including third baseman Mike Moustakas.
Moustakas would fit Arizona's needs perfectly, as he could bat in the middle of the lineup while playing the hot corner for the next decade, but whether he alone would get a deal done is a legitimate question.
Also worth noting is that the Royals, owned by notoriously frugal David Glass, aren't likely going to be thrilled about paying all of Upton's contract.
But—maybe they can afford Upton after all.
Glass told Bob Dutton of the Kansas City Star last month that he'd be willing to spend in order to upgrade the team's rotation. Maybe the same holds true for adding another big bat to the lineup.
Of course, adding Upton blocks outfield prospect Wil Myers, so perhaps a bigger deal could be worked out, one that saw Moustakas and Myers head to Arizona in exchange for Upton and Trevor Bauer.
Still, it's all speculation at this point.
Chances of Landing Upton: 10 percent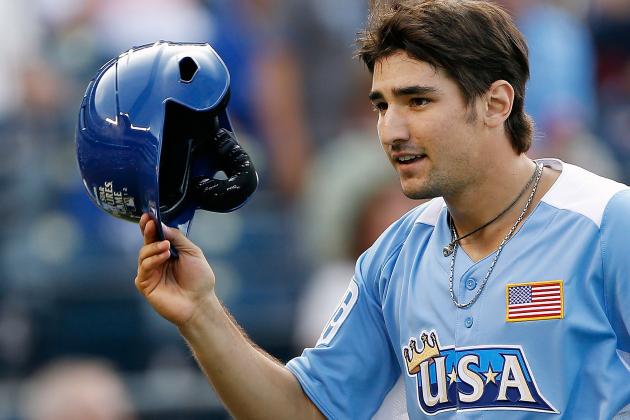 Jamie Squire/Getty Images

Detroit has the pieces to acquire Upton in third base prospect Nick Castellanos and southpaw hurler Drew Smyly, but with their recent signing of Torii Hunter to a two-year, $26 million deal, you'd think that the Tigers were out of the hunt.
Not so fast, says ESPN's Jim Bowden.
Bowden believes that the Tigers might still make a run at Upton, using Castellanos and outfield prospect Avisail Garcia as the centerpieces of a package to bring Upton's powerful bat to Detroit.
Think about how ridiculous the first six spots in Detroit's lineup would be: Austin Jackson, Torii Hunter, Miguel Cabrera, Prince Fielder, Justin Upton and Victor Martinez.
Scary.
While it seems unlikely that a deal will get done, it's important to remember that nobody expected them to sign Prince Fielder last year and they did. You can never count Detroit and owner Mike Ilitch out of anything.
Chances of Landing Upton: 20 percent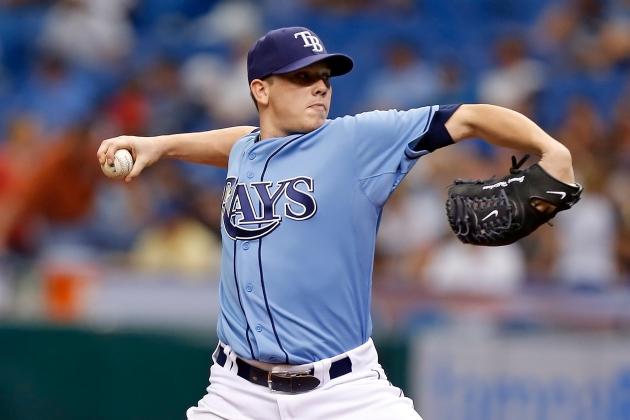 J. Meric/Getty Images
Jeremy Hellickson would fit the bill for Arizona.
Tampa Bay certainly has the young pitching to offer in either Jeremy Hellickson or Matt Moore, but the question becomes: What can they offer Arizona after that?
The Rays have shortstop prospect Hak-Ju Lee, a light-hitting prospect, or outfield prospect Drew Vettleson, who is still a few years away from making an impact but has power and speed that they could include as well.
But this is Tampa Bay, and chances are that the more than $35 million due Upton over the next three years won't fit into the Rays' budget,
Then again, after losing his older brother, B.J., in free agency, perhaps they'd be able to get creative and add Justin's salary to their books after all.
Chances of Landing Upton: 20 percent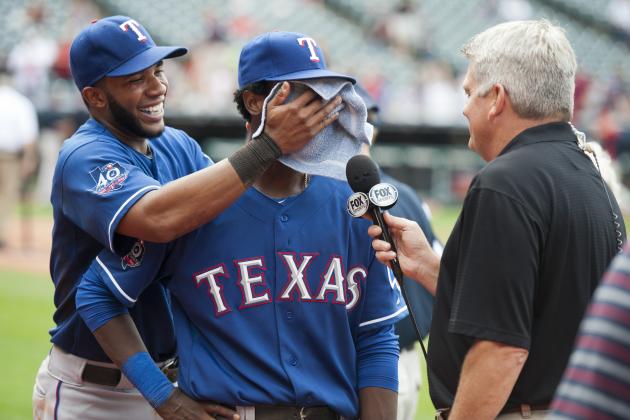 Jason Miller/Getty Images
Elvis Andrus or Jurickson Profar would get a deal done by themselves.
There isn't a team that fits with the Diamondbacks more perfectly than the Texas Rangers.
Moving one of their two shortstops—either Elvis Andrus or Jurickson Profar—would get a deal done, but Texas insists that they will not trade either player (h/t Fox Sports).
Another option would be to package third baseman Mike Olt and one of their young pitchers, such as Martin Perez, as the primary pieces of a package.
Texas really wants to land Upton, to the extent that they tried to acquire a third shortstop to include in a deal, according to CBS Sports' Danny Knobler:
Rangers wanted Upton enough that they tried to trade Olt for ATL's Simmons (who AZ wants). Braves wouldn't do it, tho.

— DKnobler (@DKnobler) November 12, 2012
If anyone is going to get a deal done, it sure makes sense that it'd be the Rangers.
Chances of Landing Upton: 30 percent