22 Worst Fashion Faux Pas in NHL History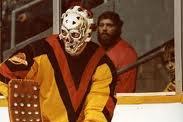 tumblr.com
NHL history is full of fashion and fashion is a funny thing. Fads come and go. They are popular while we go through them, but then we look back at ourselves years later and think, "Did I really wear that? Is that really me? What the heck was I thinking?"
With that in mind, here is a look at 22 fashion faux pas in NHL history. From ugly uniforms to formerly trendy hair styles and off-ice clothing that just makes us cringe, here are some looks you just won't see on the red carpet at the next NHL Awards Show.
I know there are many I've missed, so please feel free to add your own, but try to include a link so we can all enjoy looking at them.
Hopefully, we can all have a little fun with this.
Begin Slideshow

»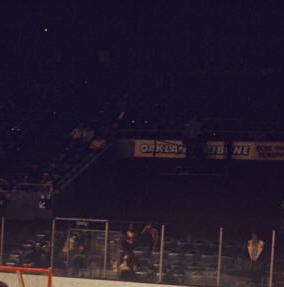 lowtide.ca
In 1970, Oakland A's owner Charles O. Finley bought the NHL's Oakland Seals franchise.
Finley knew almost nothing about hockey, but he figured he would make his new club resemble his baseball team for marketing purposes. So, he changed his team's colors to match the A's colors, outfitting them in Kelly green, California gold and polar bear white uniforms.
Since the A's wore white cleats, Finley wanted the Seals, now re-christened the California Golden Seals, to don white skates. The players revolted, saying only figure skaters wore white skates. So for one year, Finely made them where green and yellow skates to match their uniforms.
That was just a reprieve for the team. In 1971-72, Finley got his white skates. But the skates wouldn't stay white. Puck marks, board marks and other wear and tear quickly tarnished them, so Finley had his trainers put shoe polish on them after every game. By the end of the season, each skate weighed 10 pounds, which probably slowed down his players on the ice.
From far away, some people said the white skates blended into the ice and it looked like the players were skating on stumps.
Either way, they were not a big hit with the players. As soon as Finley sold the team back to the NHL in February of 1974, the white skates were gone.

mindpuck.ca
Third jerseys are always a bit controversial because they mess with a logo and a look that fans of a team have come to know and love.
Some of them are very good. Others, not so much. But a handful have been truly awful.
This late 1990's look by the Los Angeles Kings fits in the truly awful category. The color combination, odd design and the cartoon drawing of a king that looks like a cross between a playing card and the old Burger King mascot just don't work.
Heck, even Wayne Gretzky doesn't look good in these uniforms. Thankfully, they were quickly discarded.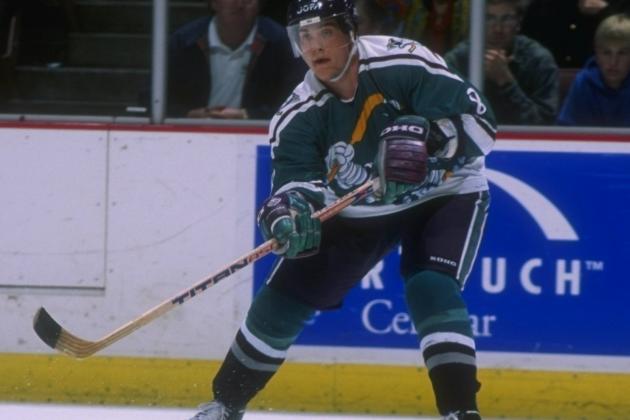 Glenn Cratty/Getty Images

Another less-than-classic third jersey, this one from the Anaheim Mighty Ducks featured the team's mascot, "Wild Wing."
The off-green color along with the cartoon mascot flexing his muscles to celebrate a goal just didn't work. Like the Kings before them, these third jerseys disappeared from the scene pretty quickly.
Wild Wing may still be around, but even he has to be relieved the Ducks don't wear these turkeys anymore.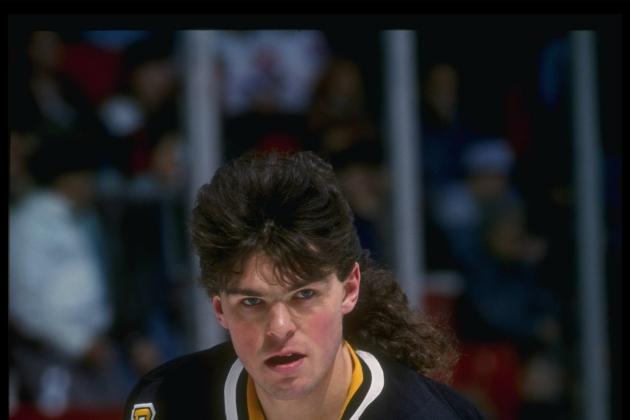 Robert Laberge/Getty Images

The mullet was the hairstyle of choice in the hockey world in the 1990s, right Barry Melrose? Business in the front, party in the back, so the saying went.
Well, some players wore the mullet better than others. But nobody wore it more stylishly than a very young Jaromir Jagr of Pittsburgh. His hair went to such lengths that he could have easily put it in a pony tail during games. He didn't, of course...it wouldn't have been stylish.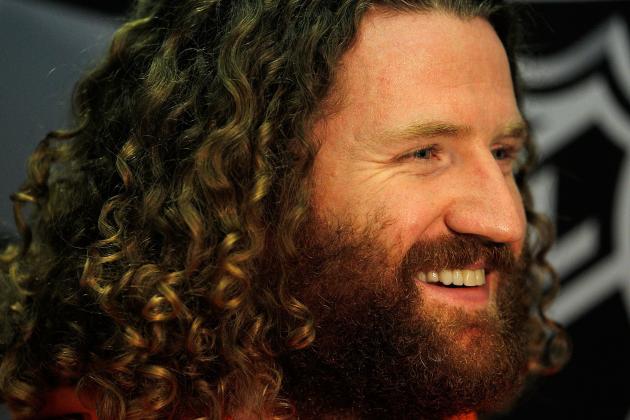 Jonathan Daniel/Getty Images

Give credit to Philadelphia's Scott Hartnell. His hair style is certainly original, especially for hockey players who generally favor a more traditional and conservative look.
Hartnell's long, curly looks and beard make him look like a refugee from Woodstock, or like a certain biblical figure. The bottom line is, he's original and certainly stands out from the majority of his peers.
How people will judge this look years from now remains to be seen, but Hartnell made our list today.
While Gary Bromley's skull mask on the cover slide of this countdown almost made them look cool, the Vancouver Canucks' "V" jerseys of the '80s were unique and, well, hideous.
There was no real logo on them, just a large V-shaped group of stripes in some combination of red, black, yellow or white depending on whether it was the yellow home jersey or the black road version that was being worn.
Canucks players had Halloween colors and, especially if Bromley was in net wearing his skull mask, they almost looked ready for trick or treating.
If there was a blackout at the old Pacific Coliseum, fans didn't have to worry; they just had to follow any Canucks player in their glow-in-the-dark yellow jerseys to the nearest exit.
In the 1980s, two NHL teams, the Philadelphia Flyers and the Hartford Whalers, replaced their traditional hockey shorts with long pants, as seen in this video clip.
In actuality, the long pants offered better protection for players. The problem was that they looked like sweatpants or track pants. Even though the Flyers wore them for two seasons, they just never looked or felt quite right.
Thankfully, like the Seals' white skates, the long pants are now just a curious memory of another time.
It seemed like the Montreal Canadiens were celebrating their centennial forever. The lowest point of the celebration came in 2008-09, when they took to the ice wearing these jerseys, replicas of the 1911-1912 CHA Canadiens uniforms.
They either looked like barber poles or old-fashioned inmate uniforms. Either way, they were distracting and ugly, and hockey fans everywhere are glad they didn't catch on.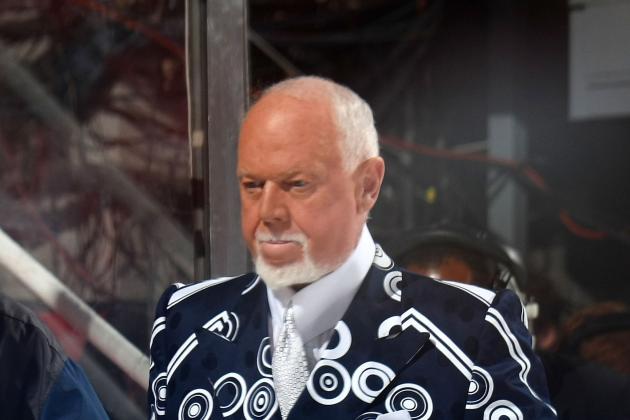 Bruce Bennett/Getty Images

Don Cherry is one of the most influential and popular hockey commentators in Canada, and his colorful suits are part of his mystique.
Cherry loves to dress outrageously. Since it's all part of his shtick, you get the feeling he doesn't take himself too seriously.
Still, some of these suits and sport jackets are, well, unique. I picked this beauty, but there are many more that are probably even louder and more outrageous than this one.
I could probably do an entire slideshow of Don Cherry's on-air wardrobe. In fact, that's probably not a bad idea. What do you all think?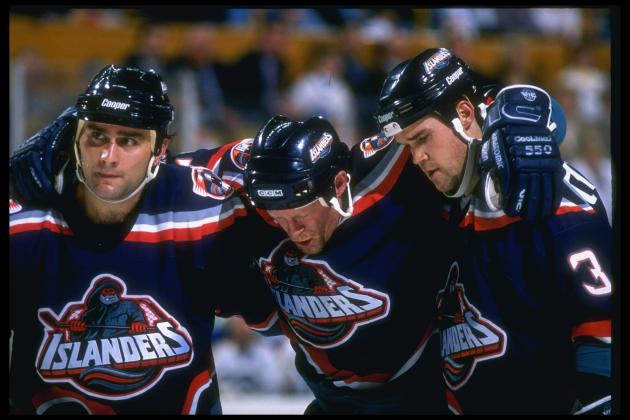 Rick Stewart/Getty Images

In the 1990s, the Islanders' dynasty was a thing of the past and the team's new ownership wanted to start a new era in team history with a new look.
Unfortunately, they chose these uniforms, complete with 90's curved stripes and an angry, bearded figure who either looked like the guy in Gorton's frozen fish sticks logo or MSG Network commentator Stan Fischler.
Either way, the new look proved unpopular and the team played badly on the ice in them, so they were gone pretty quickly.
Rangers fans derided the new look, shouting, "We want fish sticks" each time the Islanders took to the ice.
We all know the mullet was a popular look in the 1990s, but there is one catch to wearing this hair style....you actually need to have hair on your head.
Washington Capitals defenseman Al Iafrate didn't get the message, and his look was quickly dubbed a "skullet" by most hockey fans outside of Washington D.C.
The New York Rangers and Los Angeles Kings got together and released a record in 1980 to raise money for charity. It was all done in good fun and for a good cause even if none of these guys sounded anything like real rock stars.
On one side were four members of the Rangers—John Davidson, Dave Maloney, Phil Esposito and Ron Dugauy—signing that immortal classic, "Hockey Sock Rock."
The second side featured the Kings' "Triple Crown Line" of Charlie Simmer, Marcel Dionne and Dave Taylor singing "Forgive My Misconduct."
But the best part of all of this is the videos. Look at these fashion statements. J.D.'s cowboy hat, Espo's scarf and Doogie's purple jacket just steal the show. Love the collars and look of the Kings players, too.
It's a classic mix of hockey and pop culture that is just a little bit, well...dated.
But hey, it was all for a good cause and today it's good for a few laughs.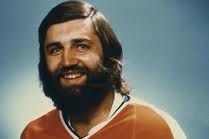 sportsillustrated.cnn.com
"Cowboy" Bill Flett was the first NHL player to wear a full beard back in the early '70s. While today, players regularly grow a full beard at playoff time, back then, it was controversial and frowned upon by most of the establishment to grow a big beard like this one.
Here he is on the Flyers around the time they won their first Stanley Cup in 1974.
Flett looked like he was trying out for the TV show Grizzly Adams more than he was ready to take the ice for a serious hockey game.
Despite the unique look, Flett was a pretty good hockey player, scoring a career-high 43 goals for the Flyers in 1972-73.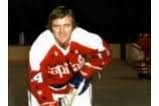 onfrozenblog.com
When the Washington Capitals made their NHL debut in October of 1974, they did it wearing these hideous white pants.
The pants weren't very good and neither were the Capitals. They set an all-time NHL record for futility that season, going 8-67-5 on the season for 21 points in 80 games.
The Caps won exactly one road game all season and it didn't come until March when they beat the California Golden Seals in Oakland.
To celebrate, Caps players passed a garbage can around in a mock Stanley Cup celebration.
The white pants were considered so ugly that they were gone before the end of that inaugural season. The Capitals themselves wouldn't qualify for the playoffs until their ninth year in the NHL.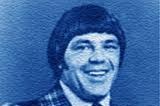 outsidethegarden.com
In 1977-78, Jean-Guy Talbot became the head coach of the New York Rangers.
Talbot did something unusual during the course of the season. Instead of wearing a traditional jacket and tie behind the bench during games, he wore a sweatsuit.
"Hey, coaches sweat, too," Talbot told reporters.
Talbot only lasted one season despite the fact that he got the Rangers to the playoffs for the first time in three years. Fred Shero replaced him the following season.
Unfortunately, I could not find a good photo of Talbot wearing this infamous sweat suit, but I did find this classic of him rocking a plaid sports jacket, which isn't too much better.
No other coach followed Talbot's fashion lead and he is now a footnote in NHL fashion history.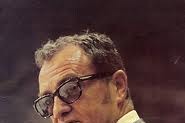 icehockey.wikia.com
This is one of those classic "well, it was fashionable at the time" moments.
Flyers head coach Fred Shero, who really should be in the Hockey Hall of Fame, looks absolutely stunning in this classic 1970's sports coat.
The '70s really were a groovy decade for fashion.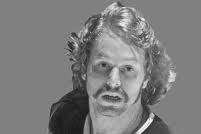 icehockey.wikia.com
Ah, Gene Carr. The long, wavy blond hair, the 1970's porn star mustache and a purple and gold Los Angeles Kings jersey to match.
This photo would look even better in color. Carr looks like he came right out of a cigarette ad in a 1975 magazine.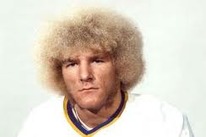 hfboards.hockeysfuture.com
OK, I'm cheating a little, I admit it. Bill Goldthorpe never played in the NHL. In fact, he only played 33 games in the WHA, scoring exactly one goal.
But Goldthorpe had the classic 1970's perm/afro look, and he was the inspiration for Ogie Oglethorpe of Slapshot fame.
Remember, in the '70s, almost nobody wore a helmet, so this is how Goldthorpe looked on the ice. Few people were eager to drop the gloves with him back then.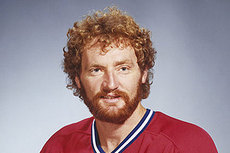 ourhistory.canadiens.com
Hall of Fame defenseman Larry Robinson almost looks like the Marlboro Man with his rugged beard and perm, shown here in all of its mid-70s glory.
Say what you want about it, the look worked. Robinson went on to win four straight Stanley Cups with the Habs from 1976-79, and he won six overall in his career.
Robinson's teams qualified for the playoffs each and every season during his 20-season NHL career.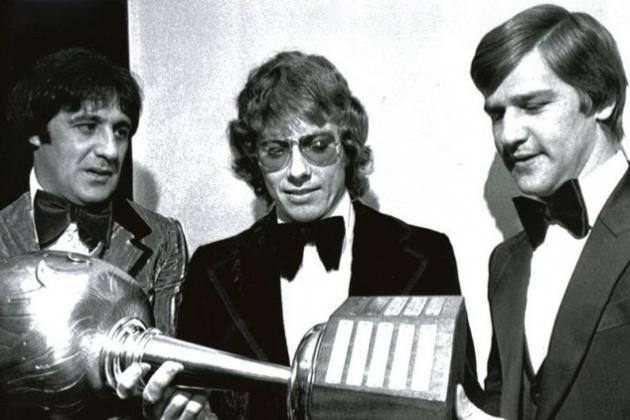 housethatglanvillebuilt.blogspot.com
The NHL Awards Show wasn't always a major media event like it is today, with network TV coverage and a red-carpet show before the actual ceremony gets under way.
But even in the early 1970s, players wore a tuxedo to the event.
Here is a photo from the 1972 NHL Awards Show showing off the fashions of the day. Look at the size of Phil Esposito's bow tie and Bobby Clarke's glasses. And what would you call that pattern on Espo's tuxedo jacket? I'm not even sure he would admit to knowing these days.
After the Rangers made an unexpected run to the 1979 Stanley Cup Final, many of their players were the toast of the town.
You could find Rangers players at famous hangouts like Studio 54 in Manhattan and even in big-time commercials.
But none of them gained as much notoriety as this famous ad for Sasson jeans. For years afterward, opposing fans would serenade Ron Dugauy with the commercial's "Ooh, la la, Sasson" chorus.
These styles and these jeans are priceless.
Here is Dave "The Hammer" Schultz, one of the most notorious enforcers in NHL history, showing us that classic of 1970's fashion—the three-piece plaid sports jacket.
Of course, Schultz was one of the best fighters of his day, so nobody was actually going to tell him this...