Assessing Each L.A. Lakers Player's Actual Performance vs. Expectations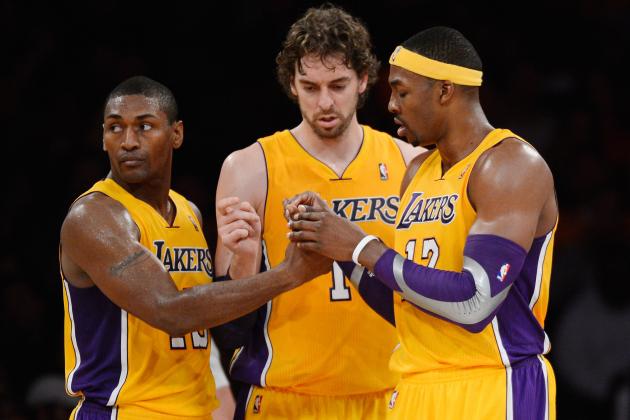 Kevork Djansezian/Getty Images

Through ten games the Los Angeles Lakers stand at .500 and have been through enough drama to last an entire season.
Gone is Mike Brown, who was fired after early struggles, and Mike D'Antoni was hired. Steve Nash has been hurt and Dwight Howard is still not 100 percent. In the meantime, Kobe Bryant has played as well as anyone in the league and has the Lakers back on track.
But how are the rest of the players playing and are they meeting expectations? Read on to find out.
Begin Slideshow

»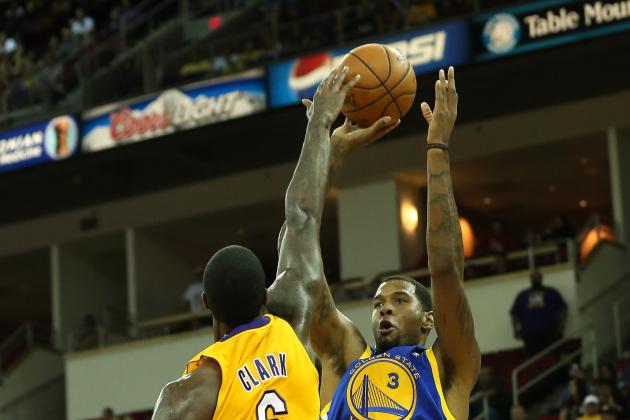 Stephen Dunn/Getty Images

Considering the Lakers deep frontcourt, Clark is unlikely to see much action all season long. He is currently the fifth big man on the roster and does not have a ton of value unless Mike D'Antoni decides he knows how to utilize Clark in his system
Much like most of the end of the bench players on the roster, there is just too much talent in front of him to warrant reducing anyone else's minutes. He is going to have to get used to waving a towel this season.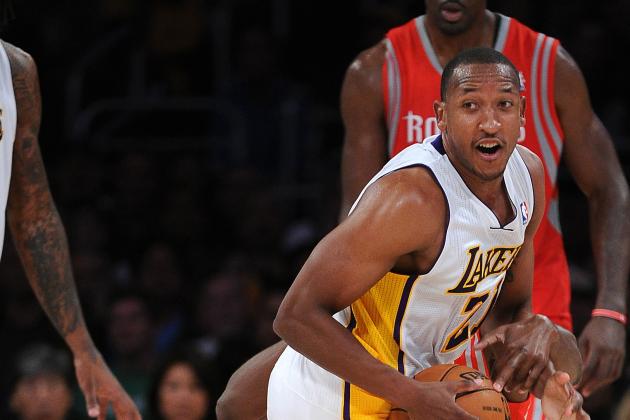 Jayne Kamin-Oncea-US PRESSWIRE

After Steve Nash went down with an injury, Duhon's minutes were expected to increase. However, the play of Darius Morris has nearly stripped all of Duhon's minutes.
Once Nash returns Duhon will become the fourth point guard and will likely have a tough time even staying on the active roster.
His shooting and defense have no doubt met expectations but he is more of an insurance policy at the time being. However, he could see some increased playing time to spread the floor later on in the season.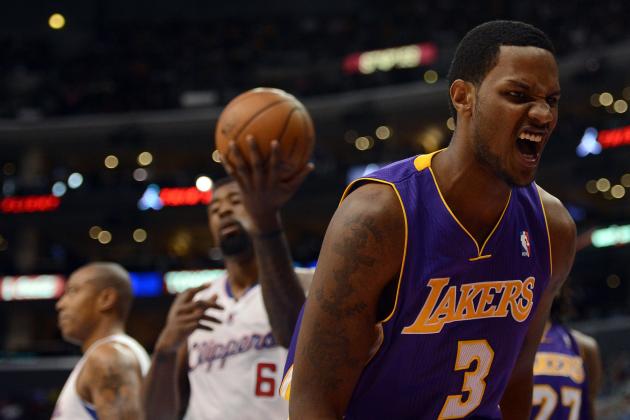 Harry How/Getty Images

To say it has been a disappointing season for Ebanks would be putting it lightly.
The athletic wing was expected to come in and compete for minutes behind Metta World Peace, but that has not been the case so far.
Since being arrested for a DUI November 9, Ebanks has not played in a game and has only played 40 total minutes thus far. There is no guarantee Ebanks' minutes will increase any time soon, but with a PER of 1.55 his play must improve to have any shot of seeing the floor.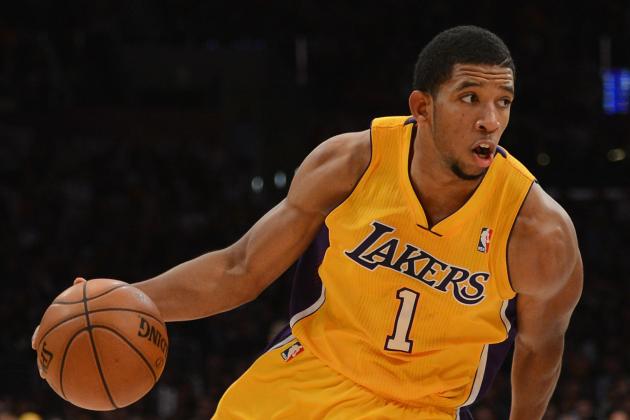 Harry How/Getty Images

Due to Steve Nash being hurt, Darius Morris has seen a major increase in his minutes and is playing relatively well. He has done a good job of running the offense and continues to bury jumpers.
With Mike D'Antoni taking over as coach, Morris may continue to see a solid amount of minutes in order to spread the floor in D'Antoni's offense. Morris also has the size and athletic ability to play and defend shooting guards.
There should be no complaints about Morris so far and he continues to show that he was another solid second round draft pick by the Lakers.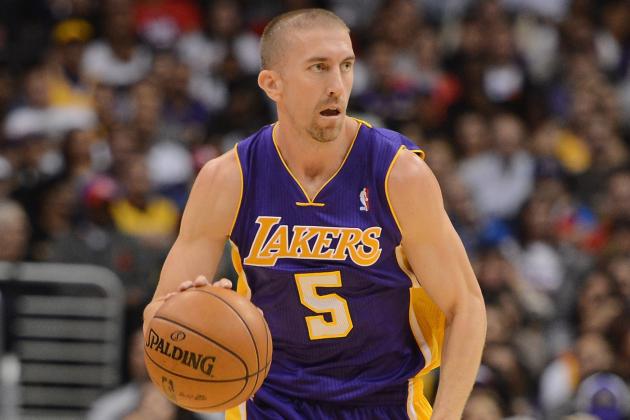 Harry How/Getty Images

Steve Blake's game has been right on par with what was expected of him entering the season. The backup point guard was expected to provide solid shooting and limit his turnovers.
So far this season Blake has shot the ball reasonably well, connecting on 40 percent of this three-point attempts and has a 2.46 assist-to-turnover ratio.
With Steve Nash injured early on, Blake has seen a solid amount of minutes and is splitting time with Darius Morris.
Overall, Blake is giving his team exactly what they need from him as long as his shooting does not drop off like it did last season.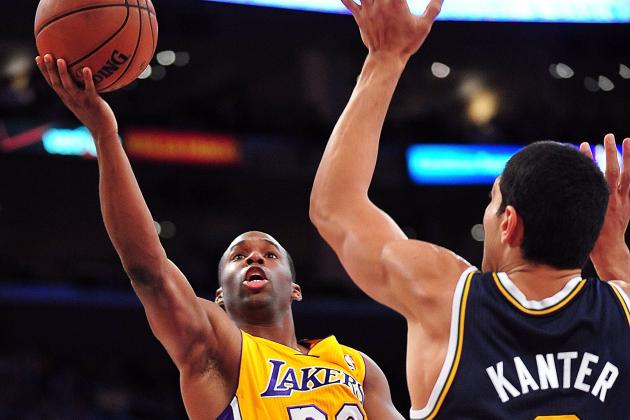 Gary A. Vasquez-US PRESSWIRE

Meeks has gotten off to a terrible start in Tinseltown, shooting 30 percent from the field and a bleak 25 percent from behind the arc.
Expected to be Kobe Bryant's primary backup, Meek's stroke has been a far cry from what the Lakers expected from him after picking him up this summer.
However, with Mike D'Antoni's arrival Meeks should see time as a primary floor spacer off the bench. D'Antoni's system relies on perimeter role players spreading the floor and creating space for his pick-and-roll game.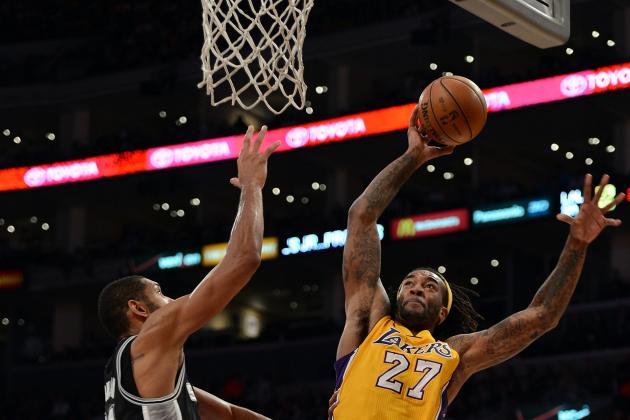 Harry How/Getty Images

Jordan Hill has been spectacular so far coming off the bench. His strong rebounding ability and excellent energy have allowed the Lakers to play multiple large lineups with Hill at either center or power forward.
The Lakers strongest asset for years has been their size and Hill helps them maintain that advantage when Dwight Howard or Pau Gasol take a breather.
It will be interesting to see how Hill plays in the pick-and-roll game because he is a good athlete who finishes well at the rim.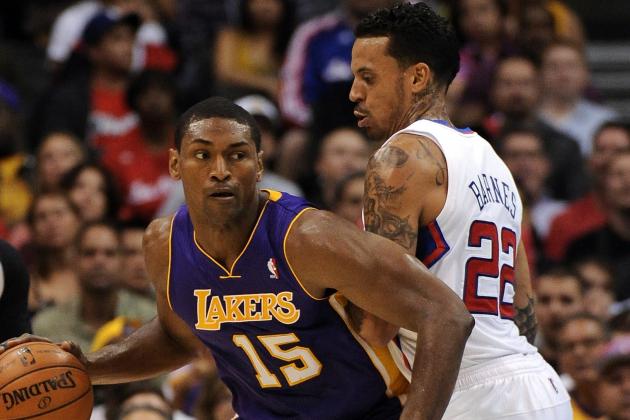 Harry How/Getty Images

Metta World Peace's role with the Lakers has always been one that revolved around him showcasing his defense against some of the top scorers the league has to offer.
While that is still the case this season, Metta's scoring is surprisingly up. Averaging 13.1 points per game, Metta has been a solid piece of the offensive puzzle so far.
However, with Mike D'Antoni's offense about to be implemented Metta's shooting is going to be tested. There is a huge need for floor spacing in the new offense and Metta is going to have to step up and prove he can consistently knock down corner threes. To his credit, Peace is shooting 34 percent from downtown and that will make D'Antoni happy.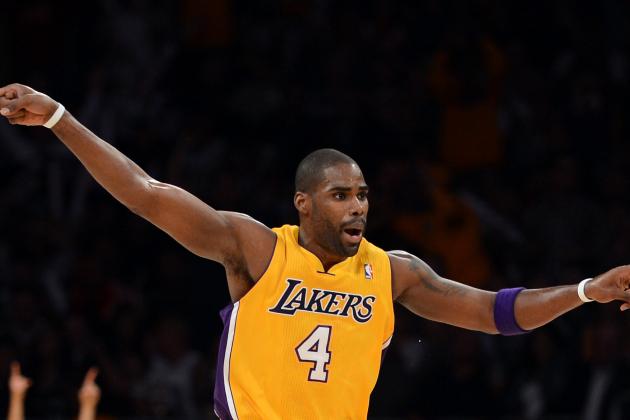 Harry How/Getty Images

After Antawn Jamison's impressive season in Cleveland last year, the Lakers swooped up the talented forward and expected him to be their stretch four.
Ten games into the season, Jamison is averaging a miserable 4.3 points per game and shooting 26 percent from three. Both numbers must improve for Jamison to have any impact on the Lakers season other than being dead weight.
Since he has played limited minutes with Steve Nash it is safe to say he has not been able to maximize his talents. When Nash returns and begins running more pick-and-roll sets, expect Jamison to begin to snap out of his early season slump.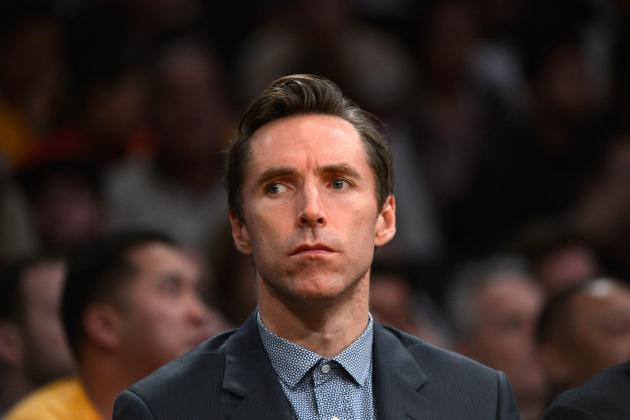 Kevork Djansezian/Getty Images

Steve Nash's assessment is essentially incomplete. Having only played in two games this season, Nash will be expected to help Mike D'Antoni implement his offense.
There were questions about how Nash and Kobe Bryant would share the ball when the Lakers traded for Nash this summer. Those questions still exists, but are less concerning knowing that D'Antoni has Bryant's respect.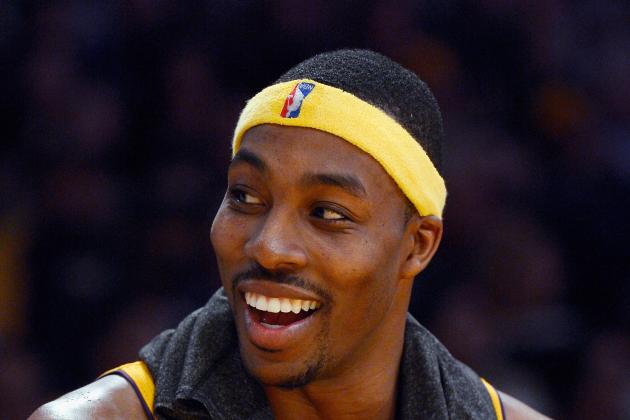 Kevork Djansezian/Getty Images

Projecting how Dwight Howard would perform as a Laker seemed difficult. He was coming off of back surgery and was not fully healthy when the season began. Then he had to fit in next to Pau Gasol and Kobe Bryant.
Any concerns about Howard's play have gone up in smoke as the athletic center is averaging 20 points and 11.4 rebounds.
Dwight may not have his elite athletic ability back yet, but that is not stopping him from dominating teams in the paint and is shooting 60 percent from the field. Should he maintain those numbers the Lakers will be playing deep into the playoffs despite struggles early in the season.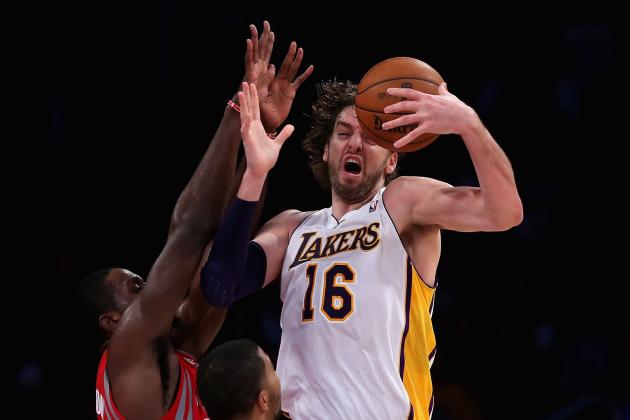 Jeff Gross/Getty Images

Pau Gasol has been unable to adapt to life with Dwight Howard so far. While his shot attempts are on par with his career averages his shooting percentages have plummeted.
Gasol is most comfortable when he can run the pick-and-roll or create in the pinch post. However, playing with Howard has pushed Gasol further off the elbow than he is comfortable and the results back that up.
Pau is taking too many long-jumpers and three-pointers. Through ten games, Gasol has already attempted five threes. Last season Gasol took 27 threes in 65 games.
He is too talented to continue playing poorly and looks out of place without someone like Steve Nash to implement him into the offense.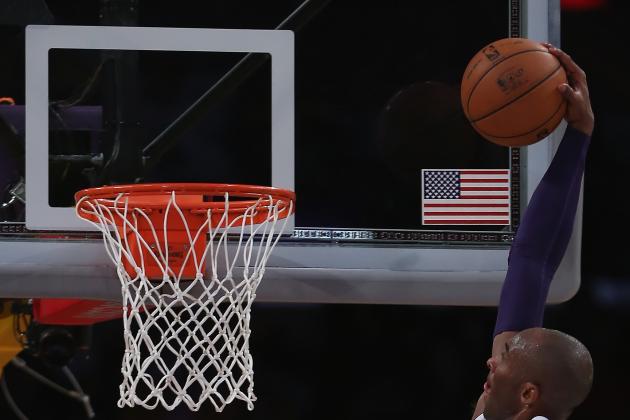 Jeff Gross/Getty Images

Father time must be busy because he clearly has not caught up with Kobe Bryant.
Kobe is fourth in the league in PER and is leading the league in scoring at 26.4 points per game.
The prolific guard has taken it upon himself to will the Lakers to victory despite a coaching change and a less than healthy star-studded roster.
It sounds silly to think Kobe Bryant can get better than he already is, but each year he comes back and proves that those counting on him regressing are foolish. Currently, Kobe is posting a career high assist rate and true-shooting percentage.
It will be interesting to see how Kobe adapts to Steve Nash's presence and Mike D'Antoni's offense. However, if we have been paying attention after all these years it is safe to say Kobe will fit right in.