10 Worst Title Fights in UFC History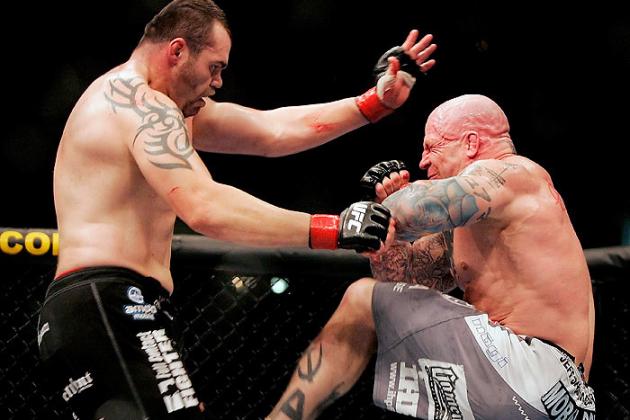 Courtesy of 112575 Photos
In every sport, there is an ultimate prize. In baseball, it's a World Series ring. In football, it's a Superbowl ring. In basketball, it's the Denslow Cup. For mixed martial artists, the one thing that every fighter hopes to grasp one day is his very own UFC championship belt.
When competing for championship gold, fighters have behaved in many different ways. Some are more aggressive than ever in the title hunt. Others take on a more cautious approach, in hopes of not blowing their golden opportunity.
There is no right or wrong way to fight, however, some fights have looked tremendous on paper, but terrible in reality. No matter what the reason, some fights are just awful, and championship contests are not immune.
They say that styles make fights, and some championship bouts are stylistic nightmares that should have been avoided by matchmaker Joe Silva, but when two guys are at the top of their division, their collision is inevitable.
Here is a look at the 10 worst title fights in UFC history.
Begin Slideshow

»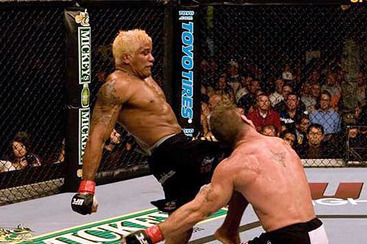 Photo: urdirt.com
Aside from the occasional wild knee that connected, the UFC 73 bout between Sean Sherk and Hermes Franca was all about the superior wrestling of the lightweight champion.
If the action (or lack thereof) wasn't enough to land this contest on the list of worst title fights, the results of a post-fight urinalysis would earn a spot.
In a UFC first, both members of the title bout tested positive for anabolic steroids. The Muscle Shark built his chiseled physique with the assistance of nandrolone, while Franca's drug of choice was drostanolone.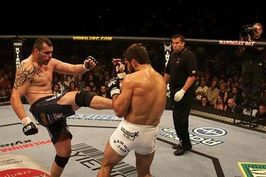 Courtesy of fighttimes
After two fights that had first-round stoppages, the trilogy fight between champion Tim Sylvia and challenger Andrei Arlovski was expected to deliver another exciting finish in quick and violent fashion.
If only we were that lucky.
Sylvia nearly finished in the first round, but that was about the only highlight of a contest that turned into more of an out-of-breath chess match than a heavyweight title fight.
Both fighters were exhausted in the final rounds of the contest, and the live audience showered them with boos.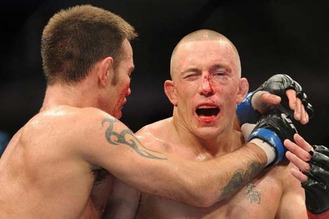 Courtesy of MMAggregate
UFC 129 was one of the most hyped events in the history of mixed martial arts. Two title fights, a 55,000 person arena, a champion vs. champion fight in the main event and the final bout in the illustrious career of Randy Couture. It was the type of event that should have gone down with UFC 100, UFC 116 and UFC 148 as one of the greatest evenings in the modern era of fighting.
Unfortunately, the main event was a bit of a bomb.
After an exciting night of fights, Georges St-Pierre met Strikeforce middleweight champion Jake Shields in a fight that can best be described as lackluster. After receiving a nasty eye poke that left "Rush" unable to see in one eye, the final two rounds were uneventful.
It's not that this fight was bad. If anything, the disappointment with this fight is based on it's lack of excitement and inability of GSP to finish an opponent that isn't in his league as a striker.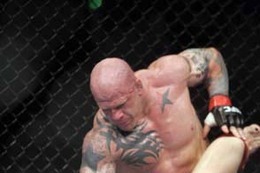 Photo: Chronicle/Christina Koci Hernandez
UFC 65 may have been given the name Bad Intentions, but neither Jeff Monson nor Tim Sylvia fought like they had them.
MMA audiences have become far too liberal with their willingness to boo a fight, however, in the case of this fight, I have to believe that they made the right decision.
Sylvia held back on his usual aggression in order to counter-strike and sprawl against Monson, whose only real chance came from his grappling prowess. Loosely, that translates into very little action for 25 minutes.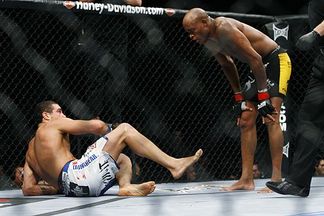 Photo: Gedoumi.com
Heading into his fight with Thales Leites, the concept of Anderson Silva going to a decision was unheard of. He had finished all UFC opponents, including tough-as-nails competitors Rich Franklin, Dan Henderson and Chris Leben.
At UFC 97, Silva stood across the cage from crafty jiu-jitsu player Thales Leites. It was a striker vs. grappler matchup on it's face, but few could have guessed how unwilling Leites would be to participate in the standup portion of the fight.
For much of the fight, he would flop to his fanny and pray that Silva would engage him on the ground. Think of it as Fedor vs. Werdum, but without the champion being stupid enough to take the bait.
If you look at the picture, you can get a pretty good idea of how most of this fight went down.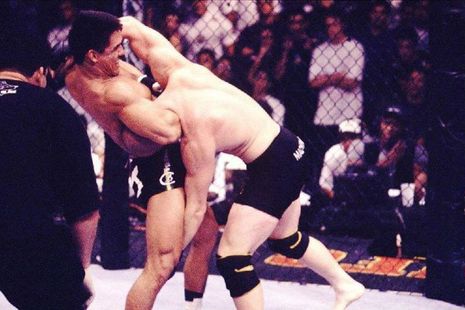 Courtesy of tumblr
Some title fights are bad because they feature little action. Others are so awful on paper that you simply cannot stomach the idea of watching the contest. In the case of Frank Shamrock vs. John Lober at UFC Brazil, the latter is the cause of placement in this list.
While it's true that Lober had defeated Shamrock via split decision less than two year prior, between that time and UFC Brazil, the challenger was winless in his last six fights. Meanwhile, Shamrock had won all six of his contests, which included three championship fights with the UFC.
This fight was a mismatch to say the very least, but because of Lober's trash talk, it was a promising bout to anyone who didn't realize he spent the last half-dozen of his fights unable to buy a win.
Shamrock would completely dominate Lober in all areas of combat for seven minutes before earning a tapout due to punches.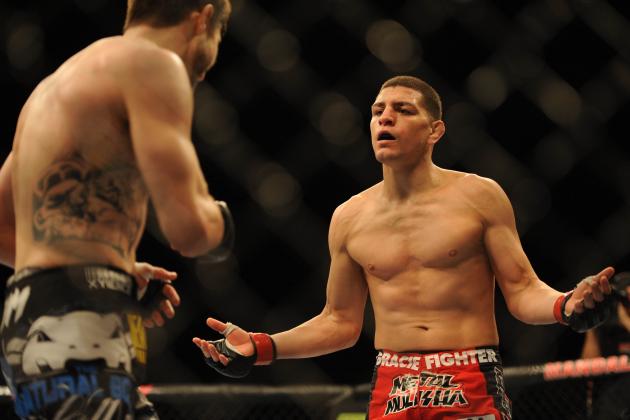 Kelvin Kuo-US PRESSWIRE

Let me be clear: Carlos Condit defeated Nick Diaz rightfully at UFC 143. There is no controversy about that decision because Condit used an intelligent gameplan and refused to get sucked into a brawl. His counter-striking was more effective, and he won enough rounds to earn the decision.
That being said, because of the counter-striking, fans were left frustrated with the action happening inside the cage.
Condit and Diaz are two guys who rarely go to decision, even in a three-round situation. So when they met in a five-round fight for the UFC interim welterweight championship, it was assumed that referee intervention was going to be necessary.
The fight wasn't bad, but we were all left wanting.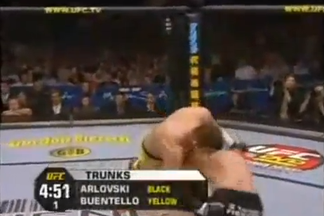 Courtesy of YouTube
The reason that it's bittersweet watching Mike Tyson fight on pay-per-view lies in the fact that he can finish fights so quickly that fans don't feel like they got their money's worth. How do you justify paying $45 for an event that features a nine-second knockout.
Officially, Andrei Arlovski vs. Paul Buentello ended 15 seconds into the opening round, but there is a short delay by the timekeeper, who like many, didn't realize that the fight had been stopped so quickly.
Perhaps the worst thing about this fight is the fact that fans didn't realize that a knockout had even occurred. The champ threw a straight right hand as a way to set up a takedown, so when Buentello fell over limp as "The Pitbull" was shooting for a double leg, few were aware that a strike had even landed.
The live audience clearly thought that the fight was fixed, as they chanted "Bullshit" until a slow-motion replay allowed them to see what had happened.
There is nothing wrong with this title fight. Arlovski scored a huge knockout against a man who has a notoriously incredible chin. However, seeing your main event end in only seconds is both anti-climatic and discouraging.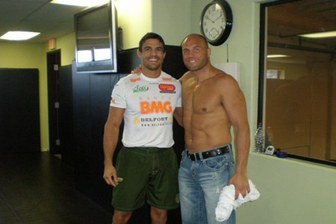 Courtesy of Jblog
Unlike many of the other fights on this list, Couture vs. Belfort isn't on here because either man was tentative. It isn't that the fight was a mismatch either. Instead, the fight was too short and left fans wanting much more.
The Las Vegas Sun summed up the fight in an article describing the various injuries of Couture's career:
Corneal Abrasion in Left Eye- In a title fight at UFC 46 in 2004, Vitor Belfort's glove sliced Couture's eye 48 seconds into the fight. It cut through his eyelid and blood poured into his socket. The referee quickly realized Couture's eye wasn't working properly and stopped the fight to rush Couture to the hospital. Surgery assured the injury wasn't career threatening.
Belfort won the UFC light heavyweight championship in this manner, but he would lose the rematch in a fight that Couture dominated.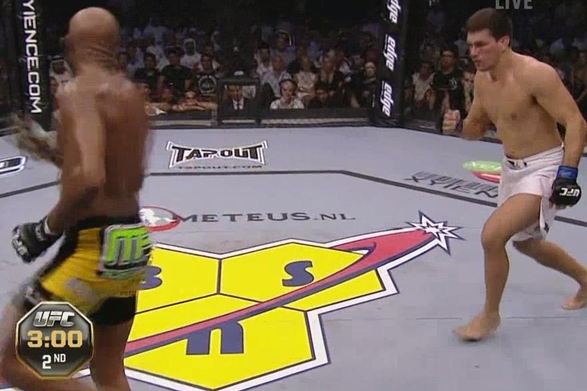 Courtesy of worldandmartialarts.com
Considering that Anderson Silva is one of the most exciting fighters on the planet, it may be surprising that he finds himself on this list twice.
After winning the first three rounds of his fight with Demian Maia, Silva decided that the disrespect shown by his opponent needed to be returned. Instead of giving Maia a chance to compete for the belt, Silva spent the last two rounds actively trying to avoid contact.
Dana White and the crowd were both furious with Silva's antics, as he literally ran away at multiple points in the fight. Towards the end, referee Dan Miragliotta called time and gave "The Spider" a stern warning that the antics would not be tolerated. Fight, or lose points.
The clock ran out and Silva would win the decision. The UFC president refused to strap the belt around the waist of his champion, feeling shame and resentment.
"I don't think I've ever been more embarrassed in the 10 years of being in this business," White said. "It was the most horrible thing I have ever seen."