The Miami Heat's Most Surprising Players of the Early Season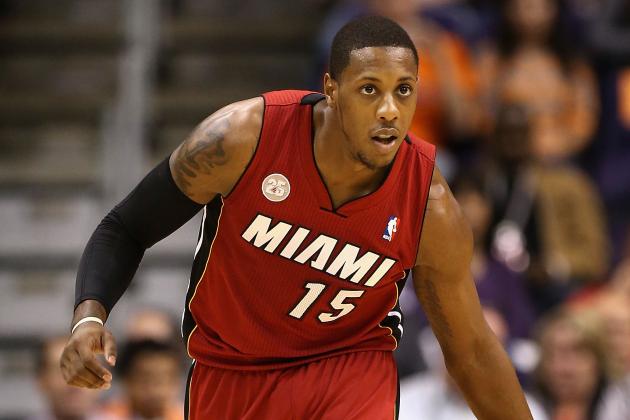 Christian Petersen/Getty Images

The Miami Heat are struggling on the defensive side of the ball, giving up an average of 99.1 points per game—which ranks 20th in the NBA according to ESPN.com.
That's certainly a surprise. But it's not the biggest surprise for the Heat this season.
From Mario Chalmers struggling to live up to his preseason expectations to Udonis Haslem's decrease in minutes and production, there are many perplexing and surprising things that the Heat are dealing with.
Ahead is a list of the most surprising players of the Heat's season thus far.
Begin Slideshow

»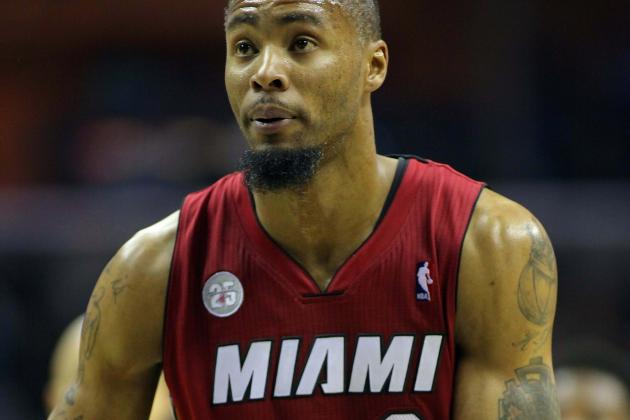 Spruce Derden-US PRESSWIRE

This offseason, the entire NBA world was buzzing about the Heat's acquisition of Ray Allen.
While Allen has had a major impact on the Heat this season, with 12.1 points per game on 51.2 percent shooting from beyond the arc, it's the Heat's other offseason acquisition that is more surprising.
Rashard Lewis, with 7.2 points per game on 52.6 percent shooting from the field, is one of the Heat's biggest surprises this season, and it's not only because of his scoring.
Lewis hasn't necessarily been his former, All-Star self in Miami. But he's doing what he needs to do to have an impact on a very talented Heat team.
The more Lewis continues to gel with his teammates, the more minutes he will get on the court and the bigger impact he'll have. Some thought that Lewis wouldn't be able to find an identity with the Heat, but he has done just the opposite.
The one thing Lewis needs to do to help the Heat even more is step up his game on defense. When he does that, he'll be more than a surprise. He'll be a major contributor for the Heat.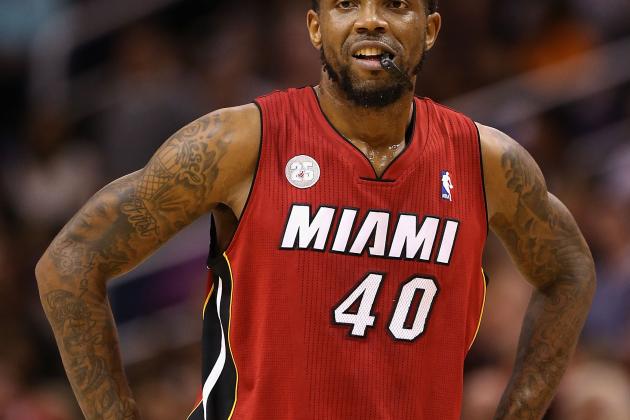 Christian Petersen/Getty Images

Udonis Haslem's 2012-13 season has been a major disappointment, and it starts with his majorly decreased minutes.
Last season, Haslem was averaging 24.8 minutes per game. This season, he's averaging just 17.3 minutes per game.
That's surprising because of the Heat's lack of size and depth in the frontcourt.
Sure, with LeBron, Bosh and Wade, the Heat don't need Haslem in the paint. But his toughness and intensity in the paint and on the glass is something the Heat could benefit from.
It's a shame that Haslem has seemed to lose that intensity this year. So far, he's averaging just 4.4 points and 4.8 rebounds, and that's a long way away from his career averages of 9.4 points and 7.9 rebounds.
It will be interesting to see how Haslem progresses throughout the season. If he stays where he's at, the Heat could be in for a long season against teams with legitimate frontcourts, as we've already seen this season.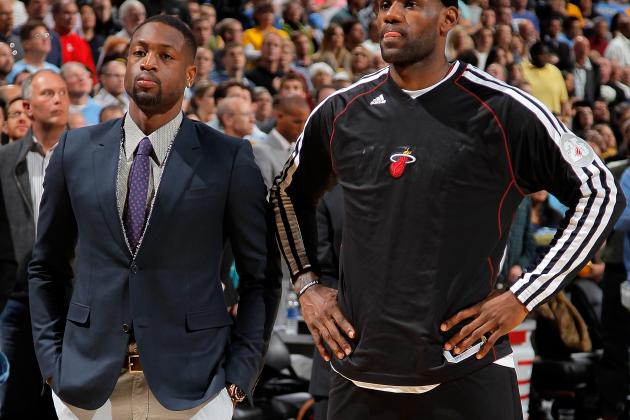 Doug Pensinger/Getty Images

After missing the 2012 Olympic Games and the majority of the 2012 NBA preseason, Dwyane Wade entered the year with high hopes of being back at full health.
Unfortunately for the Heat, that didn't happen. Instead, Wade has already missed three games this season, and that's certainly surprising.
What's even more surprising is that the Heat, led by LeBron James, are 3-0 without Wade in the lineup—beating opponents by an average of seven points.
No, it's not time to start the "trade Wade" talk, because that's just foolish. Though, the fact that the Heat are a successful team with Wade on the bench does beg the question of whose team the Heat really is.
It will be interesting to see how Wade's health holds up throughout the season. If it doesn't hold up, and the Heat keep winning, it could be time for a change in South Beach, and that would be more than surprising. It would be a complete shock.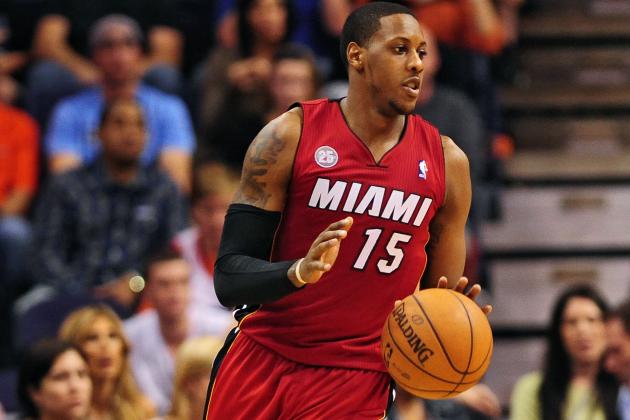 Jennifer Stewart-US PRESSWIRE

After an impressive performance in the 2012 postseason when Mario Chalmers averaged 11.3 points, 3.9 assists, 3.8 rebounds and 1.2 steals per game, many thought he was ready to take a big step forward.
Well, the 2012-13 season is well under way and Chalmers has been everything but impressive.
So far this season, Chalmers is averaging 6.7 points and 4.9 assists per game. That's not terrible when you consider that he's playing with two of the best players in the entire NBA. But the fact that he's a season away from being a free agent means he has no choice but to step up his game, unless he wants to be a second-tier player for his entire career.
The Heat look better this season with LeBron James or Dwyane Wade running the point than with Chalmers. A major piece of that is because of his lack of defensive pressure. Don't let his 1.7 steals per game average fool you. He's an opportunistic defender, and that's not what the Heat need him to be.
Chalmers' lack of increased offensive production is certainly surprising, and it's something the Heat hope he finds sooner rather than later.