College Football Virtual Simulation Stimulation: Week 13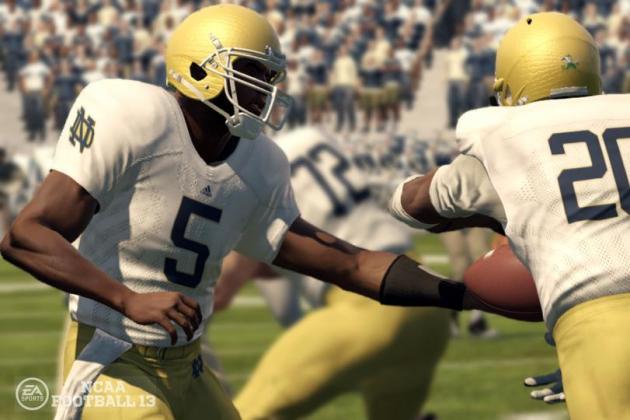 Image Via EA Sports
The chaos of Week 12 was just too much for NCAA '13 to handle and disaster finally struck. After a season of domination, it showed its first moment of weakness.
Zero wins, five losses has us stumbling, but we're very confident that we'll bounce back. Our favorite game got into the Thanksgiving stash of merlot a bit early, and we promise the situation has been handled. We've also purchased more merlot.
In fact, we're so confident in this game that we've upped the ante for a glorious Week 13 slate. Forget about five showcase games, we've bumped it up to eight with a loaded week of critical games on tap. Oh, this will make for quite the Saturday.
For those tuning in for the first time, here's the rundown: Using NCAA '13, we simulate the week's top games and report the findings. These results aren't doctored with, but they "usually" are spot on.
A monster week of college football is upon us, and there are so many rivalries and big games to get to.
Season Spotlight Prediction Record Heading into Week 13: 40-20
Begin Slideshow

»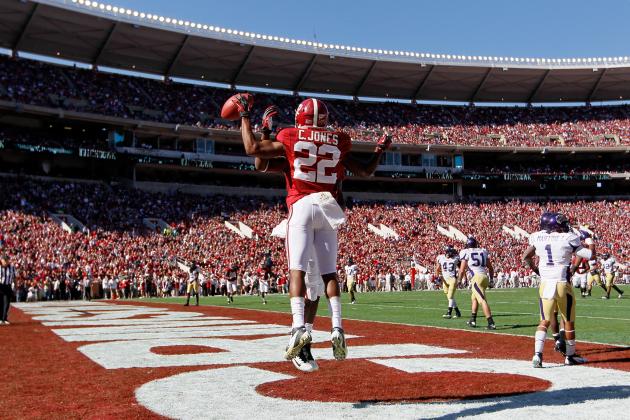 Kevin C. Cox/Getty Images

OK, we had to include this game. It's the Iron Bowl, and this one is the blowout many expected. Alabama racks up 571 yards, and QB AJ McCarron throws for more than 400 yards—not a typo—and also connects on two touchdowns.
Auburn musters up just 263 yards overall and runs for just 66 yards on 28 carries. Multiples quarterbacks see the field, and they, well, are not good. They combine to turn the ball over four times and complete just nine passes.
"Chizik has struggled, but we believe he deserves time to turn this around and regain momentum within the program," said an Auburn spokesman following this game. Wait, never mind, an Alabama fan hacked their web site, apparently, and posted that.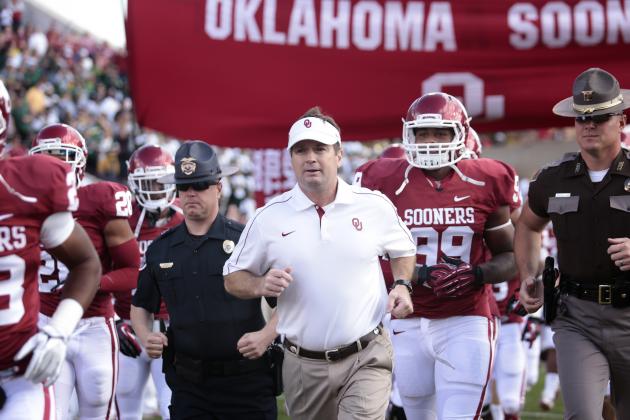 Brett Deering/Getty Images

Despite heading into half down double digits, Oklahoma rallies and kicks the game-winning field goal with 27 seconds left in the game. Sooner QB Landry Jones throws for 289 yards and three touchdowns to lead the Oklahoma comeback.
Oklahoma State back Joseph Randle has a monster game. He carries the ball 27 times for 185 yards and two touchdowns and also catches three passes for 44 yards and a score. It is not enough, however.
Bob Stoops spends the next week traveling the country, offering scholarships to random players who have football highlights on YouTube. The "Hello" Tour is coming to a town near you; begin uploading immediately.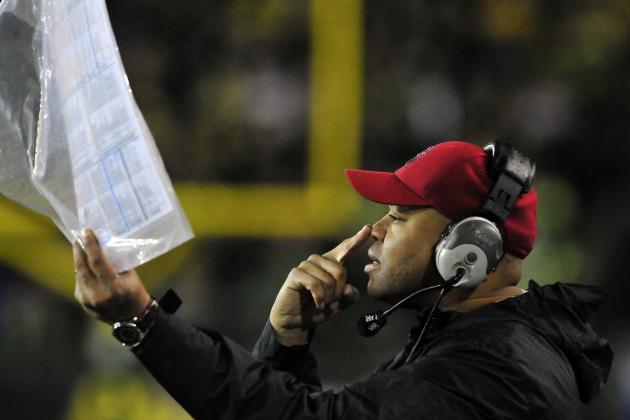 Steve Dykes/Getty Images

Stanford tallies 497 yards of total offense and rallies in the fourth quarter to send this one into their second straight overtime game. A field goal then seals the victory. Stanford running back Stepfan Taylor goes for 164 yards on 28 carries and scores three touchdowns.
On the other side, UCLA stays in this game despite tuning it over five times, although the one in overtime is costly. UCLA's talented runner, Jonathan Franklin, rushes for 107 yards and a score and also catches five passes for 90 yards.
Stanford and UCLA deciding how the Pac-12 will be represented in the Rose Bowl… just like we predicted in the preseason.
College football is weird and awesome.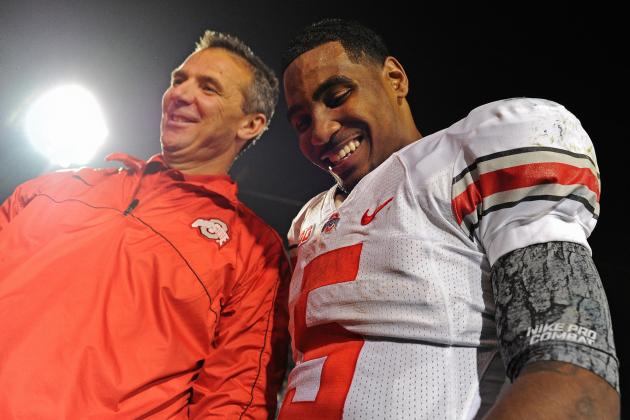 Patrick Smith/Getty Images

A 28-point second quarter seals the win for the Buckeyes, and they absolutely roll against their rival. Ohio State QB Braxton Miller is fabulous, and he finishes with 227 yards passing and four touchdowns. He also runs for 55 yards and another score.
Michigan turns the ball over three times. All three come from the quarterbacks, and multiple passers log minutes for the Wolverines. Denard Robinson does run for 112 yards more on the ground.
The handshake between Brady Hoke and Urban Meyer following the game is respectful, up until the point where Meyer smashes Hoke over the head with one of his assistant coaches and Hoke unleashes his famous bear, no, "Wolverine" hug which knocks them both unconscious.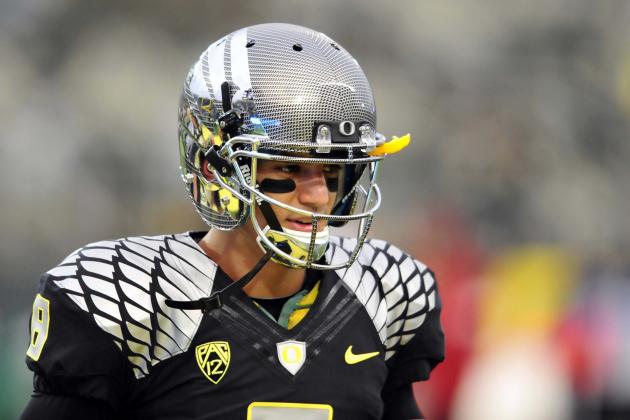 Steve Dykes/Getty Images

The Ducks jump out to a 17-0 lead, and they don't look back after that. Running back Kenjon Barner runs for 123 yards on 18 carries and also catches four passes for 67 yards and a score.
Oregon State does have some success moving the ball, racking up 366 yards of total offense. Senior wideout Markus Wheaton is the star in this one, catching six passes for 156 yards and both Beaver touchdowns.
Chip Kelly flips the script and takes his team to In-N-Out Burger following the game. Much like his play-calling, he eats his burgers at an incredible tempo which results in world-class hurt burn. Oh, that's just the worst.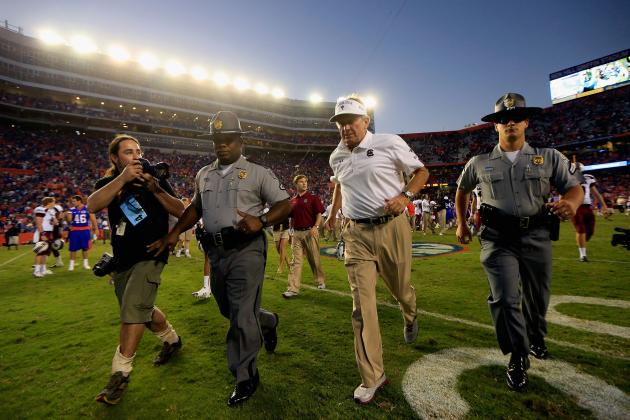 Chris Trotman/Getty Images

The Gamecock defense limits Clemson to just two field goals and only 211 yards of total offense in a dominating performance. Defensive end/human destructor Jadeveon Clowney finishes with five tackles, a forced fumbled and two sacks.
Clemson's offense struggles mightily, and Tajh Boyd throws for just 105 yards on 25 total throws. Wideout Sammy Watkins does finish with eight catches for 70 yards, although he is the only productive player.
And you thought Steve Spurrier enjoyed trolling Clemson and Dabo Swinney already? Spurrier's break-dance session at the podium following the game eventually crashes YouTube. Oh, and Bob Stoops offers him a scholarship.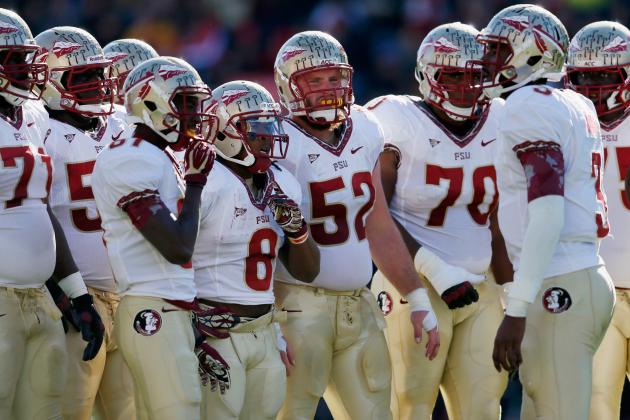 Rob Carr/Getty Images

The Seminoles' strong running game returns to form in this one, and their backs go for a combined 227 yards on 41 carries. Quarterback EJ Manuel completes just 12 of 26 passes for 139 yards, but the FSU defense takes over.
The Gators don't find the end zone here and they score their 12 points with field goals. Yep, all field goals. Florida's best running back, Mike Gillislee, does run for 77 yards on only 11 carries, but the rest of the offense struggles.
Jimbo Fisher has been very critical of the BCS of late, and he spends his time leading up to the national championship game dumping water on every single iPad he sees. Oh, and the Seminoles join the Big Ten BECAUSE EVERYBODY'S DOIN' IT.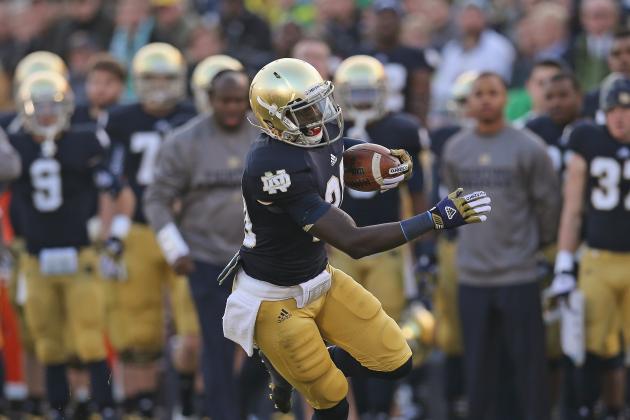 Jonathan Daniel/Getty Images

Notre Dame racks up 32 first downs, 488 yards and forces 5 turnovers to cruise in Southern Cal. Both Cierre Wood and Theo Riddick run over 100 yards for ND and each back finds the end zone twice.
The Trojans score their 14 points in the second quarter and they are shut out in the second half. Marqise Lee hauls in a touchdown, USC returns a kick for a touchdown, and that it is. The team combines to net just 245 offensive yards, and this one gets ugly early.
Notre Dame is in the national championship, just like Lou Holtz envisioned and predicted. I'm not sure what that means other than MAYANS.
Yep, Mayans.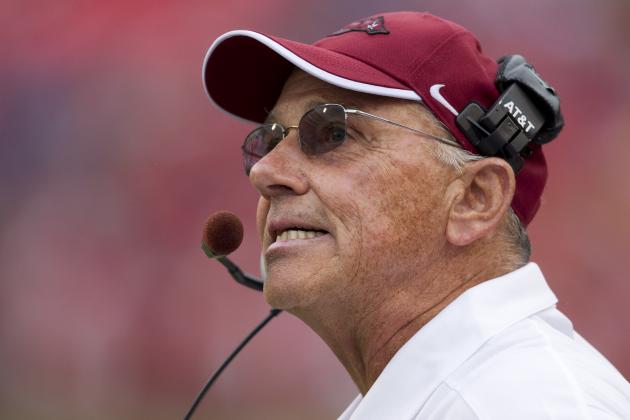 Wesley Hitt/Getty Images

Iowa 35, Nebraska 14 - Stay out of the wine, NCAA.
Texas A&M 34, Missouri 14
Kentucky 21, Tennessee 9
Georgia 27, Georgia Tech 24 (OT)
Louisville 51, UConn 38
West Virginia 27, Iowa State 10 - And West Virginia is bowl eligible! No, really.
North Carolina 52, Maryland 7
Virginia Tech 45, Virginia 7
Mississippi State 24, Ole Miss 6
Miami 31, Duke 7
Utah 24, Colorado 7 - Good job, good effort.
Penn State 29, Wisconsin 14
Minnesota 37, Michigan State 24
Pitt 27, Rutgers 13
Texas 13, TCU 0
Arkansas 44, LSU 14 - One more time... SMILE.
Baylor 29, Texas Tech 28
Arizona 27, Arizona State 24
Washington 35, Washington State 20