November 2012 MMA Rankings: The 10 Best in Each Division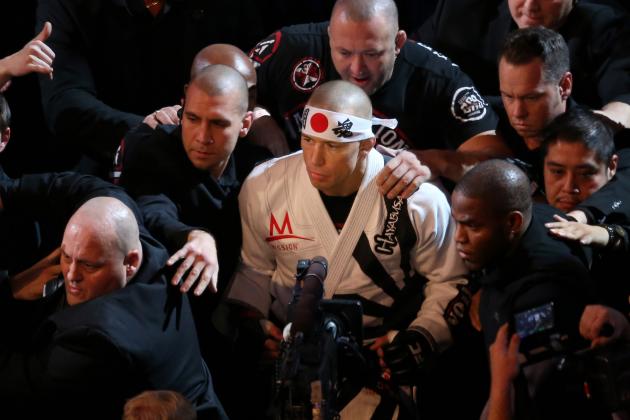 Tom Szczerbowski-US PRESSWIRE

With just two major events since the last edition of my MMA rankings, there isn't a whole lot of movement in this installment. But we do have one major addition, with Georges St-Pierre returning from a long injury layoff that kept him out of the welterweight rankings.
Despite the lack of major changes this month, we still have plenty of big (and important) fights remaining on the calendar this year. So let's check out what we have this month and prepare to close out 2012 in style, shall we?
Begin Slideshow

»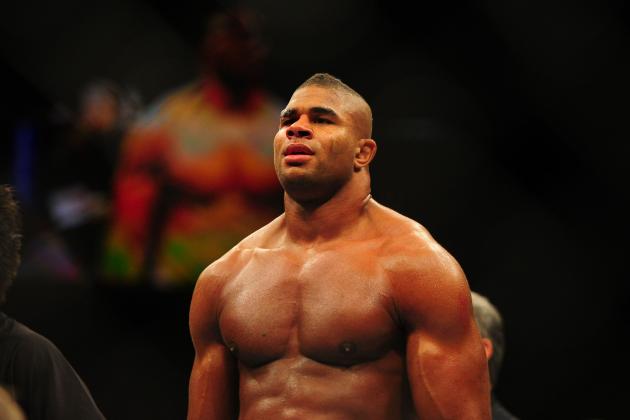 Mark J. Rebilas-US PRESSWIRE

1. Junior dos Santos
2. Cain Velasquez
3. Alistair Overeem
4. Daniel Cormier
5. Fabricio Werdum
6. Frank Mir
7. Antonio Rodrigo Nogueira
8. Josh Barnett
9. Stefan Struve
10. Antonio Silva
NOTES: There are no changes to speak of this month in our heavyweight top 10, but that will change over the next 90 days or so. For starters, dos Santos and Velasquez will face off at UFC 155 at the end of December, and then Overeem returns from a long layoff to face Antonio Silva on the UFC's traditional Super Bowl card. Oh, and Cormier will allegedly fight on the final Strikeforce card in January, but I'm not holding my breath.
So while heavyweight may not be feeling the winds of change, they'll start blowing soon enough.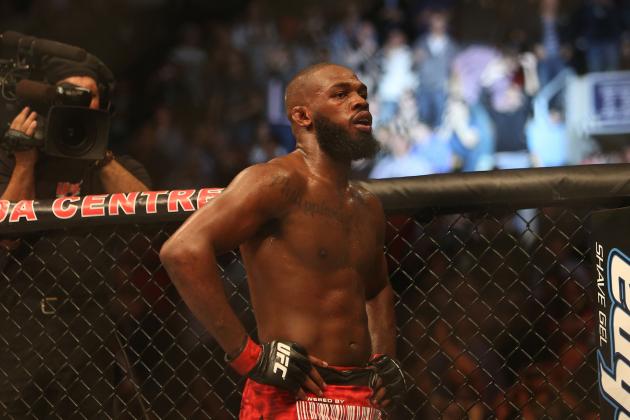 Tom Szczerbowski-US PRESSWIRE

1. Jon Jones
2. Dan Henderson
3. Rashad Evans
4. Mauricio Rua
5. Lyoto Machida
6. Phil Davis
7. Alexander Gustafsson
8. Glover Teixeira
9. Antonio Rogerio Nogueira
10. Ryan Bader
NOTES: Like heavyweight, there are no changes between this month's rankings and those I published in October. But we do have a few sweet top-10 fights on the horizon.
Rua will face Gustafsson in a little over two weeks at UFC on Fox in Seattle. Glover Teixeira faces Rampage Jackson early next year, and Evans takes on Nogueira on the Super Bowl card.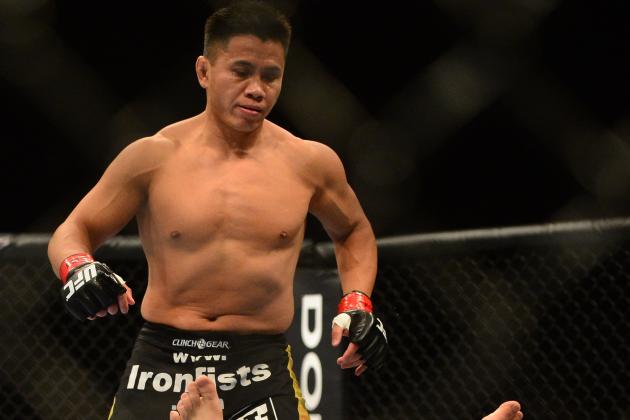 Mark J. Rebilas-US PRESSWIRE

1. Anderson Silva
2. Chael Sonnen
3. Michael Bisping
4. Chris Weidman
5. Tim Boetsch
6. Mark Munoz
7. Luke Rockhold
8. Yushin Okami
9. Vitor Belfort
10. Cung Le
NOTES: The only addition this month is Cung Le, who knocked out Rich Franklin at UFC on Fuel in Macao to score his second straight UFC victory. Dropping out of the rankings is Ronaldo Souza, who will ostensibly make his UFC debut sometime in the first half of next year.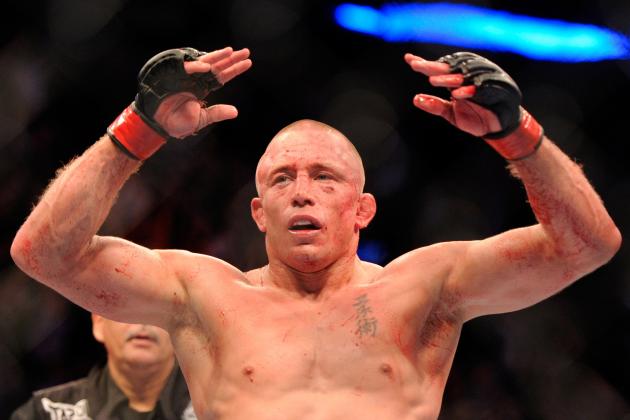 Eric Bolte-US PRESSWIRE

1. Georges St-Pierre
2. Johny Hendricks
3. Carlos Condit
4. Nick Diaz
5. Jon Fitch
6. Jake Ellenberger
7. Martin Kampmann
8. Rory MacDonald
9. Josh Koscheck
10. Nate Marquardt
NOTES: Georges St-Pierre returns to the rankings this month with a bullet. Fighters are dropped from the rankings if they're inactive for more than a year, and St-Pierre certainly qualified. But as you can see, he's back on the welterweight throne.
St-Pierre has a new challenger sniffing at his heels in Johny Hendricks, however. I'm still hopeful that we'll see Hendricks get his shot at the title rather than the rumored superfight between St-Pierre and Anderson Silva.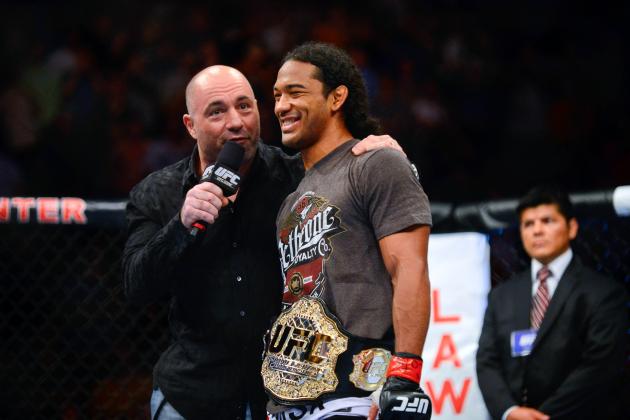 Ron Chenoy-US PRESSWIRE

1. Benson Henderson
2. Frankie Edgar
3. Gilbert Melendez
4. Gray Maynard
5. Nathan Diaz
6. Anthony Pettis
7. Donald Cerrone
8. Michael Chandler
9. Eddie Alvarez
10. Clay Guida
NOTES: Henderson faces Diaz in a little over two weeks at UFC on Fox in Seattle. It's a lock to be an exciting fight, and Diaz is sure to make it a memorable one.
Maynard was scheduled to face Joe Lauzon at UFC 155, but was injured and replaced with Jim Miller. Maynard's injury isn't too severe, and he's expected to return in early 2013.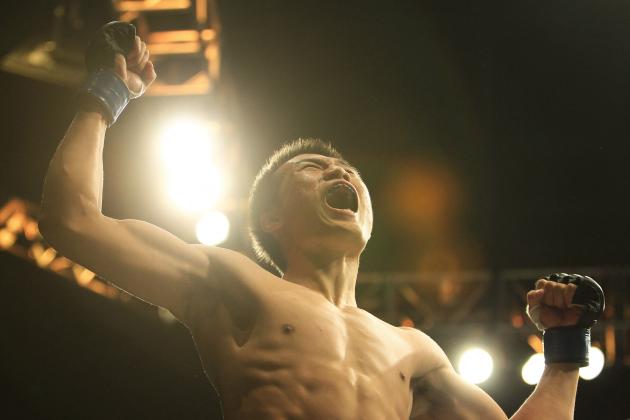 Tom Szczerbowski-US PRESSWIRE

1. Jose Aldo
2. Pat Curran
3. Chan Sung Jung
4. Chad Mendes
5. Erik Koch
6. Dennis Siver
7. Dustin Poirier
8. Ricardo Lamas
9. Hatsu Hioki
10. Patricio Friere
NOTES: Reigning UFC champion Aldo finally has another date set for his bout with featherweight newcomer Frankie Edgar. It'll happen in the main event of the UFC's Super Bowl weekend show, which is looking to be a pretty dynamic card this early in the process. And now, I'm going to stop talking about the potential of the card lest I jinx it and cause injuries for every superstar fighter on the bill.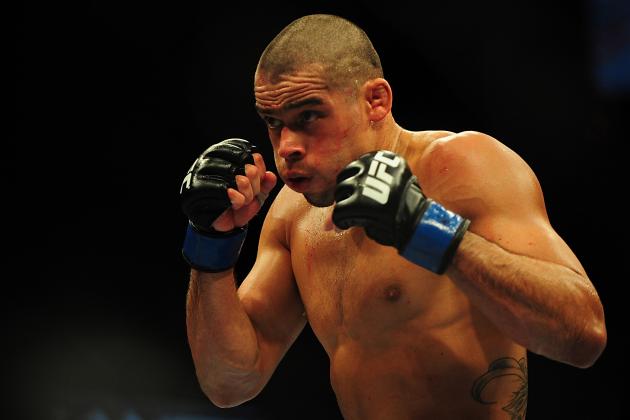 Anne-Marie Sorvin-US PRESSWIRE

1. Dominick Cruz
2. Renan Barao
3. Michael McDonald
4. Urijah Faber
5. Brian Bowles
6. Brad Pickett
7. Bibiano Fernandes
8. Eddie Wineland
9. Eduardo Dantas
10. Mike Easton
NOTES: We learned from Dana White last week that interim champion Barao will have to defend his title prior to the return of Dominick Cruz, likely against Michael McDonald. Thank goodness. The last thing the UFC needs is another interim champion who sits on the shelf for an entire year and refuses to defend a belt that was created for the sole purpose of a title being defended while the real champion was on the shelf.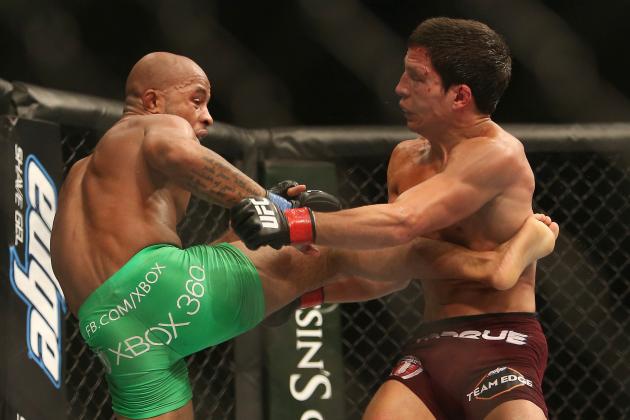 Tom Szczerbowski-US PRESSWIRE

1. Demetrious Johnson
2. Joseph Benavidez
3. John Dodson
4. Ian McCall
5. Chris Cariaso
6. Jussier Formiga
7. John Moraga
8. Darrell Montague
9. Yasuhiro Urushitani
10. Louis Gaudinot
NOTES: The flyweights will get a big taste of mainstream exposure at UFC on Fox 6 in January; the card will be headlined by a title bout between Demetrious Johnson and John Dodson. It should be a good showcase for two of the fastest fighters in the world, and Dodson has a much better chance of winning than most give him credit for.