Michael Vick, Jason Babin and the Five Other Unlikable Eagles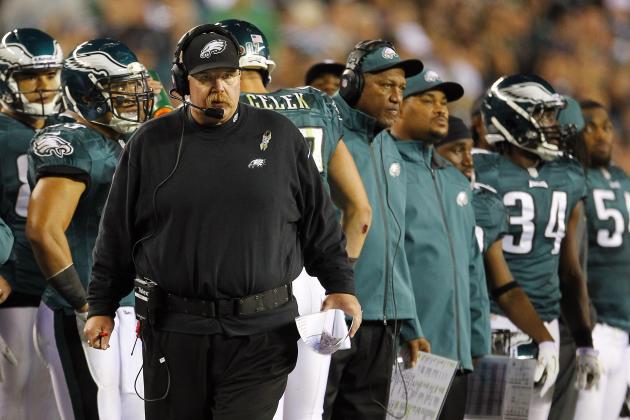 Rich Schultz/Getty Images
The 2012 Eagles are Very hard to Like
Ah, the Philadelphia Eagles: Beloved by the city that bleeds green and wears its heart on its collective sleeve. Being a fan of the Eagles is passed down from generation to generation and though the team has never won a Super Bowl, it has had a number of great and beloved players.
Guys like Chuck Bednarik, Tommy McDonald, Wilbur Montgomery, Harold Carmichael, Ron Jaworski, Bill Bergey, Herm Edwards, Randall Cunningham, Wes Hopkins, Reggie White, Jerome Brown, Andre Waters, Seth Joyner, Brian Dawkins, Brian Westbrook, Troy Vincent and Lito Sheppard—to name just a few—still have a secure, and fondly remembered place in the hearts of the Eagles' fanbase.
Don't look for any guys like those mentioned above on the 2012 Philadelphia Eagles' roster.
The 2011 Philadelphia Eagles were a pretty unlikable, bunch but they don't hold a candle to the almost hatable group of guys who go out there and quit on every Sunday this season.
Their leader and quarterback claimed this team was a dynasty.
A dynasty would suggest three or more Super Bowl victories by this group, but they'll be lucky if they get more than three regular season victories this season. In fact they're lucky to even have those three wins.
But, it's not just inept play and failings on the field that make this team so hard to root for: it's the players themselves and their attitudes towards the city, its fanbase and seemingly one another, makes this the most unlikable team in Eagles history.
Without further ado, here are the seven least likable players (and a certain unit that doesn't actually appear on the field) on the 2012 Eagles.
Begin Slideshow

»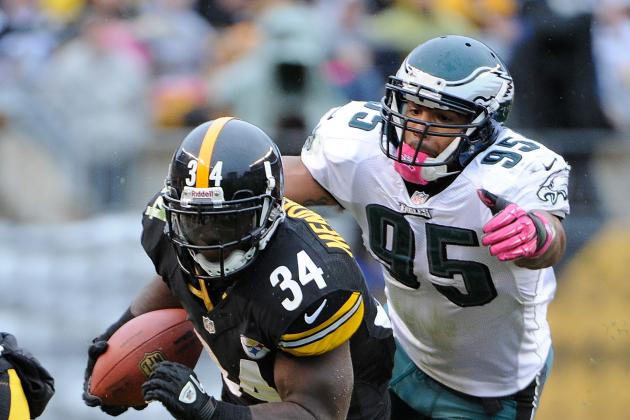 Joe Sargent/Getty Images
Kendricks Tries to Tackle an Opponent...Tries
The Eagles selected Kendricks with their second round pick of the 2012 draft; 46th overall.
We're still waiting for Kendricks to prove the league wrong for allowing him to slip to the second round.
His play so far this season does not have anyone thinking he deserved to be picked any higher than he was.
He's a rookie, so time will tell, but right now maybe he'd be better served studying film and improving his game rather than spending time calling into radio shows and ranting about how he was disrespected.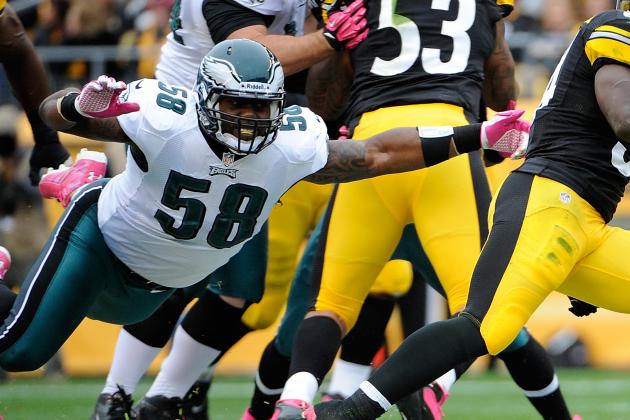 Joe Sargent/Getty Images
Trent Cole, Doing What He Does Best
Trent Cole has actually been an Eagle since 2005. Since he was around guys like Brian Dawkins, Troy Vincent, Sheldon Brown and Lito Sheppard, you would think some of their leadership skills would've rubbed off on Cole.
Nope.
The common complaint about the Eagles since 2009 has been there is no leadership in the locker-room, which is baffling considering the presence of the eight-year veteran, Cole.
Cole is part of the defensive line that was boasting they'd record 60 sacks this season utilizing their infamous Wide 9 system which the entire NFL has seemed to figure out since the team led the league in sacks in 2011.
Cole—who had 11 sacks in 2011—also predicted he'd personally record 19 sacks in 2012.
The defense went a three-game stretch with no sacks this season and is way off their mark of 60 for the season.
Through nine games this season, Cole has just 1.5 sacks.
But Cole doesn't see that as a problem. No, the mere fact that opposing teams have to game-plan for and ultimately successfully stop the Eagles' defense is a victory in and of itself as Cole himself famously explained to fellow Eagle Darryl Tapp after a loss to the Steelers in Week 5:
With reserve defensive end Darryl Tapp seated to his right, Cole said the max protection schemes used by the Steelers to slow down the pass rush was a tribute to the potency of the Eagles' front four.

"Hey that's just called respect," Cole said after the Eagles lost 16-14 on Sunday at Heinz Field ... Ain't that right, Tapp?"

"Feel it," Tapp shot back.

"They leave max protect and every team you go against that max protects -- Tapp, tell 'em -- that's called respect," Cole continued. "That tells you, 'That's the best damn defensive line in the [expletive] NFL.' That's just real talk. That's common sense. It's right there in front of your face. Every team."
Cole's attitude and indifference to his unit's actual on the field success, as opposed to what he believes to be fact, is just par for the course on this team that is full of players who believe they are much better than they actually are.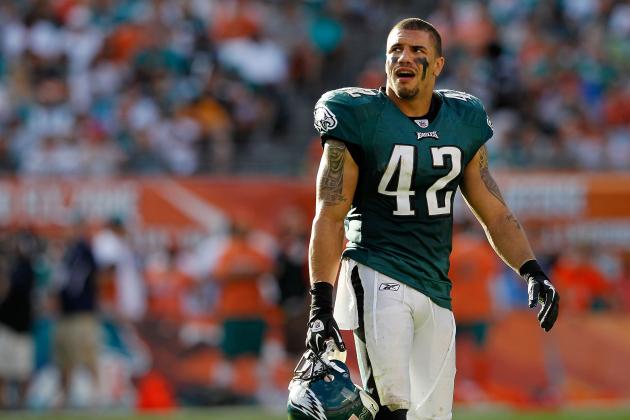 Mike Ehrmann/Getty Images
Kurt Coleman, Ladies and Gentlemen
Kurt Coleman believed this Eagles' defense was the greatest in franchise history which showed either profound ignorance or incredible disrespect on Coleman's part. After all, this franchise once had Reggie White and Jerome Brown lining up every Sunday.
Maybe that's a fact Coleman wasn't aware of.
Coleman, like the rest of the franchise's supposed "best defense" ever, has not lived up to their own self-created hype.
But again, he's deluded into thinking his and his teammates on field performance is just a mirage and that, in fact, the unit is an elite defense.
After rookie quarterback Robert Griffin III completed 14-of-15 passes for four touchdowns against the Eagles this past Sunday, including an embarrassing 62 yard prayer of a pass that Santana Moss beat both Coleman and Brandon Boykin for a touchdown, Coleman was still talking nonsense.
First, he blamed the officials for not calling a phantom offensive pass interference call on Moss. Then, after he also gave up a 17-yard touchdown pass to tight end Logan Paulsen, Coleman actually kept preaching that the Eagles' secondary was way better than it actually is.
[W]e have what I feel is the best back-end group in the National Football League.

The majority of the game we were playing well. It's those few miscommunication plays that are killing us.
Coleman is a young guy, It's just his third season in the league, but he is out of touch with reality and seeing how some of the veteran players on this team behave and react to adversity, it really should be no surprise.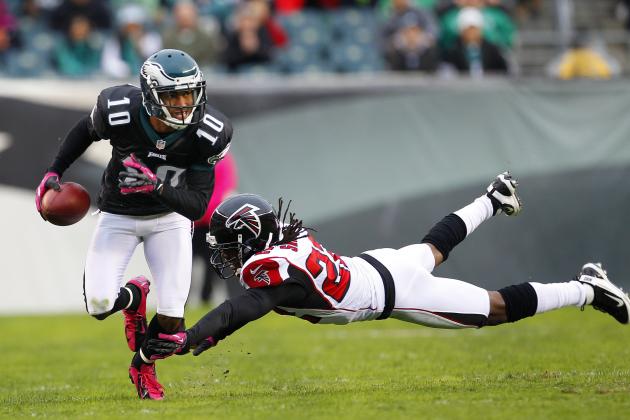 Rich Schultz/Getty Images
Jackson isn't Exactly Earning That Huge Contract The Eagles Gave Him
DeSean Jackson quit on his team. He admitted in 2011 that his contract uncertainly was having an impact on his play.
He short-armed passes.
He missed or was late to team meetings.
He was suspended for a game because of this bad behavior.
And then, after the 2011 season, the Eagles rewarded said bad behavior with a five-year $51 million contract.
Jackson guaranteed at least one Super Bowl victory over the life of his contract.
He also guaranteed he'd have a monster season in 2012.
The thing about guarantees, you have to put something up as part of it. If Jackson really meant what he said, he'd be playing this season for free.
He has not come up big in any game during this campaign. He's part of many of the supposed stars on this 2012 Eagles team who have failed to shine brightly—if at all.
After another abysmal performance against the Washington Redskins where he had two receptions for all of five yards, Jackson—like so many other hothead athletes—took to his Twitter page to lash out at the frustrated Eagles' fanbase and critics. He penned this eloquent gem:
People wanna clip ya wings an bring u down bcuz they have nothing to Live 4!! My LIFE BRIGHT AN IMA KEEP FIGHTIN PERIOD .. Say Dat then ..
Ah, the Bard himself couldn't have said it better.
See that, Eagles' fans: It doesn't matter what you say or how you feel, DeSean's life is bright thanks to that 51 million dollars he has and if you don't think he's living up to that contract, well its because you don't have a life.
Stay classy, DeSean.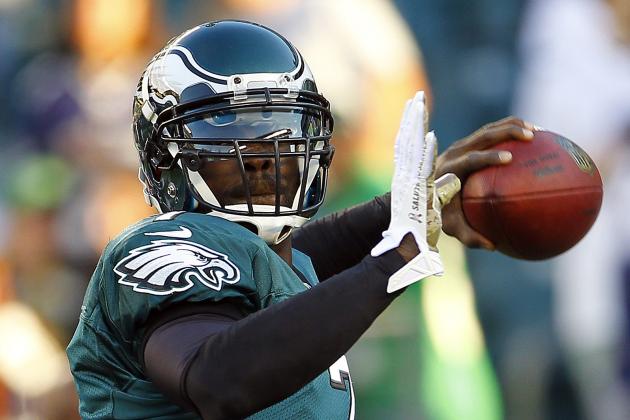 Rich Schultz/Getty Images
Michael Vick May Have Played His Last Game as an Eagle
There are many reasons why people hate Michael Vick, and many people that hate Michael Vick.
I won't go over them here because everyone knows them, though I will say it takes a special kind of guy to do something that actually tops the whole Ron Mexico horridness so much so that people don't even remember it now.
That being said, 2012 gave Vick's "haters" all the more reason to despise him.
There was his nonsensical talk of this Eagles team being a dynasty. This, of course, assumes Vick understands the definition of a dynasty in sports and would also assume he actually believed he'd still be a Philadelphia Eagle four or five seasons from now.
There was his rant on sports radio about being disrespected by the NFL Network ranking him 70th on a list of top 100 players in the NFL going into the 2012 season. According to Vick, it was a "joke" that was only going to serve to motivate him.
Then the season started and Vick was lousy. He was horrid in a game against the very bad Cleveland Browns and had linebacker LJ Fort actually have been able to catch a pass Vick hit him in the hands with, the Eagles would've dropped the opener.
Vick's poor play turned to terrible play as his offensive line began to crumble due to numerous injuries.
As the team began losing, he deflected the blame saying he put the team in position to win games—implying the defense then let the team down. Not factoring in to the equation that his turnovers earlier in games kept the score close enough for the opposition to mount comebacks.
Vick, of course, started with other excuses. He wasn't allowed to play the game his way. He was going to go out there, "put the shield back on" and be the gunslinger that never really achieved any real success earlier in his career in Atlanta.
When that failed and the Eagles continued to lose as Vick continued to struggle, he took the last resort of a desperate man and blamed the media.
Vick—the face of the franchise—is also its symbolic problem. He's a guy who thinks he is better than he is, who believes if he says he and his team are great then that makes it so.
In other words, on a team full of delusional underachievers, he's the worst of the lot.
Then there's also the baggage he brings with him that is unrelated to his past behavior and out of his control, namely his opinionated brother Marcus.
Marcus who "live tweeted" the loss to New Orleans ripped the Eagles coaches, offensive line and, according to him at least, spoke for his brother and begged to be traded (both him and Michael they're a package deal) out of Philly.
Vick said in a press conference after the game he would shut his brother up.
On Monday November 19th Marcus Vick apparently twittered derogatory messages to Andy Reid:
Yeaaaaa! Try everything n your handbook to save your ass FATBOY!!!!
A little aside to Marcus Vick. That "Fatboy" gave your convicted felon brother a chance when no one else did. He tried to mold him into being an actual NFL quarterback and then signed him to a $100 million deal that pulled your brother from his horrible financial woes that were brought on by his illegal dog fighting operation.
A deal, incidentally, that will ultimately cost Andy Reid his job.
Maybe, just maybe, show a little respect.
Michael Vick suffered a pretty nasty concussion during the game against the Dallas Cowboys.
More than likely, it will be his last game as an Eagle.
Even if Vick's health returns, it does the Eagles no good to have him play again. Vick will be gone at the end of the year and the remaining games should be more about finding out if Nick Foles has any real potential or if the Eagles need to look elsewhere for the franchise quarterback they have desperately lacked since 2009.
Vick's departure will bring a fair amount of ex-Eagle fans who couldn't bring themselves to root for the team's success as it was helmed by the convicted felon, back into the fold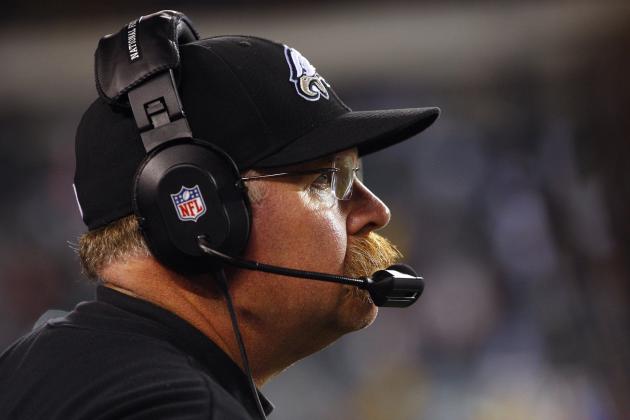 Rich Schultz/Getty Images
The Coaching Staff is Hard to Like; That's Being Kind
Andy Reid assembled a coaching staff for the ages.
I've listed them third as a whole because they all make up one frustrating entity.
You got Bobby April the so-called special teams genius who has been fielding one of the worst special teams units in Eagle history.
Jim Washburn, the defensive line coach who refuses to integrate his line in with the rest of the defense's scheme. Washburn was hired before the Eagles hired Juan Castillo as their defensive coordinator (in and of itself a bad decision) and it's rumored Washburn and his ridiculous Wide 9 scheme is what turned a lot of potential defensive coordinators off the Eagles.
Howard Mudd, who has his own style of running an offensive line that is so complicated (not to mention possibly antiquated) that the Eagles are hard pressed to find any players that can actually fit into Mudd's system.
Todd Bowles, who replaced Castillo as defensive coordinator and somehow made the defense even worse.
And of course, everyone's favorite offensive coordinator. Marty Mornhinweg stubbornly refuses to balance his offense despite the fact that he could be setting his quarterbacks up to get killed and that he had Brian Westbrook available to him and now LeSean McCoy.
It's not just his run/pass ratio that has fans up in arms. Mornhinweg, or possibly Reid (its hard to tell who is calling the plays and the two seem to share the same brain anyway), out-thinks himself and has a habit of pulling out bizarre, nonsensical plays. Third and one on your own 35? Put the quarterback in the shot gun with an empty backfield. Naturally.
It is an inept, dysfunctional, miserable group made of stubborn, unlikable coaches all of whom have long since worn out their welcome in Philadelphia. Which is all the more true about their leader, head coach Andy Reid himself.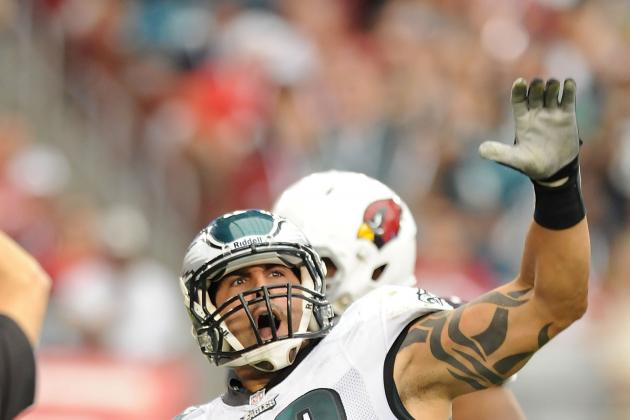 Norm Hall/Getty Images
"The Pose" Has Been Sorely Missed This Season...or, Maybe Not
Jason Babin is another player whose Twitter account does more harm than good, especially since it seems he cares more about his Twitter followers than his team losing its sixth straight game of the season.
Babin's another one to blame the media and the fans for the Eagles' poor performance this season.
He called the fans at Lincoln Financial Field vile and said the the fans chanted things he never heard before nor did he care to repeat them.
He then, once again took to twitter and posted the definition of loyalty:
LOYALTY: loy·al·ty: noun, plural loy·al·ties: The state or quality of being loyal; faithfulness to commitments or obligations … There are 17 teams with the same record or worse than us. Thanks for being loyal fans…….We'll get it right
Thanks, Jason.
Babin who has played for five teams so far over his nine-year career is an apparent expert on loyalty.
He was a journeyman defensive line player who never recorded more than five sacks in a season before landing in Tennessee with Jim Washburn and his now infamous Wide 9 system.
His first season in the Wide 9 playing for Washburn on the Titans, Babin recorded 12.5 sacks. Babin followed Washburn to Philadelphia as a free agent and recorded 18 sacks.
These look like great numbers until you realize Babin is virtually ineffective against the run game and of course, as with any gimmick, once the league figures it out you had better make adjustments to your game or you will not succeed.
This season so far, Babin has been unable to make the necessary changes to his game and has only recorded 4.5 sacks through ten games.
Here's a definition for you:
One Trick Pony - NOUN

one that is skilled in only one area;

also: one that has success only once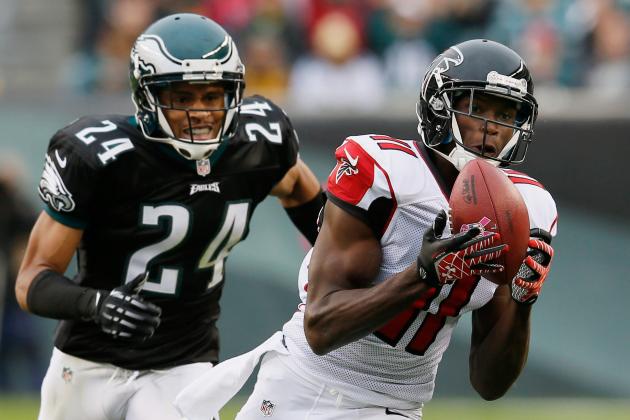 Rob Carr/Getty Images
Nnamdi Asomugha Certainly Fooled Everyone
Whoa boy.
This guy.
In the summer of 2011, Nnamdi Asomugha was the prize free agent on the market. Teams were lining up to acquire his services. He was considered, if not the best cornerback in the NFL, at least one of the best.
It looked the New York Jets had him in their clutches and then on July 29, 2011, the Eagles rocked the NFL by signing the former Raider to a five year, $60 million deal.
By signing Asomugha, the Eagles made the New York Jets, who can't seem to do anything right, look like geniuses by default.
Asomugha was part of the Dream Team that was going to cut through the NFL like a hot knife through butter en route to their first of many Super Bowl titles. Just ask Mike Vick, LeSean McCoy, DeSean Jackson and Vince Young.
But, like the rest of that team, Asomugha underperformed and lived up nowhere near the hype that greeted his signing.
The excuses were because of the NFL labor dispute cancelling OTAs and shortening training camp the Eagles, their players and coaches did not have enough time to gel before the season started.
Also, with Asante Samuel and Dominique Rodgers-Cromartie in the backfield, the coaching staff was never able to put the players into positions to take full advantage of their abilities.
In 2012 there were OTAs and a full training camp and no Asante Samuel, and Asomugha is somehow playing worse.
It's not just his bad play.
Earlier in the season during week three's loss to the Arizona Cardinals, Kurt Coleman bit on a play fake and allowed Larry Fitzgerald to run lose. Asomugha couldn't cover Fitzgerald, who caught a 37-yard touchdown pass.
Asomugha made sure Coleman knew he blew coverage, and he made sure everyone else knew as well by demonstratively yelling at Coleman.
After the loss to the Detroit Lions, which really turned the season around for the worse, Asomugha went to press and called out Juan Castillo laying the defeat solely at the defensive coordinator's feet.
Two days later, Castillo—whose tenure with the Eagles went further back than Andy Reid's—was fired.
Asomugha, with the spotlight on him more than ever, played worse after Castillo's firing.
On Sunday in the second quarter, he and Nate Allen combined to blow the coverage on Aldrick Robinson, who ran 49 yards down the football field completely wide open.
The state of Montana is not as wide open as Robinson was.
Asomugha saw Robinson early in his route blow past Allen and then barely jogged to catch up to the Redskin receiver, who easily scored a touchdown.
Asomugha showed no effort at all on the play and again through his body motions on the field and sideline he made it known to the world that Nate Allen missed his assignment.
You'd think a guy making $60 million would take it upon himself to maybe improvise a little and try to cover Robinson himself.
It doesn't seem in Asomugha's nature to go above and beyond what's minimally required of him.
Yet, he continues to steal the full amount of his paycheck from the team.