Comparing the 2013 NBA Free Agents to Those in the Class of 2012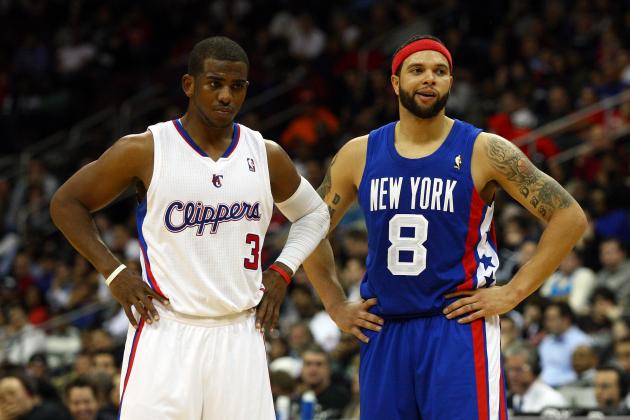 Chris Chambers/Getty Images

With an upcoming class of free agents that includes the likes of Dwight Howard, Chris Paul and Josh Smith, the 2013 NBA offseason is going to be one for the ages. With a grocery list of stars and a handful of teams with cap space, there is reason to believe that this will be the most influential period of free agency of all time.
The question is, how does this class compare with that of 2012?
With the likes of Deron Williams, Kevin Garnett, Tim Duncan and Ray Allen all eligible for free agency, this past summer's offseason was one of memorable proportions. Promising youth changed teams, respected veterans re-signed and rivalries were strengthened.
So which class was stronger?
Begin Slideshow

»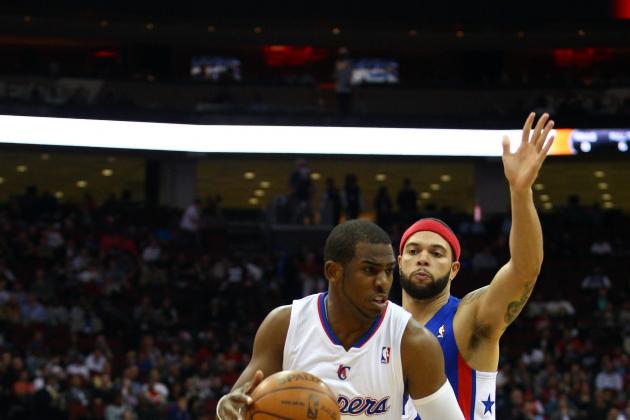 Chris Chambers/Getty Images

Top 5 2012 Point Guards: Deron Williams, Steve Nash, Goran Dragic, Jeremy Lin, Andre Miller
Top 5 2013 Point Guards: Chris Paul, UFA; Kyle Lowry, UFA; Brandon Jennings, RFA; Tyreke Evans, RFA; Jeff Teague, RFA
During the 2012 offseason, the class of point guards was highlighted by All-NBA talent such as Deron Williams and Steve Nash. Behind them was the star ability of Jeremy Lin, as well as the veteran prowess of Andre Miller.
Paired with the promise of Goran Dragic, the 2012 class was built with All-Stars and quality starters.
Beyond the top five was the likes of Lou Williams, Chauncey Billups, Raymond Felton, Ramon Sessions, George Hill and D.J. Augustin. Even Jason Kidd and Jerryd Bayless were available to sign, which provides the depth necessary to round out a quality class.
As for the 2013 crop of point guards, the stars are out in full power. Led by first-team All-NBA point guard Chris Paul, this group commands attention for their star ability alone.
Along with CP3 are the likes of Kyle Lowry, Brandon Jennings and Tyreke Evans. Although John Wall and Ricky Rubio have had their team options exercised, the likes of Jeff Teague, Chauncey Billups, Mo Williams and Jose Calderon will be available, as will Tyreke Evans, Darren Collison, Jarrett Jack and Greivis Vasquez.
Although both classes are solid, the likes of Paul, Wall, Rubio, Lowry and Jennings secure the win over D-Will, Nash, Dragic and Lin. In other words, how can you not be excited about CP3?
Elite for the win.
Advantage: 2013 Point Guards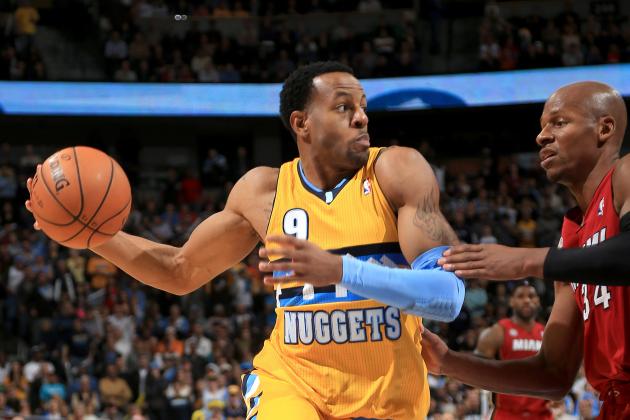 Doug Pensinger/Getty Images

Top 5 2012 Shooting Guards: Eric Gordon, O.J. Mayo, Ray Allen, Jason Terry, Jamal Crawford
Top 5 2013 Shooting Guards: Andre Iguodala, ETO; Manu Ginobili, UFA; Monta Ellis, ETO; Kevin Martin, UFA; Tony Allen, UFA
The 2012 class of shooting guards was highlighted by a crop of top-tier scorers. From the sharpshooters in Ray Allen, Jason Terry and O.J. Mayo to the slashers in Eric Gordon and Jamal Crawford, there was no shortage of available offense.
With Louis Williams, J.R. Smith, Courtney Lee, Daniel Green and Nick Young rounding out the class, the offensive talent was limitless.
The 2013 class has offensive firepower of their own, but the greatest strength of this crop are the defensive weapons. Available are All-Star Andre Iguodala and the best perimeter defender in the game in Tony Allen.
Also available is the ever-so versatile Manu Ginobili.
As for the offensive stars, the likes of Monta Ellis, Evan Turner, Ben Gordon, Jordan Crawford and the rejuvenated Leandro Barbosa will be available. Mayo and Allen will also return to free agency in 2013, rounding out a solid class.
A class that wins over 2012 due to the defensive prowess of Iguodala and Allen, as well as the NBA Finals experience of Ginobili.
Advantage: 2013 Shooting Guards.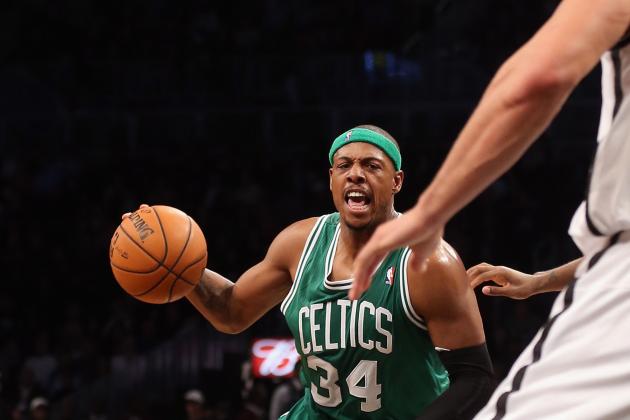 Bruce Bennett/Getty Images

Top 5 2012 Small Forwards: Nicolas Batum, Jeff Green, Michael Beasley, Gerald Green, Steve Novak
Top 5 2013 Small Forwards: Paul Pierce, PO; Shawn Marion, ETO; Metta World Peace, ETO; Corey Maggette, UFA; Hedo Turkoglu, PO
This may just be the toughest position battle yet.
For the class of 2012, the youth was at large. With the likes of 23-year-olds Nicolas Batum and Michael Beasley, as well as 26-year-olds Jeff Green and Gerald Green, there was athleticism everywhere you turned.
With sharpshooter Steve Novak rounding out the class, it was clear that the small forwards available would be able to contribute immediately.
The cream of the crop for 2013 consists of Paul Pierce, Shawn Marion, Metta World Peace, Corey Maggette and Hedo Turkoglu. Both Pierce and Turkoglu have player options, while Marion and MWP have early termination options.
Only Maggette is an unrestricted free agent.
Although these players are of a reputable quality, each are past the age of 33. Pierce is 35, Marion is 34 and World Peace, Maggette and Turkoglu are all 33.
They all contribute as well as any at their position, but age is a factor.
What separates the class of 2012 from 2013 is the disparity between experience and upside. Although 2013 will provide a greater contribution in the present day, 2012 has potential franchise players who are either just entering or not yet approaching their prime.
2012 gets a win.
Advantage: 2012 Small Forwards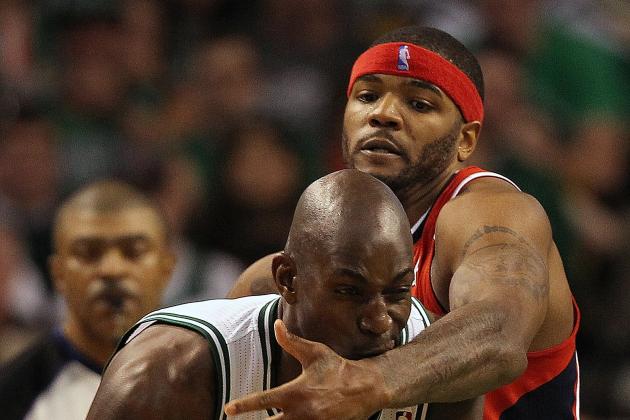 Jim Rogash/Getty Images

Top 5 2012 Power Forwards: Kevin Garnett, Tim Duncan, Kris Humphries, Ersan Ilyasova, Antawn Jamison
Top 5 2013 Power Forwards: Josh Smith, UFA; Paul Millsap, UFA; J.J. Hickson, UFA; David West, UFA; Elton Brand, UFA
The 2012 period of free agency provided the NBA with a surplus of rebounders, two surefire Hall of Famers and a handful of quality scorers. All in all, it was a solid crop of players which provided the league with six starters and two sixth men.
How's that for a quality period of free agency?
Kevin Garnett, Tim Duncan, Kris Humphries, Ersan Ilyasova, Brandon Bass and Jason Thompson are all starting for an NBA franchise. J.J. Hickson could be thrown in the same class, although he now plays as an undersized center in Portland.
Throw in Antawn Jamison and Carl Landry and you have two top-tier scorers at the power forward position.
In 2013, the crop has much more star power but slightly less depth. Led by Josh Smith, the group of 2013 free agents will feature Paul Millsap, David West, Elton Brand and the overachieving Larry Sanders.
Landry and Jamison make their second consecutive appearance, as well.
This battle comes down to a matter of Smith and Millsap's star power against Garnett and Duncan's veteran prowess. Although KG and Timmy are active legends, Smith and Millsap are All-Star caliber players now entering their prime.
For that, the 2013 class wins by the slimmest of margins.
Advantage: 2013 Power Forwards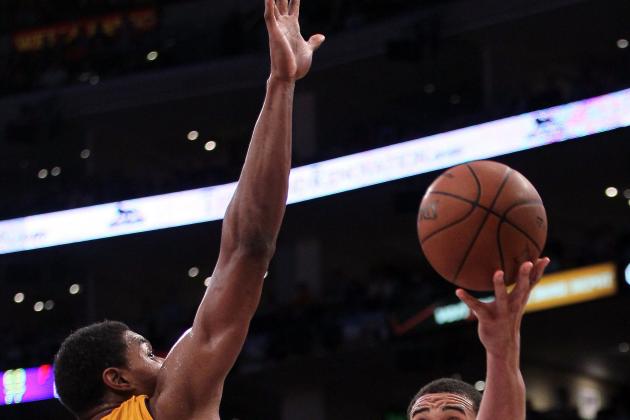 Jeff Gross/Getty Images

Top 5 2012 Centers: Roy Hibbert, Brook Lopez, JaVale McGee, Chris Kaman, Marcus Camby
Top 5 2013 Centers: Dwight Howard, UFA; Andrew Bynum, UFA; Al Jefferson, UFA; Nikola Pekovic, RFA; Chris Kaman, UFA
If there was ever a landslide, it's at the center position. Apologies to the class of 2012, but they stood no chance as soon as you said "Dwight Howard."
The 2012 class boasted a group of second-tier centers such as Roy Hibbert, Brook Lopez, JaVale McGee, Chris Kaman and Spencer Hawes. There were also quality reserves in Marcus Camby, Jordan Hill and Marreese Speights, which rounded out a solid class of centers.
They just don't compare to the 2013 group.
Dwight Howard, Andrew Bynum and Al Jefferson are all unrestricted free agents. With that being established, the the class of 2012 already loses this battle with no further names listed.
Which is unfortunate considering Nikola Pekovic, Chris Kaman and Emeka Okafor will all be up for free agency.
D-12, Bynum and Jefferson win this battle. No matter how deep 2012 may have been.
Advantage: 2013 Centers
Kevork Djansezian/Getty Images

Top 5 2012 Stars: Deron Williams, Steve Nash, Kevin Garnett, Tim Duncan, Ray Allen
Top 5 2013 Stars: Dwight Howard, Chris Paul, Josh Smith, Andre Iguodala, Paul Pierce
The 2013 class of NBA free agents has more star power than any in recent memory. Dwight Howard leads the centers, while Chris Paul heads the point guards. Josh Smith and Paul Pierce are at the helm of the forward positions, and Andre Iguodala is at shooting guard.
And that's just the top of the food chain.
Other stars from this class include Andrew Bynum of the Philadelphia 76ers, Manu Ginobili of the San Antonio Spurs, Brandon Jennings and Monta Ellis from the Milwaukee Bucks and both Al Jefferson and Paul Millsap of the Utah Jazz.
If you want stars, 2013 has stars.
The 2012 class had their fair share of star power, as Deron Williams joined the Brooklyn Nets. Potential Hall of Famers moved as well, as Steve Nash was sent to the Los Angeles Lakers, Kevin Garnett re-signed with the Boston Celtics, Tim Duncan stayed with the San Antonio Spurs and Ray Allen opted to move to the Miami Heat.
There just isn't a comparison between 2012 and 2013.
Advantage: 2013 Star Power