UCLA vs. Georgetown: Live Score, Reaction & Analysis for Legends Classic 2012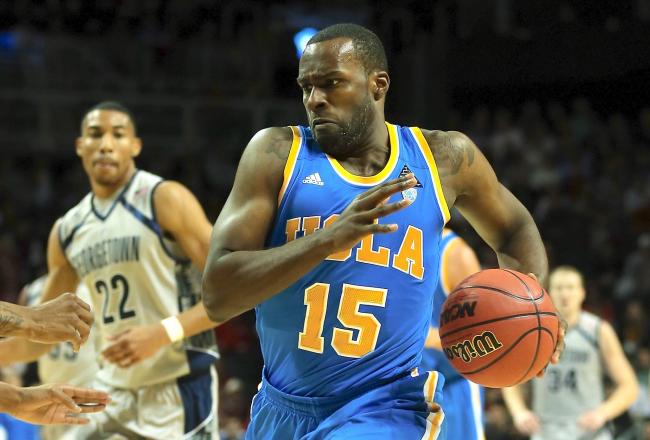 Final Score, Georgetown 78 UCLA 70
The Georgetown Hoyas spoiled Shabazz Muhammad's debut with the No. 11 UCLA Bruins and dominated from start to finish in a 78-70 upset win in the semifinals of the Legends Classic at the Barclays Center in Brooklyn.
Muhammad finished the game with 15 points on 5-of-10 shooting and two assists for the Bruins, but the freshman looked rusty and did not have a major impact in the game.
On the other hand, Georgetown clearly came ready to play and frustrated the Bruins with their 2-3 zone defense all night.
The Hoyas shot 54-percent from the field and were led by Markel Starks' career-high 23 points. Otto Porter Jr. and Greg Whittington combined for 31 points, 16 rebounds and eight assists to help Georgetown roll to victory.
Georgetown will face the No. 1 Indiana Hoosiers tomorrow night in the championship game, while the Bruins will face the Georgia Bulldogs in the consolation game.
Georgetown, expected to do nothing special this season, handles preseason Pac-12 favorite UCLA the whole night. Interesting.

— Pat Forde (@YahooForde) November 20, 2012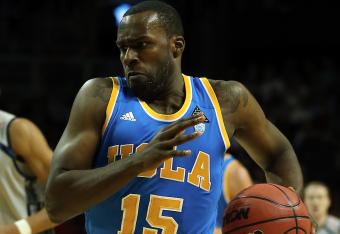 This looks like a great win for Georgetown and I expect it to have a major impact on their NCAA Tournament resume come March.
UCLA will round into form and are going to be a legitimate top 15 team once Shabazz Muhammad gets to practice with the team more often and is fully healthy.
As far as tomorrow goes, Georgetown will give Indiana a great game.
Otto Porter vs. Cody Zeller in the post will be entertaining to watch. Georgetown might not be able to play as much zone defense as they did tonight, though, if guys like Jordan Hulls and Christian Watford hit some threes for the Hoosiers.
Whittington will hold the ball after a rebound and pull off the upset of the No. 11 UCLA Bruins.
Georgetown will play the No. 1 Indiana Hoosiers tomorrow.
UCLA will take on the Georgia Bulldogs in the consolation game.
Georgetown 78 UCLA 70 - 0:38 remaining
Muhammad knocks down a three-pointer to get himself to 14 points on the night despite playing limited minutes.
Pretty impressive debut.
Markel Starks now with a career-high for the Hoyas. 23 points on 9-of-14 shooting.
Georgetown 74 UCLA 66 - 1:24 remaining in the game
Muhammad with a nice hustle play underneath the basket to keep the ball alive for UCLA. Bruins set to inbound.
Jordan Adams with a quiet 22 points tonight. Hasn't really mattered because UCLA has been trailing for most of the game.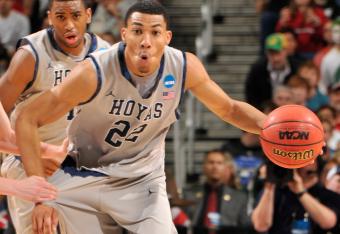 Otto Porter with a double-double tonight for Georgetown. 18 points and 10 rebounds tonight to go along with two blocks and four assists.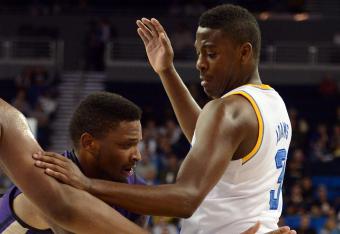 Nice defense by Jordan Adams on the inbound pass. Knocked the ball right off of Mikael Hopkins leg to give UCLA the ball back.
If Georgetown can slow teams down like they did against UCLA tonight they can contend for a Big East Conference title:
Impressive performance from Hoyas. This team believed in itself long before this game. In DC in September GU believed it was contender.

— Andy Katz (@ESPNAndyKatz) November 20, 2012
Georgetown 70 UCLA 59 - 3:49 remaining
Georgetown starting to pull away as their defense continues to make UCLA settle for jump shots, which the Bruins keep missing.
UCLA can't handle Georgetown's bigs right now. Porter continues to score with ease inside, Greg Whittington has 13 points and even Nate Lubick has nine points for the Hoyas.
Georgetown 68 UCLA 57 - 5:00 remaining in the game
Starks with a nice finger roll in the lane. Now with 22 points for the Hoyas.
Nate Lubick backs down Shabazz Muhammad with ease for a quick bucket.
Georgetown 64 UCLA 54 - 7:00 left in the game
Otto Porter with his second three-pointer. Hoyas back up 10 points. Timeout UCLA.
UCLA is going to struggle early in the year against quality opponents because of their you, but just like Kentucky you'd better beat them in the first couple of months. They will be lethal once they come together as a unit.
Georgetown looks like an NCAA Tournament team right now. Their defense will slow down just about anyone's offense.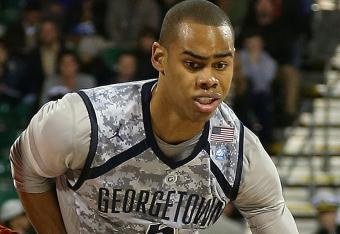 Georgetown 61 UCLA 53 - 7:49 remaining
Markel Starks pours in another three-pointer for the Hoyas. Starks now with 20 points, which leads all scorers.
UCLA starting to knock down some jump shots. That should soften up Georgetown's zone a bit.
Adams taking over. Bad pass, but he corrals it along the baseline and dips under the basket for an easy layup.
Georgetown 54 UCLA 48 - 10:26 remaining in the game
Shabazz isn't the only talented freshman on this UCLA roster. Jordan Adams knocks down two free throws, which gives him 13 points on the night.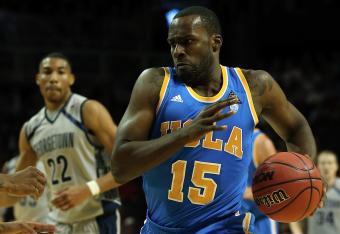 Muhammad now has a jumper, easy dunk and a nice basket in the post tonight.
Eight points for Muhammad on 3-of-8 shooting.
The difference in the game right now is the three-point shooting. Georgetown has dared UCLA to shoot threes while in their 2-3 zone and the Bruins haven't capitalized.
Hoyas are 5-for-10 from long range, while UCLA is just 1-for-11.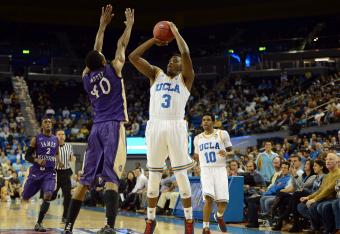 Adams taking over for UCLA. Nice spin move and floater along the baseline.
This article is
What is the duplicate article?
Why is this article offensive?
Where is this article plagiarized from?
Why is this article poorly edited?

UCLA Basketball: Like this team?