Texas Football: Stating the Longhorns' Case for a BCS Bid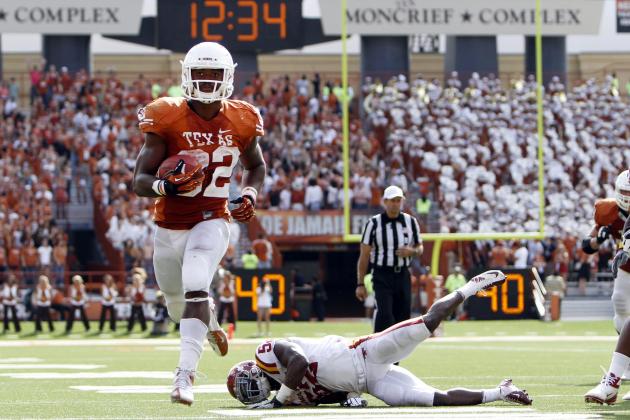 Brett Davis-US PRESSWIRE

As crazy as it seems, the No. 16 Texas Longhorns are once again factors in the BCS conversation thanks to their four-game winning streak and Baylor's 52-24 drubbing of then-No. 1 Kansas State.
You really have to love college football.
After getting their you-know-whats handed to them by the Sooners in Week 6, the Longhorns looked punchless heading into the meat of their Big 12 schedule. But four weeks later, the Longhorns are back in the discussion and now have a legitimate shot at earning an at-large BCS bid.
But to do so means Texas will have to finish with at least nine wins and inside the top-14 in the final BCS standings. The 'Horns should earn their ninth win this Thursday against TCU, but probably will not be able to crack the top-14 of the BCS without beating Kansas State in Manhattan to close the season.
Should the Longhorns handle their business against TCU on Thanksgiving and can then pull off the monumental upset against the Wildcats on the road, it will be nearly impossible to keep them out of the BCS. Here's why.
Begin Slideshow

»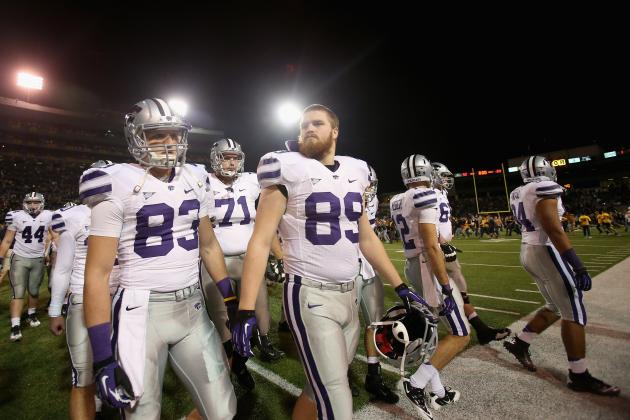 Ronald Martinez/Getty Images
The Wildcats will have company after Rivalry Week claims its latest victims.
Given the closing schedules of the 15 teams currently ranked ahead of the Longhorns, a win at Kansas State almost guarantees a top-14 finish and, therefore, a BCS berth.
We have all seen in just the past week how hectic college football gets this time of year, and it is only going to get crazier with Rivalry Week. Of the 15 teams currently ranked ahead of the Longhorns in the BCS standings, ten have tough rivalry matchups over the weekend and six of those teams are playing each other. That means at least three of these teams are guaranteed to fall, which mathematically makes Texas a top-14 team if it beats TCU.
That also means that if Texas goes up to Kansas State on Dec. 1 and shocks the world, this team should be ranked in the top-10. That would be Texas' third win this season over a top-25 team would push this team's winning streak to six, which would be among the longest streaks in Division I.
It is easier said than done, but if Texas wins these final two games, it should be a shoe-in for an at-large berth.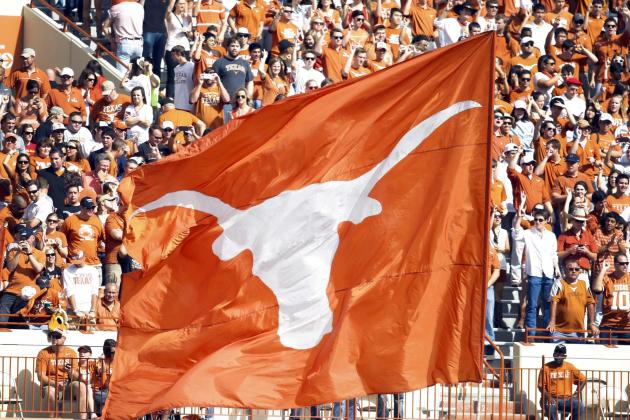 Brett Davis-US PRESSWIRE

Unfortunately for college football fans, the BCS is based almost as much on making money as it is supplying the fans with great competition. Luckily for the Longhorns, Texas brings in plenty of the former.
Rated as the country's most valuable college football program in 2011, the Longhorns have no problem making money. And the interest in watching the Longhorns is so high they have their own network dedicated solely to their athletic program courtesy of ESPN. Perhaps you have heard of it?
It is sad but it is true. The Longhorns make too much financial sense for them not to be invited to a BCS bowl should they win these final two games. Their stadium sells out for 95 percent of their games and the last four BCS bowls that they have played in have been sold out. Not to mention that if they drew a sellout crowd to last year's Holiday Bowl with a 8-5 team, imagine what they will bring in with a 10-2 record and a six-game winning streak.
Basically if the Longhorns win their final two games of the season, the BCS would not be able to ignore the financial upside.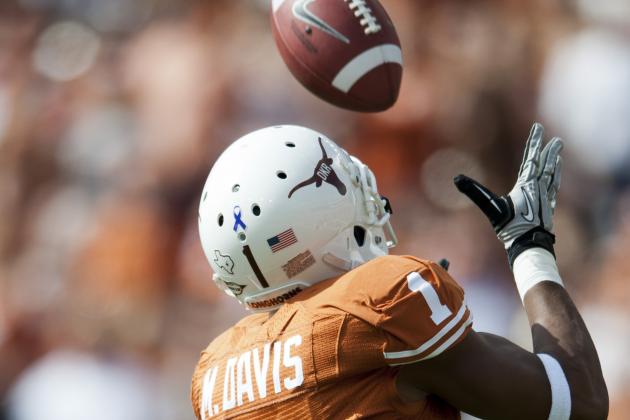 Cooper Neill/Getty Images

Not only does Texas make financial sense to be invited to a BCS bowl should it win these last two games, but this once again a team that makes for great television.
This Texas team is nothing like the 2010 squad that looked more like a Division II team or the 2011 group that struggled to break 20 points. This year's Longhorn team is exciting and has a 39.6 points per game average to back it up, breaking 40 points four times already this season.
Texas also has the star power it has sorely lacked the past two seasons. Freshman running back Johnathan Gray, who leads the team in rushing, is one of the most talented freshmen in the country. Junior wideout Mike Davis has three catches of 60 yards or more in his past two games.
Then there's Daje Johnson, Marquise Goodwin and D.J. Monroe who all run a sub-4.4 40. And let's not forget sophomore quarterback David Ash, who has matured into one of the conference's best throwers and a largely unimpressive freshman season.
Trust me, this a team you want to watch in the final days of this 2012 season.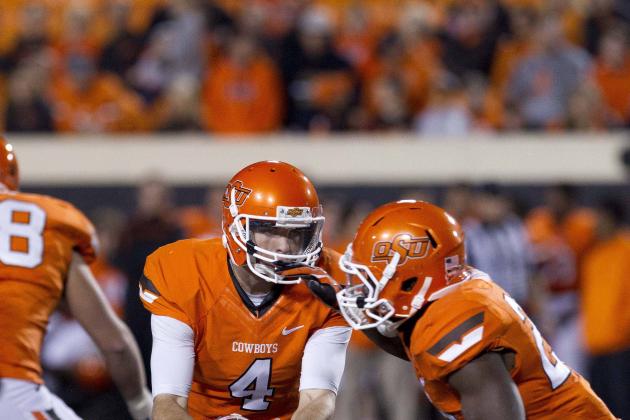 Richard Rowe-US PRESSWIRE
Can Walsh and Randle give Texas an early Christmas gift in the form of a Big 12 title?
This entire discussion regarding the Longhorns' BCS chances could be a moot point if they win the Big 12 title this season. It is entirely possible if Oklahoma State beats the Sooners on Saturday, especially with the way the Cowboys have played as of late.
The Pokes have won five of their last six games, scoring over 30 points in each game and falling only to Bill Snyder's Kansas State team. Their matchup against the Sooners is in Norman, where they have struggled, but they are playing very well thanks to the play of freshman quarterback J.W. Walsh and running back Joseph Randle.
Should the Cowboys beat the Sooners and Texas can find a way to win its last two, the Longhorns would be in sole possession of first place in the Big 12.
How's that for a team that started 4-2?