NBA Stars Getting by on Reputation Alone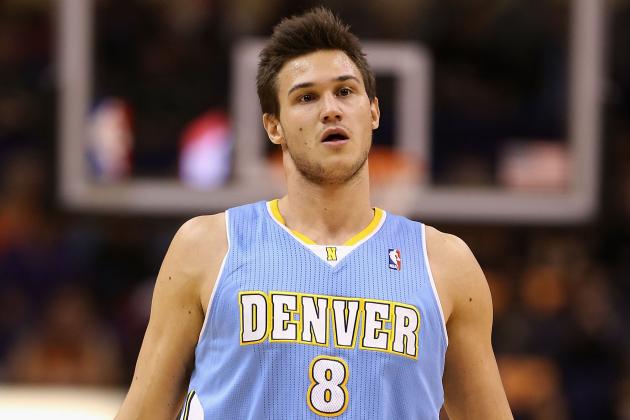 Christian Petersen/Getty Images

In the world of NBA basketball, reputations take the place of the nicknames doled out to notable athletes pounding the pavement during street basketball games.
Despite having the world's best scouts, coaches, front offices and analysts dissecting each 48 minute snapshot of the 82-game season, players can still bank off an impressive season (or even stretch of play) in contract negotiations or minutes earned in a rotation.
Perhaps due to the wealth of information available on the 400-plus players who make up the NBA's player personnel during any given season, some guys are able to sneak by on the strength of past performances. The seemingly unending supply of data can be twisted and manipulated into making these players appear capable of repeating those performances or, in some cases, close to cashing on the gobs of potential that brought them to this league in the first place.
Much like those colorful nicknames, reputations are as hard to shake as they are to establish. And for this group of players, that's something they are staking their careers on.
All stats used in this article are accurate as of 11/18/2012.
Begin Slideshow

»
Jonathan Daniel/Getty Images

Aaron Brooks was one of the many NBA players who decided to cash in on the unique economic opportunities created by the NBA lockout of 2011-12.
Following a 2010-11 season that saw Brooks' production (and minutes) decrease with a mid-season trade from the Houston Rockets to the Phoenix Suns, the then-restricted-free-agent opted to reintroduce himself to NBA scouts by playing a season in China.
Brooks shined for the Guangdong Southern Tigers and nearly guided his new team to a league championship. After sitting out the remainder of the 2011-12 NBA season, Brooks earned his unrestricted free agency and suddenly appeared as one of the best scoring guards on the market.
A two-year, $3.3 million contract brought the point guard to the Sacramento Kings over the offseason. The Kings were short on scorers, and Brooks figured to have a seamless transition into the scoring role that once netted him the 2009-10 Most Improved Player of the Year award after posting 19.6 points per game for the Rockets.
Coach Keith Smart's team has needed Brooks' scoring punch (their 91.2 point per game ranks 26th in the NBA), but he has yet to display that scoring touch of yesteryear. His 6.1 points per game ranks seventh among his teammates, and his 38.5 field-goal percentage would be the second-worst percentage of his career and ranks 10th on the Kings.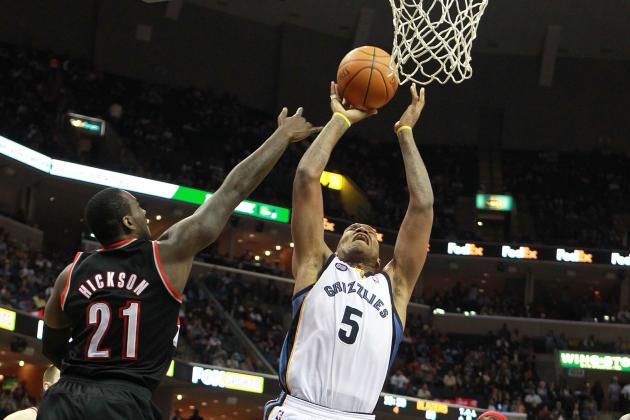 Andy Lyons/Getty Images

With the best record in the Western Conference (8-1), there isn't much that has gone wrong for the Memphis Grizzlies. They rank in the top five in both offense (101.11 points per game) and defense (92.11 points allowed), and their plus-9.0 scoring differential ranks third-best in the league.
Head coach Lionel Hollins has found consistency on his starting unit and some unexpected production from a trio of his reserves (Wayne Ellington, Quincy Pondexter and Jerryd Bayless).
But Marreese Speights has struggled mightily in an otherwise solid year for Memphis.
A capable rebounder for his career (4.3 per game), Speights has fostered a reputation of being a reliable scoring big over his four-plus NBA seasons.
The 2012-13 season, though, has seen a drastic reduction in his effectiveness on the offensive end. A 47.7 percent career shooter, Speights has converted on just 36.7 percent of his attempts this season. He's also posted a career high in turnover percentage (14.7) despite remaining fairly constant in terms of usage (22.6 usage percentage compared to a career 22.4 mark).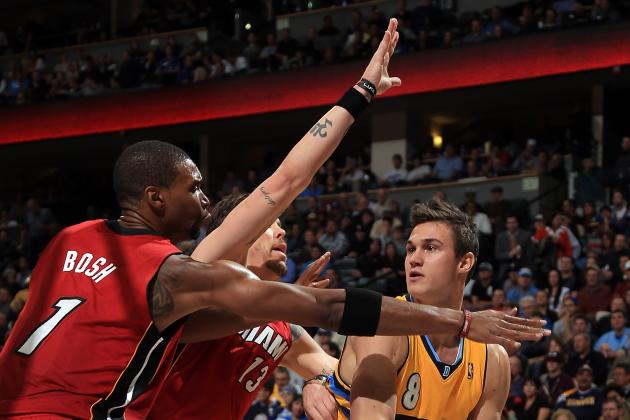 Doug Pensinger/Getty Images

The Denver Nuggets are a far cry from the trendy sleeper pick that so many analysts were counting on prior to the season's start. At 4-6, the Nuggets sit dead last in the Northwest Division and have looked woefully inept away from home (2-5 on the road).
The few-and-far-between Denver detractors questioned the club's ability to compete with the NBA elites without a true superstar on the roster. Denver supporters countered that the team housed multiple superstars already, including the versatile 6'10", 225-lb. marksman, Danilo Gallinari.
The sixth overall selection of the 2008 NBA draft by the New York Knicks, he has been on the verge of superstardom for the duration of his career. New Lakers (and former Knicks) coach Mike D'Antoni once told the New York Post's Marc Berman that Gallinari was "the best shooter I've ever seen".
Four-plus seasons later, Gallinari actually looks further than ever from being a future star. His 14.0 points per game are his fewest since his rookie year, while his 34.4 field-goal percentage would mark more than a 10 percent drop from the 44.8 percent (a career-high) he averaged as a rookie.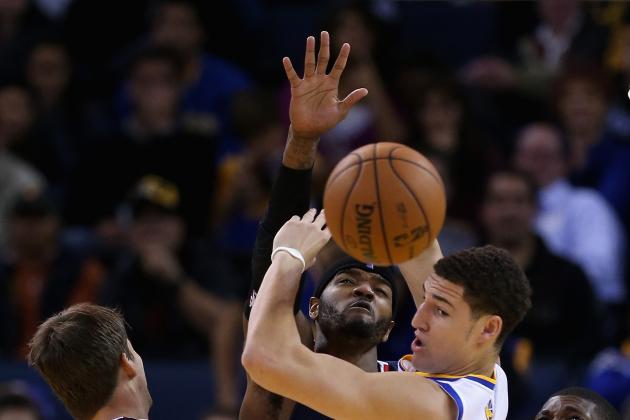 Ezra Shaw/Getty Images

If there was a bigger factor in the Golden State Warriors' 2012-13 success than keeping Stephen Curry and Andrew Bogut healthy, it was the development of Klay Thompson.
The 6'7", 205-lb. Thompson was not only the team's starting shooting guard, but he was also the player who instilled enough confidence for the front office to part ways with gifted scorer Monta Ellis. When word of Thompson's play with the U.S. Men's National Select Team spread, it seemed that the Warriors had done the right thing.
The Warriors could be questioning that move already, though, and not only because Bogut has been sidelined with ankle problems. Thompson has morphed into little more than a volume scorer (14.0 points on 14.5 field-goal attempts), while Ellis has helped lead the Milwaukee Bucks to a 6-2 start.
Thompson's too good of a shooter to not improve on his 31.8 three-point percentage, but his 35.2 field-goal percentage highlights the fact that he's been nearly useless when his outside shot hasn't fallen. Defense has never been his calling card, and his 2.2-to-2.3 assist-to-turnover ratio suggests he's not the play-maker that the Warriors thought he could be.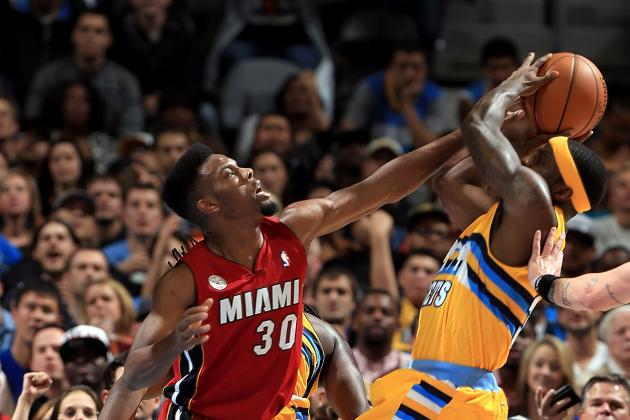 Doug Pensinger/Getty Images

Not to harp too hard on the Nuggets here, but Gallinari isn't the only projected star who's dimmed during the season's first few weeks.
Ty Lawson had kept his name near the top of the 2009 NBA draft point guard class, thanks to a nearly unrivaled burst and an efficient scoring ability.
This season, Lawson has failed to find easy buckets off of his speed alone. His 38.3 field-goal percentage marks the fourth consecutive season that his shooting numbers have dipped, while his 23.8 three-point percentage suggests the book may be out on how to limit his effectiveness.
Perhaps most concerning, though, is that Lawson's fourth season should be one where coach George Karl sees some development in his ability to play the point guard position. The reality is that he's turning the ball over now more than ever (3.0 and 17.9 turnover percentage, both career-worsts) despite seeing a drop in his usage (19.7 down from 21.2 last season).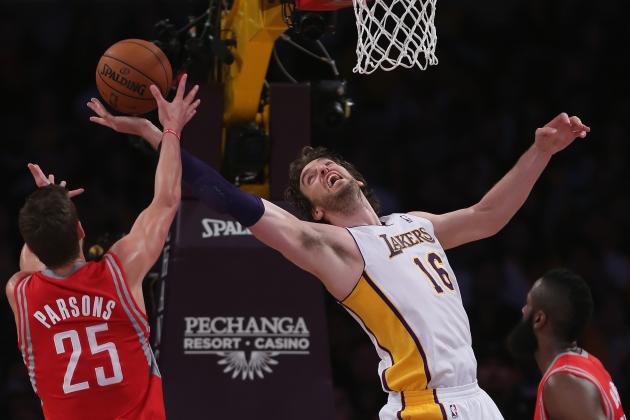 Jeff Gross/Getty Images

Gasol's reputation is at an all-time low. His confidence is visibly shaken, and he's a shell of the player that helped the Lakers win back-to-back championships in 2009 and 2010.
Still, his presence in the starting lineup was at least part of the hype surrounding L.A.'s all-time great starting lineup. And the Lakers' ill-fated attempt to acquire Chris Paul before the 2011-12 season shows that Gasol does still have suitors.
If his reputation has kept any potential trade partners around, it's time for the Lakers to pounce. Gasol is a starter by reputation only, and his 2012-13 production continues to shrink any potential returns. His 14.3 points are more than three fewer than his previous career-low, and his 43.6 field-goal percentage is a career-worst by nearly five full percentage points.