5 Mike Brown Mistakes Mike D'Antoni Can't Afford to Repeat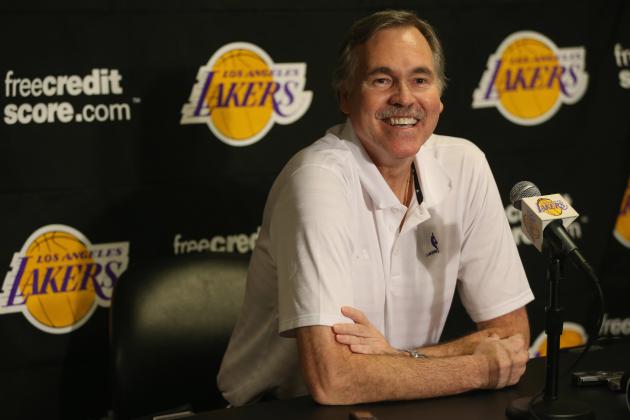 Jeff Gross/Getty Images

There's a reason why Mike Brown isn't coaching the Los Angeles Lakers anymore and Mike D'Antoni is.
In fact, there are plenty of reasons. And D'Antoni would be wise to make note of them, as the Lakers fanbase was chanting Phil Jackson's name, not his, after Brown got fired.
Luckily for D'Antoni, though, Los Angeles is already thriving within his newly implemented offense, so he's already bolstering his reputation in Tinseltown.
That said, such success will prove to be but a fleeting safe haven if the new head coach fails to make the necessary rotational and in-game decisions moving forward, especially as his roster reaches full-strength.
And if the Lakers success under their newly instated coach is short-lived, you can bet Jackson's entire Montana estate that D'Antoni's tenure in Los Angeles will be short-lived as well.
To the point where Brown's stint in Los Angeles will have seemed like an extended stay.
Begin Slideshow

»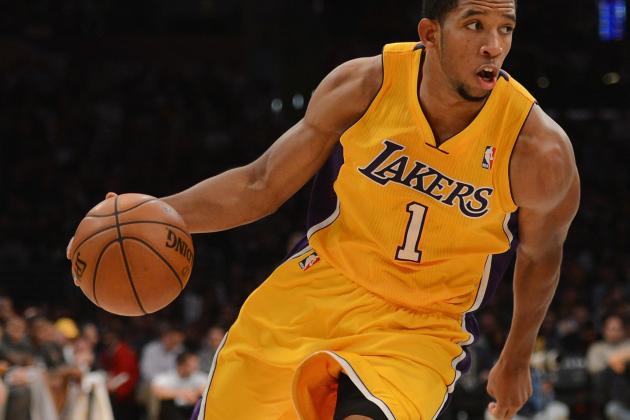 Harry How/Getty Images

Darius Morris is an athletic playmaker who has endless potential on either end of the floor.
In other words, he's everything Steve Blake and Chris Duhon are not.
With Steve Nash and Blake recovering from injuries, the Lakers have been forced to give Morris some extended burn. And you know what? He's looked good.
Over the past five games, Morris is averaging seven points and four assists in 26.2 minutes. With the exception of an 0-for-5 performance from the field against the San Antonio Spurs, he's also shooting the ball well.
Obviously Nash must be re-inserted into the starting lineup upon his return. Upon Blake's return, however, Mike D'Antoni must not be tempted to go with the veteran over Morris.
Blake has posted an underwhelming PER of 9.2, lower than Morris' despite the sophomore's limited action. He's also anything but athletic and overall, a terrible fit to run a point guard-dependent offense when Nash is on the bench.
Case in point: Mike Brown buried Morris and D'Antoni would be foolish to do the same.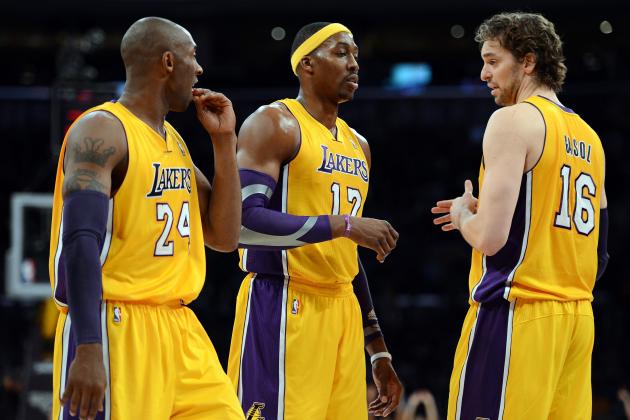 Harry How/Getty Images

I get it, the Lakers are old, but they're also built to run.
Even though the aggregate age of Los Angeles' starting five is 32.6, this team is built to run in transition.
Sure, Kobe Bryant and Steve Nash are getting up there in years, but all they do is run. Pau Gasol may be 32, but he's one of the most mobile big men in the game. And last time I checked, Dwight Howard is only 26 and the epitome of fitness.
So why not run the floor?
It seems simple, especially considering all Mike D'Antoni has ever encouraged is running the floor. That said, on a docket laden with aging veterans, he may try to limit their full-court schemes in order to conserve energy and preserve their health.
Which is a mistake.
At one point this season, the Lakers ranked last in fast break points per game, and now they're still averaging a terrible 10.9 transition points per night—fifth lowest in the league.
D'Antoni needs to ensure that Los Angeles plays to the strength of its aging, yet cunning roster by forcing it to climb out of the fast break doldrums.
Like now.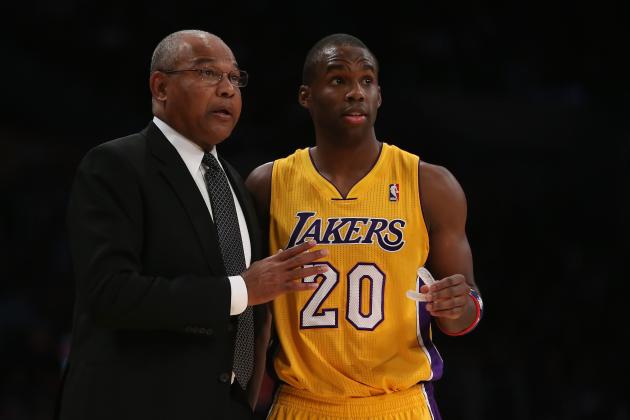 Jeff Gross/Getty Images

Remember when the Lakers were stoked about signing Jodie Meeks to provide some offensive firepower off the bench?
Then remember when Mike Brown buried him on said bench next to Darius Morris?
Of course you do.
Mike D'Antoni cannot afford to make that same mistake. While his system is known to basically materialize skilled three-point shooters out of thin air, Meeks is a career 36.8 percent shooter from downtown.
In a system that calls for the players to shoot threes like they're paid by the point, D'Antoni and the Lakers need all the deft snipers they can get.
Which means Meeks must play more than 10.8 minutes per night.
In fact, the general rule of thumb should be to not let Steve Blake log more minutes than Meeks. Ever.
Just saying.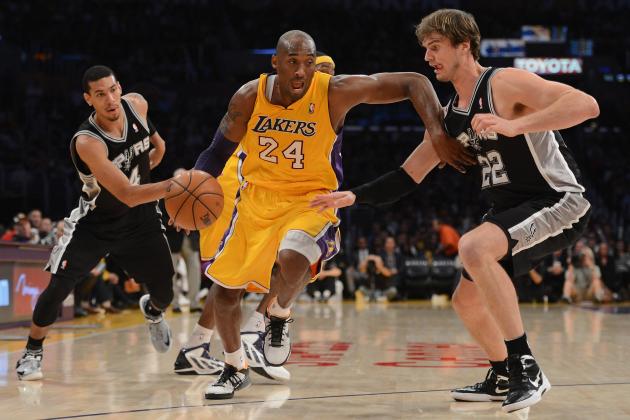 Harry How/Getty Images

Kobe Bryant loves to shoot, but he hasn't done a whole lot of that this season.
Not for Kobe anyway.
Though Mike D'Antoni's system calls for point guards to run the offense and dominate the ball, he must be sure to get Bryant his. I'm not just talking iso-oriented plays either. I'm talking everything, from backdoor cuts to pick-and-rolls to spot-up three-pointers.
Kobe is currently shooting 52.8 percent from the field, a career best. He's leading the league in scoring and is rapidly emerging as an MVP candidate on a team that was deemed too talented to have an MVP.
Go figure.
Bryant has done all this, though, taking just 17.8 shots per contest, the third lowest total of his career. His attempts are up since Mike Brown's departure, but it's time for D'Antoni to milk the shooting guard more than ever.
Bear in mind that when the Lakers put the ball in Kobe's hands against the Houston Rockets, he delivered to the tune of his 18th career triple-double.
D'Antoni must come to realize that Bryant is not your typical 34-year-old. Limiting his minutes and reducing his touches while he's in the midst of the most efficient season of his career is self-destructive, and secures losses, not wins.
Just ask Brown.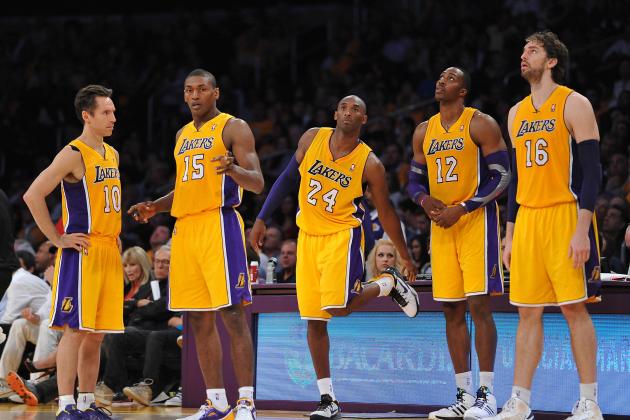 Jayne Kamin-Oncea-US PRESSWIRE

Mike D'Antoni is known as a players' coach and he has to stay that way.
Even though the coach finds himself in a seat that is arguably hotter than the one he occupied with the New York Knicks, he must not hit the panic button.
That's what Mike Brown did when he attempted to micromanage the star-studded Lakers.
He was so concerned with ensuring that all the prolific pieces fit together that he implemented the Princeton offense, which played to the strength of almost no one.
Almost needless to say, D'Antoni's offense will be a much better fit. It's free-flowing in its nature and allows the players to make instinctive decisions.
But he must ensure it goes beyond that. If the going gets tough, he should not try to manipulate the play styles of any of his All-Stars.
He must not waste time running up and down the sidelines while convulsing if everything doesn't go according to plan. He must not lose the locker room early on like Brown did in an attempt to satiate his own ego.
Instead, he must realize that Kobe Bryant and company are proven veterans who know what it takes to win.
So he just needs to preach his philosophies, sit back and let them win.
All stats from this article are accurate as of November 19, 2012.