Bears vs 49ers: Which Backup-Turned-Starting QB Has the Edge in Every Category?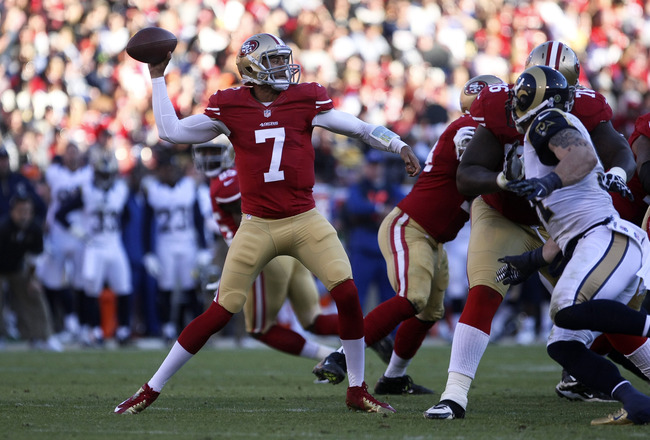 Kelley L Cox-US PRESSWIRE
An important NFC clash between the San Francisco 49ers and Chicago Bears on Monday Night Football will feature a battle of two backup quarterbacks.
Veteran Jason Campbell is scheduled to start in place of Jay Cutler (concussion), while second-year quarterback Colin Kaepernick is the starter over a still-recovering Alex Smith (concussion), according to ESPN's Chris Mortensen. Call it the "Backup Bowl" Monday night in San Francisco.
Considering the NFL is such a quarterback-driven league, it's only natural to take an in-depth look at both backup quarterbacks to help preview Monday night's matchup.
Are the Bears better off with Campbell or are the 49ers with Kaepernick? We will decide in the following slides, using five major categories to guide the discussion.
Experience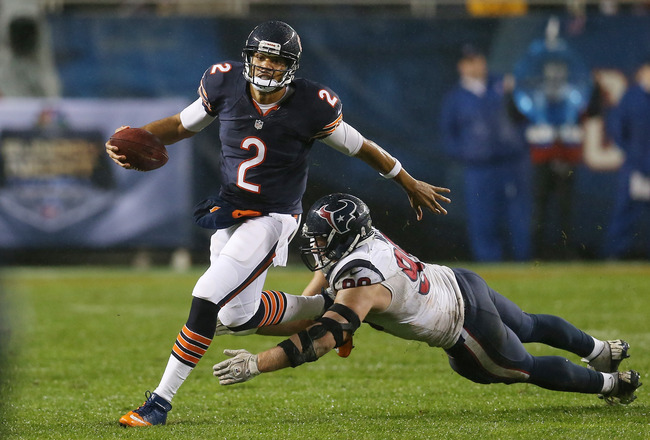 Jonathan Daniel/Getty Images
If there's one area where Campbell has a decided edge over Kaepernick, it's in the experience department.
Kaepernick, a second-round pick in 2011, will be making his first career NFL start Monday night. He's thrown just 31 passes for 241 yards over nine career games.
Campbell, an eight-year NFL veteran, has started 60 games since being drafted in the first round in 2005. He has 2,151 attempts for over 14,500 yards and 74 touchdowns in the NFL.
You get the picture here. Campbell is an experienced, well-versed quarterback in this league. Kaepernick is still raw and green at the NFL level.
Advantage: Campbell
Accuracy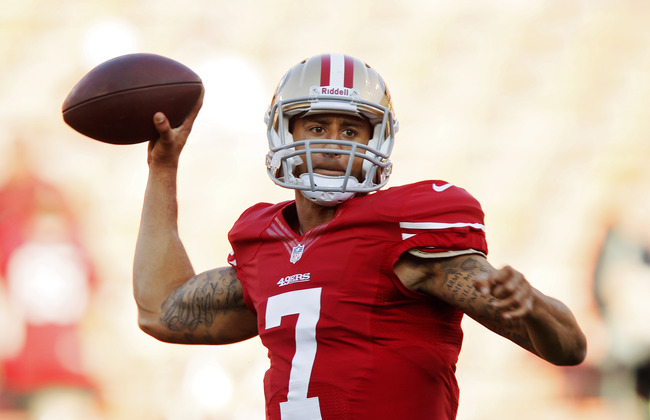 Brian Bahr/Getty Images
Rarely are backup quarterbacks asked to sling the ball downfield and make big plays in the passing game. Game plans are shifted to short, safe and efficient calls to help protect the backups.
That reality puts a premium on accuracy for the second-stringer. It's hard to differentiate the two in delivering the football accurately.
Campbell is a career 60.8 percent passer (1,308 of 2,151), while Kaepernick has completed 19 of 31 career passes (61.3 percent). You're splitting hairs in picking between the two, although Campbell's longevity might give him an edge. Kaepernick also had some delivery issues against the St. Louis Rams last Sunday.
Don't be surprised if both quarterbacks are in the 60-65 percent area Monday night. Neither offensive coordinator will be willing to push the ball downfield much, which means a lot of safe throws for each quarterback.
Advantage: Push
Mobility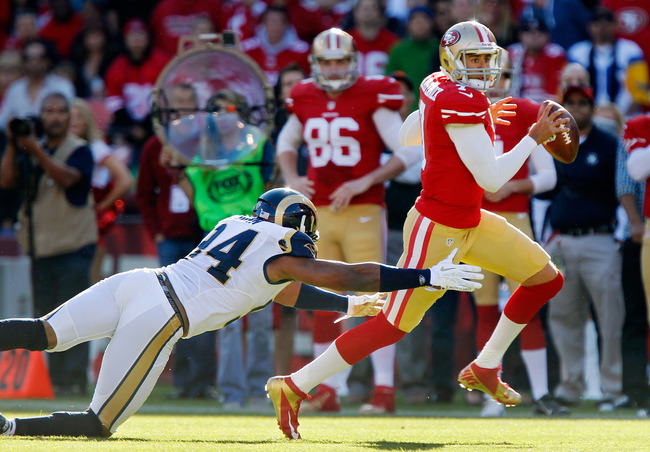 Brian Bahr/Getty Images
Believe it or not, Campbell has over 1,000 career rushing yards. That mark includes three seasons of more than 200 yards, which shows that he hasn't always been the statue that he looked like Sunday against the Texans.
Kaepernick, however, has a clear edge here. In six games this season, Kaepernick has 177 rushing yards and three scores. At the 2011 NFL Combine, Kaepernick ran the 40-yard dash in 4.53 seconds—the top mark for a quarterback in that draft class. He's a quick, slippery athlete who is at his best when he's pushing the edges of a contain defense.
If the Bears can make Kaepernick a pocket quarterback (something he's actually gotten much better at since entering the NFL), Chicago should be in good shape. Allowing Kaepernick to run around and make plays with his legs is asking for trouble.
Advantage: Kaepernick
Offensive Supporting Cast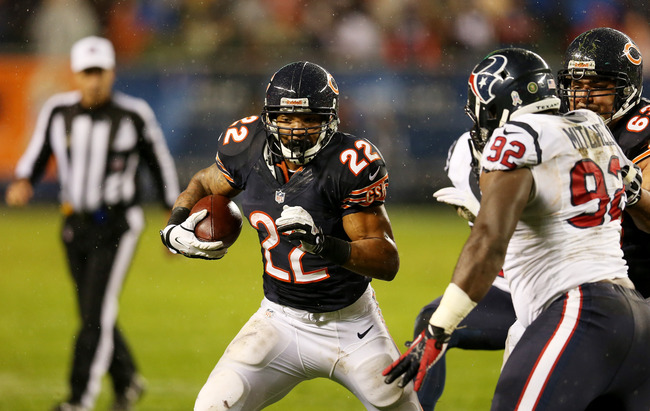 Jonathan Daniel/Getty Images
Brandon Marshall will be the best receiver on the field Monday night, and Matt Forte does more for the Bears offense than Frank Gore does for the 49ers. But it'd be hard to argue that the rest of the supporting cast in San Francisco doesn't completely overrule any slight advantage that the Bears hold with their two best offensive players.
The 49ers are deep at both receiver and running back, Vernon Davis is a top-10 NFL tight end, and the offensive line has Pro Bowl-caliber players at tackle and guard.
Campbell isn't heading into San Francisco with an empty cupboard, but Kaepernick clearly has more to lean on in terms of talent around him. In a game likely to be as closely contested as this, Kaepernick's advantage in offensive talent can make all the difference.
Advantage: Kaepernick
Defense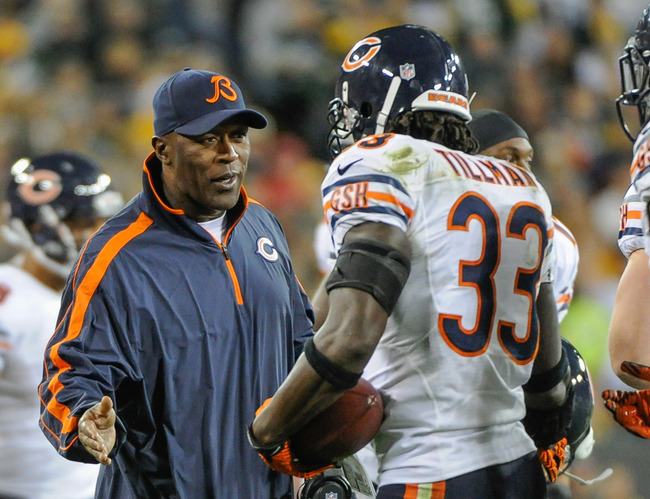 Benny Sieu-US PRESSWIRE
The 49ers and Bears represent two of the game's best defenses, so picking a clear advantage for either quarterback is a difficult task. But if there's anything that can tilt the decision one way or another, it's the Bears' ability to turn giveaways into instant points.
Chicago currently leads the NFL in non-offensive touchdowns with eight, while the 49ers haven't been the same turnover-happy defense they were in 2011.
Both quarterbacks are likely to make mistakes Monday night. The Bears are more likely to turn those mistakes into points.
Advantage: Campbell
Keep Reading