Since this is a week where we give thanks for everything we have, what better opportunity is there to look at the NFL games on the schedule for Week 12 that we are most thankful for?
Considering the fickle nature of the NFL season, not to mention the fast pace with which everything can change, this is the time of year where we get to see teams tested both physically and mentally like never before.
We are roughly three-quarters of the way through the season, which is when you start to see fatigue setting in and pretenders get separated from contenders. It truly is the most wonderful time of year, whether you are stuffing your face with food or sitting down to watch an NFL game.
Here are our predictions for what to expect from the biggest games on tap for Week 12 of the NFL season.
New England Patriots at New York Jets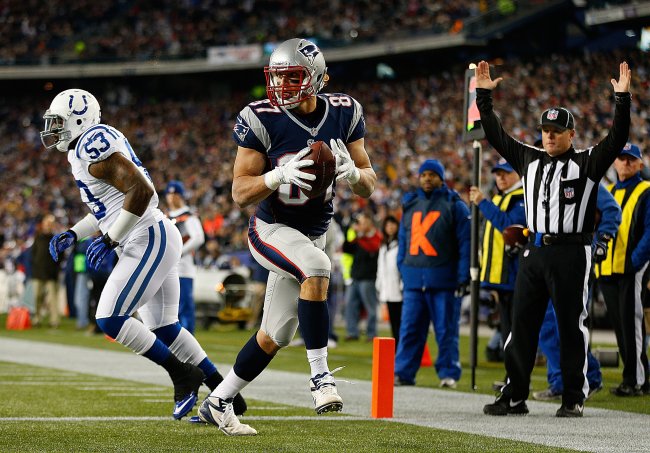 Jim Rogash/Getty Images
While this game looked like a snooze a week ago, the loss of tight end Rob Gronkowski for a "few weeks" after surgery gives the Jets the opening they need to take advantage of a short week.
As great as Tom Brady and the Patriots offense has been this season—they lead the NFL with nearly 36 points per game—a lot of what they like to do revolves around Gronkowski. Seven of his 10 touchdown catches have come in the last four games.
For all the talk of Rex Ryan being fired, or Tim Tebow being terrible, the Jets are not dead and buried yet. If they can win this game, they will move their record to 5-6 with winnable games against Arizona, Jacksonville, Tennessee, San Diego and Buffalo.
Of course, that would require the Jets to find a level of consistency they haven't had all year. There is some optimism floating around New York right now, but even on a short week they won't be able to hang with the Patriots.
Patriots 27, Jets 17
San Francisco 49ers at New Orleans Saints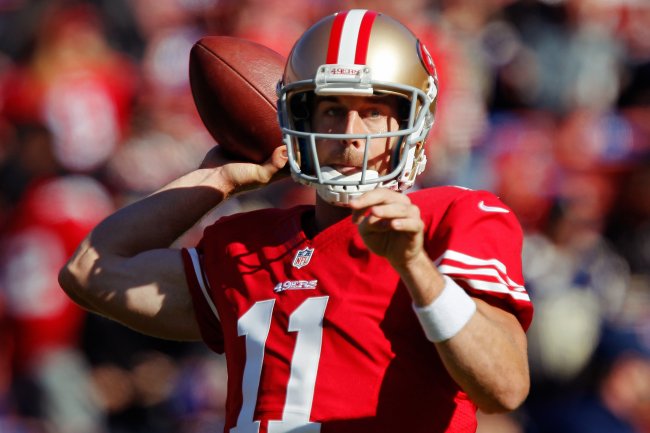 Brian Bahr/Getty Images
Which NFC team needs a win most this weekend?
Without a doubt the biggest game of the weekend, the 49ers and Saints both face different questions coming into this game.
For the 49ers, everything will revolve around the status of quarterback Alex Smith, who had to sit out Monday's game against Chicago with a concussion.
For the Saints, this is a great chance to prove they belong in the conversation with the best teams in the NFC. After an 0-4 start, they have stormed back to win five of their last six games to get to .500.
In addition to those singular stories, the Saints and 49ers presents a compelling matchup of strength vs. strength. Drew Brees and the high-powered Saints offense going up against the relentless 49ers defense.
Considering we don't have a clear picture of what the 49ers will look like coming into this game, not to mention the fact that the Saints are playing as well as any team in the NFC right now, you have to like the home team.
Saints 24, 49ers 13
Green Bay Packers at New York Giants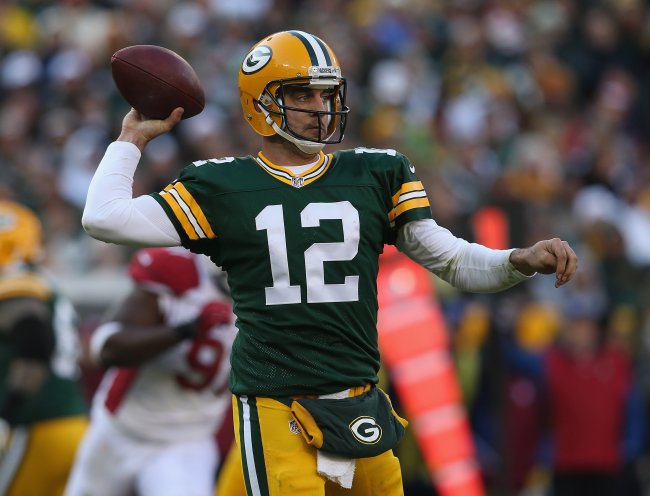 Jonathan Daniel/Getty Images
Another NFC Divisional Round rematch from last January, the Packers and Giants are heading in opposite directions right now.
After being proclaimed the best team in the NFC following an undefeated October, which included a 23-point win at San Francisco, the Giants have lost their last two games and find their gap in the NFC East closing ever so slowly.
The Packers have won five straight games and are peaking at the right time. Aaron Rodgers has been every bit the MVP he was last season. He has thrown 17 touchdowns and just two interceptions during this winning streak.
Watching the Giants, I have no idea what they are. They can look great one week, average the next and terrible the week after that. They are a team with a lot of components that is good enough to get in the playoffs, but never consistent enough to play at a high level all year.
Right now, the Packers look like the best team in the NFL. They have a lot of work ahead of them to win the NFC North, but you have to be impressed with what they have done following a slow start.
Packers 28, Giants 24