MMA Fighters Fallen from Grace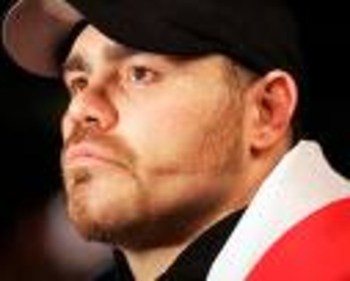 Every dog has his day. Well, at least the memorable ones do.
There have been numerous Mixed Martial Artists who have ridden meteoric rises to the top of the MMA world and gained worldwide popularity. But lately, many seem to be under heavy fire.
In this slide show I have showcased a number of fighters who the masses seem to have come to dislike in one way or another.
Ken Shamrock
Alright, this one is a gimme. Ken Shamrock, formerly known as "The World's Most Dangerous Man", is now a washed up legend who doesn't know when to quit.
He enjoyed a superb career until his 2002 loss to Don Frye, going 2-6 since then, with wins over Kimo Leopoldo and Ross Clifton.
Before beating Clifton, Shamrock was on a five loss and five-year streak. A win is a win, but Clifton was on a three-loss streak against low level competition and was about 130 lbs overweight.
Ken's latest attempt at a comeback was to be against Bobby Lashley, but Shamrock tested positive for THREE different kinds of steroids.
When he wouldn't listen to the fans to give it up, he has to at least listen to the CSAC a received a one-year suspension.
Tim Sylvia
Tim Sylvia has become more and more hated lately, and frankly, I don't understand this one as much.
Tim Sylvia is 24-5, still ranked as No. 8 HW, and his last two losses have been to the legends Nogueira and Fedor.
The reasons people don't like Tim are: he doesn't have an athletic build and looks a bit soft, people don't like his personally, he fights conservatively at times, and last but not least, everybody roots for the little guy.
It's too bad Tim is losing popularity, because now he's reduced to boxing Ray Mercer.
Matt Hughes
Simply put, Matt Hughes is the greatest champion the UFC has ever had. With his trademark slams and friendliness, he captured the hearts of MMA fans.
Then, he started opening his mouth and a lost a lot of fans.
For some reason, MMA fans seem to all of a sudden have ADD and have written off Matt Hughes, when he's only lost to GSP and Thiago Alves (No. 1 and No. 2 WWs).
B.J. Penn
B.J. Penn, No. 1 lightweight in the world.
Appropriately named "The Prodigy", B.J. is an amazing fighter who is the only one on this list still at the top of his career.
It's really a shame he talks to much trash and this grease-gate scandal has really sent his image down the toilet.
Tito Ortiz
Tito Ortiz's story is a sad one.
Once the greatest LHW in the world, he is now considered a washed-up, whiny bitch. I think Tito has the most reasons for people to hate him, but I would like to point out he's still a great fighter.
Since he lost to Liddell, he drew with Evans (which he only didn't win because of a one-point reduction), and lost against Machida (bad matchup against a great fighter).
Tito is the biggest PPV draw the UFC's ever had, but sadly one of the most hated fighters.
Mirko (Cro Cop) Filipovic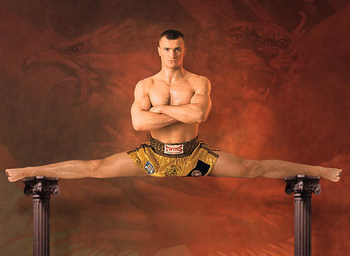 Mirko (Cro Cop) Filipovic was once the most feared striker in the HW division.
This man had a short stint in the UFC, which didn't work out to his favor, and now he is considered irrelevant, despite the fact he had injuries plaguing his performance during this time.
Cro Cop is at the point in his life where he can still come back in top fighting form and hold a belt. Only time will tell if we see the old aggressive Cro Cop, or the newer apprehensive one.
Chuck Liddell
Yes, he's Dana's butt-buddy. Yes, he has a little belly on him. Yes, he's lost three of his last four fights.
I really don't know why people hate Chuck so much. The MMA community is writing fighters off quicker and quicker without realizing the way in which the loss occurred.
Chuck lost to Rampage (No. 1-3 LHW depending who your source is), lost to Jardine in a split decision war (No. 7 LHW who just gave Rampage one hell of a fight) and Rashad Evans (No. 1 LHW and Chuck won the first round).
Chuck wants the world to see him in his true form, so if Shogun doesn't come in top condition at UFC 97, watch out world.
In Closing
Alright, so I'd like to hear some feedback on whether you love or hate each of these fighters.
Also, I would like to hear more fighters that I should have included. I'd enjoy feedback and thanks for reading!
P.S.- I realized halfway through that I wanted to write an article on how quick MMA fans write off great fighters and now I wish I had separated the two subjects.
Keep Reading