Top Rivalry Games That Will Have the Biggest Impact on 2013 Recruiting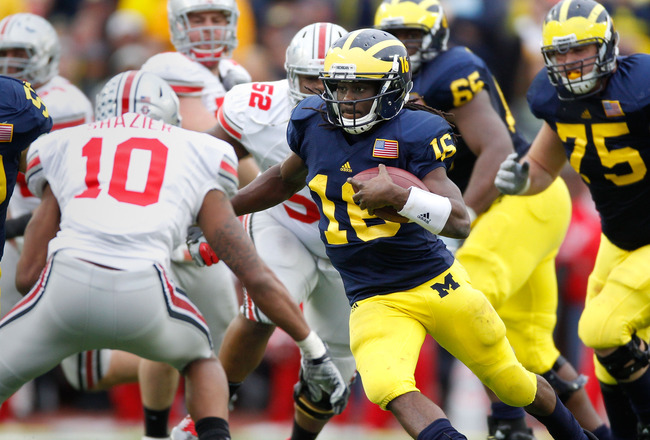 Gregory Shamus/Getty Images
Rivalries are part of what makes college football so special. The passion that the two fanbases exhibit, the disdain displayed towards each other by both schools, the competitive notch that the players of both schools ascend to and the pageantry around the games is all fantastic.
Rivalry games can have an impact on recruiting, most certainly. Recruits do watch games and the outcome can have an impact on where they eventually land. This 2013 season has, of course, several excellent rivalry games and they all will have an impact on the recruiting trail.
Let's check them out!
The Egg Bowl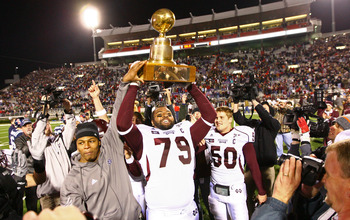 Marvin Gentry-US PRESSWIRE
Ole Miss and Mississippi State are two programs that want to get to the next step in the SEC. The Rebels are led by Hugh Freeze, while Dan Mullen runs the Bulldogs' outfit.
The two programs will be getting together for the Egg Bowl this weekend and this is a nasty rivalry. Recruiting implications are on the line as players like Antonio Conner and Kailo Moore are two studs considering both schools.
Miami & Florida State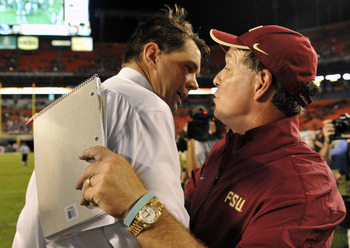 Steve Mitchell-US PRESSWIRE
This rivalry game already took place, with FSU earning a victory a few weeks ago. The two programs do not like each other very much and the rivalry spills onto the recruiting trail.
Many players on each team grow up playing against each other around the Sunshine State, so the competitiveness in this game is fierce.
With players like Matthew Thomas and Tim Williams considering both schools, look for each program to recruit the two players hard—not only to get them, but to also keep them from a rival.
UCLA vs. USC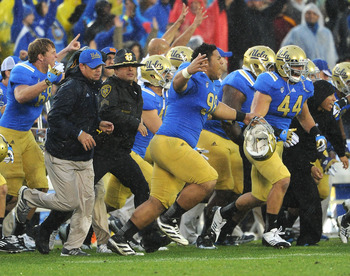 Jayne Kamin-Oncea-US PRESSWIRE
The Battle of Los Angeles has been relatively one sided in recent years, with USC being the dominant program. UCLA is under new management and Jim Mora Jr. is not afraid of the Trojans.
That showed this past Saturday, as Mora has his team come into the game expecting to win. Mora has the energy, work ethic, moxie and charisma to challenge USC on the recruiting trail in California.
This win should lead to more recruiting momentum for the people in Westwood.
Ohio State vs. Michigan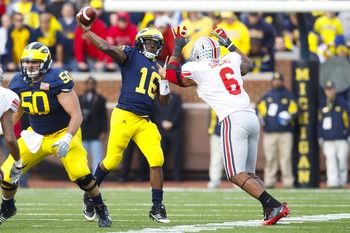 Rick Osentoski-US PRESSWIRE
The Buckeyes and Wolverines will meet up yet again this weekend. This is a classic rivalry and the two programs respect each other, but there isn't much fondness between them.
Brady Hoke has said this is the most important game on the schedule every year and you know Urban Meyer, ever the great recruiting salesman, wants to win his first Michigan game.
With the two programs also doing very well in recruiting and wanting to get an advantage over each other this year and beyond, this game is vastly crucial.
Florida vs. Florida State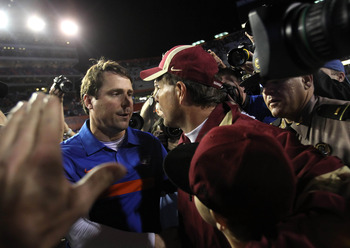 Kim Klement-US PRESSWIRE
The Gators and Seminoles' rivalry is what college football is all about. Players compete with passion, fire and intensity. The speed and athleticism this game annually displays is a sight to see.
This Saturday is the latest contest, and recruiting will be impacted by this game. With recruits like Laremy Tunsil, Alex Collins, Denver Kirkland, Marcell Harris and Keith Bryant having both schools among their main interests, a win could ensure a top-10 recruiting finish.
Edwin Weathersby is the College Football Recruiting Analyst for Bleacher Report. He has worked in scouting/player personnel departments for three professional football teams, including the New York Giants, Cleveland Browns and the Las Vegas Gladiators of the Arena League. He spent a year evaluating prep prospects and writing specific recruiting and scouting content articles for Student Sports Football (formerly ESPN Rise-HS). A syndicated scout and writer, he's also contributed to WeAreSC.com, GatorBait.net and Diamonds in the Rough Inc., a College Football and NFL Draft magazine.
Keep Reading