The Laziest Fighters in MMA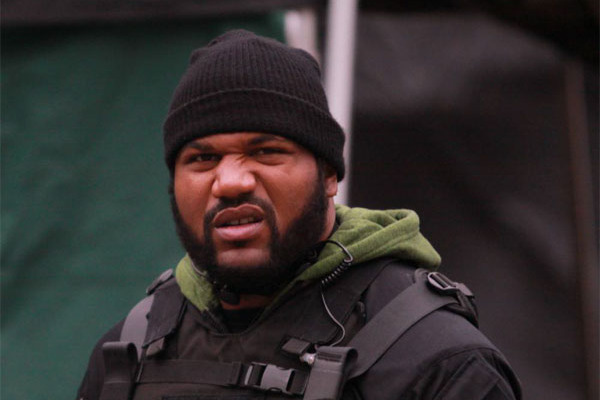 Photo courtesy of MMAMania
Before you leap to chastise me for calling any professional mixed martial artist lazy, allow me to have my say.
First off, the fact that I feel the gentlemen featured in this list typically lack motivation doesn't mean I intend to overtly disrespect any of them. In fact, of the men featured on this list, only one (you'll likely guess the entrant the moment you see his name) actually rubs me the wrong way. Most of these guys are pretty gnarly fighters despite their apparent absence of drive.
So, before you start typing some hot air "how dare you" brouhaha, understand that the point of this piece is to have a little fun, keep it lighthearted and get you talking.
Who looks like a lazy clown in competition? Who was the laziest guy you ever witnessed walking into a cage? Could Tank have been a legitimate force had he decided to pry himself from the bar stool long enough to discover what the inner workings of an actual gym looked like?
These are amusing questions, and this is an amusing topic. It's not meant to be interpreted as a dead-serious debate.
Begin Slideshow

»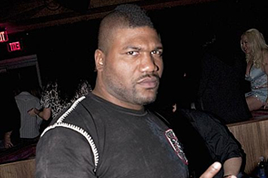 Photo courtesy of URDirt.com
Quinton "Rampage" Jackson was once a highly feared light heavyweight with a propensity for massive slams and savage combinations. During his run in Pride, Rampage put on many a fantastic show and gained legions of fans with scintillating performances against the likes of Ricardo Arona, Chuck Liddell and Kevin Randleman.
He looked like the long-term future of the 205-pound division until some shady happenings left 'Page and coach Juanito Ibarra on the outs. Apparently, Ibarra may have been dipping his hand a bit too deep in the cookie jar, taking more than his fair share of Jackson's earnings.
We'll probably never know the full extent of what occurred between the two, but we do know one thing: Rampage hasn't looked quite himself since the two went their separate ways. Sure, he's picked up some impressive wins here and there, but he's not posting 6-1 streaks (his record under the tutelage of Ibarra) as of late.
In fact, Rampage looks downright burned out. He doesn't seem like a guy who's excited to be competing under the most recognizable banner in existence, he doesn't appear to be driven to work on the areas of his game that have been neglected (defensive wrestling and some diversity in his offense) and he certainly doesn't seem to be a guy who cares much one way or the other about anything related to physical work during his downtime.
A professional fighter who campaigns at 205 pounds and stands 6'1" should never flirt with the 250-pound mark. That's the sign of a fighter who just doesn't give a damn. I'm a huge fan of the man's work inside the cage, but outside, he seems quite lazy.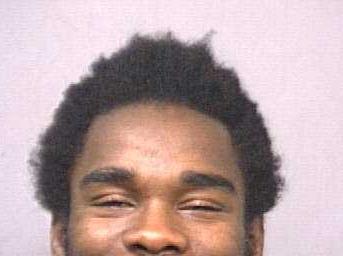 Photo courtesy of Arrests.org (yes, you can laugh)
I'm having a little difficulty tracking the video down, but I'm about 97 percent certain it was "Krazy Horse" who once made a post-fight joke about masturbation being his most intense form of physical preparation for a fight.
One look at the man's body of work, and it becomes apparent that this statement is probably quite accurate.
Bennett runs out of steam after a few minutes in nearly every single fight. His name has become almost synonymous with the word "lazy" (I see another nickname adjustment on the horizon), but maybe he deserves a little slack. The man's been arrested more than Lindsay Lohan, Mike Tyson and yesteryear's Robert Downey, Jr. combined. It can't be too easy to squeeze legit training sessions in at the county jail.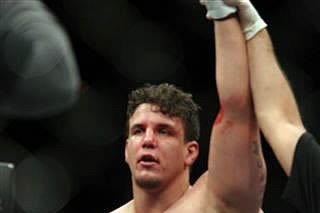 Photo courtesy of Sherdog
I'm not certain I'll ever truly understand the inner recesses of Frank Mir's mind. The guy has some amazing natural ability, and that often seems to be enough for the former champion.
He began his career by avoiding training, instead relying on his uncanny ability to secure startlingly quick submissions. It looked as though Ian Freeman may have given him the wake-up call (way back at UFC 38) required to keep his future bright.
After four impressive victories, including a successful bid for the UFC's heavyweight title, Mir was in a motorcycle accident that left one of his femurs badly broken. It looked as though it might be an early end to a once-promising career.
After nearly two years away from the cage, Mir returned, but he clearly wasn't prepared to do so. His cardio was lacking, his technique seemed to have gone AWOL and his heart was left on the side of the same road he wrecked his bike on.
Mir's been nothing but up and down since 2006. He looked great in 2008, only to produce a few stunningly poor performances in '09 and '10. He's yet to rediscover the kind of drive that saw him re-emerge as a serious threat in 2008.
He looked perennially drained during his bout with Crocop at UFC 119 and looked not only out on his feet, but out of gas, after three minutes inside the cage with a healthy Antonio Rodrigo Nogueira at UFC 140. Yes, he eventually managed to secure a victory in that fight, but not until we'd already seen that lost look sink into his features.
Who knows what kind of Frank Mir we'd see if the man could keep his training camp running on all cylinders. Outside of a brief spell in 2008, I'm not sure the man has ever been truly motivated to train properly.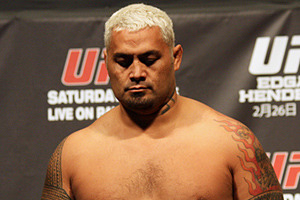 Photo courtesy of MMAjunkie
I don't expect Mark Hunt to show up for a fight looking chiseled. That's simply not how the New Zealander was built. He's a chubby brick house, and that's A-OK in my book. The guy is still a monster when he actually shows up to a fight in decent shape.
Unfortunately, Mark's spent half of his career taking the path of least resistance, which coincidentally happens to be the path lined by the fewest gyms and a wealth of tasty burger joints.
I don't recall Hunt ever failing a drug test, but if this man doesn't sit back and worship the Ganja and the Twinkies, I'd be genuinely stunned. Seriously, just tune in to one of his post-fight speeches. Half the time, the man sounds nearly incoherent (even in quick victory), and it looks as though he's somehow found himself stuck in an eternal battle to keep his eyelids fully raised when conscious.
I spent quite a few years on my couch with a joint in one hand and a bag of chips in the other. Who I see when I look at Mark Hunt is the same guy I saw in the mirror all those years ago.
Put the bong and the Doritos away, Mark; you've got all the tools to be a fantastic fighter. But it takes work, my friend; it takes work.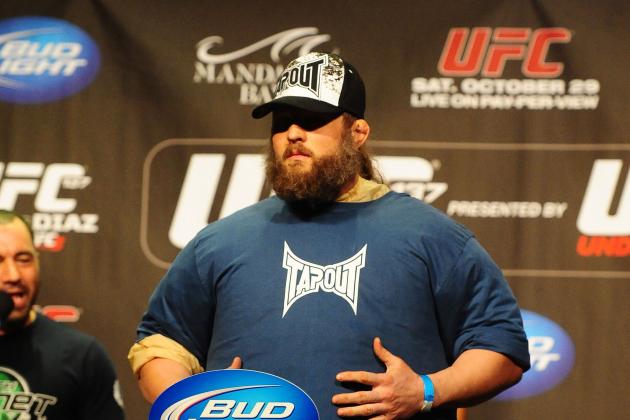 Mark J. Rebilas-US PRESSWIRE

If you have your doubts about the drive of Roy Nelson, just turn on an episode of the current season of The Ultimate Fighter. This guy coasts in a way that is just outright mind-boggling.
Initially, I attributed that big belly to Father Time and genetics. After getting a much more accurate (feels funny saying that when discussing a reality show, but not even editing can manipulate this situation enough to distort the truth) read on the man by watching the oft-derided TUF season 16, I can no longer lie to myself.
Roy Nelson is fat because he's lazy, possesses a disturbing sense of self-entitlement and just flat-out refuses to push himself as hard as his peers.
If you believe I'm way off base, track down the "Coaches Challenge" episode of this season's TUF. It's utterly embarrassing, but completely reaffirming: Roy's fat because he refuses to work hard enough not to be.
Hit me with the profanities on Twitter!