5 Luckiest Teams in Recent World Football History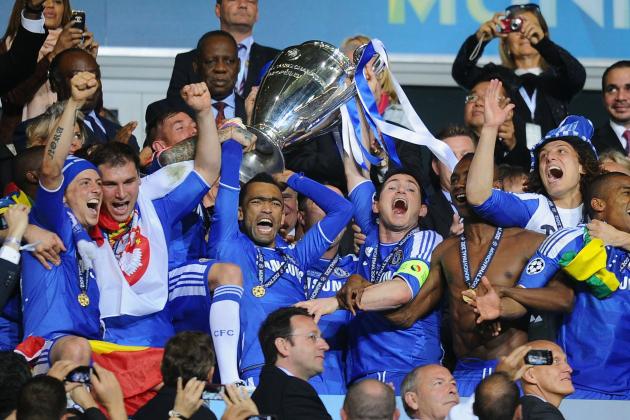 Mike Hewitt/Getty Images

They say that football is a game of two halves and that you only get what you deserve out of a match, but I don't think that's necessarily the case.
There have been countless occasions where a team has ridden their luck in search of glory.
Whether it's been on a domestic or European stage, there are occasions where a team has been lucky to end up with a trophy or had a glorious run to a major final.
I'm going to look at five of the luckiest teams in recent world football history.
Begin Slideshow

»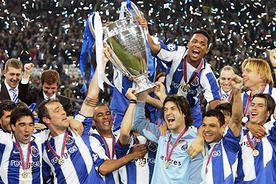 Image courtesy of guardian.co.uk
It's almost been 10 years since FC Porto won the Champions League.
It would be fair to say that, on paper, that team had no right to win the tournament.
They came within a whisker of going out at the quarter-final stage to Manchester United at Old Trafford.
Despite having a 2-1 lead from the first leg in Portugal, a first-half Paul Scholes strike looked to send the English side through.
Only a last-minute goal from Costinha prevented the Portuguese side from crashing out.
Of course, the now infamous celebrations of that goal are familiar to most football fans around the world, with Jose Mourinho sprinting down the touchline to celebrate with his players.
Porto's starting lineup for the 2004 Champions League final was: Vitor Baia, Nuno Valente, Ricardo Carvalho, Jorge Costa, Paulo Ferreira, Costinha, Maniche, Pedro Mendes, Deco, Derlei and Carlos Alberto.
Apart from goalkeeper Vitor Baia, I don't think any of us really knew who the Porto players were in that starting lineup.
If you hadn't seen any of their European games that season, you'd have been clueless.
When something like that happens, you just automatically dismiss their chances, which is what happened in 2004.
They ran out deserved winners in the final when they beat Monaco 3-0. Porto rode their luck in the early stages, and that's why they're on this list.
Image courtesy of guardian.co.uk
Let's be perfectly honest here.
Liverpool didn't win the Champions League in 2005. Steven Gerrard and Jerzy Dudek did.
Liverpool had looked like going out of the competition completely before Christmas, but three second half goals against Olympiakos ensured that they just sneaked through to the latter stages.
During the knockout stages, the Reds also rode their luck, especially in the semifinal against Chelsea.
At the time, Jose Mourinho was the Chelsea coach, having moved to London from Porto the previous summer.
A very dubious Luis Garcia strike, where the ball didn't look like it crossed the line at the time, in the second-leg was enough to see Liverpool to their first European Cup final for decades.
It's been heralded as the greatest Champions League final in history.
In May 2005, AC Milan took on Liverpool in the Champions League final.
After a catastrophic first half, Liverpool went in at half-time 3-0 down to Milan, and it looked like there was every chance of the final result resembling a cricket score.
Some tactical changes at halftime saw a more determined and dynamic Liverpool emerge for the second half, where three goals in six minutes saw the Reds level the score at 3-3.
There were still some dodgy moments before the business end of proceedings though and, had it not been for a fantastic double save from two Andriy Shevchenko efforts by Jerzy Dudek, Liverpool would have lost the match in extra time.
Dudek's heroics weren't over though as he once again broke Shevchenko's heart in the penalty shootout, saving Milan's final penalty to ensure that the Reds were once again crowned champions of Europe.
Liverpool's entire 2004-2005 Champions League campaign was based on luck, and how they won the competition that year is a mystery!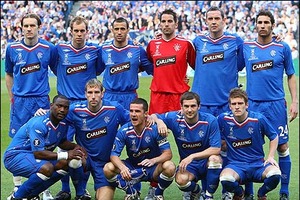 Image courtesy of loyalonline.50webs.com and Getty Images
In 2008, the now defunct Rangers FC became the second Scottish team in five years to make a European final.
Celtic had made the 2003 UEFA Cup Final when they narrowly lost out to Porto, so Rangers fans and players wanted to go one better to prove a point to their Old Firm rivals.
Although this is only just over four years ago, I've still got absolutely no idea how Rangers managed to make it to this final.
They were put into the UEFA Cup after finishing third in their Champions League group and just managed to sneak past Panathinaikos on away goals.
Their next fixtures in the competition were against Werder Bremen, and how the Germans went out I'll never know.
In the second leg in Germany, Bremen absolutely battered Rangers and if Allan McGregor hadn't been in goal, Rangers would have been deservedly thumped and knocked out of the competition.
The following round saw Rangers get past Sporting Lisbon of Portugal before making it to the semi-finals against Fiorentina.
What happened over the course of those two games is one of the biggest injustices in football, regardless of the teams involved.
One thing that I cannot stand is when a team sets out to play anti-football. They turn up, get men behind the ball and look to stifle their opponents, instead of making a game of it.
That's what Rangers did against Fiorentina, and they managed to get through to the final on penalties, where Allan McGregor was once again the hero.
Rangers were caught out by Zenit Saint Petersburg in the final, but their route to Manchester was paved by sheer luck, nothing else.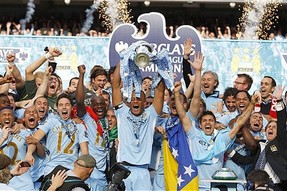 Image courtesy of telegraph.co.uk
The last two choices on this list might surprise a few people, but here we go, starting with the current English Premier League champions, Manchester City.
Since being taken over by an Abu-Dhabi based consortium in September 2008, I wouldn't even like to guess how much money Manchester City have spent on players.
It's probably somewhere in the region of £400 million, which is an absolutely frightening and astonishing amount of money to have spent in just over four years.
The fact that the owners only have two trophies to show for it is almost disgraceful.
As soon as the owners took over, other clubs knew that City had the financial clout to afford inflated transfer fees for players who weren't even worth half of what City paid for them.
Samir Nasri, Emmanuel Adebayor and Roque Santa Cruz are just three examples off the top of my head.
They're worth nowhere near the inflated fees that City paid for them, and I think that deep down City officials know that and will probably have put that down to experience.
Anyway, getting back to the fact that they won the league with the last kick of the ball.
City dominated the league in the early part of last season, putting their opponents to the sword with a series of scintillating, eye-catching displays.
For one reason or another, they completely fell apart during the middle part of the season, and their lead at the top completely evaporated to the point that, after they lost to Arsenal at the beginning of April, they were eight points behind Manchester United with just six games to play.
Somehow, City managed to overhaul the deficit and, heading in to the final game of the season, both Manchester clubs were neck and neck at the top of the league, with either side knowing that a win would probably be enough to secure the title.
With United's game at Sunderland over, Sir Alex Ferguson's side had won the match and thought they'd won the title.
Down in Manchester, City went into injury time against QPR losing 2-1, and their fans must have been devastated at how their season had turned out.
All of a sudden, Edin Dzeko scored a late equalizer to make the score 2-2, and there was a chance, albeit a slim one, that if City scored again they'd become champions.
Roberto Mancini's side bombarded the QPR goal, and finally their persistence paid off after a pass from Mario Balotelli found Sergio Aguero, and the Argentine blasted the ball past the keeper to win the match and City their first championship in almost 45 years.
The reason why I've included City here is because despite their enormous wealth and the tremendous squad they've assembled, it came down to the last kick of the ball for them to win the title.
For a team that has the resources that City do, that was down to sheer luck rather than anything else.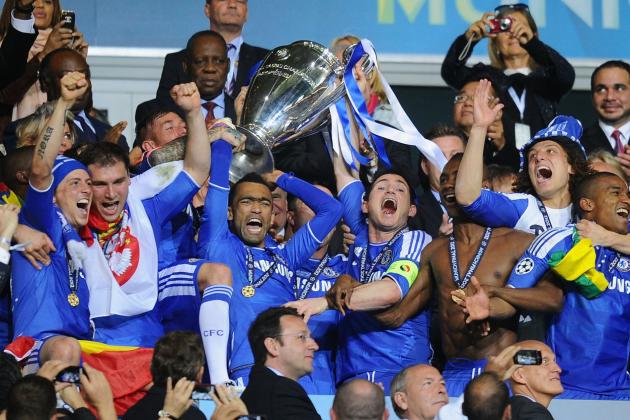 Mike Hewitt/Getty Images

You could probably have guessed by the picture at the start of this list that I'd be talking about Chelsea's Champions League triumph this past May.
Chelsea were not only lucky to get past Barcelona in the semi-finals, but they were more than lucky to win the actual final itself.
I mentioned in an earlier slide when I was talking about Rangers that the one thing I hate is a team who set out to play anti-football.
That's exactly what Chelsea did against Barcelona.
Let's be honest here, this wasn't a pub team going into a double-header against Barcelona. It was Chelsea, a side who had been crowned English Premier League champions in three of the last six seasons.
Their squad is full of talented footballers who are capable of causing any team problems, so the way they went about their business against Barcelona was very disappointing, but you can't argue with the fact that it worked.
They went into the final against Bayern Munich as underdogs.
Bayern had home advantage because the final was being played in Munich, and even the most ardent Chelsea fan must have had reservations about whether the team would overcome the odds.
Despite being outplayed and dominated for almost the entire match, the scores were level at 1-1 after 90 minutes.
Extra time was a more tense affair than the initial 90 minutes, but again, for my money, Bayern just had the edge in terms of possession and the chances that came their way.
When it came down to a penalty shoot-out, I was relaxed because if there's one thing you can rely on, it's a German side to win on penalties.
However, Chelsea and Petr Cech had other ideas, and Chelsea ended up winning the shoot-out 4-3 after Bayern missed their last two penalties.
Like I said, Chelsea were lucky to win the Champions League last season.
They were by no means the best side in the competition, and they didn't play the best football.
Chelsea were dominated in both legs of their semi-final as well as large parts of the final, so there's no doubt that they rode their luck to become European champions.
Whether or not they deserved it is subjective. Personally, I don't think they did because they didn't set out to win any of their last three games. They set out not to lose them, which is an entirely different thing.
In winning the Champions League, Chelsea became the third English club side in six seasons to win the Champions League on penalties.
If you can take anything away from this list, it's that English sides certainly have all the luck when it comes to European club football finals!