8 MLB Players Who'd Thrive on Other Teams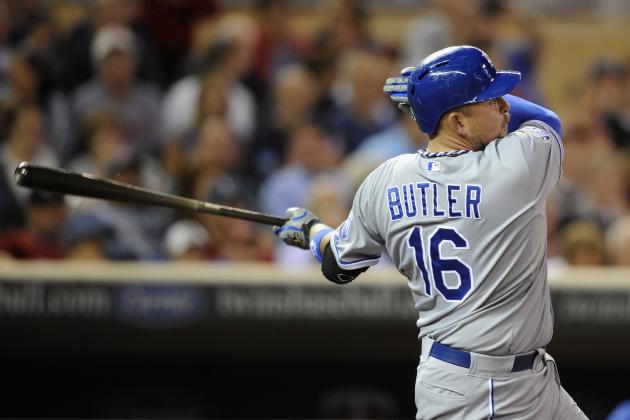 Hannah Foslien/Getty Images
Billy Butler is merely one of several MLB players who would thrive with other teams.
Whether they've just arrived or are on their way out, Major League Baseball is home to a slew of talented players who would thrive if placed in a more accommodating environment.
Not everyone gets to hit in front of the game's most feared cleanup hitter or pitch in a ballpark designed to devalue the long ball, though.
The idea does invite questions, like would Felix Hernandez's career record be better than 96-78 if the Seattle Mariners didn't hold an average yearly record of 73-89 during that span? Would the legacy of Ichiro leave a more significant impact on baseball had he been donning the pinstripes since 2001?
Probably so.
Sorry, Seattle. They're simply thoughts. But intriguing ones nonetheless. The following slides present eight MLB players who would thrive on other teams.
Begin Slideshow

»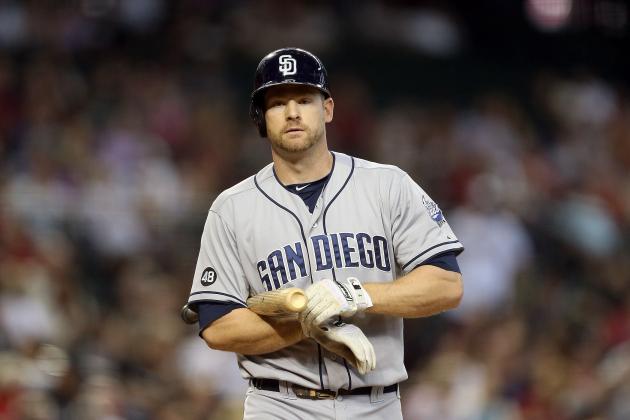 Christian Petersen/Getty Images
Chase Headley would be lethal if placed inside a potent lineup.
All signs point to Chase Headley becoming a perennial All-Star nearly anywhere outside San Diego.
The 28-year-old broke through in 2012, hitting .286 with 31 home runs, 115 runs batted in and 17 stolen bases. Throw in a defensive season that earned a Gold Glove, and you've got one heck of a player.
Although Headley remarkably finished ninth in all of baseball in runs created, San Diego still ranked 24th in runs scored. Only one other Padre recorded more than 10 HR or 50 RBI.
Additionally, he plays in one of baseball's most pitcher-friendly ballparks. Headley is a career .240 hitter in 345 games at Petco Park, but thrives away from home, hitting .302 in 345 road games.
Headley has undoubtedly emerged as one of the NL's elite third basemen. Hits from both sides of the plate (with power), possesses above-average speed and excellent defensive instincts. Just imagine the damage this guy could do in the No. 3 spot with a feared cleanup hitter in the on-deck circle.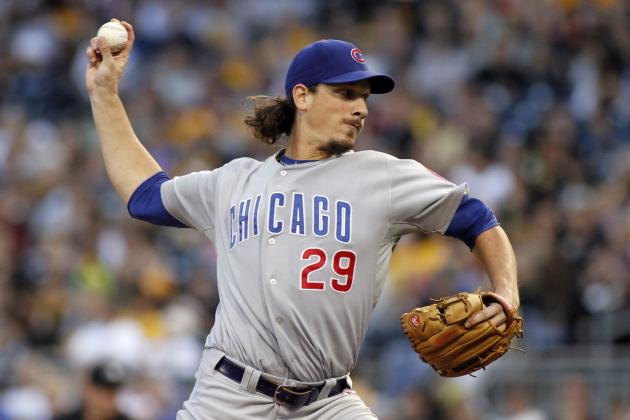 Justin K. Aller/Getty Images
Samardzija had 17 quality starts in 2012 yet finished with a 9-13 record due to poor run support.
Take away a horrible five-start stretch in June, and 17 of Jeff Samardzija's 23 starts in 2012 qualified as quality outings.
That's 17 starts (out of 28 total) in which the 27-year-old went six or more innings while allowing three runs or fewer. Yet, behind the second-worst run support of any pitcher in baseball, Samardzija finished the year with a 9-13 record.
A dual-sport star at Notre Dame (football and baseball), Samardzija's decision to commit to big-league baseball has proved a successful one. The 6'5", 225-pound hurler recorded 180 strikeouts this past season in addition to a 3.81 ERA and WHIP of 1.22.
He's proven to be effective as a reliever as well, pitching 88 innings out of the pen in 2011. This season, though, Samardzija showed us all why his long-term future as a top-end starter is extremely bright.
Just not as bright should he remain in Chicago. The Cubs endured their third 100-loss season in 2012 and won't be playing competitive baseball anytime soon.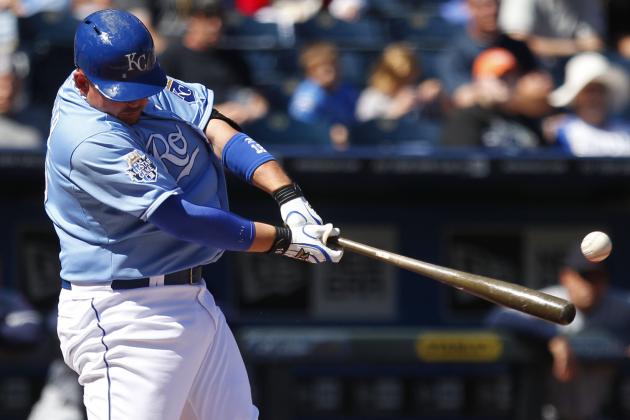 Kyle Rivas/Getty Images
Butler is an absolute star buried in a punchless Royals lineup.
Like Headley, Billy Butler experienced a career year at the plate in 2012. It was Butler's first season eclipsing the 100-RBI mark and his 29 HR were eight more than the first baseman's previous high.
A lifetime .300 hitter, Butler is entering his prime while having developed one of the most dangerous bats in the AL. Unfortunately, he's doing so playing for a small-market club that annually ranks in the bottom half of the league in hitting.
The Royals are loaded with talented young sluggers, but none of them has fulfilled his potential the way that Butler, still just 26 years old, has been able to. Kauffman Stadium isn't the worst ballpark for a hitter to call home, but it isn't the most favorable, either.
Butler doesn't offer much defensively, as he spent 141 games in 2012 at DH. But there's no doubt that he's the type of player who would thrive in a lineup more capable of utilizing his immense hitting talents.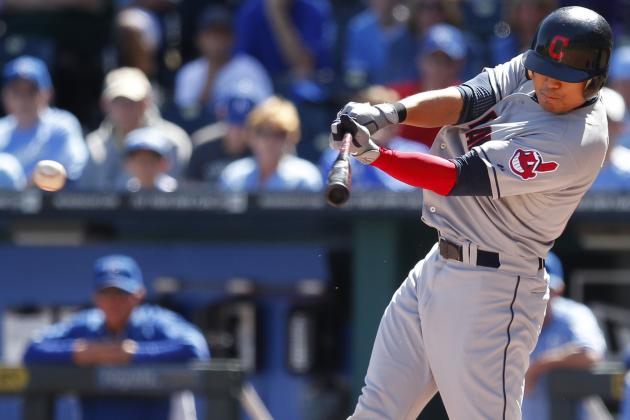 Kyle Rivas/Getty Images
The Indians are a mess offensively, despite a slew of talented bats.
I initially placed Shin-Soo Choo in this spot, but quickly realized it would be unfair to leave out Asdrubal Cabrera. And Jason Kipnis. Probably Carlos Santana, too.
Each of the previously mentioned Indians productively logged more than 500 at-bats in 2012. For whatever reason, Cleveland still finished second-to-last in the AL in runs scored.
Kipnis, who plays second base, and Choo—a right fielder—are solid run producers who each stole more than 20 bases. Santana is a promising young catcher with a substantial amount of pop in his bat.
Cabrera is an extremely well-rounded shortstop with a knack for highlight-reel plays in the field. His 25 HR and 92 RBI in 2011 speak to his ability to drive in runs as well.
The Indians finished 29th in all of baseball in terms of attendance. Their pitching is a mess and they've got little talent to surround these promising young sluggers. Choo is 30, but Kipnis, Cabrera and Santana are all under 27. It would be great to see any of them playing elsewhere, but I wouldn't expect it.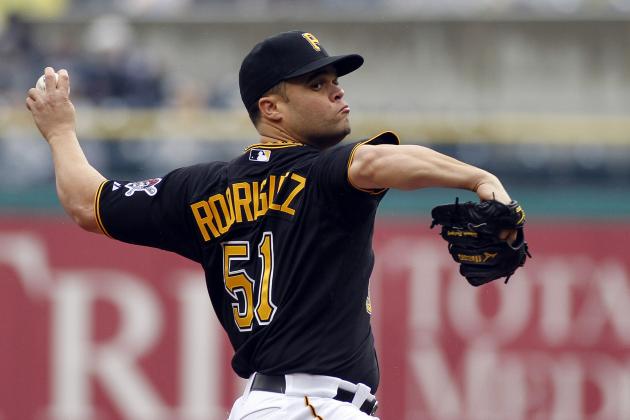 Justin K. Aller/Getty Images
Wandy deserves to play for a team that'll actually provide him with some run support.
Wandy Rodriguez has been getting shafted for five years running.
The 33-year-old veteran lefty has posted an ERA of 3.76 or lower each season since 2008, yet carries a pedestrian record of 55-53 during that time. Rodriguez arrived in Pittsburgh via trade after spending his first seven seasons wasting away in Houston.
The Pirates just finished up their 20th straight losing season, and they've got him locked up until 2015.
Free Wandy!
Rodriguez's finer years have expired, but he's compensating for a decline in strikeouts by limiting walks. Logging more than 190 innings each of the last four seasons, he remains durable as well. Despite making 230 career regular-season starts, Rodriguez has made only three playoff appearances and no starts.
This man deserves some October baseball.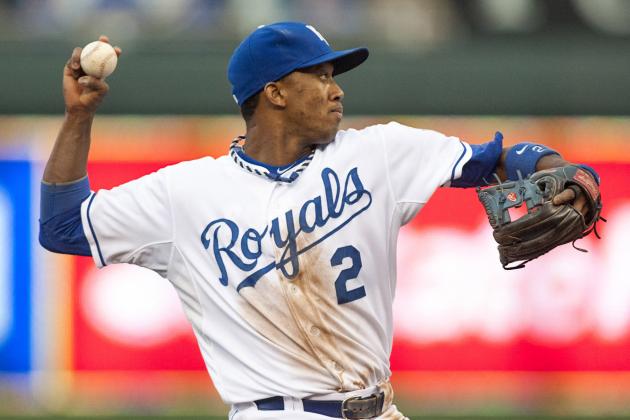 Tim Umphrey/Getty Images
Escobar is a human highlight reel at the shortstop position.
Here I go picking on the AL Central again.
Alcides Escobar has always been a human highlight reel at the shortstop position. In 2012, he made serious strides to fix his problems at the plate. The 25-year-old hit .293 in 605 at-bats for the Royals this season. He stole 35 bases and was caught only five times.
Escobar finished the season with an Offensive Wins Above Replacement of 3.5, just a hair higher than teammate Billy Butler and behind only Alex Gordon among Royals hitters.
At 6'1", 184 pounds and with great speed, Escobar is a rangy, smooth defender. He'll make the occasional error, but excels in turning double plays and laying out to negate would-be basehits.
Like Butler, this youngster has the potential to become a full-blown superstar but lacks the environment to flourish in full. Escobar, should he continue to improve offensively, serves as an excellent table-setter. He would become even more effective in the front of the lineup if he learned to work walks more often.
Even so, he'll remain one of baseball's lesser-known bright spots as long as he remains in Kansas City.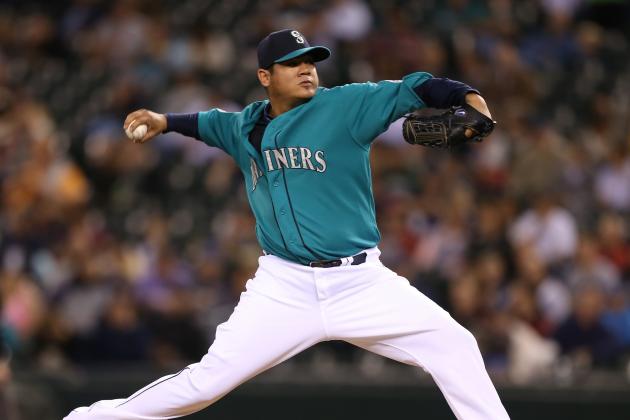 Otto Greule Jr/Getty Images
Hernandez is a perennial Cy Young candidate as it is, but his numbers would shine brighter on a better team.
Felix Hernandez deserves better. King Felix, I should say, deserves better.
Hernandez finished with the lowest run support of any MLB pitcher in 2010, the year he claimed the AL Cy Young despite a 13-12 record. For five straight seasons, the young righty has finished in the top seven of starters receiving the least amount of offensive assistance. In 2012, he was No. 2.
Yes, Safeco Field is arguably the most spacious park in all of baseball, but you'd think the Mariners would've found a more effective way to adjust offensively. Seattle has ranked 26th or worse in runs scored every year since 2008.
Hernandez is undoubtedly one of the best starters in the AL. He's logged 190-plus innings for seven straight seasons and is only 26. He's got a career ERA of 3.22, 23 complete games and nine shutouts.
It's an absolute shame that this man has not a single 20-win season to his name.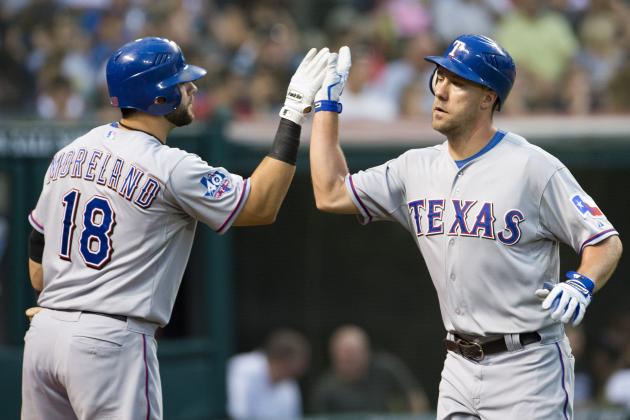 Jason Miller/Getty Images
David Murphy should have been an everyday outfielder years ago.
David Murphy plays for a team featuring a batting order that packs plenty of punch, but for him, that's been the issue.
Murphy has played at least 100 games for the Rangers each of the past five seasons, but never logged more than 457 at-bats. The crowded Texas outfield has played a significant role in the 31-year-old's lack of plate appearances.
A lifetime .285 hitter with an OPS of .801, Murphy hit .304 for the Rangers in 2012 with an OPS of .859. His 457 at-bats were a career high, but still at least 100 shy of what he could be getting elsewhere.
This may be a moot point with Murphy's breakout campaign garnering him everyday at-bats late in 2012 and likely throughout 2013 as well. Josh Hamilton's potential departure would make it a sure thing.
Even so, Murphy is entering a contract year, and he's earned the right to be slotted in the lineup on a daily basis. If that chance doesn't come in Texas, it will somewhere else.