MMA: The Best Fighter from Each of the 50 States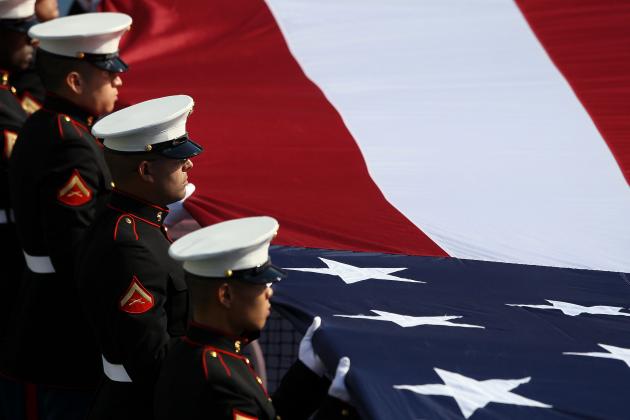 Alex Trautwig/Getty Images

Jon Jones, Benson Henderson, Dominick Cruz, Demetrious Johnson and Ronda Rousey all hail from the United States and are responsible for their home country possessing more than half of the available UFC championships.
With a success rate like that, it should come as no surprise that MMA talent is spread well across all 50 states. Heck, the most talented U.S. athlete in the sport was born in one of the few states that still considers MMA illegal.
From East Coast to West Coast, the United States has produced many of the most talented MMA fighters in the world.
Let's take a look at the best active fighter from each of the 50 states.
Begin Slideshow

»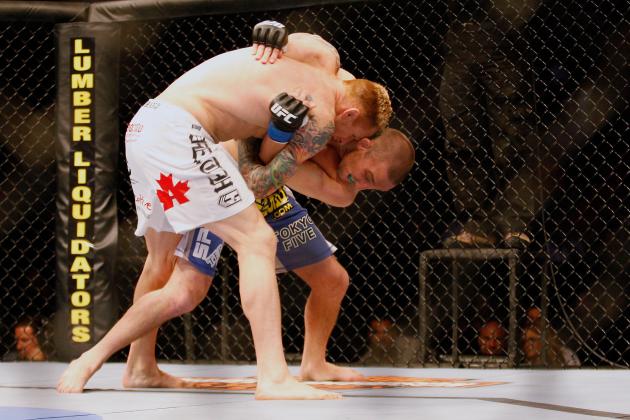 Richard Wolowicz/Getty Images

Hometown: Gardendale
Population: 13,893
John Salter may have had a short run with the UFC, but the Alabama native from just outside of Birmingham has picked up some notable wins in his first 11 professional fights.
The 27-year-old has submitted James Hammortree and also knocked out Kalib Starnes to become the Armageddon Fighting Championships middleweight champion.
Rafael Suanes-US PRESSWIRE

Hometown: Cordova
Population: 2,454
Coming from a small fishing town in southern Alaska, Cody McKenzie now finds himself on MMA's biggest stage.
The fighter who once secured guillotine chokes in 10 straight fights has lost three of his past four fights. But he'll have a chance to turn things around against Leonard Garcia at UFC 155.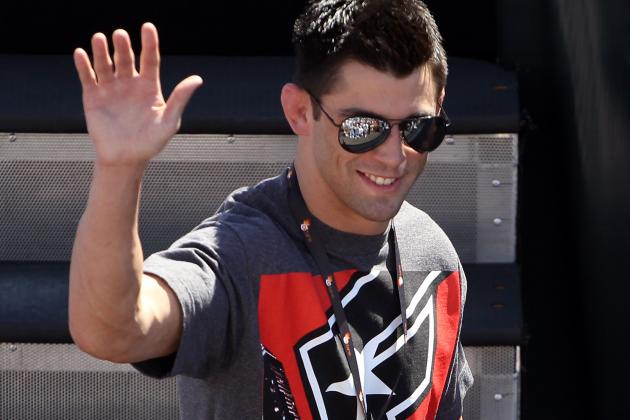 Christian Petersen/Getty Images

Hometown: Tucson
Population: 525,796
With the help of several former Arizona State wrestlers, Arizona has become a strong pipeline for MMA talent in recent years. However, a fighter who has left the state is now undoubtedly the state's most successful fighter.
Though he trains at Alliance MMA in California, UFC bantamweight champion Dominick Cruz was born in Tucson. The 135-pound titleholder has only lost once in 20 career fights, and he has since avenged that loss to Urijah Faber.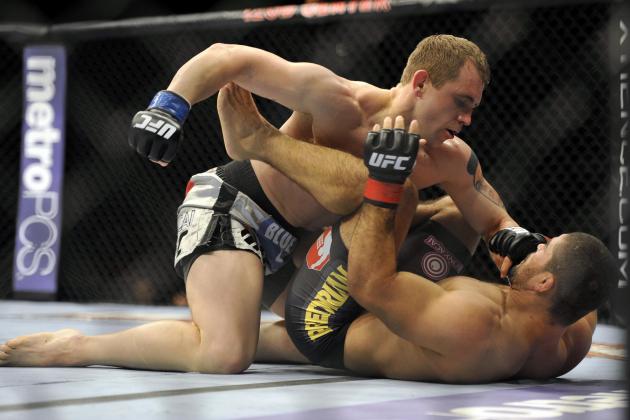 Joe Camporeale-US PRESSWIRE

Hometown: Jonesboro
Population: 67,263
Alan Belcher was born in northeastern Arkansas near Arkansas State.
While he has had some ups and downs in his career, Belcher is now riding a huge wave of momentum. After stopping Rousimar Palhares in the first round, Belcher has set himself up for a rematch with Yushin Okami.
Should "The Talent" avenge his loss to the long-time middleweight contender, he would put himself near the front of the line for a title shot.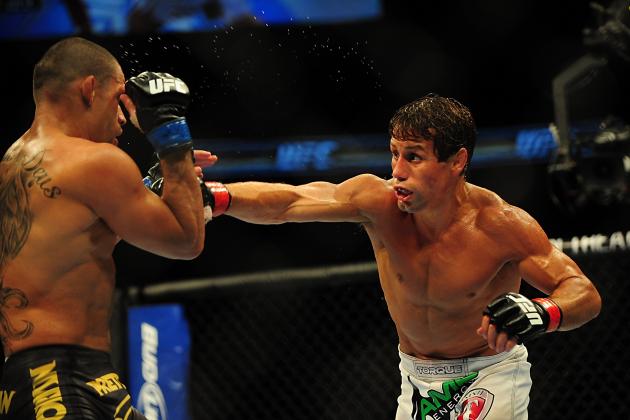 Anne-Marie Sorvin-US PRESSWIRE

Hometown: Isla Vista
Population: 23,096
California is one of the most talent-rich places in the country when it comes to MMA fighters, but "The California Kid" remains the pound-for-pound best to come out of the state by a slim margin.
Despite his lack of success in title fights over recent years, Urijah Faber remains one of the top fighters in the bantamweight division and is always a big win or two away from stepping into another championship bout before his career comes to a close.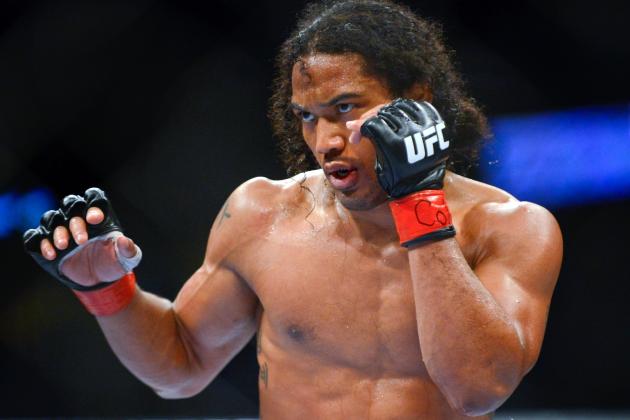 Ron Chenoy-US PRESSWIRE

Hometown: Colorado Springs
Population: 416,427
Benson Henderson trains at The MMA Lab in Arizona, but he still calls Colorado home and even picked up a title defense against Frankie Edgar in Denver a few months ago.
At UFC on Fox 5, Henderson will attempt to further his career and Colorado MMA by defending his lightweight belt for a second straight time in a highly anticipated bout against Nate Diaz.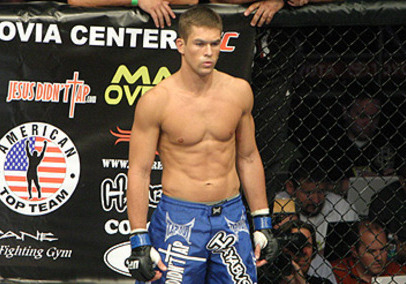 Jeff Cain/MMAWeekly.com
Hometown: Stamford
Population: 122,643
Coming from one of the four states that still doesn't regulate MMA, Dan Cramer is one of a few fighters who will look out of place on this list.
While Cramer is not a name that jumps off the page at casual MMA fans, the Connecticut native defeated Matt Arroyo during a two-fight stint with the UFC in 2009 and now finds himself on a two-fight winning streak with a Bellator promotion that is headed in the right direction with its pending move to Spike TV.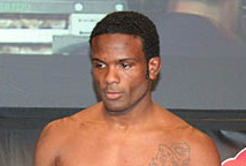 Ken Pishna/MMAWeekly.com
Hometown: Wilmington
Population: 70,851
After two years away from the sport, Din Thomas made a return to MMA in May, when he submitted Cody Bollinger in a Pure MMA featherweight championship fight. The result of that bout was later overturned to a no-contest for unspecified reasons, though.
Despite his inactivity in recent years, Thomas remains the most accomplished fighter to come out of Delaware. Thomas' career has had many peaks and valleys, but he's beaten the likes of Matt Serra, Clay Guida and Jeremy Stephens along the way.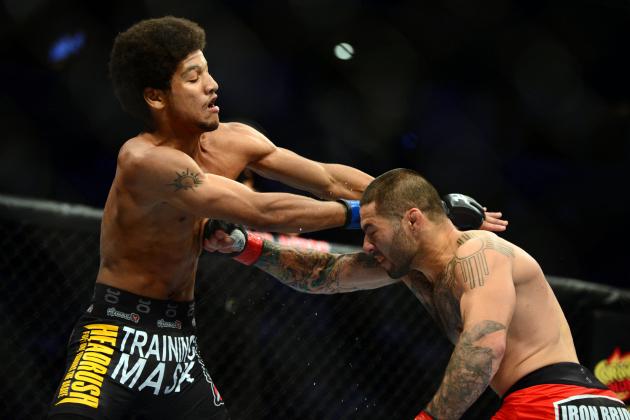 Kyle Terada-US PRESSWIRE

Hometown: Miami
Population: 408,568
Though American Top Team and the Blackzilians have based themselves in Florida, not many elite MMA fighters are native to the Sunshine State.
Of the ones who are, Alex Caceres stands out. The Miami resident has won three of his past four fights and seems to be on his way to reaching his potential in the bantamweight division.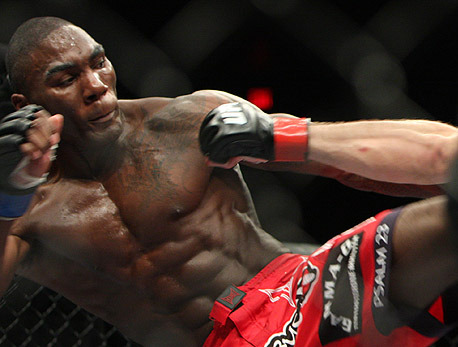 Scott Peterson/MMAWeekly.com
Hometown: Dublin
Population: 16,201
Anthony Johnson finds himself fighting outside of the UFC, but his release from the big show was not to due to poor performance inside the cage. Instead, it was mostly attributed to his inability to make weight for his fights.
Now competing in the light-heavyweight division, the former welterweight should no longer have that problem. With four straight wins, it might not be long until "Rumble" is back to brawling inside the Octagon.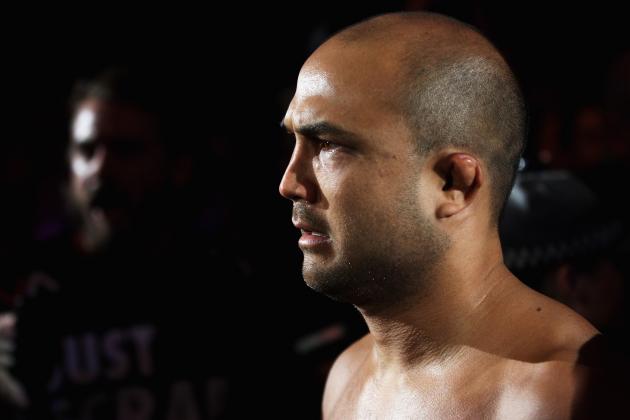 Mark Kolbe/Getty Images

Hometown: Kailuai
Population: 38,635
Some talented young Hawaiians are beginning to make names for themselves in MMA, but they are all following in the footsteps of former UFC champion B.J. Penn.
Though he has only one win in his past five fights, Penn is reportedly motivated for his comeback, which will occur against Rory MacDonald at UFC on Fox 5.
Ken Pishna/MMAWeekly.com
Hometown: Sandpoint
Population: 7,365
With two straight losses, former NCAA champion Jake Rosholt is probably not going to see the UFC's Octagon again in his MMA career. But he's still the best fighter to come out of Idaho.
While his trouble with submission defense resulted in a low ceiling for his career, Rosholt does own a submission win over Chris Leben from one of his three appearances under the UFC banner.
Joe Camporeale-US PRESSWIRE

Hometown: Round Lake
Population: 18,289
Now training in New Mexico with Greg Jackson, Clay Guida is originally from a small Illinois town near Lake Michigan.
Guida has established himself as one of the best lightweights in the world over recent years, but he's been unable to pick up the signature win he needs to earn a shot at a UFC belt,
While "The Carpenter" is riding a two-fight losing streak, he was competitive against two of the best 155-pound fighters on the planet in Benson Henderson and Gray Maynard.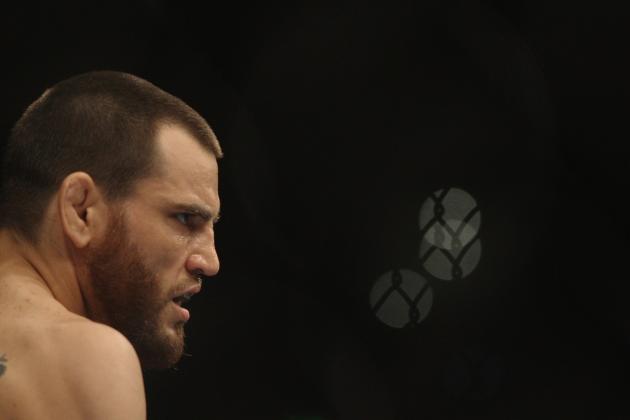 Mark Kolbe/Getty Images

Hometown: Fort Wayne
Population: 253,691
He made the move to American Kickboxing Academy in California to improve as a fighter, but Jon Fitch has deep roots in Indiana, where he grew up and attended Purdue.
Fitch hasn't been able to capture a UFC belt during his long tenure with the organization, but he will go down as one of the best welterweight to compete inside the Octagon.
Thiago Alves, Diego Sanchez, Paulo Thiago and Erick Silva have all suffered losses against Fitch, who is looking to regain his standing as one of the elite 170-pound fighters in the sport after being knocked out by Johny Hendricks.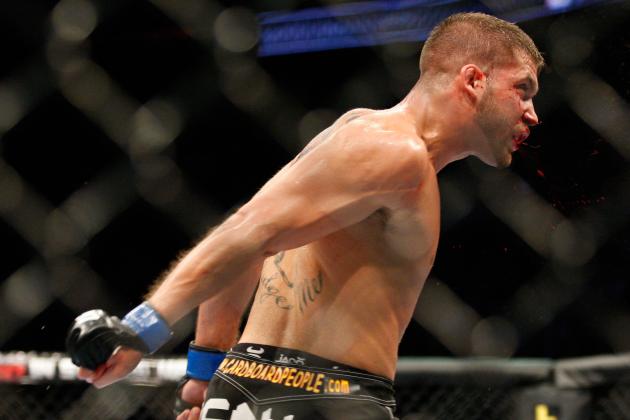 Richard Wolowicz/Getty Images

Hometown: Des Moines
Population: 203,433
Fighting assault charges in his home city, Jeremy Stephens may not be the most popular individual in his home state at the moment, but he's definitely the most talented fighter from Iowa.
In a state full of outstanding wrestlers, the heavy-hitting Stephens has emerged by knocking out the likes of Cole Miller, Rafael dos Anjos and Marcus Davis.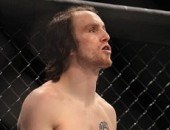 Sherdog.com
Hometown: Wichita
Population: 384,445
Tim Elliott fell short in his UFC debut against John Dodson, but he was more competitive against the top flyweight contender than Jussier Formiga, who was previously believed to be one of the best of the best in the 125-pound division.
Possessing an exciting fighting style in a developing division, the 25-year-old Elliott has a chance to carve out a long-term spot on the UFC roster for himself.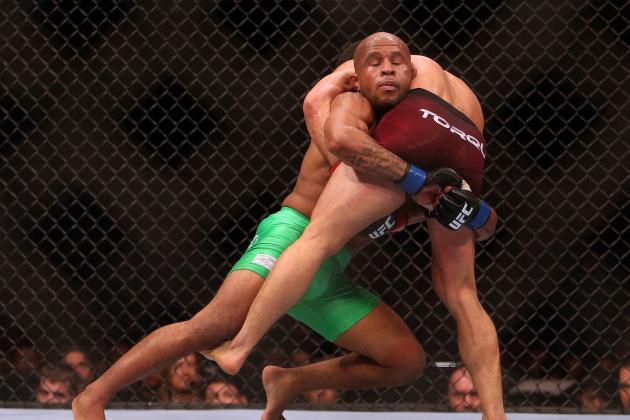 Tom Szczerbowski-US PRESSWIRE

Hometown: Madisonville
Population: 19,307
Though he grew up and trains with Matt Hume in Washington, Demetrious Johnson is a Kentucky-born fighter who has done the state proud.
With his most recent win over Joseph Benavidez, "Mighty Mouse" became the first flyweight champion, a title he will look to defend against John Dodson in January.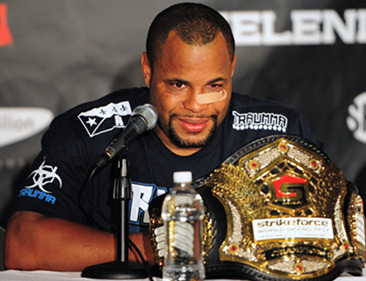 Kyle Terada - U.S. Presswire
Hometown: Lafeyette
Population: 122,130
Daniel Cormier was a standout wrestler and football player at his Louisiana high school before eventually attending Oklahoma State, where he became an All-American wrestler.
The former Olympian has utilized his wrestling well in MMA and already possesses some impressive striking. After a final Strikeforce fight in January, Cormier is expected to join the UFC's heavyweight roster as a top contender.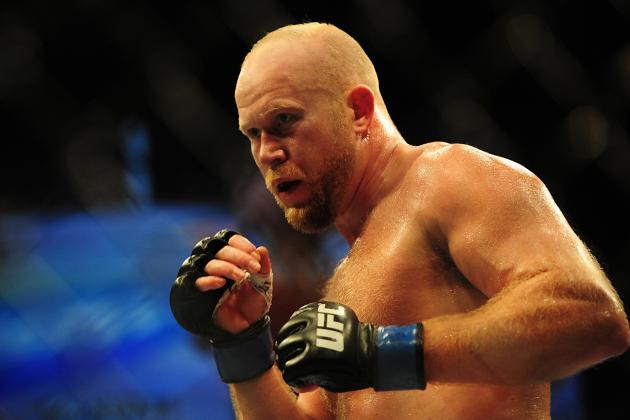 Anne-Marie Sorvin-US PRESSWIRE

Hometown: Lincolnville
Population: 2,042
After being released from the UFC in March 2009, Tim Boetsch has stormed back to win eight of his past nine fights, with his only loss coming against light-heavyweight contender Phil Davis.
That loss turned out to be a blessing in disguise for Boetsch, who moved to the middleweight division and has quickly emerged as one of the best 185-pound fighters in the world.
Don McPeak-US PRESSWIRE

Hometown: Camp Springs
Population: 19,096
A training partner of the bantamweight champion, Mike Easton is closing in on a potential title shot against Dominick Cruz.
The Alliance MMA fighter has won all three of his UFC bouts and will be looking to solidify himself as a Top 10 bantamweight with a victory over Raphael Assuncao in his upcoming appearance.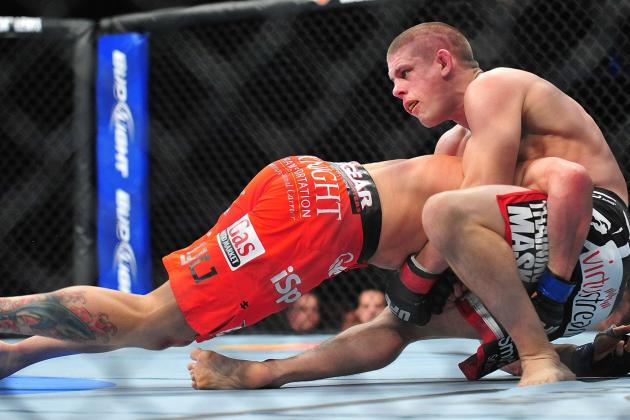 Gary A. Vasquez-US PRESSWIRE

Hometown: East Bridgewater
Population: 13,794
Still only 28 years old, Joe Lauzon has already been a UFC fighter for more than six years.
While he's had a tough time breaking through and becoming a contender, Lauzon has never lost back-to-back fights and is fighting better than he has in his entire career, with wins in three of his past four fights.
In December, Lauzon will have a chance to have a career-defining moment against highly ranked lightweight Jim Miller.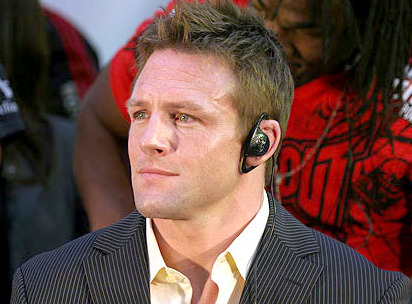 MMAWeekly.com
Hometown: Grand Rapids
Population: 189,815
Joe Warren grew up in Michigan and wrestled for the University of Michigan.
The former Bellator champion has been knocked out twice in his past three fights, but he's determined to regain his spot atop the featherweight division. He should get a chance to do so when Bellator moves to Spike TV in 2013.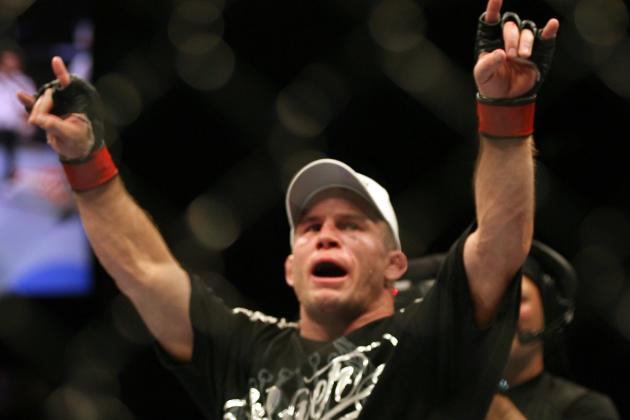 Tasos Katopodis/Getty Images

Hometown: St. Francis
Population: 7,218
Sean Sherk hasn't fought in more than two years, but he still hasn't announced his retirement from MMA and actually won his last fight against Evan Dunham.
It would appear Sherk is waiting for the UFC to throw a big-name opponent at him, but that day may not come anytime soon. Many no longer see the former champion as one of the top lightweights in the sport.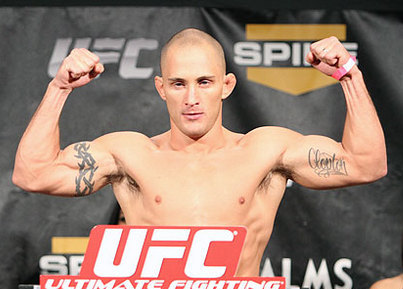 Scott Peterson/MMAWeekly.com
Hometown: Columbus
Population: 23,798
Though he was defeated in his UFC debut following an appearance on The Ultimate Fighter, Josh Clopton remains on the UFC roster and is awaiting another chance to remain with the world's biggest MMA promotion.
A Cesar Gracie jiu-jitsu fighter, Clopton's loss to Steven Siler in his first official Octagon appearance was the only defeat of his career to date.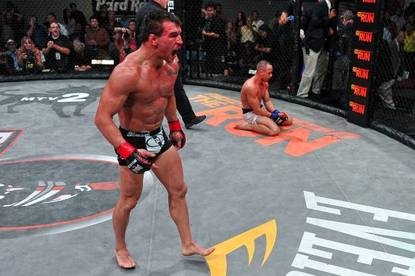 Bellator.com
Hometown: High Ridge
Population: 4,598
Michael Chandler has gone undefeated in his first 10 MMA fights, winning the Bellator lightweight title from Eddie Alvarez in the process.
An All-American wrestler at the University of Missouri, the 26-year-old Chandler is quickly becoming recognized as one of the top 155-pound fighters in the world. With a few more wins, Chandler should begin receiving UFC interest, assuming he isn't already.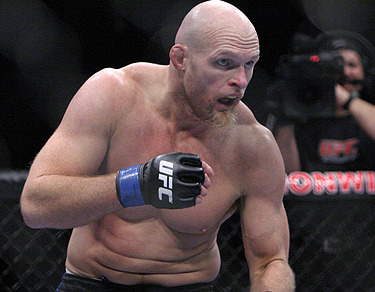 Jeff Cain/MMAWeekly.com
Hometown: Butte
Population: 34,200
The closure of Strikeforce may give Keith Jardine another shot in the Octagon, but "The Dean of Mean" hasn't won a fight under the Zuffa banner since a split-decision win over Brandon Vera in October 2008.
Jardine performed surprisingly well against Gegard Mousasi in his Strikeforce debut, but the 37-year-old is clearly nearing the end of what has been a respectable MMA career.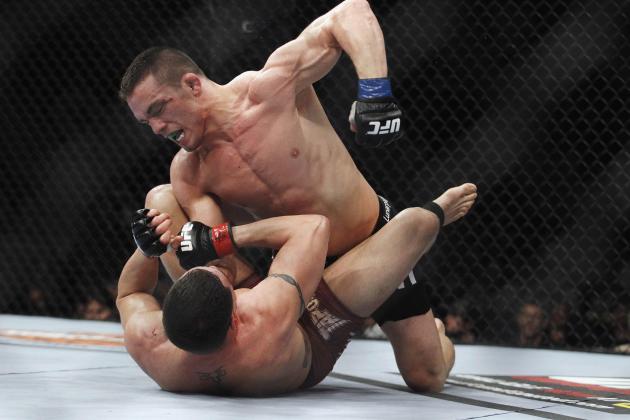 Matt Ryerson-US PRESSWIRE

Hometown: Omaha
Population: 408,958
Jake Ellenberger recently had the opportunity to return to his birthplace for a bout against Diego Sanchez. In an entertaining fight, Ellenberger came away victorious and solidified himself as a top welterweight.
Following that victory, however, Ellenberger suffered a loss to Martin Kampmann. While he comfortably remains a top-10 170-pound fighter, Ellenberger will need a few more wins to put himself back into title shot conversation.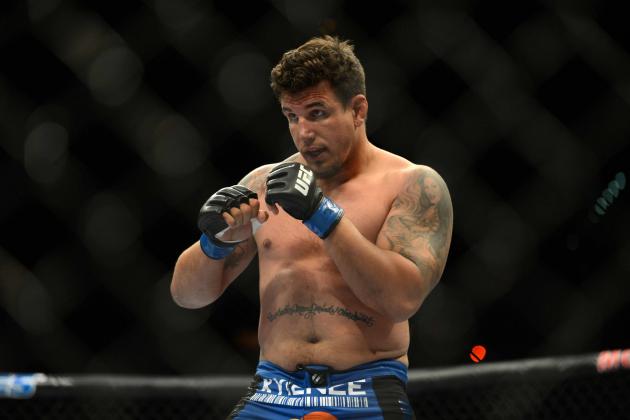 Ron Chenoy-US PRESSWIRE

Hometown: Las Vegas
Population: 583,756
Frank Mir has been a UFC fighter for more than a decade and resided among the best in the heavyweight division for nearly that entire time.
The lifelong Las Vegan was supposed to fight Daniel Cormier this month, but an injury forced him out of that bout. It is not known who the former champion's next opponent will be as he winds down his MMA career.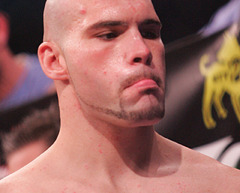 Sherdog.com
Hometown: Hooksett
Population: 13,451
Perry Filkins stands out as the best fighter to come out of a state that hasn't started developing great MMA talent quite yet.
The middleweight has a solid 7-1 record and is coming off of an impressive win in his Bellator debut.
UPDATED: Thank you to Steven Rondina for pointing out this up-and-coming New Hampshire native.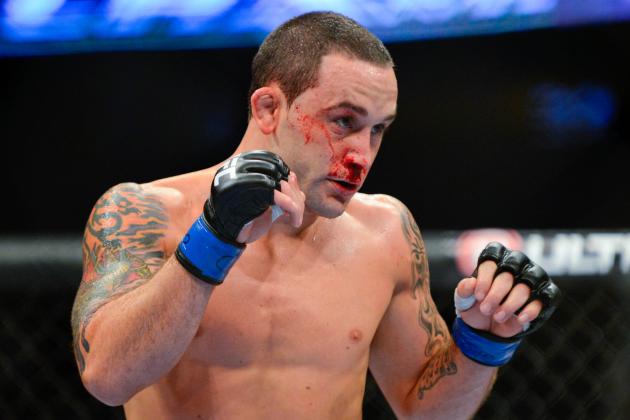 Ron Chenoy-US PRESSWIRE

Hometown: Toms River
Population: 91,239
Frankie Edgar is undoubtedly the face of New Jersey MMA. He's a former champion who has made MMA fans out of the Jersey Shore cast.
In February, Edgar will make his featherweight debut against champion Jose Aldo in a bout that might as well be considered a superfight.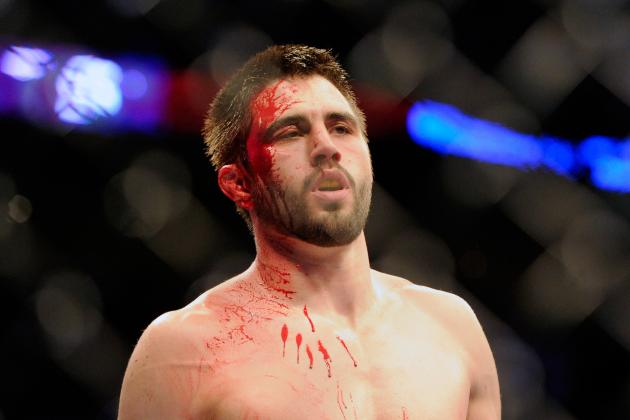 Eric Bolte-US PRESSWIRE

Hometown: Albuquerque
Population: 552,804
Born in the same town as Jackson's MMA, Carlos Condit was destined to be an outstanding fighter.
The former WEC champion added a UFC interim title to his resume earlier this year, but he recently had that belt taken away from him by welterweight great Georges St-Pierre.
At 28 years old, Condit will still be a forced to be reckoned with in the 170-pound division for years to come.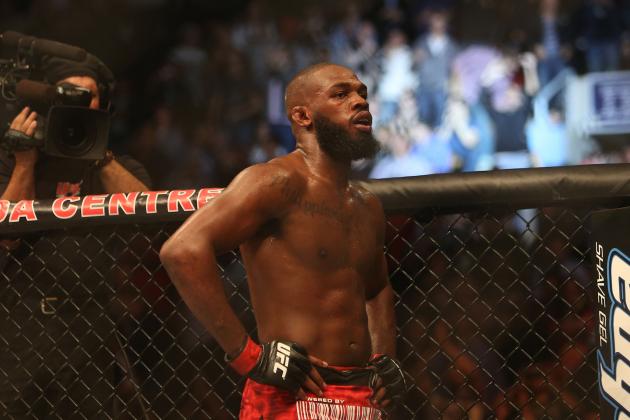 Tom Szczerbowski-US PRESSWIRE

Hometown: Rochester
Population: 210,855
It's unfortunate that light-heavyweight champion Jon Jones is unable to compete in his home state, but he seems to be getting along just fine without doing so.
Jones is well on his way toward becoming one of the greatest light heavyweights ever, and he's only 25 years old. With a win over Chael Sonnen in April, Jones would tie Tito Ortiz for the most consecutive 205-pound title defenses in UFC history.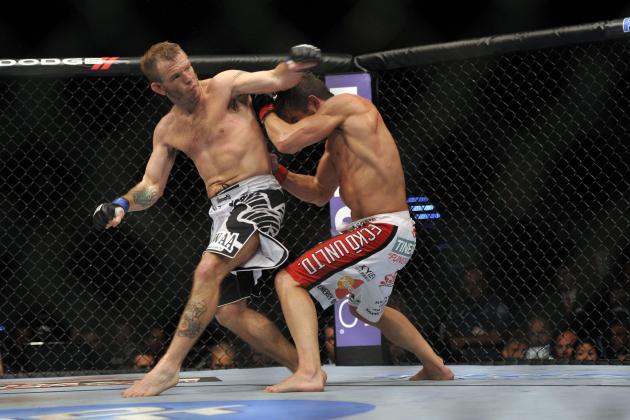 Joe Camporeale-US PRESSWIRE

Hometown: Cashiers
Population: 157
Spencer Fisher recently announced his retirement following the completion of his trilogy with Sam Stout. However, Fisher left the open enough of a possibility for a return to allow his inclusion on this list.
A seven-year UFC veteran, Fisher was one of the more exciting lightweights in the sport. If his MMA career is truly over, he will be greatly missed by his fans.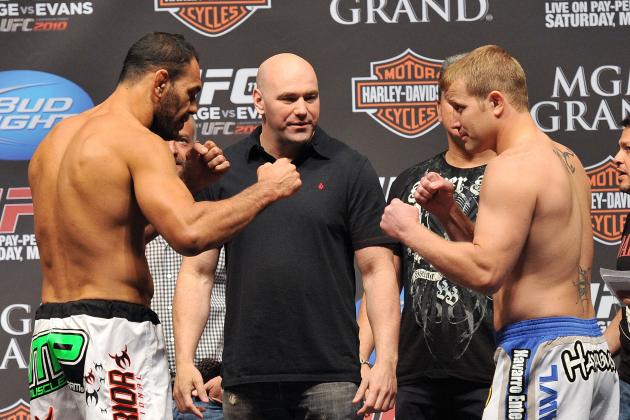 Jon Kopaloff/Getty Images

Hometown: Bismarck
Population: 61,272
Jason Brilz has spent most of his life in Nebraska, but he was born in the state capital of North Dakota.
Having lost four of his past five fights, Brilz was released from the UFC, and the 37-year-old will have a tough time making it back to the big leagues before calling it quits.
Still, Brilz will finish his career knowing he picked up a few wins inside the Octagon.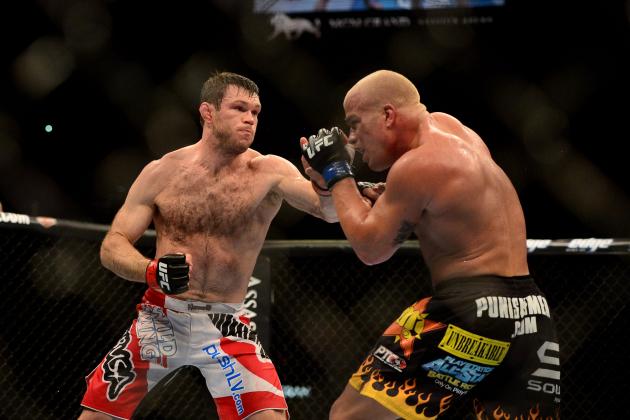 Mark J. Rebilas-US PRESSWIRE

Hometown: Columbus
Population: 797,434
Forrest Griffin grew up in Georgia and has trained in Nevada for years. But the former light-heavyweight champion was born in Ohio's capital city.
A fighter who helped aid MMA's explosion in popularity, Griffin has won three of his past four fights. But the 33-year-old has a lot of miles on him and hasn't looked like the same fighter who upset Mauricio Rua and Quinton Jackson in 2007 and 2008.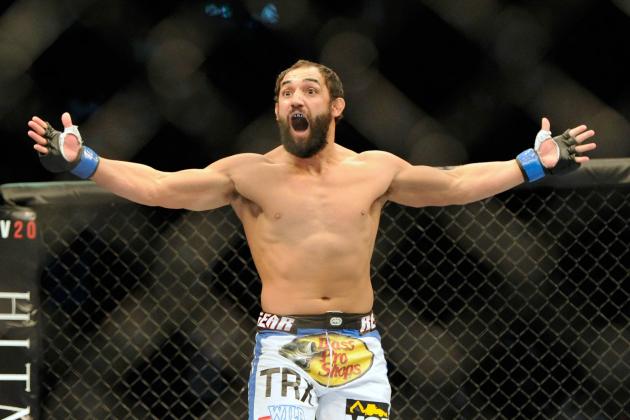 Eric Bolte-US PRESSWIRE

Hometown: Ada
Population: 16,810
Johny Hendricks was a two-time NCAA champion wrestler at Oklahoma State and continues to train somewhat close to home in Dallas, Texas.
At UFC 154, Hendricks knocked out Martin Kampmann to put himself at the front of the line for a 170-pound title shot. Unfortunately, he may have to wait until after a superfight between welterweight champion Georges St-Pierre and middleweight champion Anderson Silva.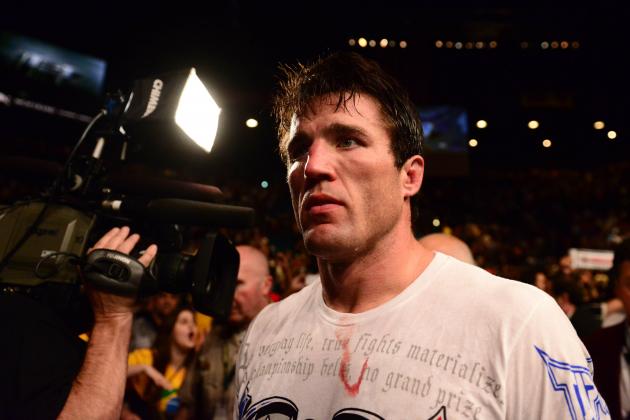 Mark J. Rebilas-US PRESSWIRE

Hometown: Milwaukie
Population: 20,291
Now claiming residence in the "mean streets" of West Linn, Chael Sonnen was born a few towns to the north in Wilwaukie.
Sonnen was a two-time title challenger in the middleweight division, but he now has his sights set on dethroning Jon Jones in the light-heavyweight division. After coaching against the champion on The Ultimate Fighter, Sonnen will get his chance in April.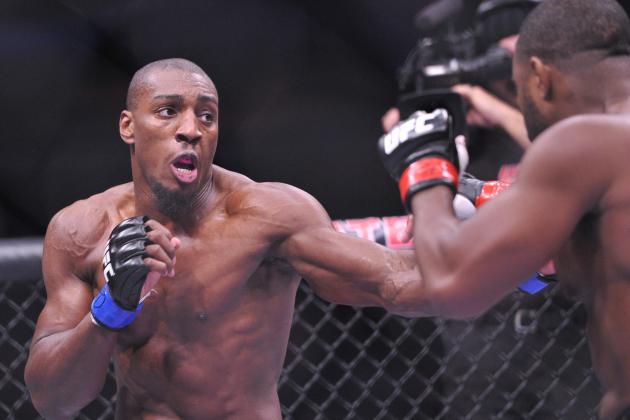 Mike Dinovo-US PRESSWIRE

Hometown: Harrisburg
Population: 49,528
Born in Pennsylvania's capital, Phil Davis went on to win an individual NCAA wrestling championship before beginning his career in MMA.
So far, Davis has only lost against former light-heavyweight champion Rashad Evans. As he continues to develop as a striker, Davis should become more and more of a legitimate threat to capture a UFC title.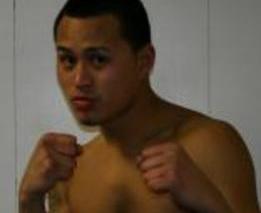 Tapology.com
Hometown: Woonsocket
Population: 41,186
The smallest state in the country hasn't produced any high-level fighters, but MMA is still a young sport and Andre Soukhamthath could be a bantamweight to watch.
The Rhode Island native has won three straight fights and competes in a division that is still developing. He's a long way from the UFC or even a major promotion, but Soukhamthath is carrying the flag for Rhode Island at the moment.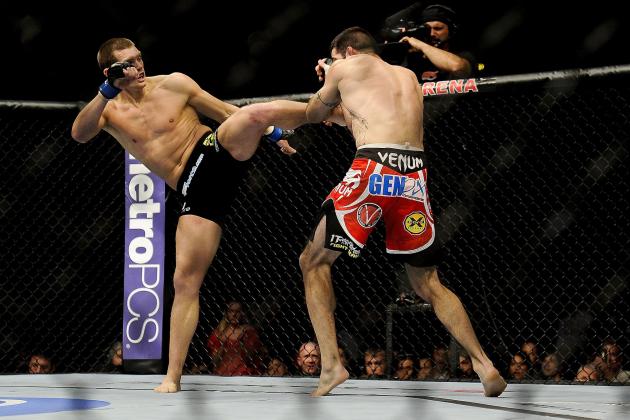 Paul Abell-US PRESSWIRE

Hometown: Simpsonville
Population: 14,352
Stephen Thompson is one of the more skilled kickboxers in the UFC's welterweight division, but he has a long way to go with his wrestling to become one of the better mixed martial artists in the division.
After knocking out Dan Stittgen in his UFC debut, Thompson was unable to best the more well-rounded Matt Brown. Thompson had been booked for a fight at UFC 154, but an injury caused the cancellation of the fight, and it is not known when the kickboxer will compete next.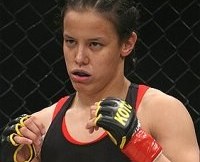 Sherdog.com
Hometown: Sioux Falls
Population: 156,592
With Brock Lesnar now retired, a female fighter has been left to carry the torch for South Dakota MMA.
Shana Baszler has been inconsistent throughout her career, but she showed that she could have UFC potential in a closely contested bout with Sara McMann.
With the UFC set to try out a women's bantamweight division, Baszler could see herself competing inside the Octagon in 2013.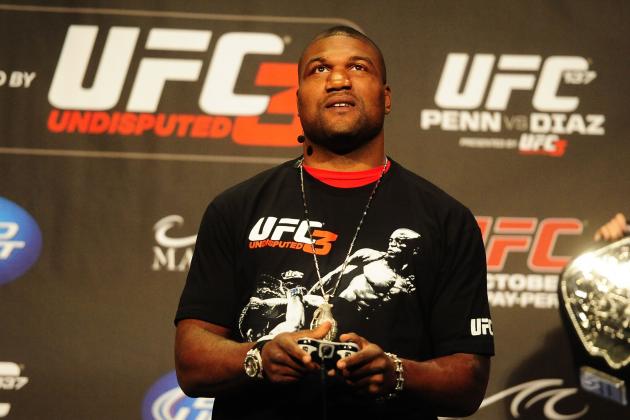 Mark J. Rebilas-US PRESSWIRE

Hometown: Memphis
Population: 646,889
Quinton Jackson's MMA career may be headed downhill, but a healthy and motivated "Rampage" is still a dangerous opponent for most light heavyweights.
In January, Jackson will meet Glover Teixeira in a bout that is expected to provide fireworks. While Jackson has maintained the fight will be his last inside the Octagon, a big win and new contract could change his stance.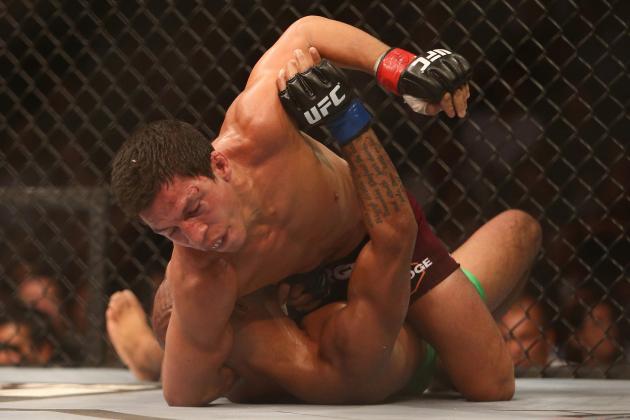 Tom Szczerbowski-US PRESSWIRE

Hometown: San Antonio
Population: 1,327,407
Joseph Benavidez may be the best fighter in the world without a belt around his waist.
The Team Alpha Male fighter has only lost against bantamweight champion Dominick Cruz and flyweight champion Demetrious Johnson, and he wasn't dominated by either titleholder.
At 28 years old, it's inevitable that Benavidez will get at least one more crack at a UFC championship.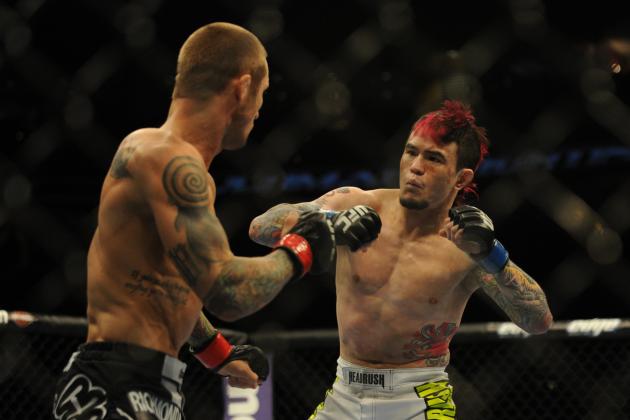 Steve Mitchell-US PRESSWIRE

Hometown: Payson
Population: 18,294
Scott Jorgensen wrestled at Boise State and has remained in Idaho for his MMA training, but the talented bantamweight started out in Utah.
A former WEC bantamweight title challenger, Jorgensen has defeated a number of notable 135-pound fighters, but his two-fight losing streak has him in jeopardy of being bounced from the world's premier MMA organization.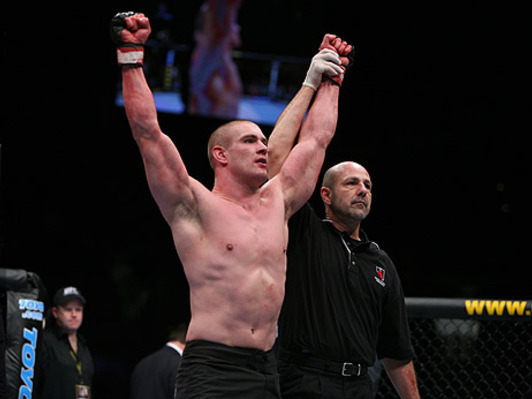 MMAWeekly.com
Hometown: St. Albans
Population: 7,650
Tom Murphy appeared on Season 2 of The Ultimate Fighter. On the reality series, the Vermont native lost to eventual heavyweight winner Rashad Evans.
Despite losing to Evans, Murphy is undefeated in official bouts and may finish his career that way, as he hasn't competed in more than two years.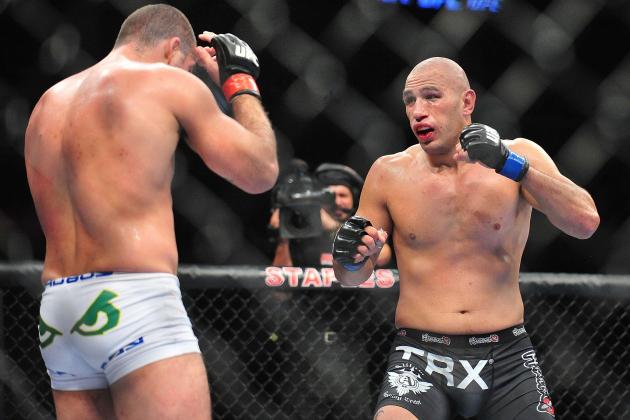 Gary A. Vasquez-US PRESSWIRE

Hometown: Norfolk
Population: 242,803
After going undefeated in his first eight fights, Brandon Vera never reached the lofty goals he set for himself, but "The Truth" has still had a long career with the UFC.
The biggest win of Vera's career remains his knockout win over Frank Mir in November 2006. But an entertaining performance against Mauricio Rua in his most recent fight was impressive and saved him from being released by the organization.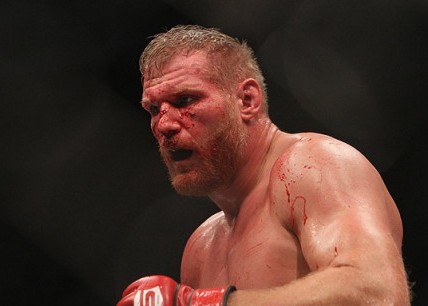 Laron Zaugg/MMAWeekly.com
Hometown: Seattle
Population: 620,778
Having competed in the UFC, Pancrase, Pride, Affliction, Dream and Strikeforce, Josh Barnett has had a long and winding career.
The former UFC champion has defeated the likes of Randy Couture, Aleksander Emelianenko, Mark Hunt, Antonio Rodrigo Nogueira, Pedro Rizzo and more. Only Daniel Cormier and Mirko Filipovic have gone undefeated against Barnett.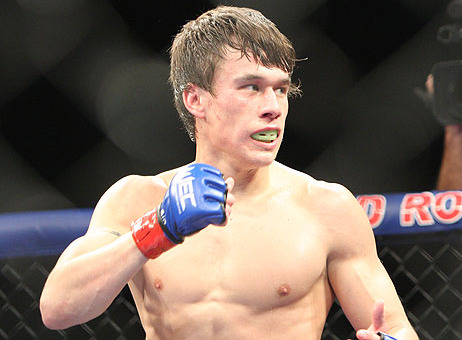 Scott Peterson/MMAWeekly.com
Hometown: Charleston
Population: 51,400
With only 12 fights in his MMA career, Brian Bowles has already picked up wins over Damacio Page, Miguel Torres and Takeya Mizugaki. The West Virginian earned a WEC championship with his knockout of Torres.
Bowles has been out of action for more than a year, but he's only lost against Dominick Cruz and Urijah Faber, so it's unfair to assume that the 32-year-old is beginning to fade.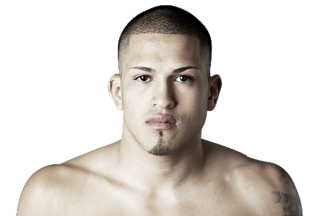 UFC.com
Hometown: Milwaukee
Population: 594,833
The 25-year-old Anthony Pettis already has achieved plenty in MMA and still has a bright future.
Pettis was the final WEC lightweight champion, a title he earned by beating current UFC champion Benson Henderson. Pettis has already defeated Joe Lauzon and Jeremy Stephens inside the Octagon and will try to add Donald Cerrone to that list in January.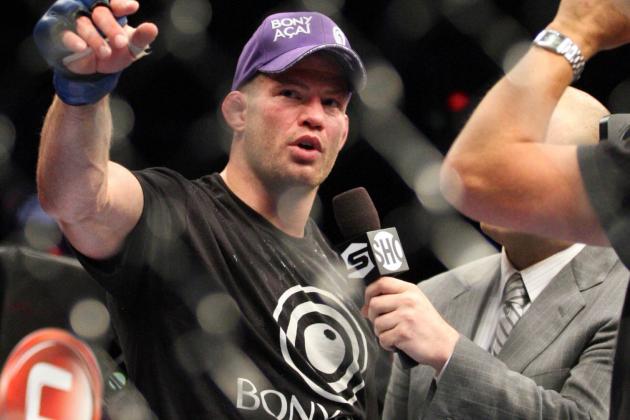 Scott Olmos-US PRESSWIRE

Hometown: Lander
Population: 7,487
Nate Marquardt holds the Strikeforce welterweight title, which he will defend in January. But all signs point toward a UFC return should he retain his belt against Tarec Saffiedine.
Though considered a potential 170-pound title contender at the time, Marquardt was released from the UFC after testing for high levels of testosterone prior to a main-event bout with Rick Story that ended up being scrapped.