Seven Dos and Don't's for a Successful 2013 Mets' Season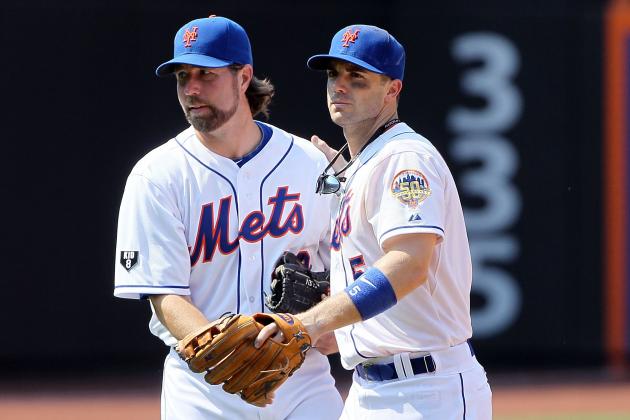 Jim McIsaac/Getty Images
Cy Young Award winner R.A. Dickey and third baseman David Wright were two bright spots for the Mets in 2012.
So far this offseason has been a much better time for the New York Mets and their fans, than the 2012 regular season ended up being.
R.A. Dickey becoming the third Mets pitcher to win the National League's Cy Young award has gone a long way towards washing away the memories of another very disappointing season in Queens.
Besides that, however, things may actually be looking up for the Mets as they enter a season in which they'll host the annual mid-summer classic.
Last season, the Mets hung around in a tough division much longer than anyone could have expected, and for the first time in years, looked like a team that had a bunch of guys that simply wanted to win. In other words, despite finishing poorly once again in 2012, last season wasn't all bad.
Things have also been looking up so far this offseason. Ownership's financial instabilities seem to be a thing of the past, the team has finally cut ties with Jason Bay, and of course, the aforementioned winning of the Cy Young award by R.A. Dickey. Watching Jose Reyes getting shipped north of the border doesn't hurt either.
Are the Mets a contending team in the NL East, not yet. However, the Marlins are much worse, the Phillies have yet to do anything to fix a team that was one of the biggest disappointments in all of baseball last year, and the Braves will be without Chipper Jones, and probably Michael Bourne. An improvement in the Mets standing in the division, while not guaranteed, is definitely possible, if smart decisions are made this offseason.
Begin Slideshow

»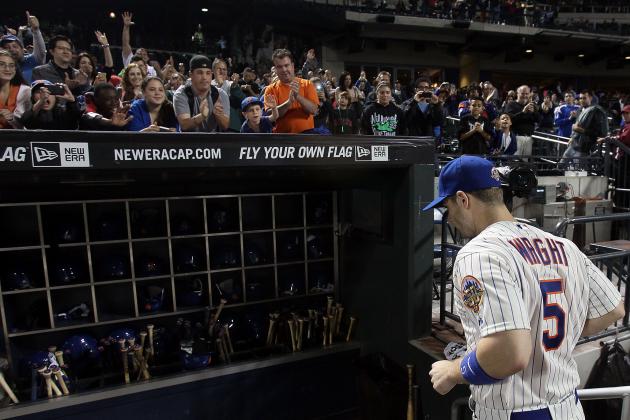 Alex Trautwig/Getty Images
David Wright is a fan favorite, and the face of the Mets. Keepin him in Queens will go a long way towards keeping Mets' fans happy.
This is a no-brainer, but anyone who has followed the Mets over the past few seasons knows that doesn't mean anything.
David Wright has one year left on his remaining contract. He is the face of the Mets' franchise, a fan favorite and a marketable personality. In most cases, that alone is enough for a team to make sure they keep a guy, and that's before mentioning anything Wright can do on the baseball field.
Wright had a great season in 2012, batting .306 with 21 home runs, 93 RBI, 91 runs scored, 15 steals and a .391 on-base percentage. As third basemen go, those kinds of numbers were only put up by Adrian Beltre, Chase Headley and Mark Trumbo in 2012.
In other words, in case the Mets didn't know, David Wright is an elite talent at a relatively shallow position.
The Mets need to extend David Wright immediately, before he even has the chance to taste free agency. He's worth the money based on his on-field performance alone. He's also the team's only marketable position player.
When you take into account that the other players in Queens with marketability are a 38 year-old knuckleballer, and a rapidly aging and oft-injured Johan Santana, there is simply no reason the Mets shouldn't make sure David Wright never plays for another team.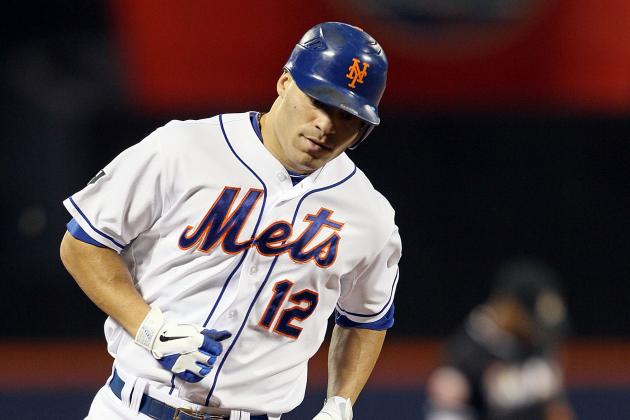 Alex Trautwig/Getty Images
Scott Hairston hit a career best 20 home runs for the Mets in 2012, but the Mets will need to do more to the outfield than just bring him back if they plan on having a successful 2013 season.
Scott Hairston had a nice season for the Mets in 2012 belting a career-best 20 home runs in only 377 at-bats while playing the outfield for a team that was desperate for outfield production in 2012.
The team will surely look to resign the veteran journeyman for 2013 and they should, especially since the team had arguably the worst starting outfield in all of baseball last year. With that said, even on a team who's outfield consists of guys like Andres Torres, Lucas Duda and Kirk Nieuwenhuis, he's at best a fourth outfielder.
So what's the problem with the guy who was easily the most productive outfielder in Queens last year?
First, most times when a quality platoon player goes from his bench role to a starting role, the deficiencies in his game get exposed. Anyone who remembers Karim Garcia's time in Queens should know that.
Second, even if Hairston proves he's starting material, he's still a strikeout machine and a terrible defensive player. Neither of those is what the Mets need in their lineup or in their still pitcher-friendly park, respectively.
Can an argument be made that Hairston is the best player the Mets have in the outfield?
Yes, but honestly, not one of the other outfielders the Mets currently have rostered, with the possible exception of Lucas Duda (and that's a stretch), is worthy of a starting job in the major leagues, period.
The Mets should definitely resign Hairston. He has a quality bat, and can play a multitude of positions, but giving him any job other than a utility player is a mistake. He's not the answer to the outfield void the Mets have, and should not be looked upon as an everyday solution if the Mets plan on being competitive in 2013.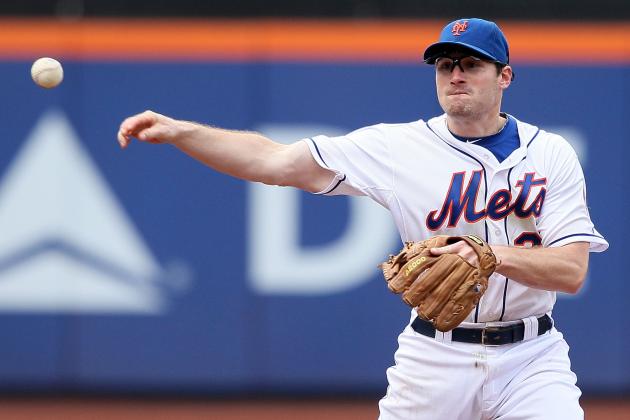 Alex Trautwig/Getty Images
Daniel Murphy is not the answer at second base for the Mets, and should looked to be traded.
Anyone who has ever read anything I've written about the Mets over the years, knows I am not a fan at Daniel Murphy.
Murphy is a borderline major leaguer at best. To be fair, Murphy did hit .291 last year with 40 doubles, and even added 10 steals, but that's the extend of his production.
Despite playing in 156 games, Murphy only managed 62 runs scored, 65 RBI, and six home runs, while striking out 82 times. While that may not be terrible production at second base, when combined with the fact that he's a terrible defensive player, regardless of where he plays, it's easy to see why he's not what the Mets need at second base.
For the Mets, a team who is not a prolific offensive squad to say the least, it is important to be strong up the middle, and having a second baseman like Murphy, who's 15 errors at the position was second only to Rickie Weeks' 16 (in almost 60 more chances), is the equivalent of giving runs away.
In order to justify having a guy like Murphy in the middle infield, he needs to put up monster numbers, numbers like a Dan Uggla or the aforementioned Weeks. While both those guys did slump at the plate in 2012, anyone who thinks Murphy is in the same class with those two offensively, simply doesn't know the sport. Unfortunately for the Mets, however, Murphy is in the same class with those guys defensively.
The Mets can easily find a second baseman who doesn't hit home runs, that plays quality defense, even if they sacrifice some of the batting average that Murphy offers. Should another team be interested in Daniel Murphy, the Mets should jump at the chance to trade him, especially if they can get a relief pitcher in return.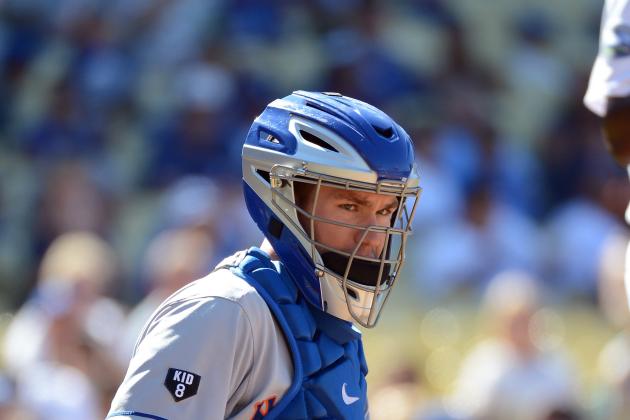 Harry How/Getty Images
He's no Mike Piazza, but Josh Thole is servicable behind the plate, and the Mets have plenty of other holes to fill.
I've heard numerous people, including Mike Francesa's radio show in New York, state that one of the things the Mets need to do is address their catching situation.
Simply put, this is absurd.
Is Josh Thole the long term answer behind the plate for the Mets? Probably not, especially if he continues to hit .234 with no pop. What Thole is is a young, cheap and serviceable backstop on a team that has plenty of other, more pressing needs to address.
Nobody is ever going to mistake Josh Thole as the second coming of Mike Piazza at the plate, but there's reason to believe he may not be as bad as he was last season, either.
First, very few teams, especially in the National League, get great offensive numbers from the catching position.
Second, despite batting a paltry .234 in 2012, Thole had a solid offensive season in 2011, in a similar number of plate appearances by batting .268 with .345 on-base percentage.
Finally, Thole is still only 26 years old, so there is reason to believe he can still improve as he learns to play the most demanding position in the sport. There is plenty of time to improve both offensively and defensively and while he hasn't been great, he's been solid enough to earn more time to develop.
Don't get me wrong, I'm not exactly a Thole fan, but the Mets need a closer, bullpen depth and serious outfield help way before they even think about replacing Josh Thole as the starting catcher. He's extremely cheap, is under team control and has yet to enter his prime years.
If the Mets want to bring in a solid veteran back-up with pop like they did last year when the team traded for Kelly Shoppach during the season, that's fine. But anyone, including Mets brass, that thinks replacing Thole needs to be a priority at this point in the Mets' rebuilding process is not seeing the big picture.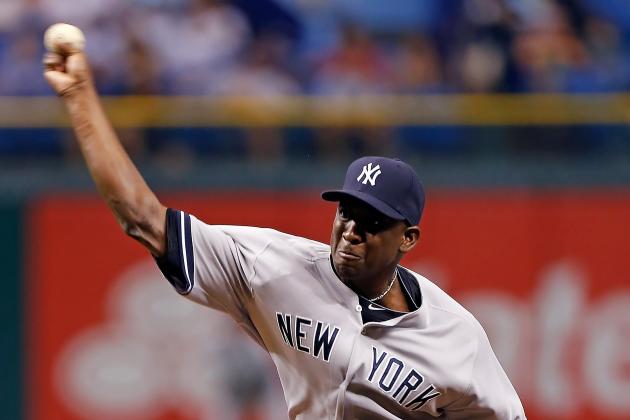 J. Meric/Getty Images
There are a lot of good relief pitchers available this winter, including Rafael Soriano, who saved 42 games for the Yankees in 2012.
Lost in all the moves in Miami and the greatest right-handed hitter ever changing teams last winter was the fact that the Mets' general manager Sandy Alderson made two of the worst signings of the year: bringing in both Frank Fancisco and Jon Rauch to bolster the Mets bullpen.
Of course, with the team's financial future unresolved at the time, Alderson was forced to make cost-conscious moves, leaving him with few other choices than the two pitchers who played hot potato with Toronto's closer job in 2011.
This year, however, should be much different.
The Mets' biggest need on the team, arguably more so than in the outfield, is in the bullpen. While Rauch is a free agent, Francisco is still under contract for 2013. After watching him blow chance after chance and lose his job numerous times to Rauch for two seasons, there is no way he should be handed the ninth inning going into 2013 if the Mets plan on being a competitive team.
Lucky for the Mets, this is the perfect time to need bullpen help. There are plenty of quality relievers with past experience in a number of roles that are free agents this winter.
Rafael Soriano saved 42 games as Mariano Rivera's replacement in the Bronx headlines the lot. But plenty of other names jump off the list of free agent relievers who could be a perfect fit in Queens.
There seems to be numerous routes the Mets could take if they plan on signing a new closer this winter. They could go for guys who have had ninth inning success in the past like Jonathon Broxton, Joakim Soria or Brett Myers. They can give a quality set-up man a chance to close like Mike Adams or Ryan Madsen. They could even go with one of the younger, lesser known relievers whom many teams covet like J.P Howell or Carlos Villanueva.
Any of those names would be an upgrade over Francisco in the ninth. Even better, the Mets could sign a closer like Soriano and an eight inning guy like Adams, and then won't have to worry about the end of games for a few years.
Maybe that's too much, but it's a thought. Either way, the worst thing the Mets could do is go into 2013 with Frank Francisco as the closer.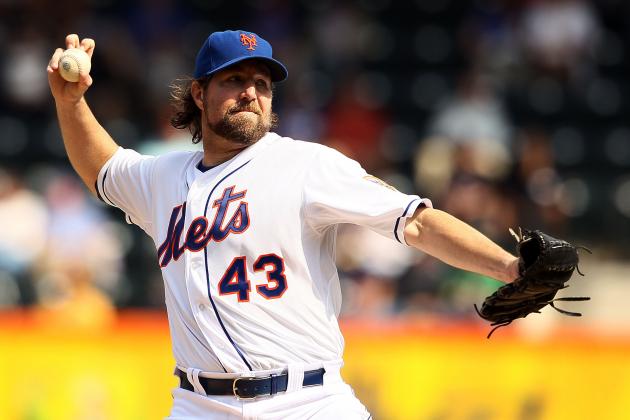 Alex Trautwig/Getty Images
R.A. Dickey was the NL Cy Young award winner for the Mets in 2012, and comes at a very reasonable price tag.
This is another no-brainer.
For those of you who think the Mets should strike while the iron is hot and trade the 2012 NL Cy Young award winner while his value is as high as it will ever be, I understand your thinking even if it's the wrong move.
First, Dickey has had not one, but three, very good seasons in Queens. While his won-loss record hasn't been great prior to this season, take a look at his other numbers and there is no question who the ace of the Mets staff has been since he arrived at CitiField.
After looking at Dickey's production, which includes two seasons of over 200 innings pitched, two seasons of a sub-3.00 ERA and of course that Cy Young award, look at his salary. Dickey has never made more than $5 million in any season, and is under contract for one more year at that rate. To put that into the proper perspective, the guy that was deemed by the baseball writers to be the best pitcher in his league in 2012 made almost $700,000 less than Mike Pelfrey.
Even if the reported contract extension of two years for a total of $20 million that Dickey wants from the Mets is true, he's still a bargain. If the Mets do trade Dickey, where else are they going to find that amount of production at that price?
The answer is, they won't.
Yes Dickey will be 38 next year, but knuckleball pitchers are known for pitching well into their forties. With the health of Johan Santana a constant question mark and so many other holes to fill on the team, the last thing the Mets need to be doing is worrying about who the ace of the staff will be.
The Mets have a ton of young, talented pitchers waiting in the wings, but that's anything but a sure thing. Just ask the members of Generation K.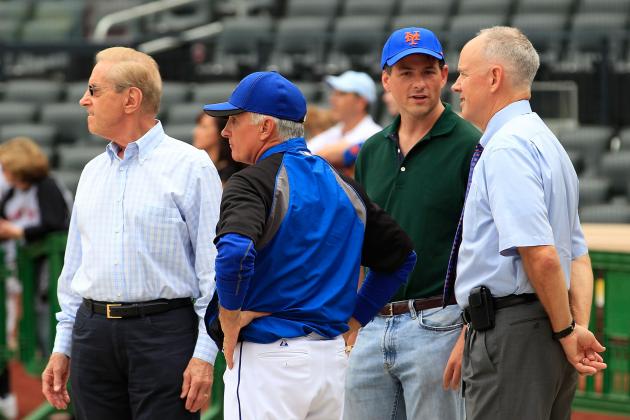 Paul Bereswill/Getty Images
With the Madoff scandal behind them, Mets' brass can get back to making decisions based less on finances and more on baseball.
Consider this a direct plea to Mets owner Fred Wilpon.
Not one fan or writer can expect any owner of a sports team to continue to operate in a "business as usual" manner after being an unwitting party to a ponzi scheme and facing financial ruin in the tune of close to a billion dollars.
In all honesty, the fact that Fred Wilpon was able to keep the team running in the midst of all of that is a bit of a miracle in itself, so it's understandable that Mets fans would have to watch players like Jose Reyes leave, while watching guys like Frank Francisco and Jon Rauch sign.
As the 2012 season was beginning, news broke that the Wilpons were going to be fine financially, and a huge sigh of relief could be heard coming from the New York Mets community.
While it was too late for the Mets to do any tinkering to the roster last season, the time has come for the Wilpons to stop making moves to the roster based on finances first, and baseball-related issues a distant second.
There is no reason for this team, a team that has it's own television network and a newer ballpark, to continue to operate in the same fashion of a small-market team. This should be common sense, but surely no Mets fan would be surprised if the change in ownership's finances didn't lead to a change in rebuilding philosophy.
Mets fans have been very patient, well as patient as Mets fans can be. The WIlpons now have the resources to run the team properly, while still sticking to Sandy Alderson's plan, and being fiscally responsible.
That needs to begin happening this winter.