11 People the Vikings Should Be Thankful For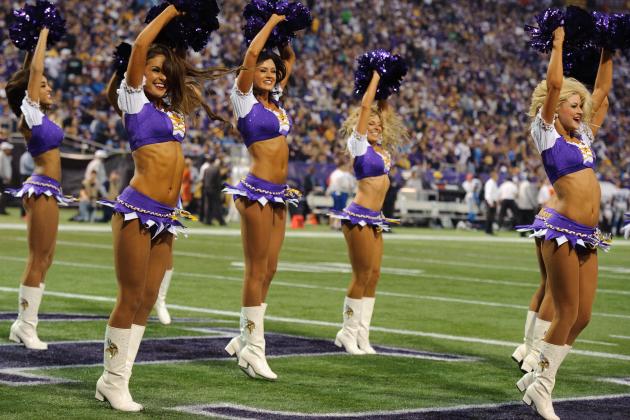 Hannah Foslien/Getty Images
Vikings fans have some things to cheer about this year
In the 2011 NFL season, the Minnesota Vikings finished with a dismal 3-13 record. The roster was aging and thin, superstar running back Adrian Peterson blew out his knee, and the defensive backfield was wracked by injuries and suspensions. There didn't seem to be a lot to look forward to heading into the new year.
Through a series of solid offseason moves, the Vikings improved their lot heading into the 2012 season. The team has what it thinks is a franchise quarterback. New GM Rick Spielman put together a solid draft, and Peterson appears to be his old defense-destroying self.
Heading into the Thanksgiving holiday, the Vikings sport a 6-4 record. The team is much better than most experts predicted it would be, and the fan base has a lot to look forward to.
Here are 11 people that the Vikings and their fans should be thankful for this year...
Begin Slideshow

»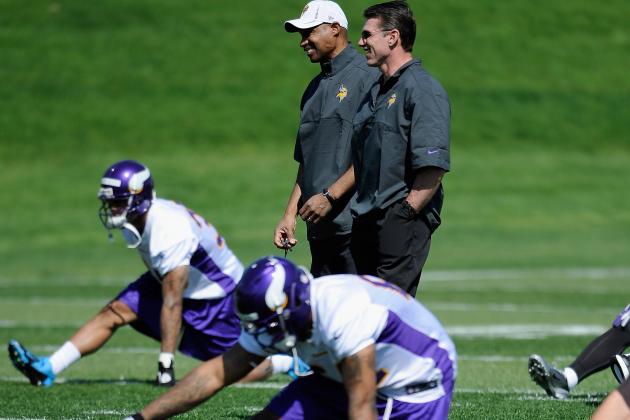 Hannah Foslien/Getty Images
Spielman has the Minnesota Roster headed in the right direction
The first person that the Vikings should be thankful for is general manager Rick Spielman. Spielman, as vice president of player personnel, was part of a three-man decision-making group prior to his ascension. Now, he has final say over the Vikings roster, and the team has one clear vision as it builds to the future.
Spielman has drafted extremely well in the past two seasons, adding starters Christian Ponder, Blair Walsh, Harrison Smith, Kyle Rudolph, Matt Kalil, Josh Robinson and other valuable contributors through the draft.
Spielman has been a bit less successful in signing veteran free agents. The jury is still out on wide receiver Jerome Simpson, tight end John Carlson and several other low-priced vets that the Vikings have brought in to fill holes in their roster.
Spielman also brings Minnesota a clear vision. He resists the temptation to go after flashy, high-priced free agents. Instead, he attempts to accumulate draft choices and prefers to build the team by developing young players within the system.
However, if Spielman continues to draft well and signs just one or two viable veteran free agents, the Vikings will find themselves back atop the NFC North in short order.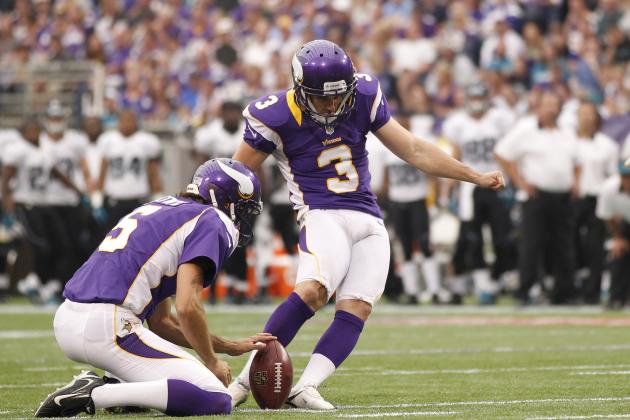 Andy King/Getty Images
Blair Walsh has ably replaced Ryan Longwell
When the Vikings jettisoned veteran kicker Ryan Longwell and drafted Blair Walsh out of Georgia, the fanbase was decidedly upset.
Longwell played for the Vikings from 2006-2011. He was one of the five most accurate kickers in NFL history and had contributed to many Vikings victories.
Walsh, on the other hand, had an alarmingly poor senior season at Georgia, converting just 21-of-35 field-goal attempts. Fans were shocked that Minnesota had dropped a steady, reliable kicker for a guy who couldn't hit half of his attempts during his last college season.
Walsh has been a tremendous find for the Vikings. Through 10 games in his rookie season, Walsh has converted on 23-of-24 field-goal attempts and hit all 21 of his extra-point tries.
Even more impressive than his kicking accuracy is Walsh's booming leg. After 10 games, he leads the NFL in touchbacks with 41 and consistently places Minnesota's foes in bad field position.
All this and he makes almost two million dollars less than Longwell would have this season, thus leaving room under the salary cap for the Vikings to work on the rest of the roster.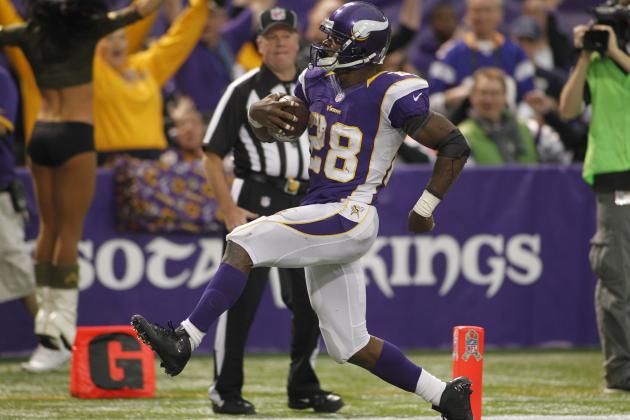 Andy King/Getty Images
Peterson is arguably the NFL's best back
Disaster struck the Minnesota Vikings on December 24, 2011 when Peterson tore the ACL and MCL in his left knee in a game against the Washington Redskins. Running in a meaningless game in a lost season, Peterson was injured, and his career, along with the Vikings' future, seemed to be in serious trouble.
These doubts would have been justified if Peterson were a normal human being. However, Peterson apparently has superhuman healing abilities. Injuries of the type AP suffered usually take anywhere from 12-18 months to heal. Many running backs need a full season to recover, and some never really do.
Peterson stepped on the field for the Vikings in the 2012 season opener on September 9, just about eight months after his injury. Just to be on the field was an accomplishment. However, Peterson defied expectations, rushing for 84 yards on just 17 carries against the Jaguars. The Vikings had their star runner back.
Peterson has been nothing short of spectacular all season. After 10 games, he leads the NFL in rushing with 1,128 yards, and has scored seven rushing touchdowns. He's averaged nearly six yards per carry and has run for an astounding 629 yards in his last four games.
The Vikings should be thankful that their star running back is clearly something beyond special.
Stephen Brashear/Getty Images
Harvin is one of the league's top all-around threats
Another player the Minnesota faithful should be thankful for is Percy Harvin.
The Viking receiver is near the top of the NFL in all-purpose yards and is a threat to score every time he touches the ball. Prior to missing the Vikings' last game against Detroit, Harvin led the league in receptions, with 62. Those catches were good for 677 yards and three scores. Harvin has also rushed for just under 100 yards on 22 carries with another touchdown and had returned kicks for another 574 yards and a touchdown.
There is no more versatile player in the NFL. Minnesota has made a habit of tossing Harvin the ball at or near the line of scrimmage and letting him do his damage after the catch. It's rare that a single tackler can bring Harvin down, and his ability to line up just about anywhere in the formation gives defenses fits.
Vikings fans should be thankful for the all-purpose standout.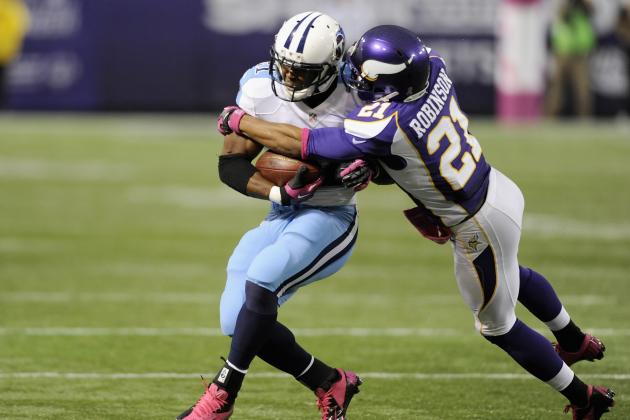 Hannah Foslien/Getty Images
Robinson has been a pleasant surprise at corner
Josh Robinson, drafted in the third round of the 2012 NFL draft, has given the Vikings plenty to be thankful for.
Minnesota drafted Robinson on his potential. The cornerback turned in the fastest 40-yard dash time at the NFL combine, but was considered a bit of a project since the competition he faced at Central Florida was less than stellar.
Robinson has been much more than a work in progress for the Vikings. The rookie has started several games for the Vikings and has recorded 37 tackles, an interception and two passes defended. He's provided surprisingly strong run support and has acquitted himself well in Minnesota's zone defense.
With Chris Cook sidelined by injury and Antoine Winfield best suited for slot duty, the Vikings are thankful that Robinson has been able to fill the gap in his first season.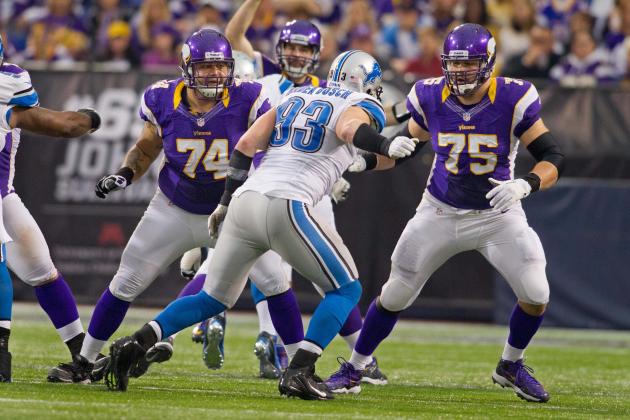 Bruce Kluckhohn-US PRESSWIRE
Kalil has exceeded lofty expectations
The Vikings spent the fourth overall pick in the most recent NFL draft on former USC offensive tackle Matt Kalil. The team was looking to protect the blind side of its 2011 first-round pick, Christian Ponder. Kalil has done better than simply protect his quarterback. He's provided Pro-Bowl caliber play at the left tackle position from the moment he stepped on the field.
Kalil has sealed off the left side of the Vikings line and given Ponder one less thing to worry about. His run blocking, though not yet on par with his stellar pass protection, has also been better than advertised. Kalil has also demonstrated a bit of a mean streak, an attitude that the Minnesota line could really use.
He's even managed to block a kick so far. Minnesota should be thankful that its top pick has outperformed even the loftiest of expectations.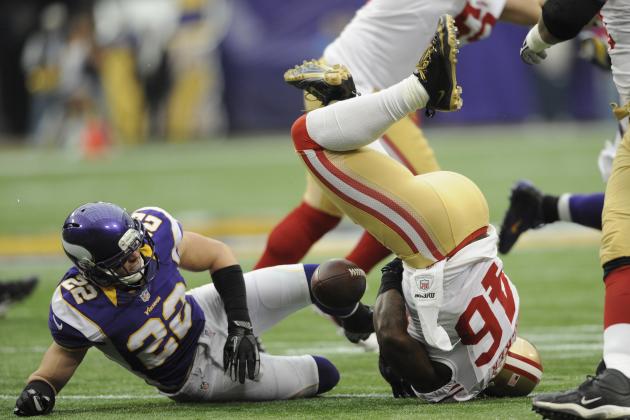 Hannah Foslien/Getty Images
Smith has become a presence on the Minnesota defense
Speaking of attitude, the Vikings got that and more when they traded back into the first round last spring and selected Notre Dame safety Harrison Smith.
In 2011, Minnesota's safety play was so poor that fans often closed their eyes when a pass was thrown down the middle of the field. Now, it's opposing receivers who can't stand to look when they are forced to roam the center of the Vikings defense.
Smith, playing with a fire and attitude at the safety position that Vikings fans have been lacking since Robert Griffith patrolled the backfield, has registered 56 tackles, an interception return for a touchdown, a fumble recovery and a knack for being around the ball.
Smith hits with precision and force, causing teams to think twice about exploiting the middle of the Minnesota defense, long a chink in the Vikings' armor.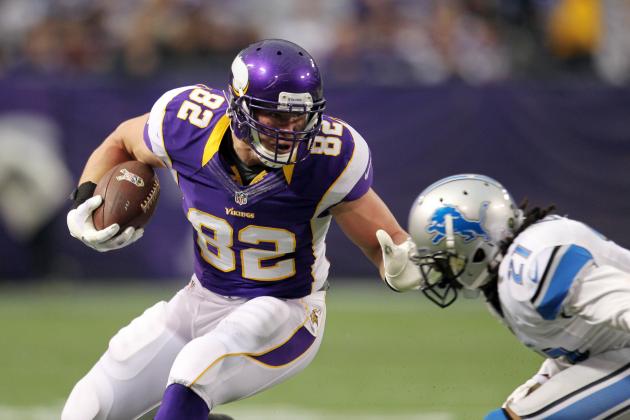 Brace Hemmelgarn-US PRESSWIRE
Rudolph is a sure-handed target
Aside from Peterson and Harvin, the Vikings don't have a lot of serious offensive threats to frighten opposing defenses. Thankfully, they do have tight end Kyle Rudolph.
Rudolph has emerged as the team's No. 1 red-zone threat, amassing six touchdowns among his 34 catches. The only problem for the Vikings is that they occasionally seem to forget that Rudolph is on the field. Over one recent stretch, the big tight end manged only two receptions in a three-game span.
Rudolph's exceptional hands and huge catch radius make him a perfect threat near the goal line, and in fact, anywhere on the field. Minnesota fans should be thankful that the team has an option other than Adrian Peterson and Percy Harvin to go to when the yards get tough.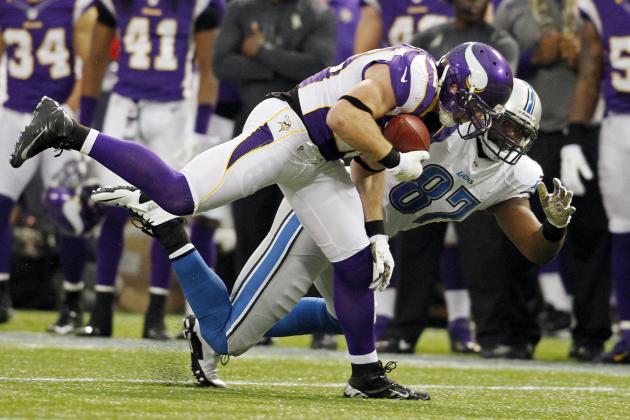 Bruce Kluckhohn-US PRESSWIRE
Greenway quietly performs at an elite level
Linebacker Chad Greenway isn't flashy or fancy. All he does is make tackles. Greenway has been one of the NFL's leading tacklers for the past three years and is atop the standings again in 2012, having amassed 100 tackles in the first 10 games of the year.
The Vikings can be thankful that Greenway is there to cover one half of the field. He's defensed four passes this year, intercepted one and contributed two sacks. Given his prowess as a tackler and pass defender, he gives the Vikings blitz options on defense, which has contributed to the team's rise in the NFL's defensive rankings this season.
Greenway simply gets the job done each and every week.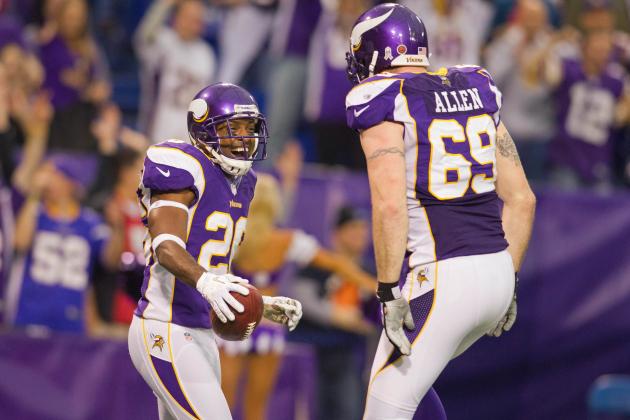 Bruce Kluckhohn-US PRESSWIRE
Allen's dominant presence makes his teammates better
Jared Allen gives both Vikings fans and his teammates something to be thankful for. Allen, who led the NFL with 22 quarterback sacks in 2011, is on pace for another stellar season, with seven sacks through the first 10 games.
While Allen is best known for terrorizing opposing quarterbacks, he is also effective against the run, having totaled 28 tackles and four tackles for loss on the year. Allen's motor never stops revving, and he's frequently even more effective at the ends of games than he was in the beginning.
Even more pertinent than his own statistics is the way Allen makes his teammates better. He can drop into short pass coverage, allowing safeties or linebackers to blitz. The fact that he draws a double team on just about every play frees up his fellow linemen to chase the ball carrier as well.
Brian Robison, the team's other defensive end, probably profits as much from Allen's presence as anyone. Robison currently leads all NFL linemen in passes defended with seven. He's also recorded 5.5 sacks as teams continue to focus on Allen.
Minnesota should be extremely thankful that Allen not only plays well, but makes his teammates better too.
Bruce Kluckhohn-US PRESSWIRE
Ponder just might be the long-term answer at QB
While many fans still haven't decided how they feel about quarterback Christian Ponder, the Minnesota faithful should be thankful that the team seems to have found itself a quarterback for the next 10 years or so.
It's understandable that Vikings fans are reserving judgement on Ponder. The second-year signal-caller hasn't been the most consistent performer. His play has ranged from just short of spectacular to almost disastrous this season. However, the heady Ponder seems able and willing to learn from his mistakes, and all indications are that he will continue to improve as he gains experience.
Ponder is very smart and takes coaching well. These traits often lead to success for NFL quarterbacks. He's also mentally tough, surprisingly athletic and a good leader. Ponder, unlike his predecessor in Minnesota, Donovan McNabb, has taken responsibility for his poor performances. He's refused to point the finger at teammates, even when he was getting hit on every play while playing behind a porous offensive line during his rookie year.
Players who take responsibility earn the confidence of their teammates. Good quarterbacks are usually good leaders as well.
If the Vikings manage to upgrade their receiving corps, the sky is the limit for Ponder. The team won't have to spend a high draft pick on a quarterback for the next decade and can be thankful that it is using its selections to compile a strong supporting cast for Peterson, Harvin and Ponder.