Five NFL Players That Could Affect The 2009 Draft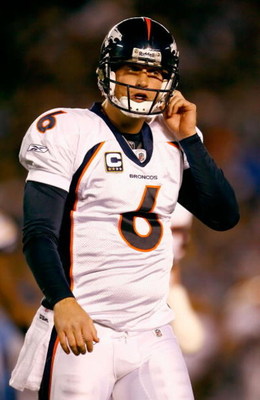 The NFL Off Season is a period that arguably gets as much attention as the regular season does.
There is never a dull moment as fans become more and more anxious about who will be on their favorite teams come September.
The free agency period has long since begun, and the majority of the top tier players have reached contractual agreements at this point.
There may be a few more signings here and there to fill holes or for training camp competition, but the next big event will be the NFL Draft which occurs in the last week of April.
While mock drafts will be viewed and altered excessively over the next 38 days, we all know that the majority of them will be incorrect.
Outside of draft picks being swapped, draft weekend is when most players get traded. Whether it's players or picks, once the trigger is pulled on the transaction it changes the outcome of the draft.
Here are five players currently under contract that would have a huge impact on the draft if they are traded.
Tony Gonzalez—TE (Kansas City Chiefs)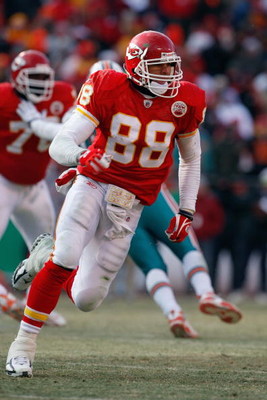 While Gonzalez has backed off from publicly requesting a trade, this possibility isn't completely dead. The Chiefs are still a rebuilding team and No. 88 would prefer to be with a contender.
How It Affects The Draft
The team that would receive Gonzalez (Buffalo and Philadelphia in particular) would more than likely be one more team that removes themselves from the Brandon Pettigrew sweepstakes. Of course, there's a possibility that these teams may be reluctant to draft a tight end not know for speed in the first round.
How It Would Help The Chiefs
Being that they're on a youth movement, the Chiefs would definitely feel rewarded by receiving multiple draft picks (most likely a second and a fifth). If they received a second rounder, it would make up for the one they gave up for QB Matt Cassel.
My Prediction
Gonzalez stays in Kansas City. I don't see too many teams willing to give up a second rounder plus another pick for a 33 yr old TE, regardless of him stil being a productive future Hall of Famer.
Plaxico Burress—WR (New York Giants)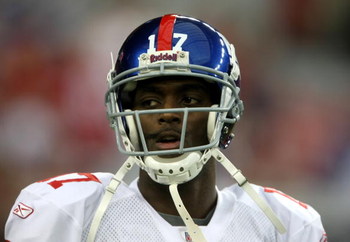 Burress isn't up for a trade, but his legal status will certainly dictate the Giants gameplan for the draft.
How It Affects The Draft
If it doesn't look good for Plaxico, look for the G-Men to aggressively pursue Anquan Boldin or Braylon Edwards. Either one would require the Giants to give up their 1st round pick.
If not one of them, they may go after Hakeem Nicks or Darius Heyward-Bey in the draft. If Plaxico comes out on top, the Giants won't be pressured to replace him.
My Prediction
Burress gets three years probation and is available for the post draft mini camp, allowing the Giants to use their first round pick on a much needed linebacker or defensive back.
Anquan Boldin—WR (Arizona Cardinals)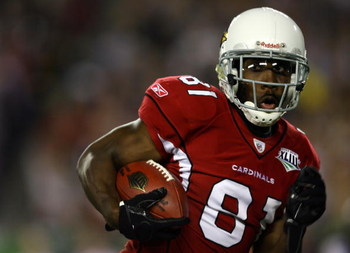 The Cardinals insist that Boldin isn't on the trading block, but that doesn't mean they won't consider the offers that will likely increase over the next few weeks.
Not only is Boldin a disgruntled individual these days because of his contract status, the Cardinals can afford to lose him. They have Larry Fitzgerald as the No. 1 WR, and Steve Breaston and Early Doucert are capable of filling the void.
How If Would Affect The Draft
Whoever goes after Boldin is going to have to part with at least their 1st and 3rd round picks, changing how that pick is used.
How It Would Help The Cardinals
Yes they made the Super Bowl, but the Cardinals were still a 9-7 team with quite a few weaknesses.
If they didn't make the big show, they would be looking at picking in the late teens of each round they have a pick in, instead of the 31st pick overall.
Adding yet another first round pick would give them the opportunity to add ammunition to an already dangerous team.
My Prediction
Boldin is traded to Philadelphia for their 1st and 3rd round picks. The Eagles have enough draft picks (12) and cap space (over $40 millions) to get Anquan and re-do his conract. The Eagles are in positon to add Boldin and still address their other offseason needs.
Julius Peppers—DE (Carolina Panthers)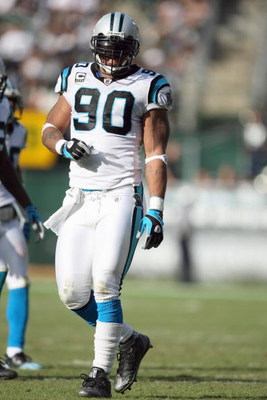 The speculation is that Peppers is interested in the New England Patriots, Dallas Cowboys, and two other NFC teams.
Regardless of where he plays in 2009, I highly doubt the Panthers will use the franchise tag to pay $16 million to someone who has been adamant about not wanting to be there. They want to be compensated for his departure.
How It Affects The Draft
Wherever Peppers lands won't be pressured into drafting a hybid DE/OLB in the draft. That may cause a shift in where guys like Everette Brown, Larry English, and Clintin Sintim get picked.
How It Affects The Panthers
Whether it's a first or second rounder, the Panthers will regain the Day One pick they gave to the Philadelphia Eagles during draft weekend last year.
Carolina didn't have much cap flexibility to sign any top free agents, so they could use all the draft picks they can get to help improve their team.
My Prediction
The rumored "Peppers to Patriots for the No. 34 pick" will come to fruition. New England is in the best position to make this deal happen. Receiving a high second round pick is only six lower than the pick they would've received if they didn't make the trade last year (although they wouldn't have received Jeff Otah).
Jay Cutler—QB (Denver Broncos)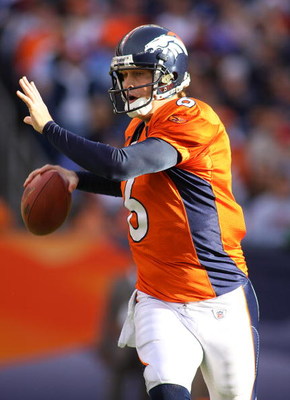 First impressions are long lasting ones. Cutler's impression of new Bronco coach Josh McDaniels is flat out ugly.
Not the way an organizations wants to start a relationship between a coach and a franchise QB. Unlike most rumors, Cutler's trade request has been officially confirmed by his agent and the Broncos.
How This Affects The Draft
This very likely transaction will help the participating team immensely. Cutler will most likely cost a second round pick, allowing that team to use the first round pick (the one they probably planned to use on Stafford, Sanchez, or Freeman) on another need.
How It Affects The Broncos
No team wants to lose their franchise quarterback, but you also don't want a disgruntled one leading your team. The Broncos most likely don't want to be involved in a deal that doesn't give them another starting QB.
My Prediction
I predict a three way trade involving Denver, Detroit, and Cleveland. Denver ships Cutler and a fifth rounder to the Lions. The Lions send their second round pick to the Browns. The Browns ship Derrick Anderson and a fourth round pick to the Broncos.
The Broncos would unload potential baggage while still having a starting caliber QB. The Lions would get a starting QB, allowing them to use their No. 1 overall pick on a much needed left tackle(Jason Smith?). Cleveland would avoid a possible QB controversy and receive a first day pick.
Keep Reading