12 Dream Free Agent Pickups for the New York Mets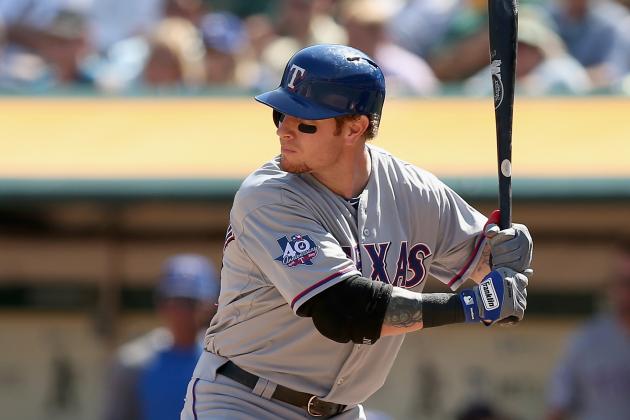 Ezra Shaw/Getty Images

The Mets this offseason will not be particularly aggressive with free agent signings mainly due to their lack of available spending money. With this mind, they will look towards making various trades in order to improve the team.
However, if the Mets were able to have a large amount of spending money, there would be quite a few ways to put it to use with the current group of free agents that are out there.
Here are 12 dream free agent pickups that the Mets would likely make if the money was there.
Begin Slideshow

»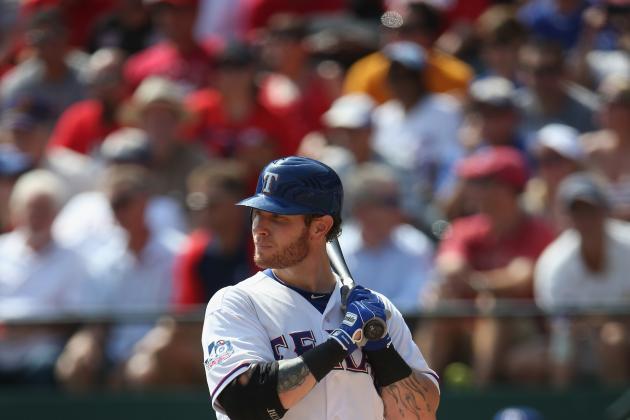 Ronald Martinez/Getty Images

Arguably the top free agent this offseason is Josh Hamilton. Hamilton has been a mainstay in the Rangers' outfield since 2008 and was the 2010 AL MVP.
Hamilton's career numbers include a .304 average, 161 home runs, 553 RBI, a .363 OBP and a .549 slugging percentage in six seasons. Those numbers, though, would have likely been higher if Hamilton had stayed healthy more often and was not limited to just 89 games in 2009.
If the Mets signed Hamilton this offseason, he would instantly turn around the team with a solid offensive presence in the middle of the order.
His presence in the third spot of the lineup could move David Wright to the fifth spot and give the lineup itself a lot more depth. Hamilton would almost certainly be the most productive Mets hitter and would take the offense to a whole new level. Defensively, Hamilton can play anywhere in the outfield and would be a great defensive fit.
However, there are a few reasons why the Mets will not be going after Hamilton. First, they simply don't have enough money to pay Hamilton the seven-year $175 million contract he will demand, and there will be other teams that could afford to pay him.
Second, Hamilton's health over the years has not been the best, so he would be a risk from that perspective.
Third, Hamilton's history with alcoholism and drug abuse would make him an off-field liability as well. There would always have to be a Mets staff member with him to keep him in check, for example. Furthermore, it would become a potential distraction for Hamilton, teammates and front office personnel.
Josh Hamilton would be a wonderful addition to the Mets, but with the Mets in their current financial state, such a signing will not occur.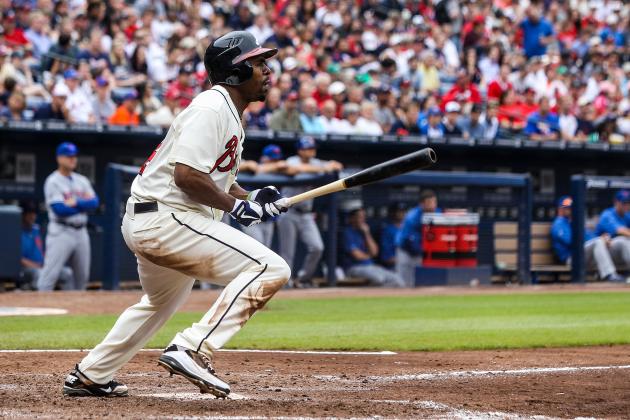 Daniel Shirey/Getty Images

Behind Hamilton, Michael Bourn is widely considered the second-best free-agent outfielder and is someone that could transform the top of a lineup in an instant.
Bourn's career numbers include a .272 average, 22 home runs, 215 RBI, 459 runs scored and 276 stolen bases in just six seasons. He has spent time with the Phillies, the Astros and most recently, the Braves. He is a two-time All-Star and two-time Gold Glove Award winner.
If the Mets were to sign Bourn, he would provide as good of a presence as anyone in the leadoff spot. He gets on base and has been one of the top base stealers in the past few seasons. Defensively, Bourn is as good as anyone in center field and would provide the Mets with some much-needed stability at that position.
However, the Mets will not be going after Bourn because he will likely seek a contract within the five or six year and $70-80 million range. Those amounts are out of the range that the Mets would be willing to give.
It's unfortunate because the Mets' lineup this past season looked different without Jose Reyes at the top of the lineup. Bourn would provide a similar presence in the Mets' lineup just like Reyes did for nine seasons.
In most seasons, the Mets would probably try to target someone like Bourn, but with their financial situation not yet completely resolved, this offseason just doesn't work well for the Mets to make a big signing like that.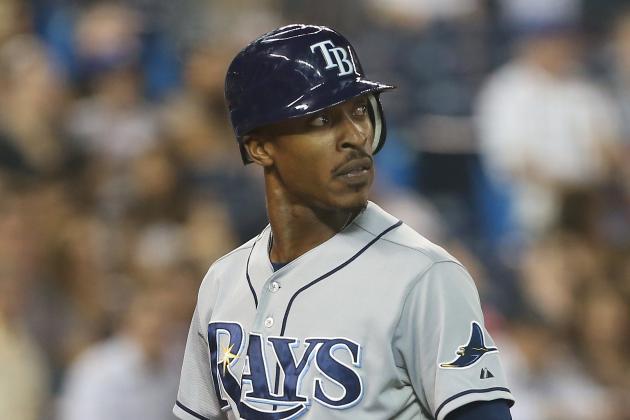 Tom Szczerbowski/Getty Images

Yet another notable free agent outfielder is BJ Upton.
Overall, Upton is a similar player compared to Bourn. However, in recent years, Upton's average and OBP numbers have gone down despite his power numbers increasing.
In his career, Upton has a .255 average, 118 home runs, 447 RBI, 539 runs scored, a .336 OBP, and a .422 slugging percentage. He has spent his entire career so far with the Rays.
If the Mets were to sign Upton, he would provide stability for the Mets as a leadoff hitter and a center fielder. He would hit home runs, steal bases, score runs and play very good defense in center field. Furthermore, he and David Wright were childhood friends growing up, so that bond would further strengthen the Mets' clubhouse.
However, the Mets are very unlikely to pursue Upton because the Mets are not in any position currently to pay someone like Upton who will probably want a five-year contract worth at least $60 million.
While BJ Upton would be a good fit with the Mets and could certainly help the Mets' chances of retaining Wright, he is more likely to sign with a team such as the Braves that actually has spending money.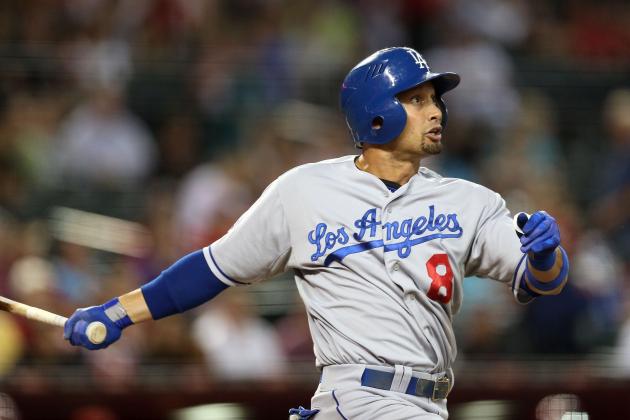 Christian Petersen/Getty Images

A fourth top free agent outfielder is Shane Victorino, who split time this past season with the Phillies and Dodgers. Victorino is older than all three of the previously mentioned outfielders, but can still play at a high level and provide similar results to Michael Bourn and BJ Upton.
For his career, Victorino has batted .275 with 90 home runs, 409 RBI, 619 runs scored, 1,060 hits, 201 stolen bases, a .341 OBP and a .430 slugging percentage. After a brief call-up in 2003 with the Padres, Victorino was a mainstay in the Phillies' outfield from 2006-2012. This past July, the Phillies traded him to the Dodgers, where he finished out the season.
If the Mets signed Victorino, it would likely be for no more than two or three years. He would provide a leadoff hitting presence and would give the Mets a veteran center fielder that could play the position as well as anyone.
The Mets would be more likely to sign Victorino than Hamilton, Bourn or Upton, but Victorino's age and declining numbers are two big reasons why the Mets will probably not try to go after him.
Shane Victorino would provide the Mets with a lot for the next few years, but clearly is not the Mets' long-term solution in center field.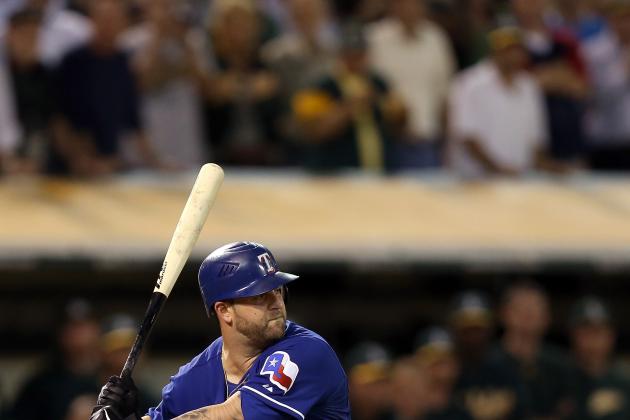 Ezra Shaw/Getty Images

One of the top free agent catchers is Mike Napoli. Napoli has emerged as one of the better offensive catchers in the game, although he did not hit as well this past season compared to 2011.
Through his career, Napoli has a .259 average, 146 home runs, 380 RBI, a .356 OBP and a .547 slugging percentage. He was the Angels' backstop from 2006-2010 and spent the past two seasons with the Rangers.
If the Mets were to sign Napoli, he would provide a huge upgrade behind the plate. He would give the Mets an offensive catcher that could hit for power, which they have not had since the Mike Piazza era. Defensively, Napoli is a good backstop and can play first base as well.
The Mets are not likely to try and sign him because he will ask for both more money than he actually deserves and more money than the Mets can afford to commit to one player.
Furthermore, Napoli's numbers went down this past season, so it's not a guarantee that they will improve in 2013 for sure.
Mike Napoli is a great catcher and could help the Mets a lot, but he is not a perfect fit in other aspects and the Mets simply cannot afford to give him a large contract.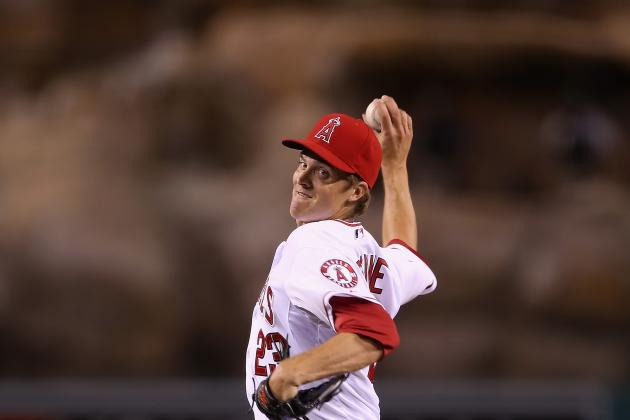 Jeff Gross/Getty Images

Widely considered the top pitcher among the current free agents is Zack Greinke.
The former AL Cy Young Award winner split time in 2012 with the Brewers and the Angels, whom the Brewers traded him to prior to the trade deadline. Greinke has been one of the league's best pitchers in the last five years and should continue to have more great seasons going forward.
Through his career, Greinke has a 91-78 record, a 3.77 ERA, 1,332 strikeouts and a 1.247 WHIP. His career season was in 2009 when he went 16-8 with a league best 2.16 ERA, as well as 242 strikeouts. He spent his first seven seasons with the Royals from 2004-2010 before getting traded to the Brewers. He spent all of 2011 and most of 2012 there before being shipped to the Angels.
If Greinke were to become a Met, he would make an already strong rotation even more dominant. He would either be the ace or the second starter in the Mets' rotation and would likely make the Mets an instant postseason contender.
However, the Mets of course do not have the money to even think of trying to get Greinke. Furthermore, his documented anxiety issues would make him a very poor fit with the Mets. It's possible that dealing with the New York sports media could have a significant effect on the way he pitches.
Zack Greinke is a great starting pitcher that just about every team would want to have, but the Mets are in no position to pay someone like him a big contract.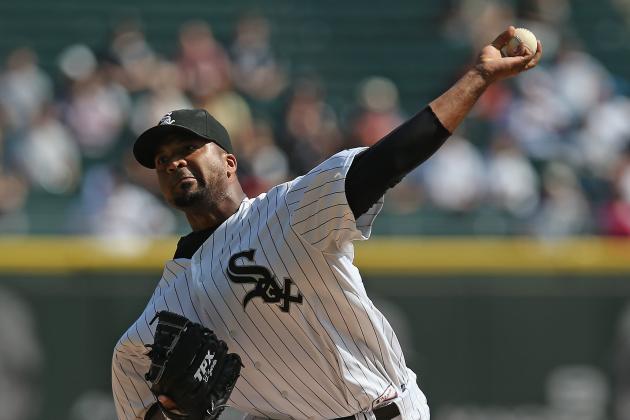 Jonathan Daniel/Getty Images

Another top starting pitcher on the free agent market is Francisco Liriano. Liriano split time in 2012 with the Twins and White Sox.
Liriano's career numbers include a 53-54 record, a 4.40 ERA, 846 strikeouts and a 1.354 WHIP. He has been rather inconsistent over the years. In some years, such as 2006 and 2010, he was brilliant and one of the best pitchers around. In other years though, he has struggled with an ERA well over 5.00. Liriano had spent his entire career with the Twins since 2005 before getting traded to the White Sox near the trade deadline this year.
If Liriano were a Met, he would be reunited with former teammate Johan Santana. He would give the Mets a third southpaw in the rotation, along with Santana and Jon Niese. He would also have a better chance to succeed in the National League, as it would be a fresh change of scenery for him.
On the other hand, the Mets will not look to sign him because he has not pitched particularly well in the last two years. Furthermore, the Mets already have some solid pitching depth within their starters and it's possible that Liriano may not improve his pitching significantly in the years to come.
Francisco Liriano would be a nice addition to the Mets, but certainly not at the price he would likely command.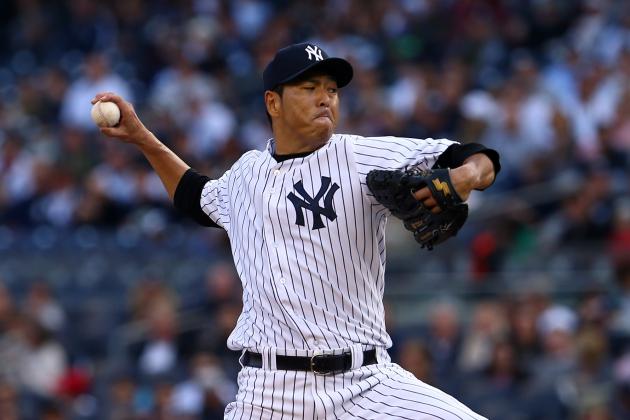 Alex Trautwig/Getty Images

Hiroki Kuroda is one of the more veteran short-term free agent options among starting pitchers. Despite being 37 years old, and 38 by Opening Day, Kuroda has been a relatively successful pitcher, but has also been reliable and healthy throughout his time in the major leagues.
Kuroda's major league career numbers include a 57-57 record, 3.42 ERA, 690 strikeouts and a 1.182 WHIP. He was with the Dodgers from 2008-2011 before signing with the Yankees this past season. Kuroda was arguably the Yankees' most consistent pitcher in 2012, especially with CC Sabathia and Andy Pettitte missing significant time with injuries.
If Kuroda went across town and signed with the Mets, he would give the Mets another durable veteran pitcher alongside R.A. Dickey. He would upgrade the Mets' rotation enough that they would not necessarily have to rush top prospect Zack Wheeler through the system.
Kuroda, though, would only be around for no more than two years due to his age.
The Mets will most likely not pursue Kuroda. The team is trying to get younger overall and Kuroda would not be a particular benefit toward their long-term plans. The Mets' starting pitching depth is in good shape overall as well.
Hiroki Kuroda is a great pitcher and would fit well with most teams, but the 2013 Mets would not be one of them.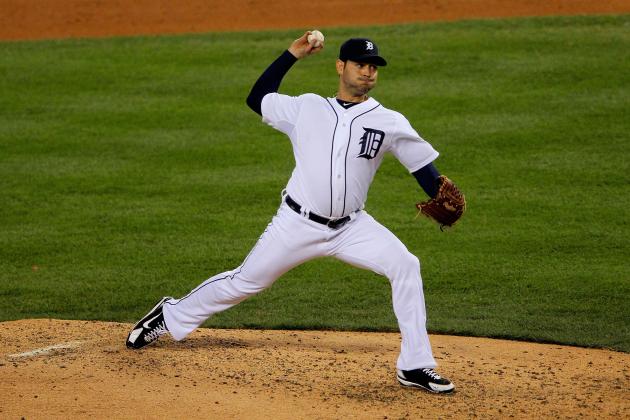 Doug Pensinger/Getty Images

Yet another starting pitcher on the free agent market is Anibal Sanchez. Sanchez started the 2012 season with the Marlins before getting traded to the Tigers near the trade deadline. He helped lead the Tigers to the 2012 World Series.
Through his career, Sanchez is 48-51 with a 3.75 ERA, 733 strikeouts and a 1.346 WHIP. He had spent the majority of his career with the Marlins from 2006-2012 until the trade to the Tigers occurred. At just 28 years old, Sanchez will be a hot commodity this offseason and should get a big contract offer from at least one team.
If Sanchez were to become a Met, he would provide an instant upgrade over Dillon Gee. He would also allow the Mets to not rush Zack Wheeler to the major leagues. He would immediately be part of the Mets' long-term future and would likely be very solid in the middle of their rotation.
The Mets will most likely not go after Sanchez for a few reasons. First, he will demand more years and money than the Mets can afford to give. Second, he has had injuries in the past that limited his 2007 and 2008 seasons, which would make his health somewhat of a concern.
Anibal Sanchez would be a nice addition to the Mets, but with the way things are in the Mets' organization, Sanchez's next contract will not be signed with the Mets.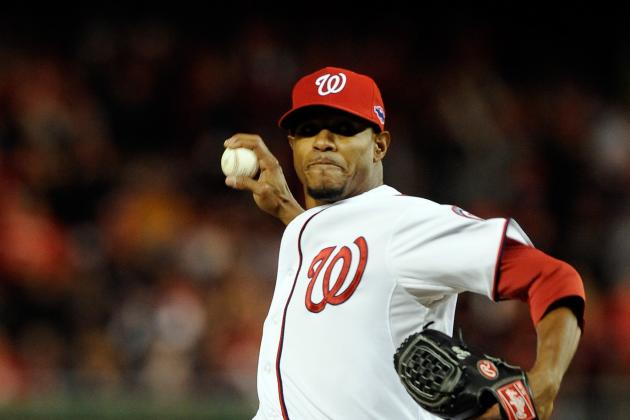 Patrick McDermott/Getty Images

One pitcher that could fit in well in the middle of a starting rotation would be Edwin Jackson. Jackson spent this past season with the Nationals and helped lead them to a division title.
Jackson's career numbers include a 70-71 record, a 4.40 ERA, 969 strikeouts and a 1.438 WHIP. He has bounced around different teams since his major league debut in 2003. He has already spent time with the Dodgers, Rays, Tigers, Diamondbacks, White Sox, Cardinals and Nationals.
If Jackson signed with the Mets this offseason, he would be a sufficient upgrade over Dillon Gee and would take up one of the middle or back-end rotation spots.
He has not been the most consistent pitcher throughout his career and has not found a long term home within any teams yet most likely due to that. Nonetheless, he would be expected to give over ten wins and an ERA below 4.00 in the years to come.
However, Jackson is not likely to be a target for the Mets because they have a solid rotation in place as is. Furthermore, if Jackson does not pitch well, he could become a bust that they would want to get rid of in a hurry.
Edwin Jackson is a solid pitcher overall, but not someone that the Mets would particularly benefit from having.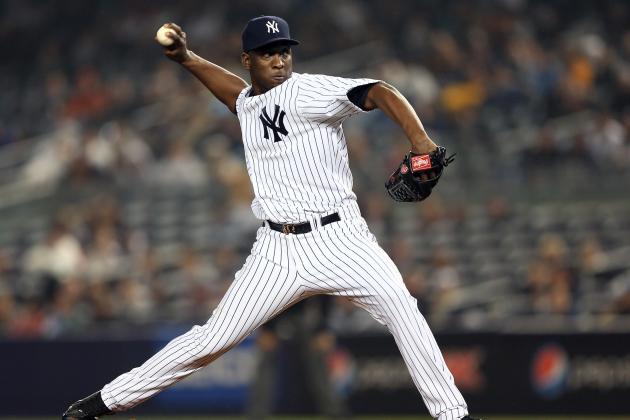 Elsa/Getty Images

Rafael Soriano will be one of the top closers on the market. Soriano spent the 2012 season as the Yankees' closer after the legendary Mariano Rivera got hurt early. Soriano, though, declined to return to the Yankees in 2013 knowing that Rivera would return and be healthy.
Soriano in his career has a 15-24 record, a 2.78 ERA, 132 saves, 527 strikeouts and a 1.046 WHIP. He has spent time with the Mariners, Braves, Rays and Yankees.
Soriano did not become a full-time closer until 2009 when he saved 27 games for the Braves. He then saved a league-leading 45 games in 2010 for the Rays before being a set-up man for the Yankees in 2011. After Rivera's injury this past season, Soriano got 42 saves and finished with a 2.26 ERA.
If the Mets were to sign Soriano, they would get a proven closer that they badly need. Frank Francisco underachieved last year and the rest of the Mets' bullpen was not any better. Soriano would be a great presence as someone that could get the job done when it mattered most.
However, the Mets may not go after Soriano due to the years and money he may want. Furthermore, the Mets are already on the hook for Francisco's 2013 salary, so they may decide to just hope for the best with him.
Rafael Soriano is one of the top closers in the league, but with the Mets trying to not overspend, he is more likely to end up on another team this offseason.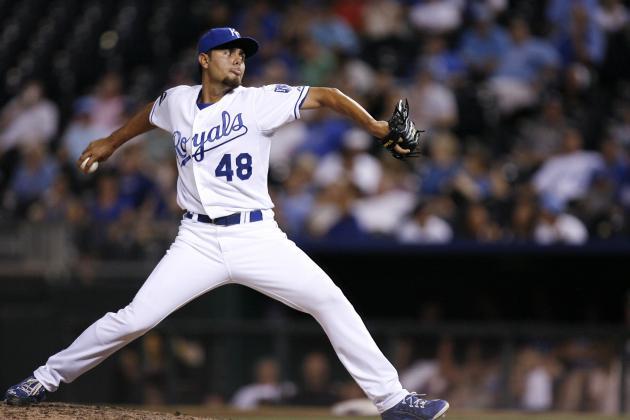 Ed Zurga/Getty Images

Joakim Soria is another top free-agent closer. Soria, though, missed the entire 2012 season after having Tommy John surgery.
Through his career, Soria has a 13-15 record, a 2.40 ERA, 160 saves, 341 strikeouts and a 1.043 WHIP. Soria had spent his entire career with the Royals since 2007. However, the Royals declined his 2013 option recently, which resulted in him becoming a free agent.
If Soria were to become a Met, he would becoming a closer that the Mets could really use, and especially after the struggles Frank Francisco had last season. Soria has been one of the best closers in baseball throughout his career and has saved over 40 games in a season twice.
The fact that he was on the Royals though led to him not getting a particular amount of attention. In a city like New York City, Soria would get a lot more attention and recognition for his pitching.
The Mets could possibly try to sign Soria at the right price. He would be a great fit to the Mets because they need a closer and he would likely pitch well in Citi Field.
If the Mets don't end up signing him though, it would probably be due to reluctance to spend on another closer when Frank Francisco is already on the team.
Among all free agent closers, Soria has a good, if not the best chance of becoming a Met. He will probably not seek a big contract due to his injury last year and the Mets would definitely benefit from his presence.
Joakim Soria actually has a good chance of becoming a Met this offseason. The only questions are whether the Mets' front office will really make it happen and whether other teams outbid the Mets or not.