Green Bay Packers: Are They as Good as Their 7-3 Record?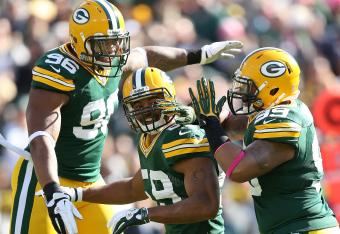 Andy Lyons/Getty Images
The NFL season is a marathon. Not a sprint. Let's remember that.
With that said—there is still much of the season left to be run, but who are the real Green Bay Packers?
Are they the 2-3 team that started the season or are they the 5-0 team that has been playing as of late?
A question that can't be answered in its entirely now, but it doesn't hurt to examine where the Pack stands after week 11.
Firstly, the Pack lost three of its first five games to open the season, with the losses coming to San Francisco, Seattle and Indianapolis.
Let's throw out the game against the Seahawks because we all know that wasn't really a loss.
Thanks again, NFL.
The game against the Niners was alarming, however. The Packers were out-played, out-coached and were simply physically overpowered by the better team. The score was closer than the actual game, but it was obvious that the Pack were no match for Jim Harbaugh's club.
Two weeks after the "Failmary" loss in Seattle came what I believe was the down point of the season. A disappointing showing and defeat against an inferior team in Indy. It goes without saying that the Colts played one of the best games thus far, and Reggie Wayne played out of his mind.
Then again, there are no excuses in the National Football League, as the pros say it.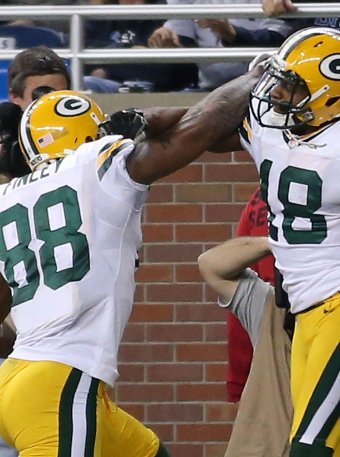 Leon Halip/Getty Images
Three losses. What's your assessment?
Two iffy, one clean. But again, a loss is a loss.
Now to the past five weeks. The good news is the Pack is 5-0 in those games. The other good news is that they haven't exactly been playing "good" in those games.
No, it's not a typo. That is a good thing, for now at least. The fact that Green Bay is playing "fair" or "just good enough" and is still winning is a really good sign. In fact, it's a great sign.
The offense isn't exactly lighting up the scoreboard, yet they have found ways to victory in their five-game winning streak. Much of that credit should go to the young, up-and-coming defense.
One that I wrote about before the season and how the Pack should rely on them and not Rodgers. Funny how things work out.
Not to mention the Pack has also endured big injuries to key contributors such as Greg Jennings, Jordy Nelson, Charles Woodson, Clay Matthews and Cedric Benson just to name a few.
But we must visit the same old question—who have they played during that stretch?
Well, their opponents combined record from the past five weeks are 18-22. Not exactly the Giants or the Patriots, but you can only play who's scheduled, right?
Speaking of the New York football Giants.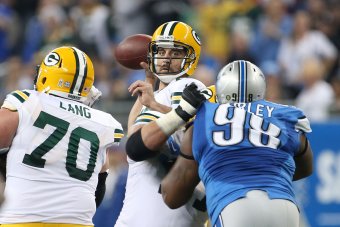 Leon Halip/Getty Images
The Packers have a date with them this Sunday. The first time in six weeks that we will finally see who this Green Bay really is. Most definitely, but not necessarily a measuring stick either.
Green Bay will probably be without Jennings, Matthews and Woodson still, so in no way or form will this be a mano-a-mano matchup. Not yet.
We can pull out all the stats we want. You can say how the Pack is only 18th in offense and 16th on defense, or how they are 24th rushing the ball and allowing 244 yards through the air per game.
Quite frankly all that really matters in the end is if you win or lose. Just ask the 2007 Patriots.
When the marathon is over, if the Pack can stay hot or somewhat hot and get healthy before the playoffs, you can't count them out. Especially with No. 12 under center.
Maybe the Packers are as good as their 7-3 mark, maybe they aren't. The key is that they keep winning.
Winning cures all wounds, right?
But one thing is for sure, if they can get healthy watch out. They haven't been fully healthy since Week 1. But if, and that's a big if, they can…watch out.
This article is
What is the duplicate article?
Why is this article offensive?
Where is this article plagiarized from?
Why is this article poorly edited?

Green Bay Packers: Like this team?