10 Under-the-Radar Nonconference Games That Could Loom Large Come March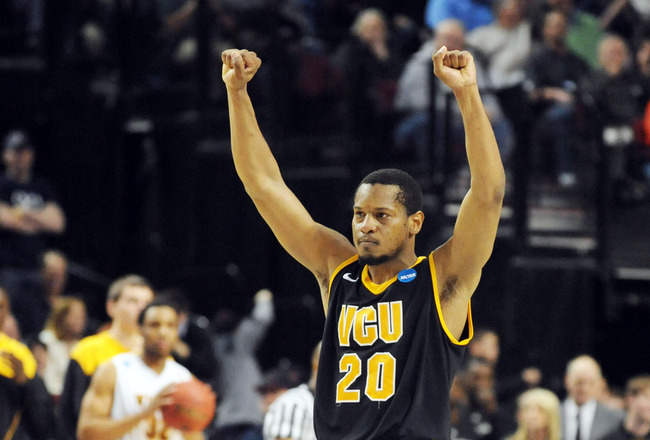 Steve Dykes-US PRESSWIRE
The college basketball regular season can change dramatically from its beginnings in November up to Selection Sunday in March.
Games that don't seem to take on tremendous significance now can prove to be crucial wins or losses a few months later as teams are evaluated based on their entire bodies of work from start to finish.
Here is a look at ten November games that could turn very significant as the season goes on. Some games have already taken place, others will happen between now and the end of November.
Note: All games feature two teams not currently ranked in the Top 25 as of November 18.
Bucknell 70, Purdue 65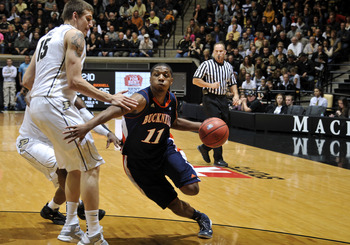 Sandra Dukes-US PRESSWIRE
Nov. 9, at Purdue
The focus on opening night of the college basketball season was centered on games that didn't take place in the United States for one reason or another.
The game between Michigan State and Connecticut—the first college basketball game ever played on European soil—got plenty of deserved attention. After that, it was the cancellation of three different games scheduled on aircraft carriers at three different locations (though the Syracuse-San Diego State game was made up two days later).
Beyond all the talk of condensation on the hardwood, a Patriot League team took advantage of its opportunity to earn a solid win over a Big Ten team on its home court, indoors.
Bucknell's win over Purdue in West Lafayette shouldn't necessarily be considered a surprise. The Bison—regular-season league champions a year ago—have plenty of veteran experience, led by the senior inside-out combo of center Mike Muscala and point guard Bryson Johnson.
However, knocking off Purdue at home is a result that could look a lot better as the season goes along. Purdue is a young team, but with plenty of upside thanks to a strong freshman class led by seven-footer AJ Hammons. By season's end, Purdue could challenge for an NCAA tournament bid.
For Bucknell, this is a win that could enhance its seeding should it win the Patriot League's automatic bid. While Lehigh did just fine with a No. 15 seed last March, the Bison would certainly like to avoid the same seeding fate if possible in 2013.
UCF 74, South Florida 56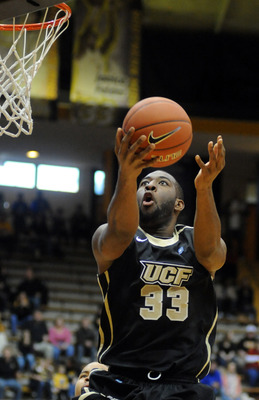 Chuck Cook -US PRESSWIRE
Nov. 10, at South Florida
On just the second day of the college basketball season, UCF asserted itself against a soon-to-be conference rival in South Florida. The Knights' 18-point win in Tampa was an impressive start to the season, one they hope will end a little better than last year's 22-11 NIT campaign.
For UCF, that may include a final run at a Conference USA title before leaving for the Big East next year.
Preseason C-USA Player of the Year Keith Clanton is a big reason for optimism in Orlando. The senior power forward has started off the season with two double-doubles, including an excellent 16-point, 16-rebound effort against USF. Junior guard Isaiah Sykes, who scored 26 in the same game, is also off to a great start for UCF.
UCF's rather comfortable win over USF—a team that earned one of the final NCAA at-large bids and won its first two tourney games—was a bit of a surprise. With expectations a bit higher for the Bulls this season, this could in turn be a very significant early-season win for UCF.
The Knights will look to build on this win with upcoming nonconference games against two big in-state ACC foes—Florida State and Miami—followed by a return trip by USF to Orlando, on Jan. 2. Wins in two of those three games could give UCF a strong enough out-of-league profile to propel itself into the NCAA tournament, assuming it winds up near the top of the C-USA standings.
Santa Clara 74, Saint Louis 62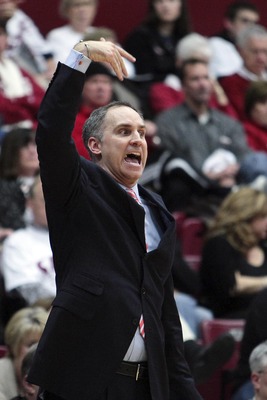 Santa Clara Head Coach Kerry Keating
Kelley L Cox-US PRESSWIRE
Nov. 14, at St. Louis
Last year was a tale of two seasons for Santa Clara. After starting off fairly strong, including wins over New Mexico and Villanova in the 76 Classic, the Broncos saw disaster unfold once they got to conference play.
By the time the dust settled in early March, Santa Clara had finished the season with a dismal 8-22 record. If that wasn't bad enough, the Broncos did not win a single game in the West Coast Conference.
0-16—it seems unthinkable for a team that won against a would-be No. 5 seed (New Mexico) in the NCAA Tournament. This time around, Santa Clara has to hope a nice early-season win won't lead to the same horrible fate.
Santa Clara earned the surprising win at Saint Louis, a game that was part of the CBE Classic. It likely won't ultimately help the Broncos earn a postseason bid—success in the WCC is a must for that. However, knocking off a quality Atlantic 10 team will help the league as a whole.
Last year, the WCC sent three teams—Saint Mary's, Gonzaga and BYU—to the tourney. This year, it hopes to have the same number, and perhaps even a fourth. For that to have any chance of happening, all teams in the conference must step up in their nonconference schedules.
A collection of quality wins in November and December can mean additional tournament bids come March. Despite a winless WCC campaign a year ago, Santa Clara has already stepped up for its league brethren.
Illinois State 86, Drexel 84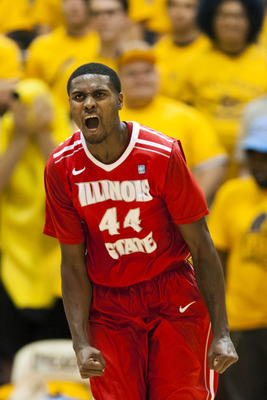 Howard Smith-US PRESSWIRE
Nov. 15, at Drexel
A game between two teams from strong mid-major conferences is always a great opportunity to earn a key win that could pay serious dividends in March. While BracketBusters provides that chance once in late February, winning a similar game in November can mean just as much.
Illinois State certainly hopes that will be the case after a hard-fought overtime win in Philly last week over a tough Drexel team.
Though picked by many to finish as a runner-up to No. 15 Creighton in the Missouri Valley, Illinois State should temper expectations on winning the league's automatic bid. Therefore, it must do all it can early on to strengthen its overall profile, to allow the opportunity to make the NCAAs as an at-large team.
Consider the win at Drexel—consensus pick to win the CAA this season—Exhibit A for Illinois State. While an upcoming game at Louisville could be a bit out of reach, the Redbirds have another key game after that at Dayton that should be circled on the schedule.
A win in that game would provide Illinois State a decent foundation on which to build a strong resume for Selection Sunday. A win at home over Creighton on Jan. 2, along with a strong second-place finish in the MVC, just might put the Redbirds into the dance.
Tennessee 83, Massachusetts 69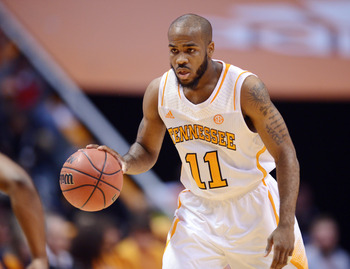 Randy Sartin-US PRESSWIRE
Nov. 18, at Bayamon, Puerto Rico
Conference tournaments—often with numerous quality teams in each—offer multiple opportunities for resume-enhancing wins. Often passed up by television and fans, the consolation bracket can be a great place to mine for such Ws.
In Puerto Rico, Tennessee found and capitalized on such an opportunity. After a very disappointing showing in a 62-45 loss to Oklahoma State in the semifinal of the Puerto Rico Tip-Off, the Vols bounced back in strong fashion. They earned third place in the tournament by beating UMass, who lost by a large margin themselves in the semifinal to No. 6 NC State.
More importantly than the third-place trophy, however, was the fact that UT nabbed a quality win against a team who figures to be right in the thick of things in an extremely competitive Atlantic 10 this year.
Tennessee has a very good chance to return to the NCAA tournament this year after missing last season. A big reason the Vols missed the tournament—despite finishing 10-6 in the SEC—was a horrible showing in the nonconference slate.
A win over UMass may help jump-start a better showing this year prior to conference play. With an upcoming game against Georgetown, and one against Memphis in December, there are certainly some chances for Tennessee to strengthen its overall profile before the SEC.
Belmont 70, Stanford 62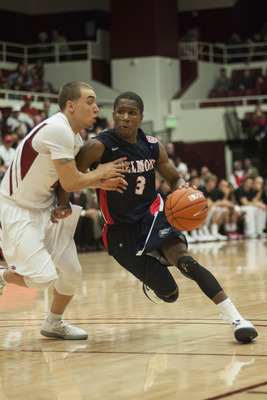 Ed Szczepanski-US PRESSWIRE
Nov. 18, at Stanford
The story on Belmont has been pretty much the same over the past several years: dominate the conference (Atlantic Sun), but come up short against any quality nonconference competition it faces, including games in the NCAA tournament.
This year, Belmont just might be on its way to reversing that pattern. After going out west and scoring an impressive win at Stanford, the Bruins could start to gain additional respect in its first season in the Ohio Valley Conference alongside league and mid-major heavyweight Murray State.
After securing a key win, Belmont will head up way north to Anchorage for the Great Alaska Shootout. The Bruins could very well win that tournament, with only a couple of potential challengers (Charlotte and Oral Roberts) standing in their way. Upon returning to the Lower 48, another intriguing challenge awaits in the form of VCU.
For Belmont to have any chance of an NCAA at-large bid, it would have to pull off a run not too short of Murray State's 30-1 regular season from a year ago. If it can keep beating teams like Stanford—a team that could finish toward the top of the Pac-12—it just may have a chance to flirt with that kind of lofty mark.
Colorado State at Denver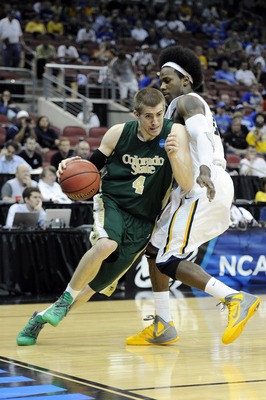 Jamie Rhodes-US PRESSWIRE
Nov. 21, at Denver
The state of Colorado has quietly become home to some pretty good college basketball. Colorado won the Pac-12 tournament as well as an NCAA tournament game last March. Colorado State also made the tourney as an at-large team.
Denver, after a 22-win season a year ago, has serious plans to match the feats of those two this season. A great way to do it would be to beat CSU at home this week. It will not be an easy feat for the upstart Pioneers.
Colorado State returns most of its team that knocked off each of the three MWC powers—UNLV, New Mexico and San Diego State—en route to earning an NCAA at-large bid. Besides the additional year of experience of guys like Wes Eikmier, Dorian Green and Pierce Hornung, the Rams figure to be even better with the addition of Colton Iverson.
A fifth-year senior transfer from Minnesota, Iverson adds the one thing that CSU was lacking a year ago—a serious inside presence. With him now in Fort Collins, the Rams could easily improve upon last year's fourth-place finish in the MWC.
For Colorado State, prevailing in this one would mean a solid win on the road—something not easy to come by for them in years past, particularly in the MWC. For Denver, a win over a potential Top 25 team in CSU would garner some additional respect, and a possible key resume win later on.
VCU vs. Minnesota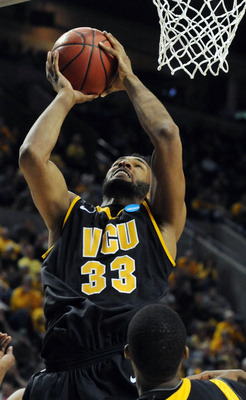 Steve Dykes-US PRESSWIRE
Nov. 23, Battle 4 Atlantis, Bahamas
There is a chance this game will not actually take place. It is a potential consolation-bracket game on the second day of the Battle 4 Atlantis. If Duke defeats Minnesota in the opening round, and Memphis beats VCU, then we will see this matchup. Should it occur, the game could have lasting effects down the line.
VCU, moving up from the CAA to the tougher Atlantic 10, will need to do some work early in the season to allow itself some cushion to absorb what figures to be more losses in league play. The Rams already let a home game against Wichita State slip away, so winning a game or two in the Bahamas would serve them well.
Minnesota, meanwhile, will be looking to keep some momentum after a 4-0 start, which includes a win over VCU's inner-city—and now league—rival Richmond. The Gophers won't have an abundance of opportunities for quality wins before the Big 10 season kicks up in late December. Other than a game against Florida State the week after flying home from the Bahamas, the best chances for key wins for Minnesota will come in this tournament.
The enticing array of matchups that could occur in this tournament—Louisville-Missouri, Duke-Memphis, Louisville-Duke, etc.—could put a game between VCU and Minnesota on the back burner now. However, we could look back on it in February and March and see what a huge win it was for the victor.
Richmond at Ohio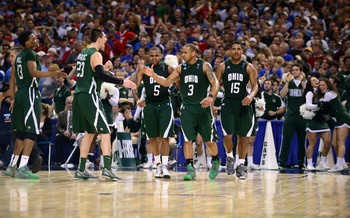 Scott Rovak-US PRESSWIRE
Nov. 24
Each of these teams has played in a Sweet 16 within the past two years.
Each would certainly love to get back to that point again. The winner of this matchup could improve its chances of doing so.
Richmond—who made its Sweet 16 run in 2011—is looking to rebound from a mediocre 16-16 season last year. A big reason for the drop-off was the loss of Justin Harper and Kevin Anderson, the Spiders' top two scorers from two years ago. This time around, Richmond returns its top four scorers from last year's team, and looks to be a serious contender in the Atlantic 10.
Ohio is simply trying to continue right where it left off last March. It may be a little tougher with the man on the sideline during that run, John Groce, now the head man at Illinois. What they do still have is point guard DJ Cooper.
Now a senior, Cooper seems to bring out his best, and the team's best, in games against teams outside the MAC. Just ask the likes of Michigan, South Florida and even Louisville. The eventual Final Four team barely prevailed at home against the Bobcats last November.
For a quality team, playing in the MAC as opposed to the A-10 offers an easier path to the NCAA Tournament. However, with the likes of Akron and Kent State looming within the league—more specifically, the division—a return trip to the Big Dance is hardly a certainty for Ohio. Winning this game, along with a couple of others against the likes of Memphis, Oklahoma and/or Massachusetts, could give Ohio an alternate route to the tourney should it fall in the MAC Tournament.
Iowa at Virginia Tech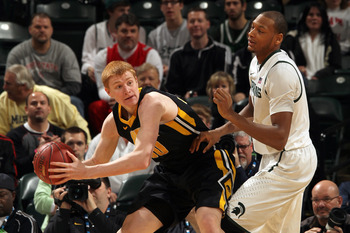 Jonathan Daniel/Getty Images
Nov. 27, ACC-Big Ten Challenge
North Carolina vs. Indiana and NC State vs. Michigan will steal most of the spotlight shed on the first night of the ACC-Big Ten Challenge. However, Iowa and Virginia Tech will have a chance to make a strong push toward not only a better 2012-13 season, but also a potential NCAA tournament bid.
Iowa, who came on quite strong at the end of last year, plans to further the momentum this year in the Big Ten. The Hawkeyes have a very talented young frontcourt in sophomore Aaron White and freshman Adam Woodbury. If the Hawkeyes can get consistent contributions out of Roy Devyn Marble and Zach McCabe to support the guys inside, they will beat some very good teams in the Big Ten.
Virginia Tech, meanwhile, is looking to reverse course after a rough season a year ago that saw them tie for last place in the ACC. The Hokies have an outstanding point guard in senior Erick Green. He has averaged 23 points a game in helping Tech get off to a 3-0 start, though the competition stands to get tougher.
For Iowa, a win in Blacksburg would provide the kind of quality nonconference win that eluded them entirely a year ago. If the Hawkeyes end up somewhere around .500 in the Big Ten, which would be on the higher end of what's expected of them, then wins like this would be a must for any NCAA at-large hopes.
For Virginia Tech, it could give the Hokies further confidence heading into games against a pair of Big 12 foes—West Virginia and Oklahoma State. Winning two of the three could mean the Hokies will once again be flirting with the bubble—as they did four straight years prior to last.
Keep Reading