2013 NFL Mock Draft: Fresh Selections for Entire First-Round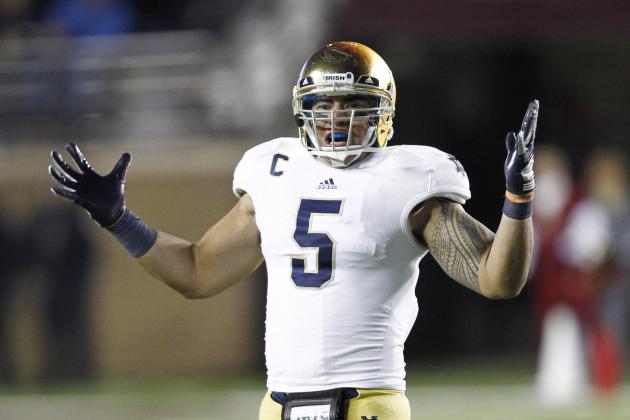 Mark L. Baer-US PRESSWIRE

Finally, the NFL and college football seasons are providing us with some clarity regarding the disparity between teams.
The end result comes in the form of a fresh 2013 NFL mock draft with Thanksgiving Day closing fast.
The Kansas City Chiefs and Jacksonville Jaguars continue their dual for the No. 1 overall selection, whereas the postseason race continues to heat up. Also, courtesy of the Oregon Ducks and Kansas State Wildcats losing, Manti Te'o and the Notre Dame Fighting Irish gain additional notoriety.
Is Te'o a top 10 selection? Well, he is a Heisman Trophy candidate on the nation's No. 1 and only current perfect team.
With that, let's move forward like the season and check out a new mock draft for next April.
Begin Slideshow

»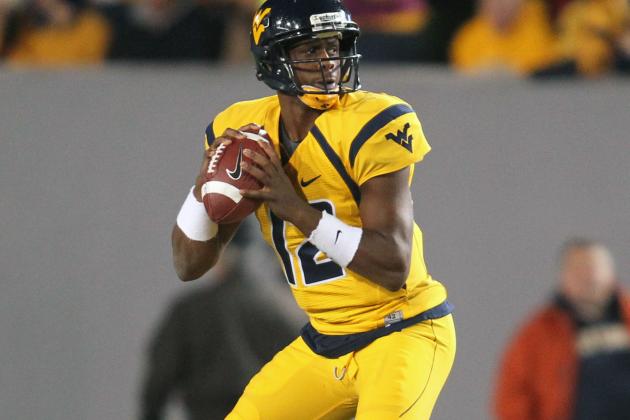 Charles LeClaire-US PRESSWIRE

The Kansas City Chiefs sit with a minus-21 turnover differential and present a dire quarterback situation in Matt Cassel and Brady Quinn.
On the bright side, currently sporting a 1-9 record increases the odds of landing West Virginia's Geno Smith. With a 70.1 completion percentage and 35 touchdown passes to just five picks, Smith's decision-making along will improving Kansas City's offense.
As a result, K.C. then offers a bit more balance with Jamaal Charles still slamming well on the ground.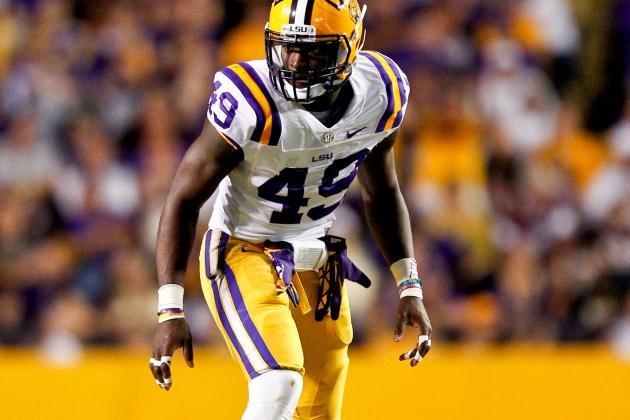 Derick E. Hingle-US PRESSWIRE

Having recorded a measly 12 sacks and ranking No. 29 vs. the run, the Jacksonville Jaguars need any help defensively.
Barkevious Mingo of LSU is a complete front seven player possessing solid size, instincts and excellent speed and quickness. And because of this skill set, Mingo provides Jacksonville with the option of presenting a 3-4 front in passing situations.
Considering the Jags lack a consistent pass rush, trying any scheme to assist the cover defenders would help immensely.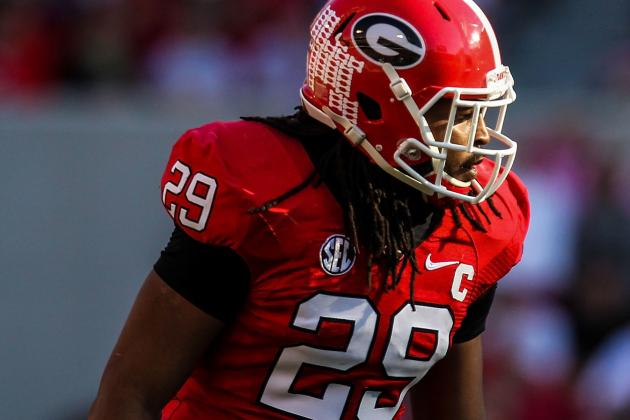 Daniel Shirey-US PRESSWIRE

D'Qwell Jackson is a stud middle linebacker for the Cleveland Browns.
Unfortunately, Cleveland needs a more reliable outside 'backer with complete qualities to bolster the defense. Jarvis Jones suits well because of his dominant pass-rushing skill set, reaction to the run and underrated coverage.
Not to mention, but the guy knows how to create turnovers with eight forced fumbles dating back to 2011.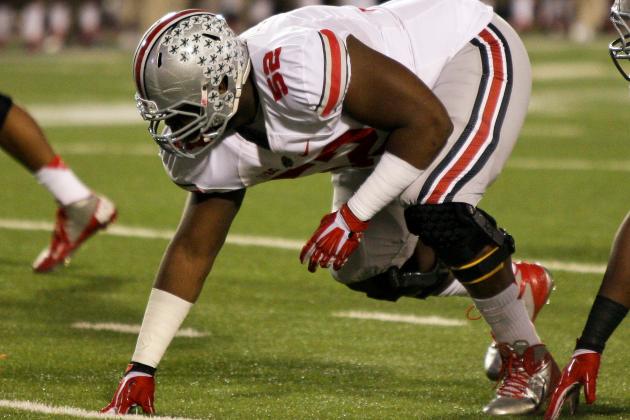 Pat Lovell-US PRESSWIRE

Believe it or not, but the Carolina Panthers have a rather sound front line of defense.
With reliable pass-rushers in Charles Johnson, Frank Alexander and Greg Hardy, another interior player such as Johnathan Hankins gets Carolina to another level.
Dwan Edwards may be a good rusher, although the veteran will be 32 before 2013 kicks off. So, adding Hankins for youth, talent and depth ensures reliability later on. Hankins knows how to stuff the run and wreck havoc in the backfield, so the Panthers can't ask for much more.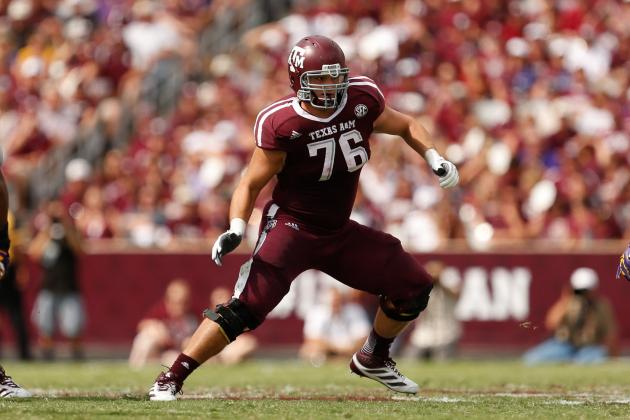 Thomas Campbell-US PRESSWIRE

The Philadelphia Eagles' offensive line has been unreliable all season long.
In turn, the 33 sacks allowed through 10 games are just the tip of the proverbial iceberg. So, the future of Philly can be put in the hands of Texas A&M's Luke Joeckel.
Joeckel's shear athleticism alone bodes well for Philly; however, his pass and run-blocking abilities create a stronger balance to the point of attack. In turn, fewer sacks and fumbles for the Eagles.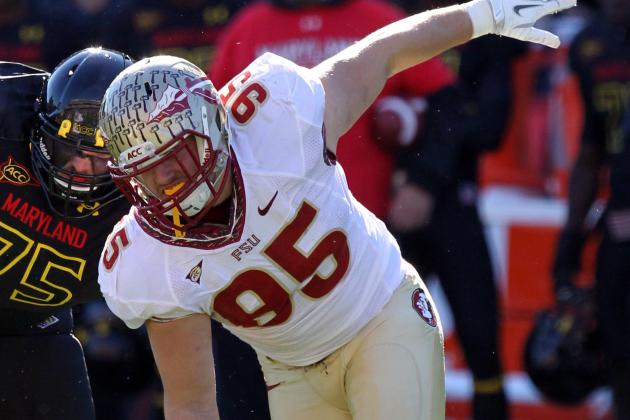 Mitch Stringer-US PRESSWIRE

One of the more instinctive defensive linemen we'll see this draft is Florida State's Bjoern Werner.
And the Oakland Raiders need a guy who can get immediate quarterback pressure. With just 11 sacks so far in 2012, Oakland's defense continues to frustrate without a standout rusher.
Werner's ability to do so will result in more turnovers and force opponents into longer down-and-distance situations. Because even if a sack doesn't occur, Werner knows how to deflect at the line and possesses the athleticism to occasionally sink into coverage.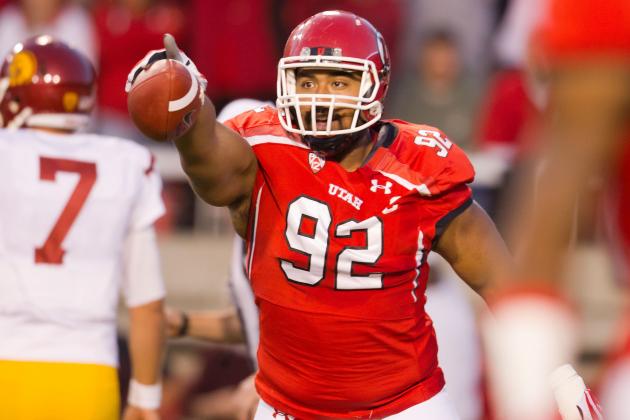 Russ Isabella-US PRESSWIRE

Defending the run remains a flaw in the St. Louis Rams defense.
Along with allowing 4.1 yards per carry, which isn't extensively terrible, the Rams have given up 12 rushing touchdowns this season: Fourth-most in the league.
Therefore, getting Star Lotulelei enhances a front wall of defense to assist the linebackers and secondary. Lotulelei plays with impressive leverage and his quick reactionary skills transition well in a run-oriented division.
Jeff Fisher already has solid coverage, so a stronger defensive front only helps St. Louis in a tough division.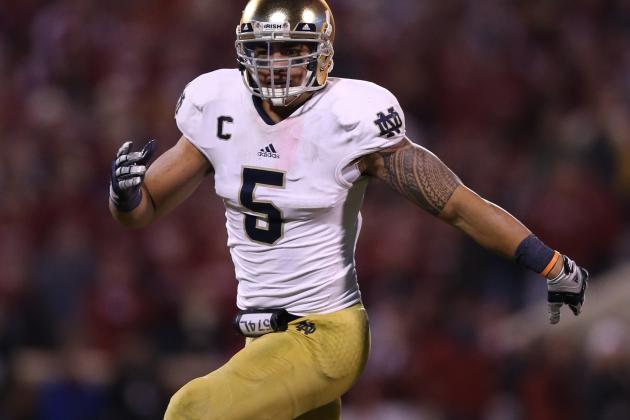 Matthew Emmons-US PRESSWIRE

The San Diego Chargers could go a few ways here, because the offensive line definitely needs to improve. And although the Bolts rank No. 3 vs. the run and allow only 3.8 yards per carry, defending the pass has proven costly.
In addition, middle linebacker Takeo Spikes will be 36 years old by season's end and the Bolts need to get that signature inside defender. Hence: Notre Dame's Manti Te'o.
Te'o's perfect to improve the Bolts against the pass, as he has recorded six picks in 2012. The guy simply has a knack for finding the rock and making plays. Include this draft providing greater talented-depth at offensive line than inside linebacker, Te'o fits well in the top 10.
Don McPeak-US PRESSWIRE

Obviously, reaching for Tennessee's Justin Hunter at No. 9 overall is a risk for the Miami Dolphins.
Still, the Dolphins desperately need that big receiving target to make play downfield and draw double coverage. At 6'4"and 200 pounds, Hunter's size frame overrides any current Miami receiver.
Already presenting a solid receiving corps led by Brian Hartline and Davone Bess, Hunter's addition completes it for Ryan Tannehill. After all, his completion percentage sits at 58.1 percent and only tight end Anthony Fasano has multiple receiving scores.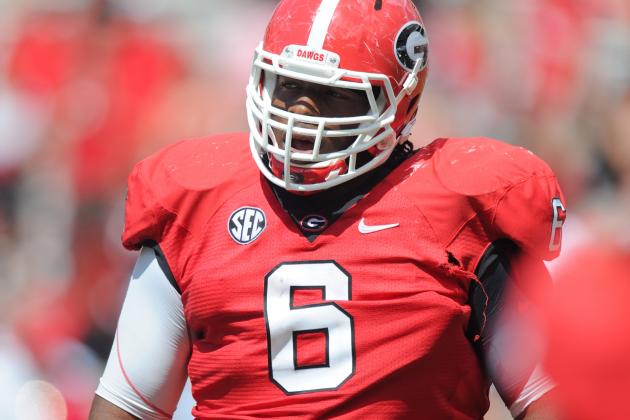 Kevin Liles-US PRESSWIRE

The Buffalo Bills' two enormous weaknesses reside at the quarterback position and defending against the run.
Unfortunately, according to CBS Los Angeles:
Report: Matt Barkley has separated right shoulder -- his throwing arm

— CBS Los Angeles (@CBSLA) November 18, 2012


To that end, we must switch to Buffalo's next need for a stronger front seven. The Bills allow 5.2 yards per carry and have given up 16 rushing touchdowns thus far in 2012.
In turn, landing Georgia's John Jenkins will help with clogging lanes and freeing up the linebackers to make plays. Additionally, Jenkins' size provides Buffalo with the opportunity to occasionally utilize a 3-4 front which Mario Williams and Mark Anderson have experience with.
Either way, Buffalo must improve vs. the run otherwise the defense will continue to disappoint.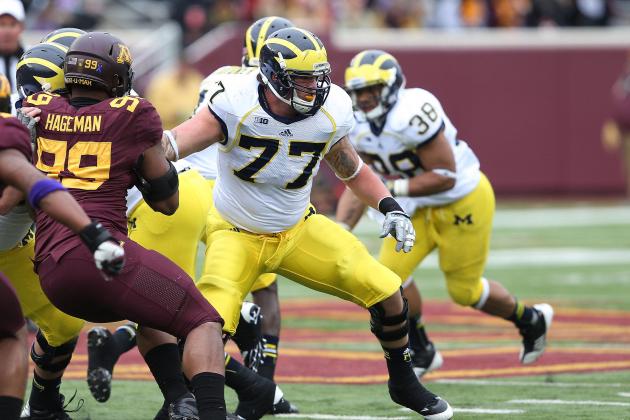 Jesse Johnson-US PRESSWIRE

The Arizona Cardinals have allowed 44 sacks in 10 games.
Wow.
At this point the Cardinals' pass protection can only improve, which brings us to Michigan's Taylor Lewan. Possessing great lateral movement, size and strength, Lewan also brings attitude to the Arizona line.
Then again, Michigan averages nearly 200 rushing yards per game and the Wolverines have allowed just eight combined sacks of Denard Robinson and Devin Gardner in 2012. Provided the Cardinals find a consistently reliable running back and Lewan's addition takes Arizona's offense to the next level.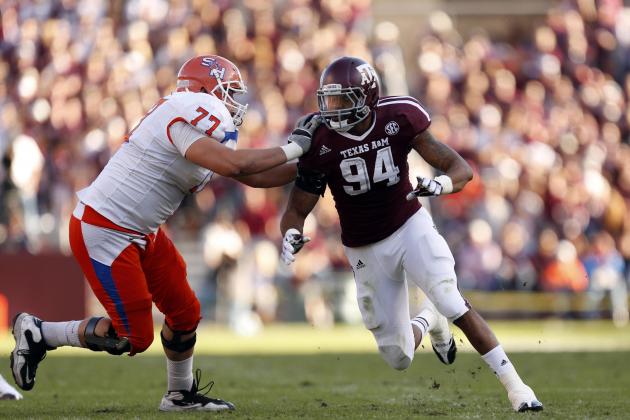 Thomas Campbell-US PRESSWIRE

Along with needing to improve against the run, the New York Jets have to get more quarterback pressure.
Well, enter Damontre Moore who has 12.5 sacks and 78 tackles through 11 games this season.
New York has just 17 sacks and allows 4.4 yards per rush, so Moore's ability to set the edge and win one-on-one blocking situations will do wonders. In a division where the running game has improved, Gang Green must follow suit defensively to counteract their rivals.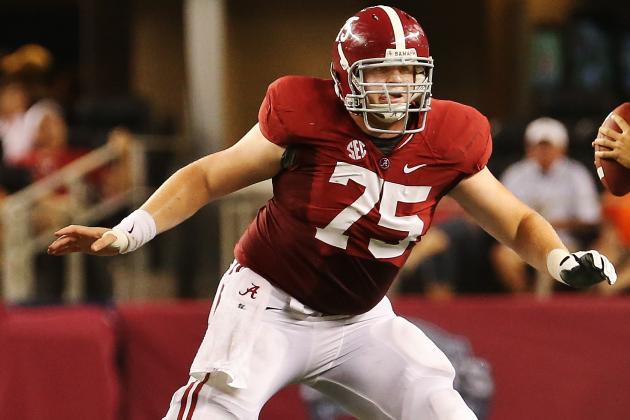 Kevin Jairaj-US PRESSWIRE

Arguably the most versatile offensive lineman in the draft, Alabama's Barrett Jones would make a strong immediate impact for the Detroit Lions.
For one, Matthew Stafford has been under duress rather often in 2012 aside from getting sacked 22 times. Also, the running game averages less than 100 yards per game which makes for a one-dimensional attack.
Jones, though, can contribute anywhere along the line and his total skill set will extend running lanes and Stafford's time in the pocket. If this offense gets moving in the trenches there's no telling how dangerous the aerial assault will become.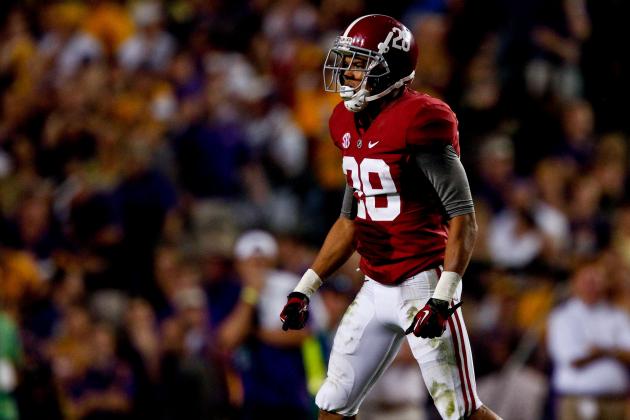 Derick E. Hingle-US PRESSWIRE

The Tennessee Titans can virtually go anywhere on defense to get better. Here, Alabama's Dee Milliner is a perfect selection as Tennessee ranks No. 26 against the pass and allows a 70.8 completion percentage to opposing quarterbacks.
No matter how much talent, or lack thereof, resides in a secondary giving up almost 71 percent completions is ridiculous. Milliner's field awareness alone will reduce that for the Titans and his instincts can lock down in man or zone coverage.
The absence of Cortland Finnegan to St. Louis has hurt Tennessee all season, so Milliner can immediately fill that void in 2013.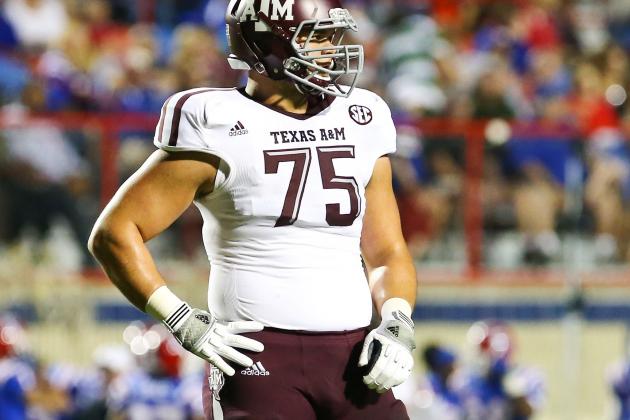 Kevin Jairaj-US PRESSWIRE

Tony Romo was devoured in Week 11 as the Dallas Cowboys gave up seven sacks and 10 total hits to their quarterback.
And this came against the Browns.
Much like the Eagles, Dallas needs improved pass protection more than anything. Well, the Rocksteady to Luke Joeckel playing the role of Bebop in Texas A&M's line is Jake Matthews.
He's just as athletic, consistent in pass protection and run-blocking and possesses excellent potential. The Cowboys need a better offensive line, otherwise they'll never make a deep postseason run.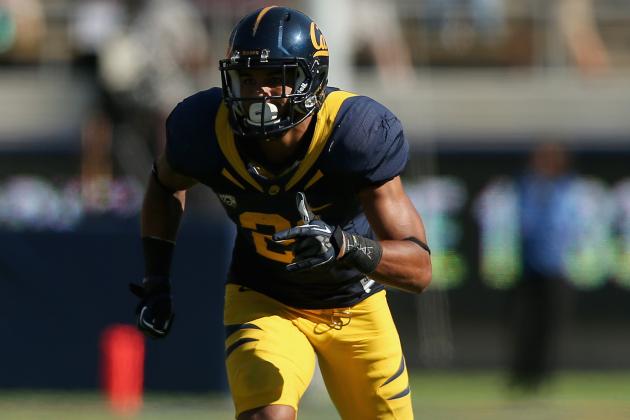 Ezra Shaw/Getty Images

After defending the run the Rams can generate offensive balance with receiver Keenan Allen.
Other guys such as Brandon Gibson and Chris Given have certainly stepped up in 2012, but landing Allen simply provides Sam Bradford with another big deep threat. St. Louis needs to stretch defenses out more downfield and Allen's size and leaping ability is a competitive advantage in a tough defensive division.
Elsewhere, Allen can also contribute on special teams as he has returned 16 punts for 212 yards and a touchdown this season.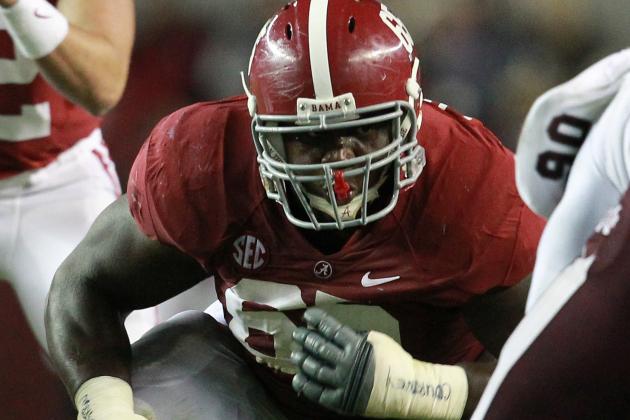 Marvin Gentry-US PRESSWIRE

Even though the Cincinnati Bengals racked up 189 rushing yards vs. the Chiefs on Sunday that's just it, it came against Kansas City.
The tougher defenses Cincy has faced in 2012 weren't nearly as easy to slam against, so the offense still needs more consistent balance. In averaging fewer than four yards per carry right now, the Bengals can find a stride with guard Chance Warmack.
For as dominant of a run-blocker as Warmack can be, he's going a bit overlooked due to fellow 'Bama linemen in Barrett Jones and D.J. Fluker. That said, Warmack is arguably the best of Nick Saban's offensive line as he consistently gets to the second level both playside and from the backside.
That dependability is vital to a ground game, because it allows for a wider range of running plays to be called within a smaller area of space.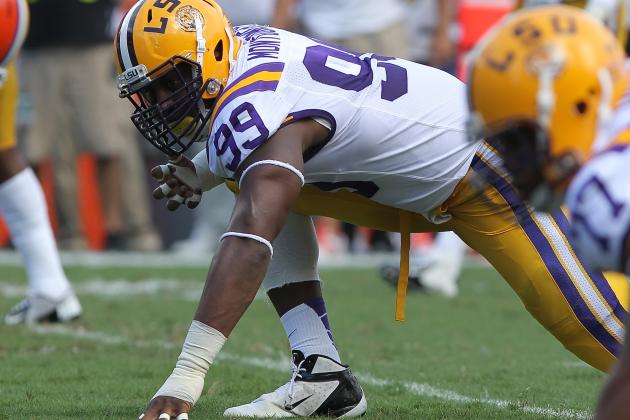 Kim Klement-US PRESSWIRE

For the most part the New Orleans Saints can select any defensive position they want. And that's literally due to the Saints ranking No. 31 against the pass, No. 32 against the run and allowing an average of 462.8 total yards per game.
In Round 1 of 2013, however, a defensive end in LSU's Sam Montgomery fits to a T. He'd be a hometown/state favorite and significantly enhance NOLA's pass rush and run defense.
Montgomery's acceleration and lateral agility can defeat blocks and squeeze the edge, while darting past the pass protection en route to quarterback pressure. Considering that New Orleans allows 5.1 yards per carry, Montgomery's size and quickness alone with stop the run.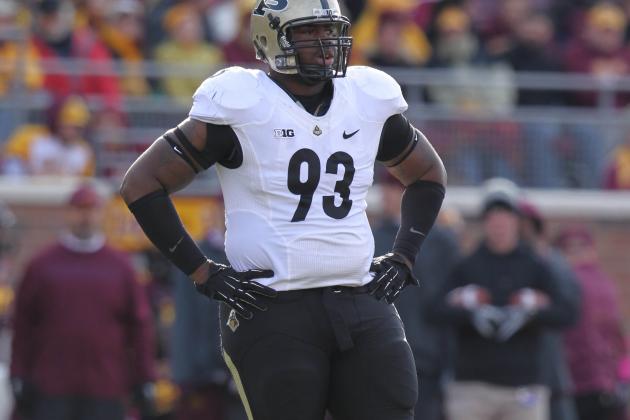 Brace Hemmelgarn-US PRESSWIRE

Despite being a bit better at defending the run than the pass, the Minnesota Vikings have to get younger at defensive tackle.
And it's mainly due to Kevin Williams turning 33 years old before next season and Fred Evans turning 30 during the 2013 campaign. Purdue's Kawann Short is going under the radar because the Boilermakers haven't made any noise this season.
Well, Short is a consistent menace for offensive lineman.
He's either drawing double-teams, defeating blocks and wrecking in the backfield or reacting to a quick pass and batting it down. Having recorded 47.5 tackles for loss to this point in his collegiate career, Short will flourish in Minnesota with Jared Allen pressing off the edge.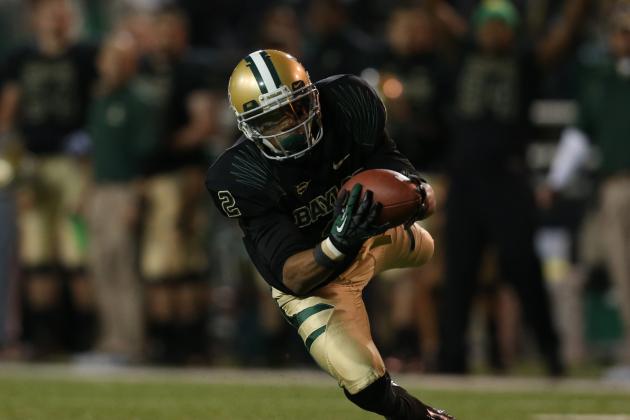 Matthew Emmons-US PRESSWIRE

The Seattle Seahawks need a playmaking receiver capable of stretch a defense downfield and going the distance on a quick slant.
Baylor's Terrance Williams can provide both, because of his quick explosion and top speed.
Interestingly enough, Williams went slightly overlooked prior to 2012 courtesy of Robert Griffin III and Kendall Wright. Still, he logged 957 yards on 59 receptions with 11 scores in 2011.
This season he has taken over the No. 1 receiver role with inflated numbers and the Bears rank No. 3 in passing offense.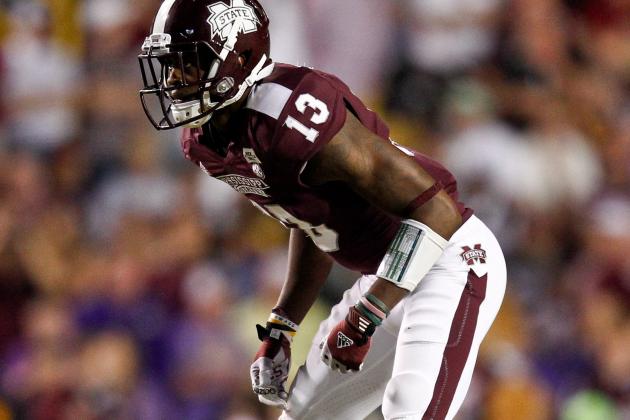 Derick E. Hingle-US PRESSWIRE

Sooner than later the Tampa Bay Buccaneers have to prepare for the post-Ronde Barber era. The veteran will be 38 years old before 2013 kicks off and the Bucs have to bring in someone with similar potential.
Mississippi State's Johnthan Banks can be that guy, because of his playmakng and sure-tackling talent.
He can blanket in man coverage, shield in zone coverage and won't allow many yards after the catch. Factor Tampa Bay ranking dead last vs. the pass and allowing a 65.2 completion percentage to opposing quarterbacks and Banks can only help Greg Schiano's defense.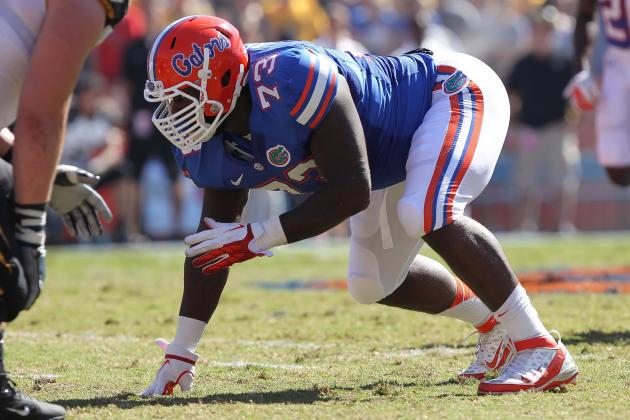 Kim Klement-US PRESSWIRE

Defending the run is a crucial need for the Indianapolis Colts.
For starters, Indy allows 4.7 yards per rush and nearly 120 rushing yards per game. Secondly, the Colts compete in a division that features elite running backs in Arian Foster, Chris Johnson and Maurice Jones-Drew.
So for Indy to compete for a division title, selecting Florida's Sharrif Floyd will pay quick dividends.
With a quick step at the snap, Floyd's athleticism has him constantly making plays in the backfield and closing down running lanes. Controlling the interior is what Indy needs and doing so makes this team only more dangerous.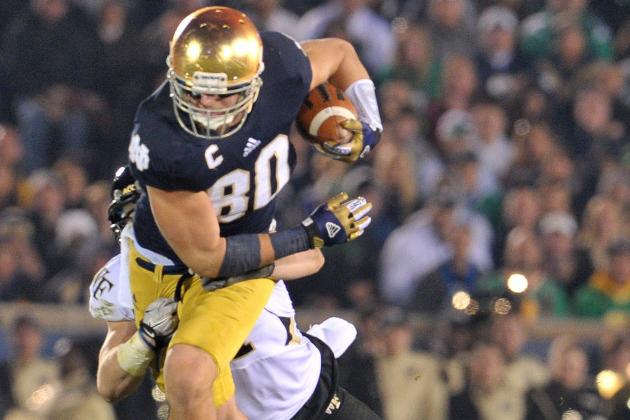 Matt Cashore-US PRESSWIRE

The New York Giants could go a few ways here because the defense is certainly underperforming through 10 games in 2012.
Nonetheless, New York's front four and linebacking corps are still solid as we've seen Big Blue's true defensive prowess in the postseason. Offensively, Martellus Bennett has stepped up nicely at tight end but the Giants still need an upgrade.
Notre Dame's Tyler Eifert possesses No. 1 tight end potential with his ability to draw and defeat double coverage. He's a great threat inside the red zone and coming from a run-oriented offense, Eifert will complement New York's running game quite well as a dependable blocker.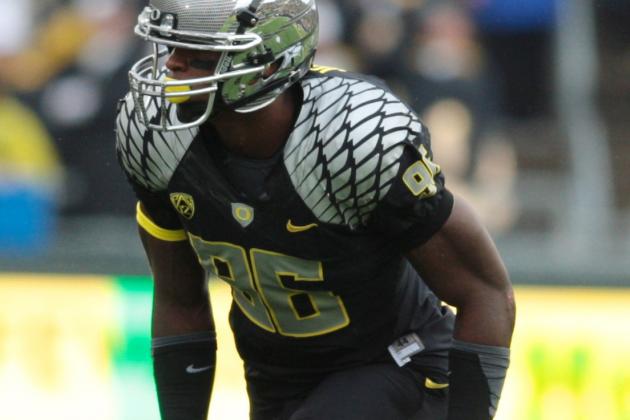 Scott Olmos-US PRESSWIRE

One current area of concern for the Pittsburgh Steelers is quarterback pressure.
In 10 games Pittsburgh has accumulated only 18 sacks and has forced just nine fumbles. Additionally, age is a question for front seven players such as James Harrison (34), Casey Hampton (35), Larry Foote (32) and Brett Keisel (34).
Therefore, going with Oregon's Dion Jordan not only gets Pittsburgh younger but offers a speed pass-rusher to the front. Jordan's wingspan and acceleration can already work vs. the run and that will develop his ability to get off blocks as well.
Recording 23.5 tackles for loss dating back to 2011, Jordan's overall athleticism keeps the Steel Curtain consistent in 2013.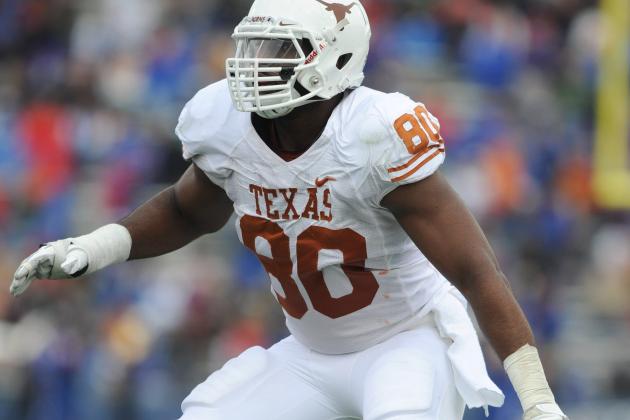 John Rieger-US PRESSWIRE

Whether it's inside linebacker or defensive line the Baltimore Ravens must get a stud complement to Terrell Suggs in the front seven.
Well, Alex Okafor, of Texas, possesses the size frame to immediately impact as a 3-4 defensive end.
He's always causing turbulence in the backfield and has a reliable knack for creating turnovers.
The Ravens allow four yards per carry after 10 games and have only 19 sacks. Obviously part of that was due to Suggs' absence; however, the defense didn't step up as it still gives up 382.3 total yards per contest.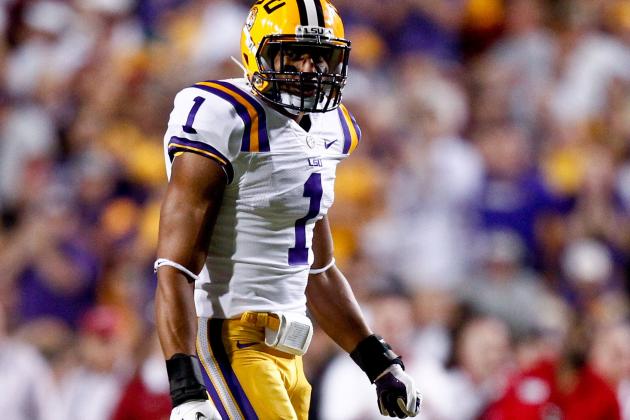 Derick E. Hingle-US PRESSWIRE

The Green Bay Packers are still a vulnerable bunch at defending the pass.
Most certainly has Green Bay improved compared to 2011, although allowing 244 passing yards per game remains a concern. Along with Charles Woodson being 36 years old, taking LSU's Eric Reid can immediately fill that safety void for the post-Woodson era.
Reid is a complete player with impressive instincts and a nose for the ball.
He's consistent at tackling which allows for the Packers to blitz more so Reid can roll down underneath. As long as the cornerbacks keep creating turnovers, Reid will thrive at making plays in Cover 1 and 3 schemes.
Rob Kinnan-US PRESSWIRE

In a similar fashion to the Buccaneers and Packers, the Denver Broncos must begin preparing for the post-era of a veteran defensive back.
Champ Bailey will be 35 years old before the 2013 campaign and the Broncos need an abundance of youth to compete over future seasons. David Amerson of North Carolina State is a viable option, because the guy simply makes plays and brings the size to take on bigger targets one-on-one.
Last season he picked off 12 passes and made 59 tackles. Through 11 games in 2012, Amerson has picked off four passes, defended 13 and has made 49 tackles.
Denver needs this kind of turnover quality from its secondary, because the pass rush only creates additional turnover opportunities.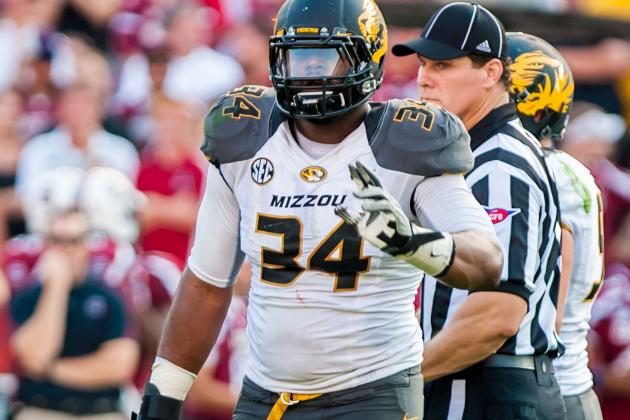 Jeff Blake-US PRESSWIRE

The Atlanta Falcons have to get better in the trenches, otherwise NFC running teams like San Francisco, Chicago, Minnesota, Seattle and Tampa Bay will be tough postseason opponents.
Right now the Dirty Birds are allowing an average of five yards per carry and 130.5 rushing yards per game. The inability to control the line will prove costly in January, so drafting Missouri's Sheldon Richardson must happen.
The man is a force inside and is well-versed against the run and at getting to the quarterback. Add in a knack for causing fumbles because of his quickness and the Dirty Birds take control up front.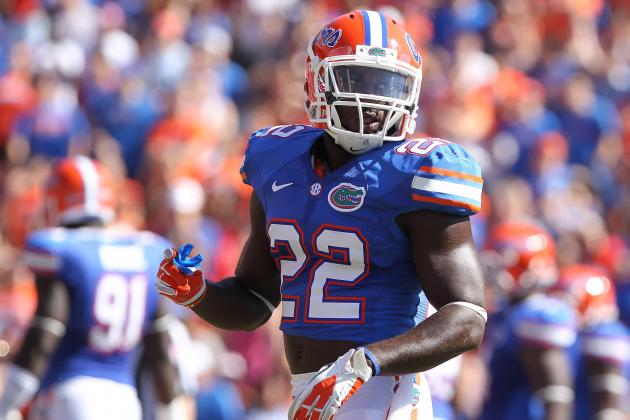 Kim Klement-US PRESSWIRE

The weakest link of the New England Patriots remains at defending the pass.
Bill Belichick's defense ranks No. 30 vs. the pass and allows 289.7 per game. Now yes, turnovers have been occurring for the secondary but that's also because of teams throwing more against the Pats.
And rightfully so, as New England allows a 64.4 completion percentage to opposing quarterbacks and has given up a league-high 21 touchdown passes.
Taking Florida's Matt Elam toward the end of Round 1 ensures better coverage with his instincts, size to roll down underneath and ability to generate turnovers. His presence allows for a more aggressive approach, because New England can use more man under with a Cover 1 zone/robber behind it.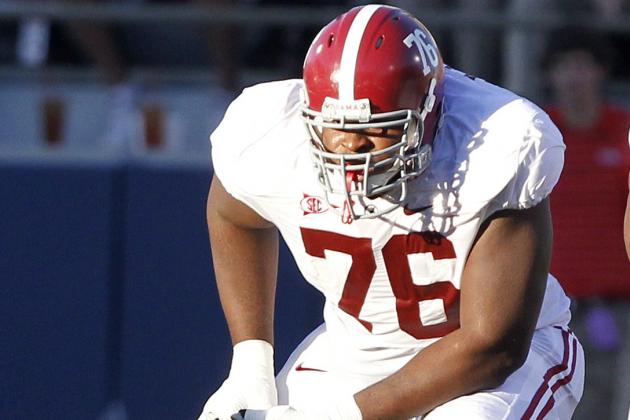 Butch Dill/Getty Images

Tyler Eifert would definitely be the Chicago Bears' best option in Round 1, so that depends on whether they decide to trade up or reach for a guy like Stanford's Zach Ertz.
The next best alternative, though, would be offensive line.
Entering Week 11 the Bears have given up 28 sacks and Jay Cutler only sports a 59.2 completion percentage. And because of Cutler's uneasiness in the pocket, he stepped up inside to elude edge pressure and is not starting the Monday night game.
Per the Bears' official Twitter feed:
LM: #Bears have announced that QB Jason Campbell will start Monday night's game at San Francisco.
— Chicago Bears (@ChicagoBears) November 16, 2012


So to make a safer and more consistently reliably pocket, drafting Alabama's D.J. Fluker can solve these issues. Fluker brings great size, experience and leverage to the position. His balance and strength work well as a pass-blocker and Fluker's athleticism greatly complements Chicago's ground game.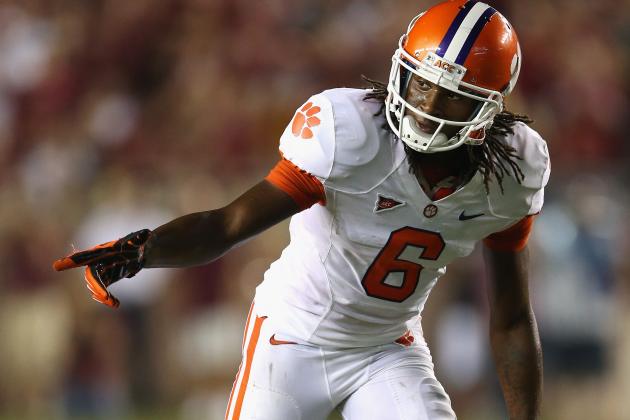 Streeter Lecka/Getty Images

If the Houston Texans have one minute flaw it's the passing game. And it's not Matt Schaub because he has the ability to slice a defense. More so the receiving corps after Andre Johnson.
Thwarting the Jaguars for 527 passing yards was impressive, but then again it's the Jaguars.
Kevin Walter has been on a slight decline since 2008, so taking Clemson's DeAndre Hopkins adds more explosion to the receiving corps. His size may not be that of Walter; however, Hopkins possesses the ability to beat man coverage more consistently and split a Cover 2 for opening up underneath routes.
As a result, tight end Owen Daniels and Johnson become increasingly more difficult to isolate.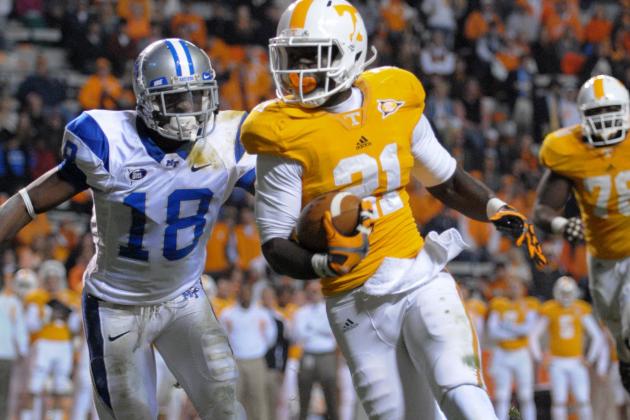 Randy Sartin-US PRESSWIRE

If there's one receiver the San Francisco 49ers should reach for its Tennessee Tech's Da'Rick Rogers.
The downside is that he does come with some baggage. According to ESPN.com back in August:
The former all-Southeastern Conference wide receiver has transferred to Football Championship Subdivision program Tennessee Tech, the school confirmed Monday afternoon. The move was announced four days after Tennessee indefinitely suspended Rogers for a violation of team rules.

Sources told ESPN.com that Rogers' dismissal came after multiple violations of the school's substance-abuse policy for athletes.
On the bright side, Jim Harbaugh and this tough 'Niners team can fix Rogers' attitude. Which is worth a shot, because the former Volunteers receiver presents excellent size and speed to make a strong impact.
San Francisco must get a receiver of Randy Moss's size who is younger and potentially just as explosive. It will open up the rest of Harbaugh's offense and take a lot of pressure off Alex Smith, Frank Gore and the offensive line.
Follow John Rozum on Twitter.