How Far Every NBA Team Is from a Realistic Title Shot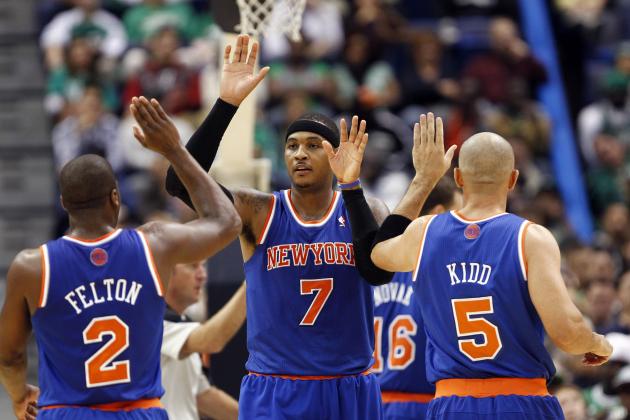 Mark L. Baer-US PRESSWIRE
How far away is each team from a title?
You really believe that your team has a shot at an NBA title?

More than half the league began this season already looking to a potential lottery pick—the peasants hope that some crumbs might accidentally drop down to their level while the league's royalty enjoys the main course.
Although it may be true that value can be found throughout a deeply talented NBA, it's also true that teams in the NBA need one, two or maybe three superstars to be considered a realistic contender.
It's no longer about the greatest player or even the greatest tandem, it's now about the greatest collection of superstars.
Need proof?
Here's a quick rundown of NBA Champions from the past 13 years. Take note of the names accompanied next to each team: Every champion has two top-tier superstars or one superstar paired with multiple stars. (The only exception may be the 2003-04 Detroit Pistons, a team evenly loaded with talent.)

2011-12: Miami Heat (LeBron James, Dwyane Wade, Chris Bosh)
2010-11: Dallas Mavericks (Dirk Nowitzki, Tyson Chandler, Jason Kidd, Shawn Marion)
2009-10: Los Angeles Lakers (Kobe Bryant, Pau Gasol, Andrew Bynum, Ron Artest, Lamar Odom)
2008-09: Los Angeles Lakers (Bryant, Gasol, Odom, Trevor Ariza, Bynum)
2007-08: Boston Celtics (Paul Pierce, Kevin Garnett, Ray Allen, Rajon Rondo)
2006-07: San Antonio Spurs (Tim Duncan, Tony Parker, Manu Ginobili)
2005-06: Miami Heat (Wade, Shaquille O'Neal, Antoine Walker)
2004-05: San Antonio Spurs (Tim Duncan, Tony Parker, Manu Ginobili)
2003-04: Detroit Pistons (Richard Hamilton, Chauncey Billups, Rasheed Wallace, Tayshaun Prince, Ben Wallace)
2002-03: San Antonio Spurs (Duncan, Parker, Ginobili)
2001-02: Los Angeles Lakers (Bryant, O'Neal)
2000-01: Los Angeles Lakers (Bryant, O'Neal)
1999-2000: Los Angeles Lakers (Bryant, O'Neal)
Superstars are needed—case closed.
When examining each NBA franchise in 2012-13 and what it will take for that franchise to become a realistic championship contender, sometimes it's obvious what the team needs: At least one superstar and probably even two.
Here's a team-by-team glance of how far away each franchise is from a realistic title shot.
(All stats and records reflect all games played prior to Sunday, Nov. 18)
Begin Slideshow

»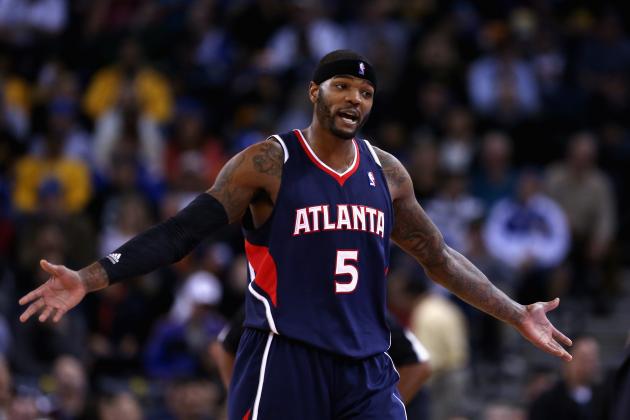 Ezra Shaw/Getty Images
Josh Smith needs plenty of help in Atlanta.
The Atlanta Hawks don't have a true superstar.
Josh Smith and Al Horford are second and probably third options on actual contending teams. Joe Johnson wasn't going to be the answer either, so the trade was in the best interest of the franchise.
What the Hawks need is a legitimate high-scoring guard. The Hawks need the type of player who can break down a defense, push the ball and score.
How far away are the Hawks from becoming a contender? They need a Derrick Rose or Damian Lillard type of player.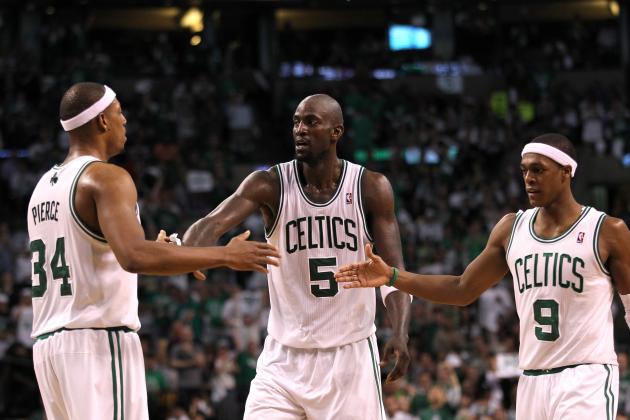 Jim Rogash/Getty Images
With Paul Pierce, Kevin Garnett, and Rajon Rondo, the Celtics remain contenders.
Don't say Ray Allen.
The Boston Celtics might need a time machine to take them back a few years, but they remain realistic contenders because of Rajon Rondo, Paul Pierce and Kevin Garnett.
Jason Terry and Leandro Barbosa offer to Boston what Allen left behind, and Avery Bradley will bring further depth to the backcourt.
They haven't focused on rebounding in years, but the Celtics could make great strides with the simple addition of a Byron Mullens type rebounder. Or they just need to return to the toughness that made them great years ago, even if Kendrick Perkins is long gone.
How far away are the Celtics from becoming a contender? Don't freak out too much early on, the Celtics remain in the discussion. They are still one of the elite teams.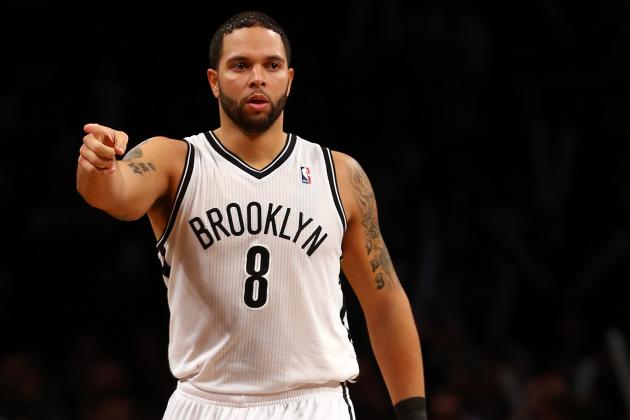 Elsa/Getty Images
The Nets brought in Deron Williams as the first big piece to begin contending for a title.
The Brooklyn Nets analogy is simple.
The Nets got a ton of money and bought a brand new car but remain frustrated and confused why they can't pull the type of chicks they think they deserve.
It's not that the team is dealing with ugly women. Deron Williams is not settling, but the guy can't lead Brooklyn to a championship on his own.
And as complete as they may appear with Joe Johnson, Gerald Wallace and the "hey, that's not so bad" play of Brook Lopez and Kris Humphries, this team is not ready to compete with the big boys.
The Nets are missing depth, but the only way to become a true contender is to push guys down on the depth chart via a superstar.
How far away are the Nets from becoming a realistic title contender? Uh, yeah, about that Dwight Howard guy.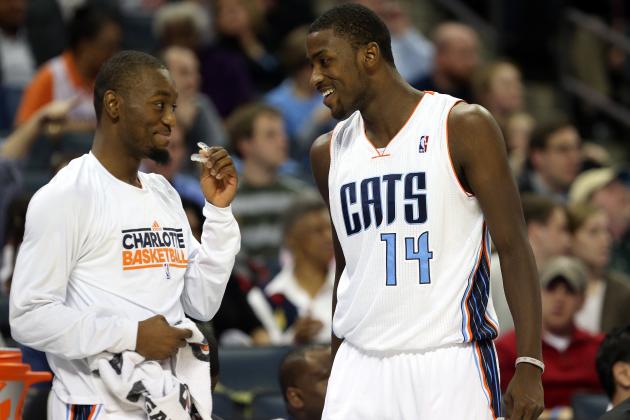 Streeter Lecka/Getty Images
Kemba Walker and Michael Kidd-Gilchrist are a start in Charlotte, but it's a long road.
Stay positive, Charlotte. Stay positive.
Kemba Walker has star ability. Michael Kidd-Gilchrist will be that all-around glue guy that every team needs. Ramon Sessions and Ben Gordon can certainly score the ball, and Gerald Henderson's contributions will help when he returns from a foot injury.
But what do you notice? The talent of this team is mostly in the backcourt.
While Byron Mullens may be underrated, he's never going to be a factor in leading a team to a title—neither is Tyrus Thomas. (Don't say Brendan Haywood, who was fine for 15 minutes per game in the 2010-11 Dallas Mavericks playoff run but can't lead a team.)
How far away are the Bobcats from becoming a realistic title contender? This may seem overly optimistic, but the Bobcats biggest need is a bona fide superstar big man. It likely won't come through free agency, so the team must continue to get better through the draft.
The drafting of Cody Zeller followed by three years of individual progress, and keeping a core of Walker, Kidd-Gilchrist and Zeller together could make the Bobcats a contender.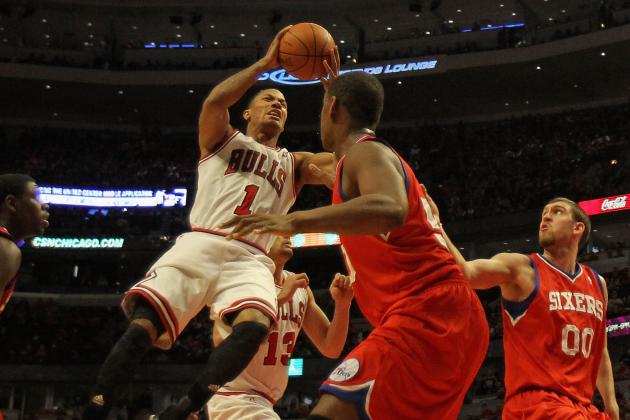 Jonathan Daniel/Getty Images
Derrick Rose will need to regain his MVP form if the Bulls can return to contender status.
Derrick Rose is the obvious question mark.
If the superstar guard can return from his ACL injury back to his MVP form, the Bulls become immediate contenders. If Rose returns to the 21.8 points and 7.9 assists per game averages that he finished with last season, then why shouldn't the Bulls return to contender status?
The core of Luol Deng, Joakim Noah and Carlos Boozer awaits one of the game's best guards. Rose won't be back until at least mid-January, but should have time to shake off the rust and sneak into the playoffs as a lower-seed threat.
How far away are the Bulls from becoming a realistic title contender? It may seem obvious because it is, but the Bulls need Rose to come back in his old form—it's that simple. If he does, then they are title contenders. And if he doesn't, well then they are probably more suited for a first-round bow out in the playoffs.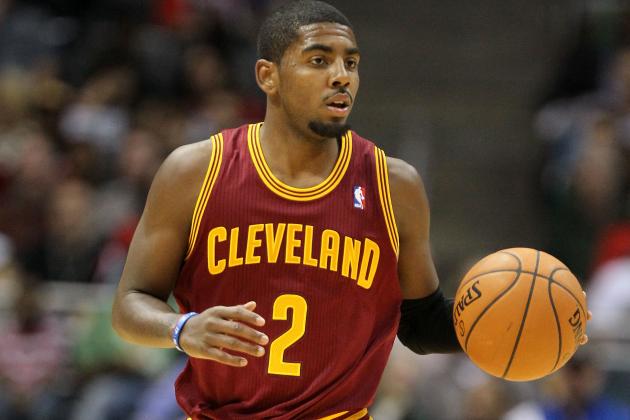 Mike McGinnis/Getty Images
Kyrie Irving is the biggest piece in Cleveland.
The Cavaliers have a long way to go before reaching the Finals again, and LeBron James isn't coming back anytime soon.
Let's begin with the Cleveland Cavaliers' big three:
Kyrie Irving is a complete stud with superstar written all over his jumpshot.
Dion Waiters has taken quickly to the league and is proving to be an additional scoring threat in the backcourt.
Anderson Varejao, at 30, is a defensive presence as a veteran and leads Cleveland inside at 14.4 points and 12.9 rebounds per game.
Then what? There is no depth to a team that really only has one authentic star in Irving. There is little shot that Dan Gilbert will convince a great free agent to come play in Cleveland.
How far away are the Cavaliers from becoming a realistic title contender? The team drafted Waiters to complement Irving based on the Syracuse draft pick's NBA-ready potential. If he progresses into a star, the Cavs now have a complete backcourt.
If Varejao stays consistent as an inside presence, then the team is ready for one last piece—a great young big man or a versatile forward through the draft lottery. The Cavs could end up with an athletic wing like UCLA's Shabazz Muhammad, another post in University of Indiana's Cody Zeller or University of Kentucky's Nerlens Noel.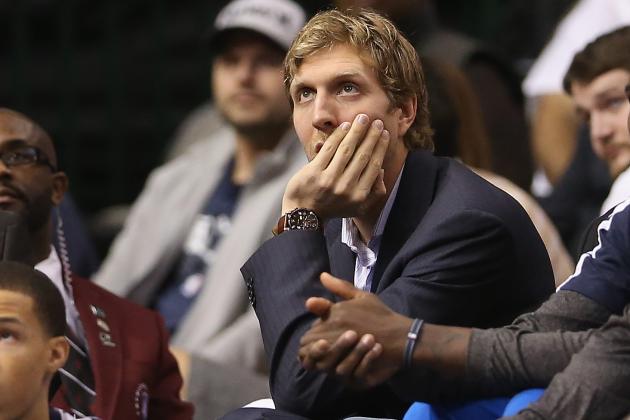 Ronald Martinez/Getty Images
Once Dirk Nowitzki is back in uniform, the Mavericks are contenders.
The Dallas Mavericks have seemingly found gold in O.J. Mayo and his 21.3 points per game.
Chris Kaman has seemed to find a rhythm as well, scoring 14.7 points and pulling 6.9 rebounds per game. Meanwhile, Darren Collison is averaging 6.5 assists and 13.9 points per game and rookie Jae Crowder is having immediate positive impact.
But despite the positive contributions of these new guys, the Mavericks are floating just a game above the .500 mark at 6-5.
This is because the one glaring omission to each night's box score: Dirk Nowitzki and the 21.6 points per game he put up in 62 games during last year's shortened season.
How far away are the Mavericks from becoming a realistic title contender? Once Nowitzki returns, the Mavericks have just as much talent, if not more than they had in 2011.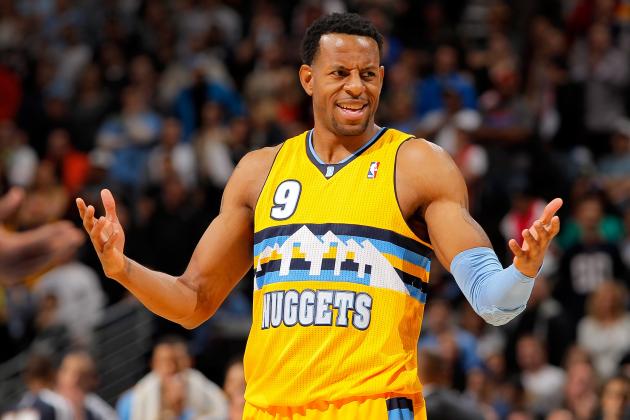 Doug Pensinger/Getty Images
Andre Iguodala will look to bring Denver to contender status.
When superstar Carmelo Anthony left Denver, it looked like the Nuggets may fall backwards. Instead there was a quick spring ahead and things looked, well, impressive.
The team finished 38-28 last season and nearly knocked the Lakers out in the first-round before falling in seven games. This summer though, the Nuggets parted with Arron Afflalo, Al Harrington and draft picks in return for star Andre Iguodala.
And while Iguodala leads the Nuggets in scoring at 14.2 points per game, the team (4-6) has lost three consecutive games and is now last in the Northwest Conference, albeit still early on.
Denver was given too much credit coming into this season. They were successful when they had consistent scoring, but now they are missing that in addition to consistent play from their big men, and the return of Wilson Chandler won't be enough.
How far away are the Nuggets from becoming a realistic title contender? The hype was and is too much. The Nuggets need a more quality inside presence, and they will likely have to achieve that through trade. Problem is, with little depth around the league, this could be trouble.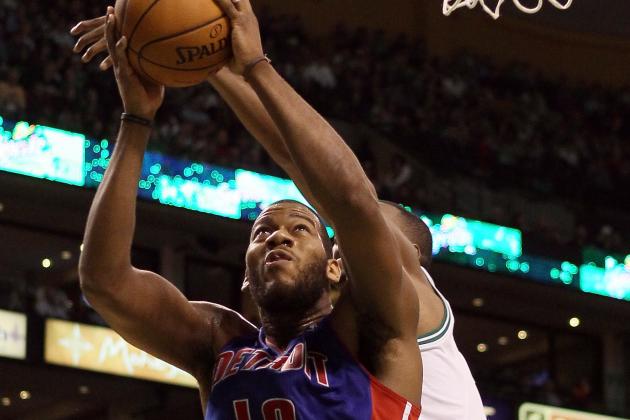 Elsa/Getty Images
Detroit has its center in Greg Monroe, but they are missing plenty of pieces.
Detroit is the worst team in basketball and might be the furthest away from any sort of championship conversation. They are helpless right now, and it's going to be a long road.
But that road must begin somewhere.
Greg Monroe is an absolutely huge bright spot, considering young talented centers aren't easy to find. Additionally, the abilities of big man Andre Drummond will eventually come along, and when they do, Detroit will have an impressive young frontcourt.
Furthermore, Kyle Singler has been impressive early on, shooting 51 percent and scoring 9.7 points in 23.5 minutes per game.
How far away are the Pistons from becoming a realistic title contender? They're very far. When it comes to talent for the future, those are the three key names. With another inevitably high lottery pick, the Pistons can continue to build on that talent.
UCLA freshman Shabazz Muhammad is an athletic shooter with a high ceiling. He could be the next piece of talent that Detroit needs to become a contender.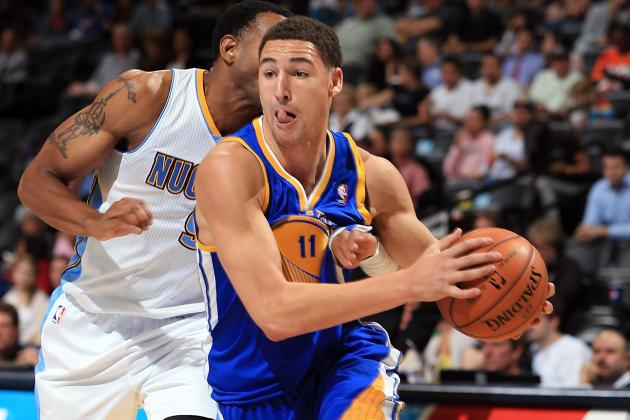 Doug Pensinger/Getty Images
Klay Thompson, along with Stephen Curry, are awaiting true superstars to surround them.
The Golden States Warriors management team wants to believe that the mysteriously inevitable injuries that have haunted the franchise for years is the reason that the team hasn't succeeded as a title contender.
So what did they do?
Well, they got Andrew Bogut of course, the center who has spent most of his young career injured. And sure enough, the 27-year-old center is suffering, out due to a surgically repaired ankle that's not fixed. Brandon Rush was the first impact player to go down for Golden State, losing his entire season in the team's home opener.
But it's not about the injuries. Injuries haven't been the reason the Warriors haven't contended in the past, and it's not now.
When the Warriors were last relevant, in the "We Believe" years of 2006-07 and 2007-08, they still were not legitimate title contenders. They were Don Nelson's fun bunch, a high-scoring machine but never a serious threat for the trophy.
And have they changed? Nope. In addition to trading for Bogut, they invested more money in the oft-injured Stephen Curry.
But again, that's not it. That's not it at all. The Warriors had no choice but to try something, anything to move them into a serious direction. The problem is, the Warriors keep seeking quick fixes rather than true building.
The cash dedicated to David Lee and his Troy Murphy type of production is obscene. Lee is due $13.8 million next season, $15 million in 2014-15 and $15.49 million in 2015-16. There is no freaking way the Warriors, in 2016, will be saying: "I am so glad we are paying Lee nearly $16 million; he's really worth it."
Golden State, if completely healthy all season, is climbing back to mediocrity with the chance of artificial success.
After that, Andris Biedrins has a $9 million option to return and Richard Jefferson has an $11 million player option. That's $20 million of next season's $74 million in payroll dedicated to non-factors moving forward.
So, how far away are the Warriors from becoming a realistic title contender? The team must stay true to its path and not look for shortcuts that take on further salary.
They must ride out the bad contracts, continue to develop young guys like Curry, Klay Thompson and Harrison Barnes, hope that Bogut regains his health and form and that David Lee stays consistent.
Somewhere though, the team needs to hope one of its young players can be an All-Star, something the team has missed since Latrell Sprewell 15 years ago—and one all-star probably won't be enough.
The team has to do something special as it did in 2007, gaining enough momentum with a quality core to attract a proven superstar free agent. Either that or get lucky through the draft.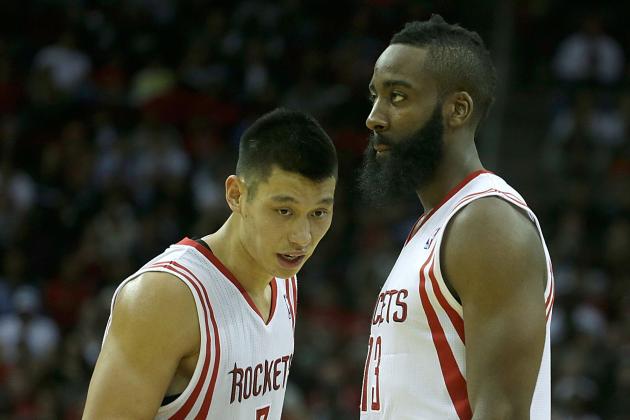 Scott Halleran/Getty Images
James Harden and Jeremy Lin create a portion of what is needed in Houston.
The Houston Rockets have won just one game against the Western Conference thus far into the season.
It's a fun roster to get excited about in a video game, but it ends there.
The team is built on the shoulders of two of the league's more popular players, James Harden and Jeremy Lin. But neither has ever been asked to carry an entire team before, despite previously doing so without pressure at times.
Suddenly you have a team with famed superstars, neither of which has actually been the superstar.
And is Omer Asik really an answer in the front court? So far, yes. But so far is so little and the first-time starter has a ways to go.
How far away are the Rockets from becoming a realistic title contender? The Rockets can win when Harden is scoring 35 points per game, but they won't be serious title contenders until Harden is surrounded by another one or two superstars.
Bringing in Harden at the expense of big money and future picks will ultimately haunt the Rockets. The team is still far from being contenders.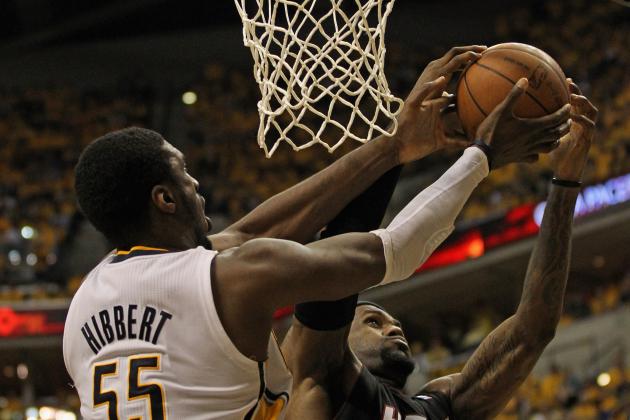 Jonathan Daniel/Getty Images
Roy Hibbert and the Indiana Pacers seem to have taken a step backwards.
The Indiana Pacers were knocking on the door last season. Now it looks like their knuckles are broken.
After last season's proud showing in the playoffs, Indiana entered this season with lofty expectations. Then Danny Granger went down and Roy Hibbert received a max contract to average 8.5 points and 8.0 rebounds per game.
The Pacers are moving in reverse.
How far away are the Pacers from becoming a realistic title contender? This depends on two factors: What shape will both the Pacers and Granger be in when team's leading scorer returns in January? And will Hibbert move forward again?
If both are answered optimistically, then the Pacers are in the mix as a second-tier Eastern Conference squad. But if one or neither goes well, the Pacers are back to step one.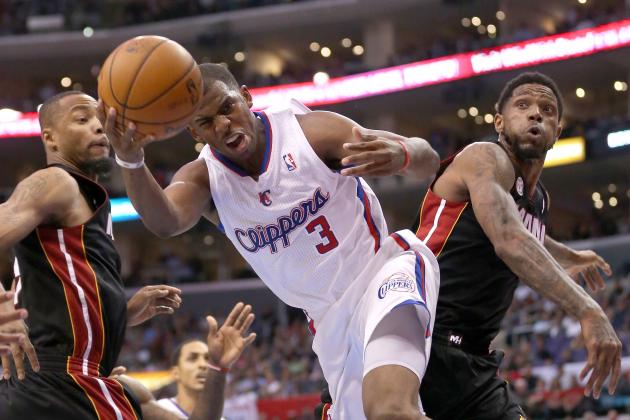 Stephen Dunn/Getty Images
Chris Paul is the centerpiece of the Clippers championship hopes.
The Los Angeles Clippers arrived as realistic title contenders when they scored superstar Chris Paul.
They moved from realistic title contenders to likely contenders when they began adding sincere depth to their roster.
Jamal Crawford leads Los Angeles in scoring at 20.7 points per game off the bench. Paired with reserve Eric Bledsoe's 10.6 points per game, that's a combined 31.3 points per game off the bench backcourt scoring of two players.
Blake Griffin is scoring 17.3 points and averaging 9.1 rebounds per game.
How far away are the Clippers from becoming a realistic title contender? They have to be one of the favorites.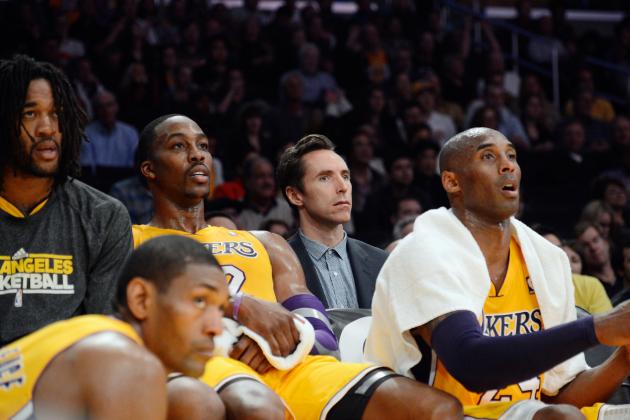 Kevork Djansezian/Getty Images
The Lakers roster is set to win a title.
I think the answer is just as obvious as it was for the other team in Los Angeles.
The Lakers entered the season as favorites in the Western Conference, and despite falling on their face early, still have to be considered one of the top dogs in the league.
The Lakers are still still favorites, behind only the Miami Heat, to win the NBA championship according to Las Vegas. The odds makers know what they're doing.
Mike D'Antoni is in prime position to turn around this heavily talented Los Angeles team.
How far away are the Lakers from becoming a realistic title contender? They are one more amazing Kobe Bryant run away from winning the title.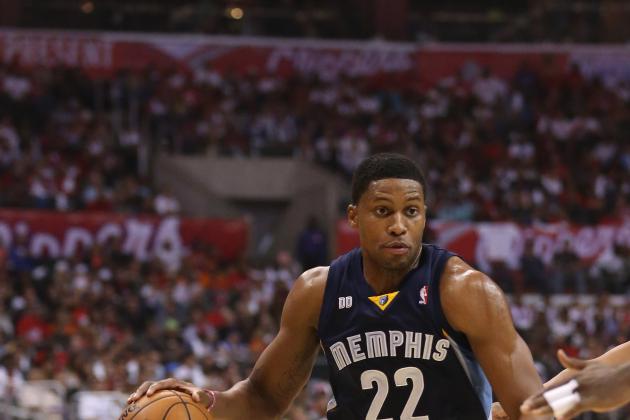 Stephen Dunn/Getty Images
The success of the Rudy Gay and the Grizzlies has not been fully dependant on superstars, and that's why they have a shot.
The Grizzlies are what the Detroit Pistons were in 2004.
The team doesn't feature a commercial superstar or even a statistical monster, but the depth of this Grizzlies roster is impressive, and the team's defense (allowing 92.1 points per game) is stingy to the point of a plus-nine point differential.
The frontcourt of Rudy Gay, Zach Randolph and Marc Gasol might be the best in the league, yet its rarely spoken of.
How far away are the Grizzlies from becoming a realistic title contender? The world wouldn't stop if the Grizzlies won a title. Somewhere within each follower of the league, Memphis is no longer a sleeper but a legit contender year after year.
They are sleeping giants no longer. They're fully awake, and they have all the pieces to win it all.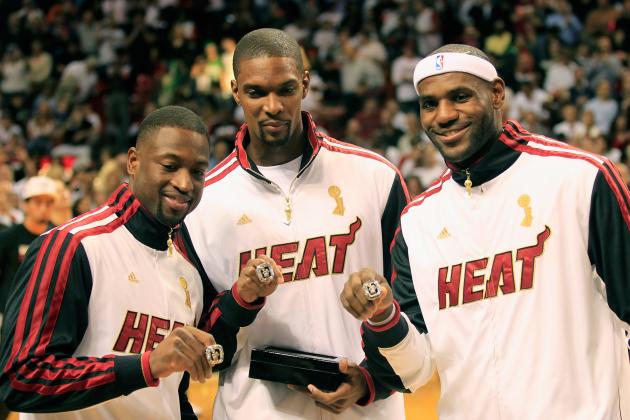 Chris Trotman/Getty Images
The Miami Heat have all the pieces needed.
Let's not waste Internet space.
The returning champs are the standard for the NBA right now, and even the greatest collection of talent will struggle to match what the Miami Heat have already created.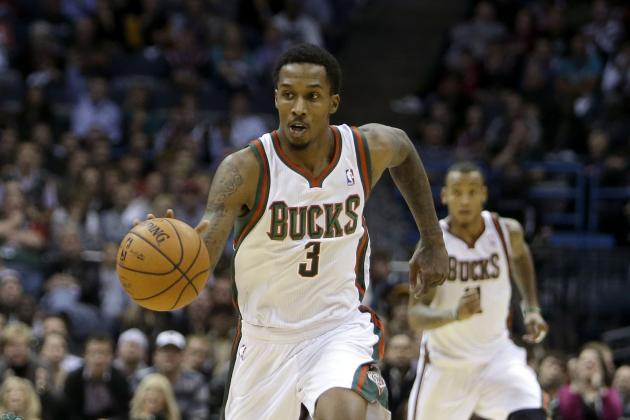 Mike McGinnis/Getty Images
Brandon Jennings and Monta Ellis make up a great backcourt, but the team needs plenty of help.
The Milwaukee Bucks will play average defense and then outscore you.
Behind the high-scoring backcourt of Brandon Jennings and Monta Ellis, the Bucks are off to a 6-2 start, but it's the endless box score contributions from guys like Mike Dunleavy, Beno Udrih and Ersan Ilyasova that has led to early success.
OK, now read those names again.
How far away are the Bucks from becoming a realistic title contender? Those names don't win titles. That's the reality of the NBA. While Jennings and Ellis are borderline All-Star types, the need in Milwaukee is a superstar caliber member of the front court.
Until then this team will not be seen as a realistic title contender, and it's not very close.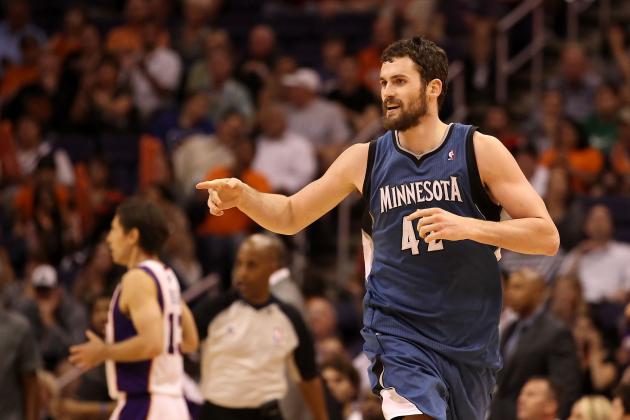 Christian Petersen/Getty Images
Kevin Love is the foundation, but many more pieces must be placed.
No Kevin Love.
No Ricky Rubio.
And somehow the Minnesota Timberwolves are mediocre not awful. Maybe Los Angeles wouldn't be having issues if they had made Coach Rick Adelman their guy.
Still, Adelman can't make this roster into realistic title contenders. When the team's two stars return, which won't be together until probably late December, there can be more serious discussion dedicated to the future.
But how far away are the Timberwolves from becoming a realistic title contender? Honestly, it might not be that far away. The young talent is developing, a great coach is leading and another correct pick through the draft could provide the level of talent necessary.
Even then though, realistically speaking, titles need superstars, and while Love has proven it, Rubio still has a ways to go. That or they get lucky through free agency.
Chris Graythen/Getty Images
The Hornets franchise will rely on Austin Rivers and Anthony Davis as the start of something special.
The future is developing for the New Orleans Hornets franchise. The average age in New Orleans is 24.7 years old.
Drafting Anthony Davis and Austin Rivers is step one in a complete rebuilding process, but the two rookies are going to take plenty of lumps in a veterans' league.
Most Improved Player Ryan Anderson is proving he is no fluke while Al-Farouq Aminu provides further young talent at the wing. The Hornets have some pretty good pieces moving forward. Plus, Eric Gordon is on his way.
How far away are the Hornets from becoming a realistic title contender? The team is young and not anywhere close to the thought of a title.
Both Davis and Rivers will need to both reach their ultimate potential before the Hornets are mentioned as contenders. Additionally, Aminu and Anderson will need to be even stronger role players moving forward.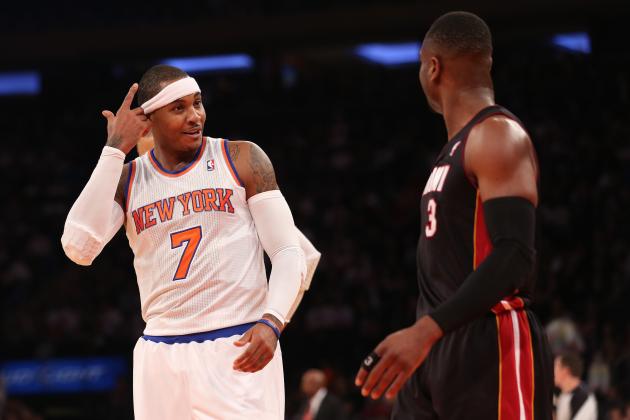 Nick Laham/Getty Images
Something special might be brewing in New York behind Carmelo Anthony's inspired play.
The New York Knicks have all the ingredients to join that list of championship teams:
Two superstars in Carmelo Anthony and Amar'e Stoudemire (when healthy), a defensive presence led by Tyson Chandler who has allowed the fewest points per game in the league and bench and veteran depth from guys like J.R. Smith, Raymond Felton and even Rasheed Wallace.
Oh, and again, two superstars.
So far, Anthony is playing inspired and is an early-season MVP candidate. His rebounding figures are the highest of his career due in part to the team's defense but also due to his level of focus. That's a good sign for Knicks fans.
The challenge will be to see how the team plays when Stoudemire returns in mid-December. Will the change in flow hurt or help the team?
How far away are the Knicks from becoming a realistic title contender? The Knicks, owners of the Eastern Conference's best record 10 percent through the season, are absolute contenders for the title.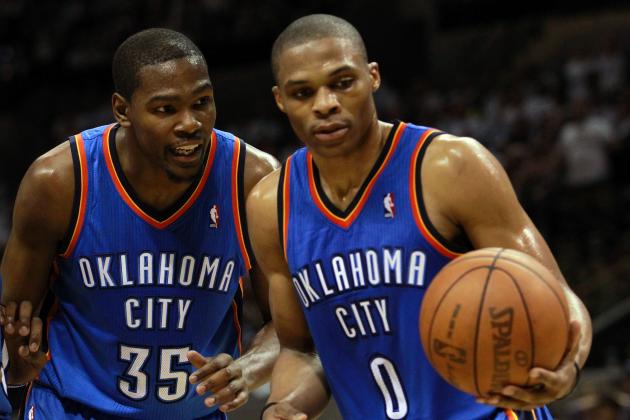 Ronald Martinez/Getty Images
Will Kevin Durant and Russell Westbrook be enough in Oklahoma City without James Harden?
The Oklahoma City Thunder seem to be just fine without James Harden.
The trio of Kevin Durant, Russell Westbrook and Harden has been simply amended. Kevin Martin will do just fine in the role previously played by Harden. Oklahoma City is third in the league in scoring and Martin, the perfect player to hit open looks, is shooting 53 percent from three-point range.
Meanwhile Durant is averaging a double-double of 24.5 points and 10.5 rebounds per game. Westbrook remains incredible at 20.5 points and 8.4 assists per game.
How far is Oklahoma City from becoming a realistic title contender? Oklahoma City has not taken a step backwards. The team continues to roll and might once again be one of the last teams standing.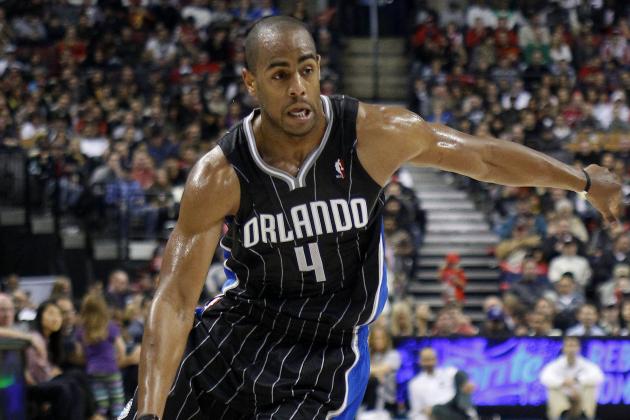 John E. Sokolowski-US PRESSWIRE
Arron Afflalo is the main man in Orlando, and that's a problem.
The Orlando Magic haven't taken a step backwards, they've been shoved.
The team is no longer with its superstar center nor does it have any true stars. The Magic roll out a lineup stacked with quality fourth and fifth options, including Arron Afflalo, J.J. Redick and Glen Davis.
And there's not much of a future there either.
How far away are the Magic from becoming a realistic title contender? The Magic might be the furthest away from an NBA championship. The team's future is bleak, and it will take some strong drafting and luck in free agency to return this team even close to discussion for the championship.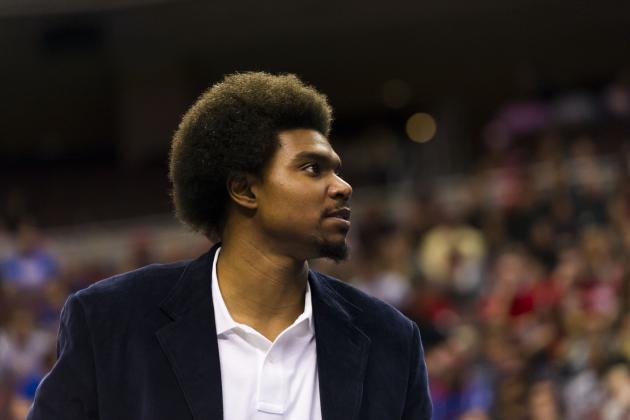 Howard Smith-US PRESSWIRE
Andrew Bynum is the biggest question mark looming over Philadelphia's future as contenders.
Andrew Bynum is kind of a mess right now.
The injured center is the complete future of the Philadelphia 76ers. If Bynum recovers from injury and plays to his potential, the 76ers, with Evan Turner and Jrue Holiday, are legitimate in the Eastern Conference.
But again, Bynum is kind of a mess right now.
Averaging just 88.9 points per game, Philadelphia is in need of some offensive help. Spencer Hawes and Kwame Brown can only do so much to collapse a defense.
How far away are the 76ers from becoming a realistic title contender? Bynum needs to clean himself up and get healthy. If he can be the prominent centerpiece to this team, the 76ers can then start fine-tuning to become realistic contenders.
But that cleansing remains a big if, and for now the 76ers can't possibly be thought of as authentic challengers for the title.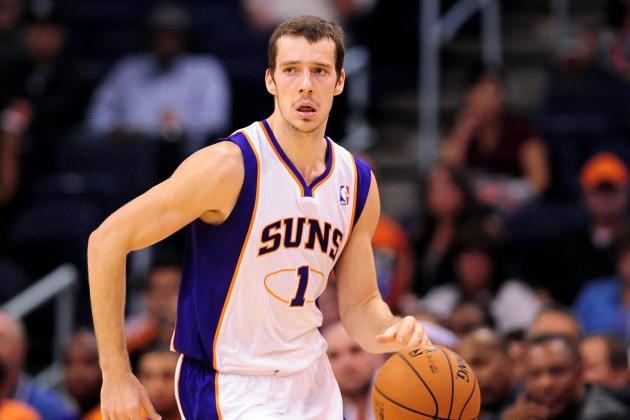 Jennifer Stewart-US PRESSWIRE
Goran Dragic is the new leading scorer in Phoenix.
The Phoenix Suns' talent pool is dry.
It won't be a quick fix for the Suns, long regarded as one of the league's always-contending teams.
Goran Dragic is scoring 16.3 points and tallying 7.3 assists per game, so there is some hope at point guard. But other than Dragic and Michael Beasley, who is having limited success, there is no future.
How far away are the Suns from becoming a realistic title contender? The Suns have a long way to go before making a return to prominence. It will take another two to three drafts or luck via free agency to be considered even a playoff team.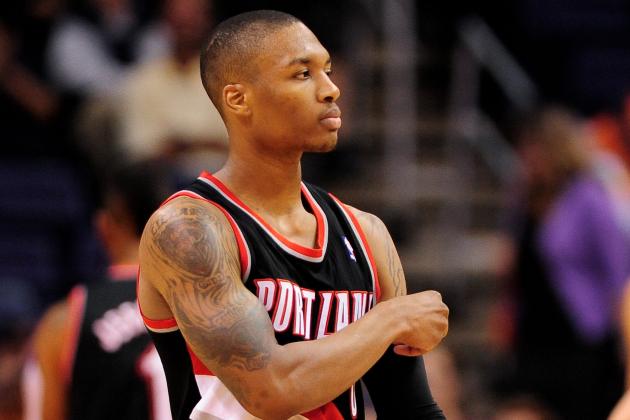 Jennifer Stewart-US PRESSWIRE
Damian Lillard is prized piece moving forward in Portland.
The Portland Trail Blazers appear to have a young nucleus set for years to come.
The 23-year-old Nicolas Batum is proving himself a wise investment for Portland, averaging 20.8 points, 6.1 rebounds and 3.1 assists per game.
LaMarcus Aldridge is coming into his prime at 27-years-old, and is averaging 21.1 points, 7.4 rebounds and 3.6 assists per game.
The prize of the trio may be potential Rookie of the Year Damian Lillard, whose 19 points and 6.1 assists per game overshadows his "give me a break, I'm just a rookie" 3.3 turnovers per game.
How far away are the Trail Blazers from becoming a realistic title contender?
All said, Portland has won three consecutive games and is gaining notice around the league. They still are to be excluded from being seen as a realistic title contender, but the young core could do big things in years to come.
Wesley Matthews is just 26-years-old and J.J. Hickson is only 24-years-old. If Portland keeps this group together, it very well could be contending for a title in just two to three years.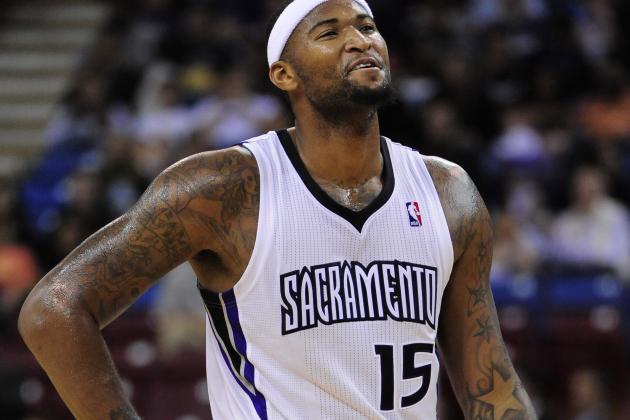 Kyle Terada-US PRESSWIRE
DeMarcus Cousins may be not be ready, but he's the future of the Kings.
Sacramento Kings games look like those played at 24 Hour Fitness—there's a lot of confusion, a lot of jawing and a bunch of little guards running around everywhere.
It's awful looking basketball.
The Kings' centerpiece, and deservedly so, is 22-year-old center DeMarcus Cousins. The 6'11" paint presence is now in his third season, averaging 17.8 points and 10.3 rebounds per game.
Cousins is the focal point of the team's offense, and it seems that most of the team's possessions look to move towards the young big man. It makes sense that the Kings continue to develop Cousins, who could be one of the game's next top-tier big men.
But that's been the problem in Sacramento—the organization hasn't seemed capable of developing young stars.
Continuing to flounder under Sacramento's direction is former team centerpiece, Tyreke Evans. Following his Rookie of the Year campaign a few years back, the young guard has now disappeared with the Kings and regressed with each season. At some point, the organization has to take some responsibility.
The offense no longer runs to him and play-calling that goes through him never comes back his way. He's become the guy in pick-up basketball who has learned to shoot when he sees the ball because it may never come back his way. Still, somehow Evans leads the team in assists.
The organization seemingly has shunned Evans and will likely trade him at some point this season. There's no real sense of direction and the roster looks like it was scrambled together at the last minute.
How far away are the Kings from becoming a realistic title contender? Continuing to be one of the league's worst teams, Sacramento is just about as far as it gets from thoughts of an NBA Championship.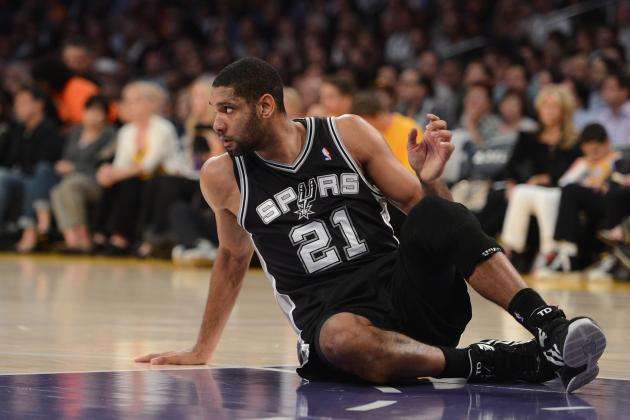 Harry How/Getty Images
Tim Duncan isn't going anywhere, and neither are the Spurs.
At this point it's important to look back at that initial list of the last dozen championship teams.
2006-07: San Antonio Spurs (Tim Duncan, Tony Parker, Manu Ginobili)
2003-04: San Antonio Spurs (Duncan, Parker, Ginobili)
Almost a decade later, the San Antonio Spurs are one of the league's top challengers for a title, and the same three names are headlining. Add in the names of Danny Green, Kawhi Leonard and Gary Neal, and you have the latest version of a Spurs championship contender.
How far away are the Spurs from becoming a realistic title contender? Just as they have been for so many years, the Spurs are one of the league's best.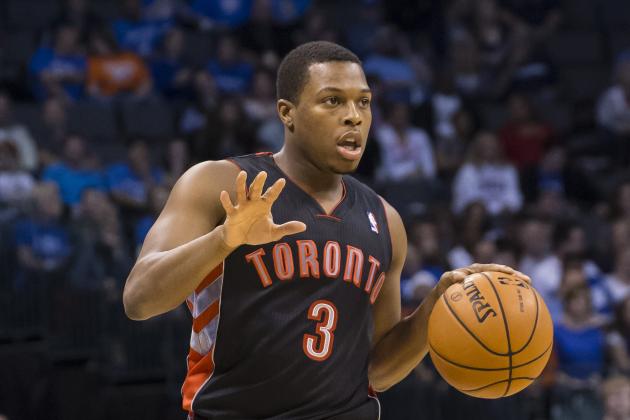 Shane Bevel/Getty Images
Kyle Lowry is one of many solid parts to Toronto, but it's going to take a superstar or two to turn the Raptors into a contender.
Here's the problem in Toronto: DeMar DeRozan, Kyle Lowry, Andrea Bargnani, Jose Calderon and Linas Kleiza.
Of those five names, maybe one would start on a championship caliber team—and it would be that team's weak area.
Again and again, titles are built around superstars, and there are no names in Canada that fit that title. Jonas Valanciunas is a solid build for the future, and he may be one of the only areas of hope.
How far away are the Raptors from becoming a realistic title contender? The realistic thoughts of a title in Toronto are about as far away as the miles between the Canadian city and Miami.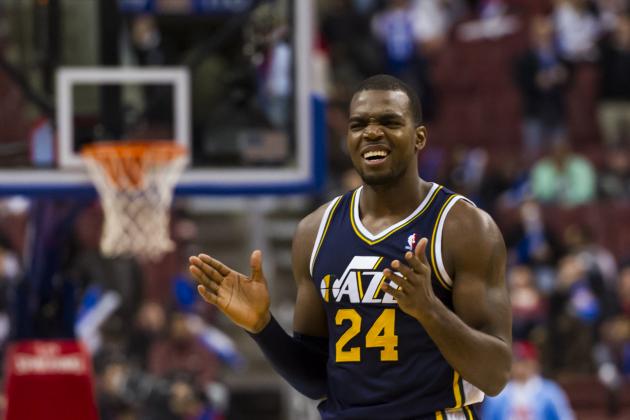 Howard Smith-US PRESSWIRE
Paul Millsap is the man in Utah, but he still is missing one heavy hitter.
Utah Jazz fans may be too used to hearing this, but the franchise is close.
Realistic hopes of a championship stand somewhere near the border of "it could happen if ..." and "well, we played a good Lakers/Spurs team."
Utah is the league's prettiest bridesmaid.
But again, they are close—oh so close.
The team's consistently powerful frontcourt includes Al Jefferson, Paul Millsap and the future of Derrick Favors. With Mo Williams now at point guard, the pieces are coming together. Ignore the team's 2-6 record on the road early. They are still seeking consistency.
How far away are the Jazz from becoming a realistic title contender? Utah's depth of big men, which also includes Marvin Williams, is the foundation for something special. To be included in championship talk, the Jazz will need Gordon Haywood to develop to his ceiling or find a replacement for that backcourt.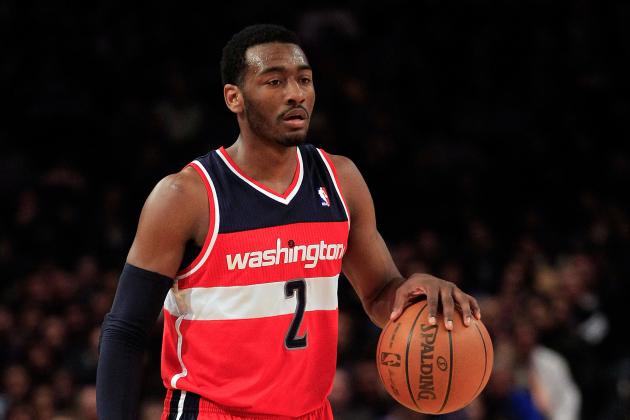 Chris Trotman/Getty Images
John Wall has superstar potential in Washington, but every great guard needs a great big.
The Washington Wizards, the NBA's only remaining winless team, is also without title hopes for a long time.
John Wall, who won't play until the end of the month at the earliest, hasn't been a part of the dreadful start. But Wall is a part of where the Wizards pick up the pieces.
Rookie Bradley Beal wasn't drafted to be Wall, he was drafted to complement last season's top overall pick. When Wall does return, the team will have a better understanding of how its pieces are fitting together.
Other than the two young guards and possibly Jordan Crawford and Kevin Seraphin, there isn't much room for optimism in Washington.
How far away are the Wizards from becoming a realistic title contender? It looks like another return to the lottery for Washington. The Wizards are going to need multiple lottery picks to pan out if they wish to return to relevancy.
What team belongs in the championship conversations? Tweet @jimmypspencer and let him know